Best Mac Backup Software For Your Mac in 2023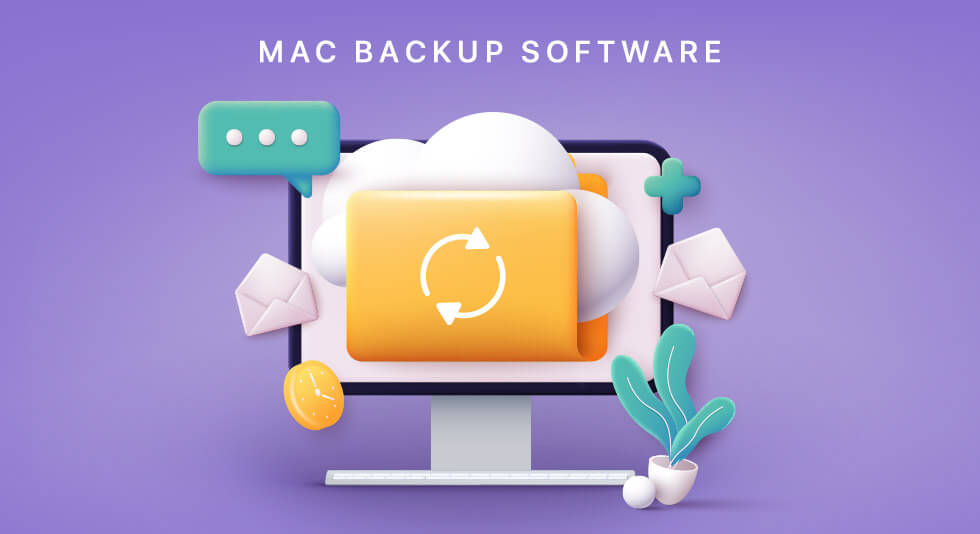 Backing up your data is crucial, and you should adapt. Regularly backing up your device gives you an extra edge against unpleasant situations like system failures, malicious attacks, data corruption, etc. Your computer should be backed up regularly to protect your data. You can think of Data Backup as your "Plan B" operation that you can switch to and access at any time.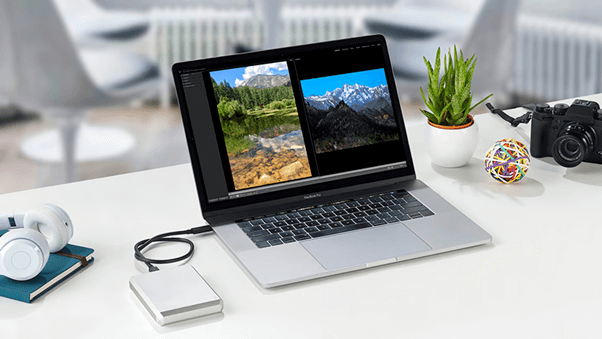 Well, not just this; it helps you create a secure archive of your important files and data so that you have nothing at stake in case anything goes wrong, especially when your system malfunctions. No matter which device you use, whether a smartphone, tablet, or laptop, you should always create a secure backup of your device that helps you prevent data loss. In the case of a hardware failure, data backups prove to be super helpful as you go back to the point where you started without losing anything.
What is a Mac Backup Software?
Backup software is a professional tool that helps you create a secure copy of all your data, including pictures, videos, documents, folders, and everything else that protects you against file corruption, accidental deletion of a file, or any other disaster.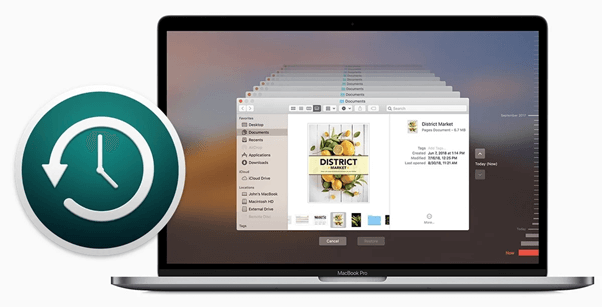 Yes, we have a macOS Time Machine backup mechanism installed on your device. But sometimes, it's good to have a second alternative, a professional Mac backup software that helps you finish the job with minimal effort.
Are you looking for the best Mac backup software you can rely on? You've come to the right place. This post has listed various tools that can come to your rescue and help you cater to all your backup needs.
Let's get started.
Best Mac Backup Software to Use in 2023
1. Disk Drill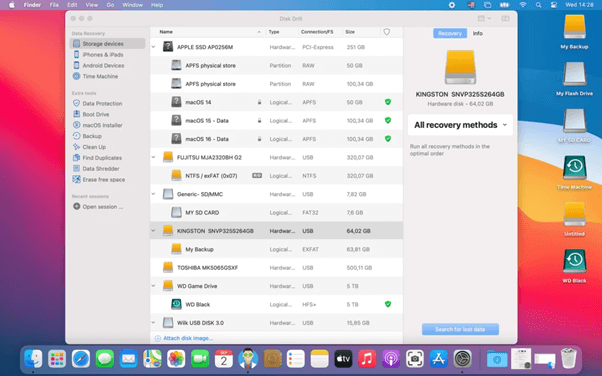 Disk Drill is your one-stop solution for all your data backup needs on Mac. It is an advanced data restoration software for macOS that creates an exact copy of your hard drive to back up all your important files and data in one go. Disk Drill has a simple, easy-to-use interface that simplifies the data backup. It combines algorithms to recover deleted files, documents, photos, and videos.
Pros:
Simple, easy-to-use interface that is ideal for beginners as well.
Compatible with Windows and macOS.
Supports all major file formats.
Recovers data from different file systems.
Cons:
The free version of the Disk Drill tool only allows you to recover 500MB of data.
Slightly slow when backing up large files as compared to Time Machine.
2. Acronis True Image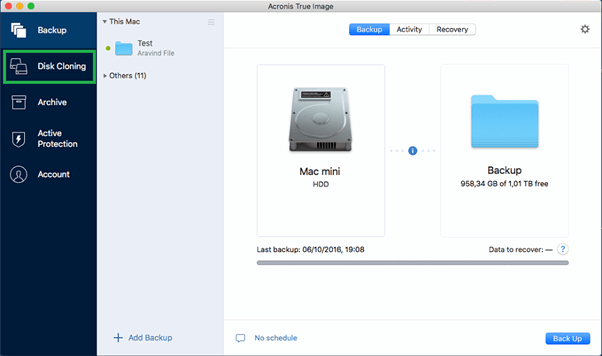 Looking for an ideal Mac backup software that goes beyond the capabilities of macOS Time Machine? You can pick Acronis Time Machine to protect your Mac from data loss citations, cyberattacks, ransomware attacks, etc. The Acronis True Image data backup tool for Mac helps you quickly create a backup of your important files and data.
Pros:
Supports "Drive Cloning," which creates an exact copy of your hard drive.
Offers advanced cyber protection against malicious attacks.
A "Dual backup" feature ensures you don't lose important files.
Cons:
Comparatively pricier than other data backup tools.
Your Mac's boot time might considerably increase.
3. iDrive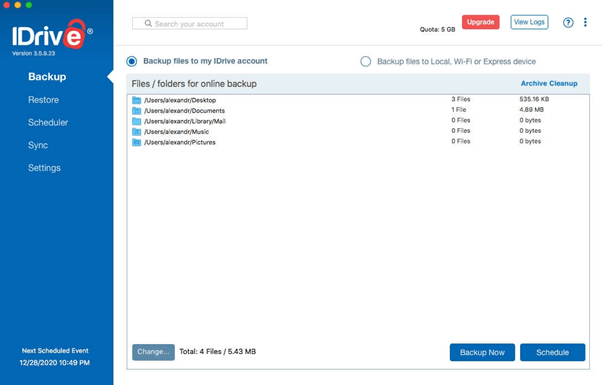 Here comes another Mac backup software that can create a clone copy of your disk drive to back up all the essential files, folders, and data. iDrive is an online backup service for Mac that offers up to 5 GB of storage space.
Pros:
Quickly backups your entire device, including individual files and folders.
Offers you an option to create private encryption keys.
Compatible with macOS, Windows, Linux, iOS, and Android.
Cons:
The free tool version only offers a 5 GB data storage limit.
4. ChronoSync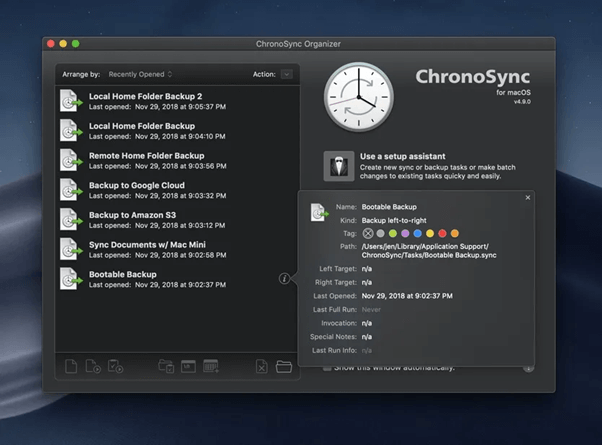 ChronoSync is an ideal app for all your backup and synchronization needs. This nifty data backup app for macOS helps you create bootable backups of your device and protects your precious data.
Pros:
Powerful scheduling capabilities.
Quick data recovery from catastrophic events.
The backup files are first moved to temporary structures before being replaced by new versions.
Cons:
The user interface has room for improvement.
Supported on macOS 10.1 and later.
5. Carbon Copy Cloner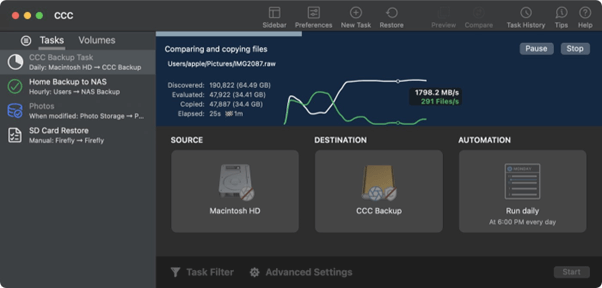 The CCC (Carbon Copy Cloner) is a secure data backup and cloning tool for Mac that offers you all the functionalities of macOS Time Machine and beyond. It helps you create speedy backups of your Mac's hard drive and gives you complete control to choose exactly what you want to back up.
Pros:
Quick data backups.
Keeps a copy of previous backup files.
Restore accidentally deleted/lost files.
Dramatic, eye-catchy user interface.
Offers you a 30-day free trial period.
Cons:
You may get annoyed with the "Quick Tips" features that try to help you with everything.
Conclusion
Here is the best Mac backup software in 2023 that you can use to create a secure backup of your hard drive. You can pick any of the above-listed tools that will guide you through the data backup and recovery process on macOS.
Do let us know which one is your favorite pick from our list. Feel free to drop your suggestions in the comments box!