Best Photoshop Alternatives for Mac 2023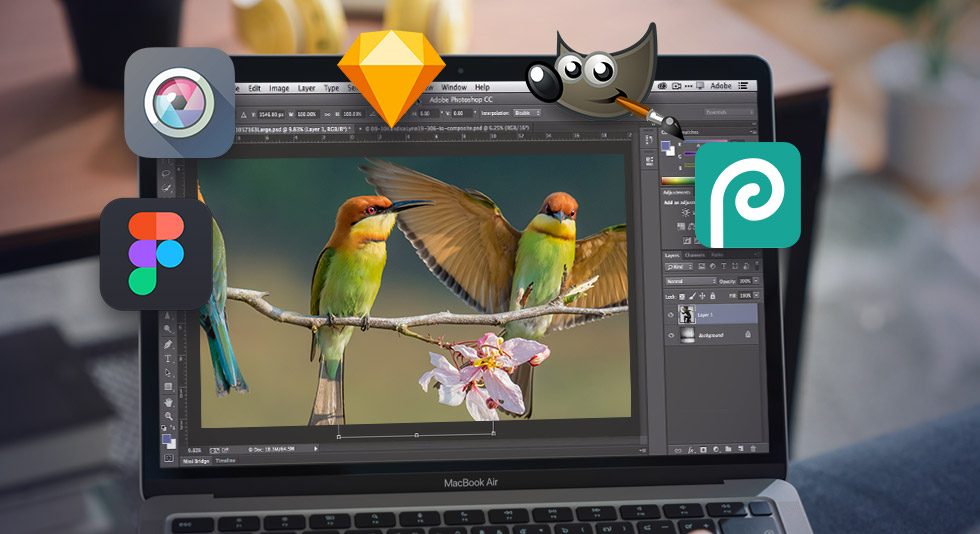 If for some reason you don't want to use or have  Adobe Photoshop for editing, then don't worry, there are plenty of Photoshop alternatives for Mac available. You will be surprised to see what other apps have to offer.
Every tool explained below comprises different features like editing photos in a batch, being capable of performing typical tasks, are budget-friendly, or free of cost. Considering all of these features and more, we have compiled a list of the best Photoshop alternatives for Mac. Scroll through them one by one and find out the best equivalent here.
10 Best Photoshop Alternatives For Mac:
1. Luminar AI
Free Trial: Yes | Price: $69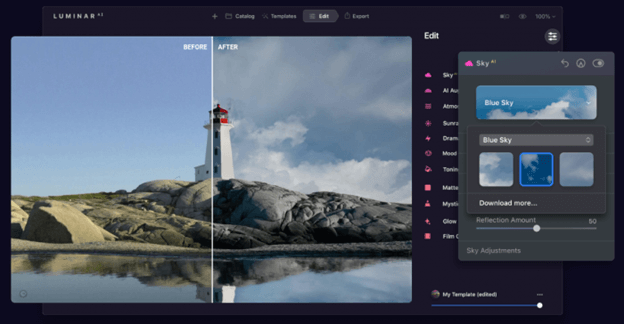 Fully powered by Artificial Intelligence, this photo editing software like Photoshop is loaded with innovative technologies so that the user doesn't need to spend time on basic and boring tasks. It can be called a smart photo editor app with extensive filters, textures, overlays, and more. From landscape pictures to fixing human portraits, Luminar can cover it all.
Pros:
Simple and clean interface
Multiple filters and adjustment tools with brush and gradients
Cons:
Features of face recognition and keyword tagging are unavailable.
Download: Luminar AI 
2. Adobe Photoshop Elements
Free trial: Yes | Price: $69.99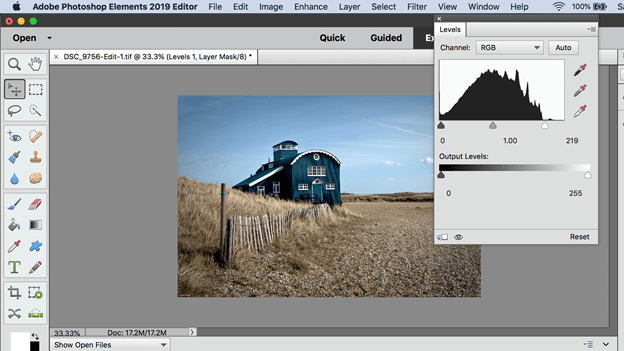 You could be confused about the name which has the term Adobe Photoshop in it but it is a Photoshop equivalent for Mac. Get your photos in the best possible phase with 60 guided edits, basic tweaks, artistic creations, and much more in between. This tool can be perfect for beginners as they find themselves with proper assistance. Moreover, there is an effortless organization powered by Adobe Sensei AI technology which gives a pro finish to the pictures.
Pros:
Face tagging and geotagging capabilities available.
Powerful image manipulation tools
Cons:
Social sharing options are very limited.
Download: Adobe Photoshop Elements
3. PicMonkey
Free trial: Yes | Price: $72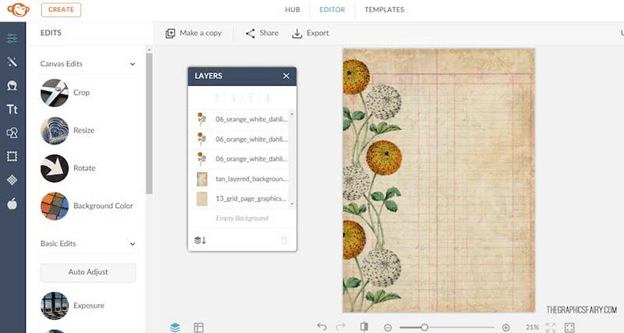 PicMonkey offers you severaltemplates for your social media channels in the form of flyers, presentations, invitations, and logos. Photo editing is no less than the jam where you can choose your photos as there is a huge stock of them, after all, its parent company is Shutterstock. Moreover, there are tools like TouchUp, color changer, and background remover to make your presentation just right.
Pros:
Help build your brand identity.
Plenty of content is available online.
Cons:
Video editing is not available.
Download: PicMonkey
4. Sketch
Free trial: Yes | Price: $9 monthly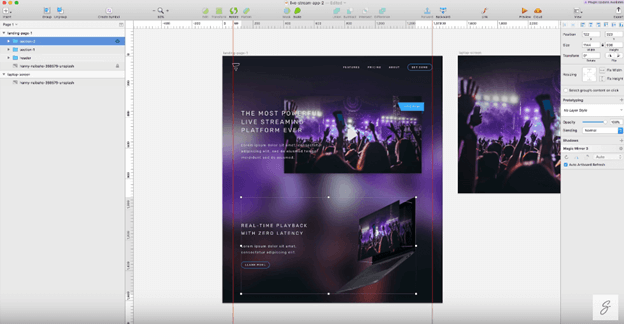 Designed for making the designing process easier, there are so many playable prototypes available here along with an intuitive interface. You can create so many things here like pixel-perfect icons, projects, presentations, and much more. This vector graphics app can be used for free on its browser-based tab and possesses countless plugins for making the work process functional.
Pros:
Very easy to understand interface.
Export graphics in multiple other formats.
Cons:
No cross-platform features available.
Download: Sketch
5. GIMP
Price: Free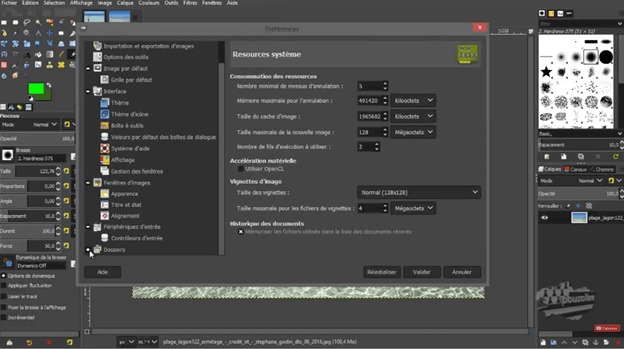 Having a free Photoshop alternative for Mac resolves a number of editing issues you are dealing with. GMP offers you high-quality tools for the restoration of images as well as retouching them. It has the ability to create new icons, use scripted image manipulation, and get color management tools like Inkscape, Scribus, etc. Do not worry if you are new to the tool because the website has an extensive tutorial library for your assistance.
Pros:
Work with different layers like text, images, etc.
Small learning curve and any newbie can put their hands on it.
Cons:
Lack of customer care support.
Download: GIMP
6. Pixelmator Pro
Free trial: Yes | Price: $39.99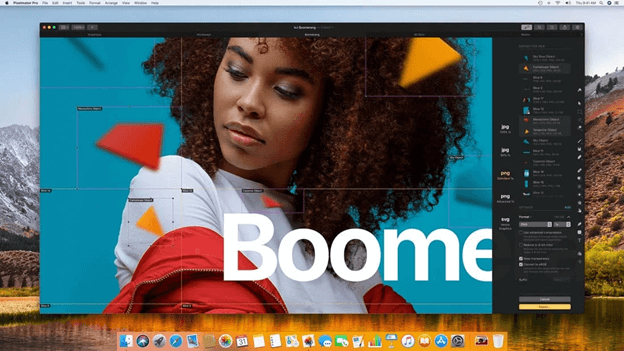 This image editor is designed to make image editing easier and more accessible. There is a magic background eraser that can delete background with a single click. With this, get automatic subject selection using which you can edit the colors just the way you want. It can magically remove subjects not required, clone parts of the photos, lighten or darken the specific areas and do much more.
Pros:
Supports RAW editing from more than 600 digital cameras.
Smart refining to turn a selection into pixel-perfect one.
Cons:
Some features are difficult to identify or may look hidden.
Download: Pixelmator Pro
7. Acron
Free trial: Yes | Price: $39.99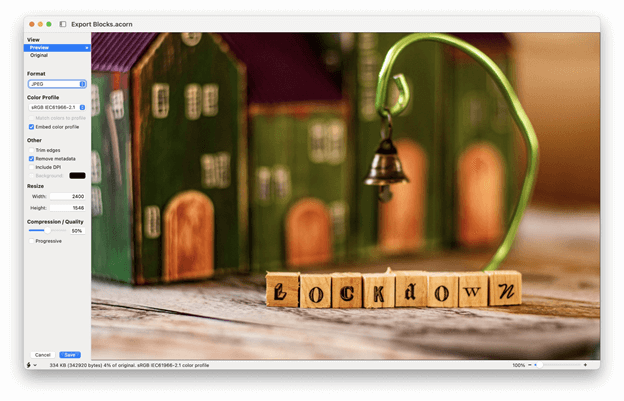 Loaded with awesomeness in one single tool, this photo editing software for Mac like Photoshop has non-destructive curves, levels, and filters. The specially made Circle Text tool is easily placed on a circle to create logos and other text designs. Get multiple photo effects aligned with you like vignette, drop shadow, gradient, sharpening, blur, and hundreds more. Moreover, the effects are seen in real-time for better adjustments.
Pros:
Preserve vector layers of different shapes and sizes.
Highly usable and intuitive interface.
Cons:
The software may be a little typical for new users.
Download: Acron
8. Affinity Photo
Free trial : Yes | Price: $21.99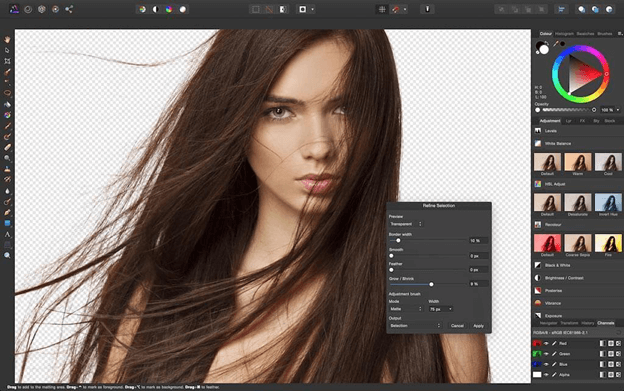 One of the best alternatives to Photoshop, this tool is good for designers as well as photographers from all walks of life. It is also because the tool is compatible with Photoshop and other formats available. From flawless retouching, real-time editing to massive image support, the tool has broadness to offer. With this, find focus stacking, batch processing, raw editing, and digital painting done here.
Pros:
Lightweight and resourceful on RAM.
A wide assortment of export features is available.
Cons:
The learning curve may be steep for new users.
Download: Affinity Photo
9. Pixlr Pro
Free trial: Yes | Price: $5 monthly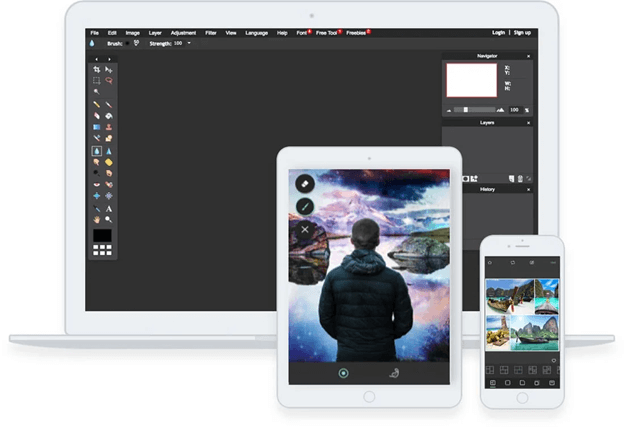 Pixlr Pro is an in-browser application with amazing photo editing and designing tools. You can even start anything from an empty canvas or choose a professionally designed template to do your jobs like creating banners, Instagram stories, brochures, business cards, or sales pitches. You can animate your designs here to capture your audience in the easiest way possible.
Pros:
Access to 1 million royalty-free photos
Mask complex objects with the Refine edge tool.
Cons:
Sometimes ads may pop up and annoy you.
Download: Pixlr Pro
10. DxO Photolab
Free trial: Yes | Price: $99.99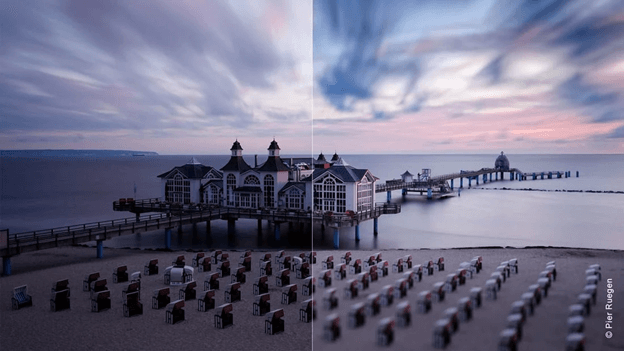 This tool is already known as a leader in photo editing software where fine-tuning of colors could be experienced. You can add watermarks as an integrated part of the workflow before exporting the photos. Moreover, get red-eye reduction, color correction as well as image management support with DxO Photolab.
Pros:
Best known for noise reduction in the photos
Very powerful local adjustments can be done.
Cons:
Too pricey when compared to its competitors
Download: DxO Photo Lab
Wrap Up
We hope that you have found out paid and free photo editing software for Mac like Photoshop through this blog already. However, we would like to know which is the best software according to you and why in the comments below. Share your views and spread the blog with others too.
FAQs: Photoshop Alternatives for Mac