9 Best Startup Manager Apps for Mac 2023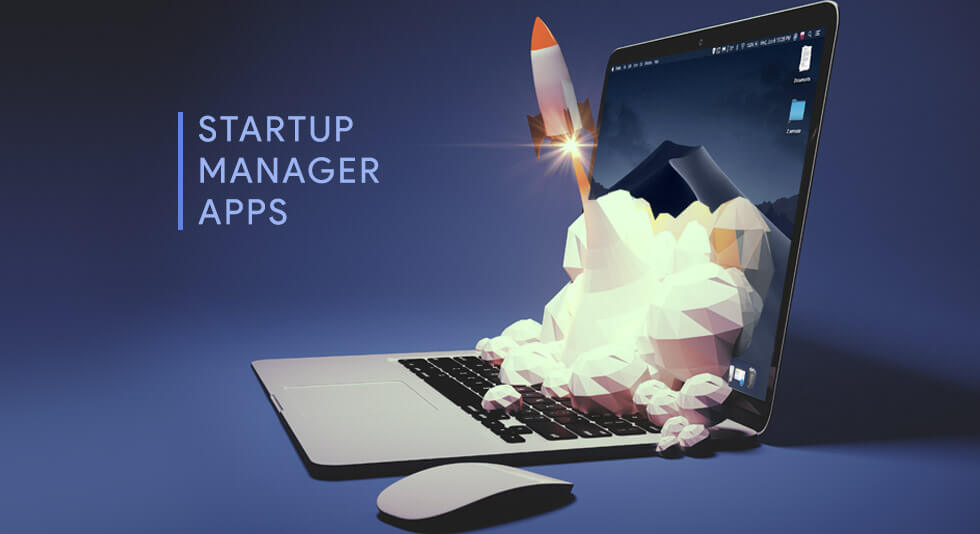 Do you often experience your Mac running slow and taking longer boot time? Well, this is a common instance and every time you boot your Mac there are several apps and programs running in the background. These are also named as Login items or startup items. A lot of startup items have this as a nature while some of them get added to the list unknowingly. Due to this the Mac's boot time is increased and it decreases its performance.
This article includes introducing Startup items and the best Startup Manager apps to manage the startup items on Mac.
Startup Items: An Introduction
Often termed as Login items, startup items are all those services and applications that popup when you turn on your Mac. These items do not cause any issues until the list gets piled up and adds numbers to startup items, this leads to a slow working Mac. Furthermore, the removed startup items leave a broken link that causes system crash or similar errors.
Best Startup Manager Apps For Mac 2023
Facing speed issues or slow boot time on Mac? Optimize your Mac with these startup manager programs and feel free after you have any of these installed on your system.
These are the top 9 picks for startup manager apps, here you can check details related to their functioning. Read the blog further to know more about these startup managers for macOS.
1. CleanMyMac X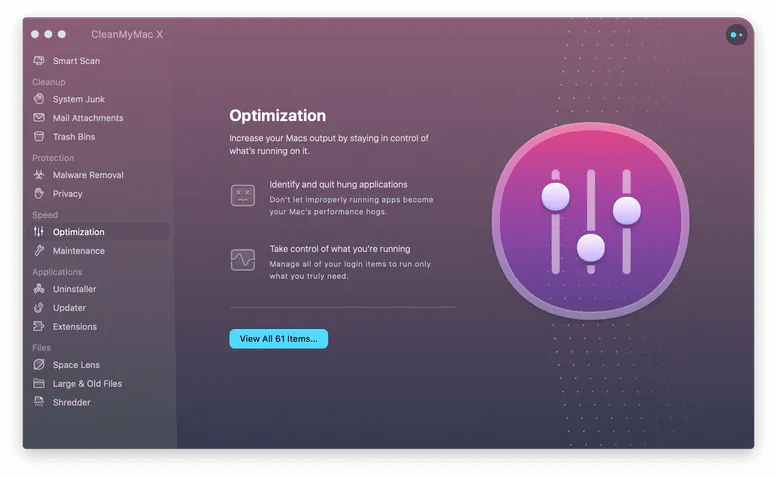 Make your Mac look as good as new with CleanMyMac X- an efficient startup manager tool for Mac. This login item manager is an all-in-one package that cleans megatons of junk, and makes your Mac run faster, smoother and better. This is also called a Mac genius that lets you use dozens of optimization features and lets you scan and disable Startup programs, malware detector and remover and a performance booster. Additionally, this amazing tool lets you clean unnecessary space taken over by files like outdated cache, broken downloads, logs, and much more.
Pros:
Scans were fast and accurate.
App ran smoothly and was not CPU intensive.
Multiple functionality compiled into one app.
Cons:
A bit of an expensive tool as compared to others.
Free trial offers limited options.
2. CCleaner for Mac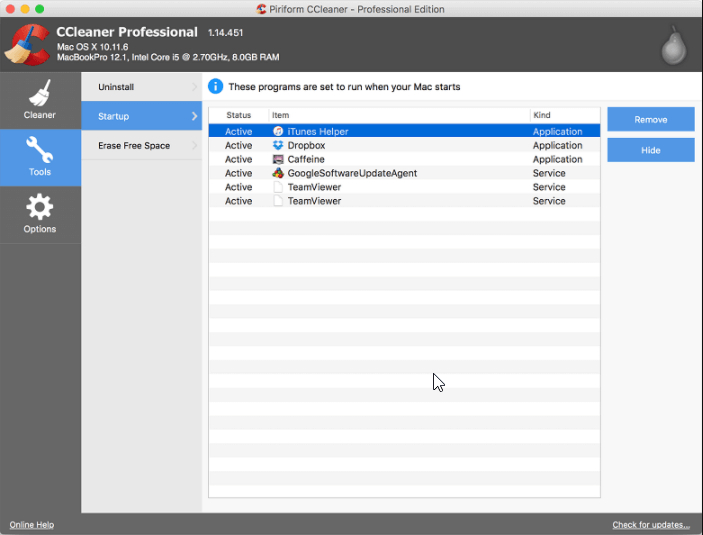 While experiencing a slow running Mac, you can use CCleaner professional to get rid of all the collected junk and unused files. CCleaner works almost the same for both PC and a Mac. you can find and remove clutter from your system in order to boost system performance. It further lets you clean your recycle bin, temporary files and folders, broken permissions and more. CCleaner offers a distinct module to manage Startup items, using which you can disable Startup items that are useless and improve Mac's response time.
Pros:
Offers speed boosting.
Easy and straightforward interface.
Helps in efficient cleaning of the system and the browser.
Cons:
A few configuration options.
3. MacReviver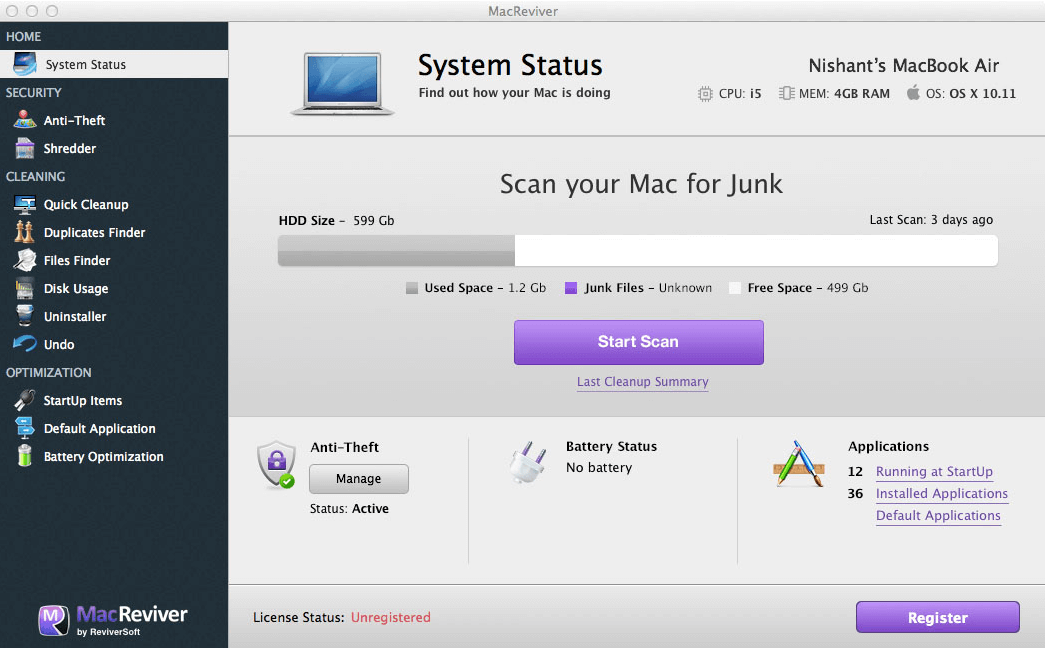 Restore your Mac for optimum performance and stability with MacReviver- a robust startup manager. This amazing tool helps you clean your Mac for any junk and unnecessary clutter. Additionally it offers you a bonus Anti-Theft Protection feature that enhances the security of your system. You can use MacReviver's pro version to use its startup manager. The startup items manger allows you to manage and monitor applications that launch at the time your Mac boots. Other than this, it lets you manage the battery life, use its file shredder to permanently get rid of files with confidential information.
Pros:
Easy to use app with a user-friendly interface.
Several options to look for unnecessary files and safely remove them.
Efficient privacy protection tools.
Cons:
The app adds itself to Dock and Login Items automatically.
4. MacBooster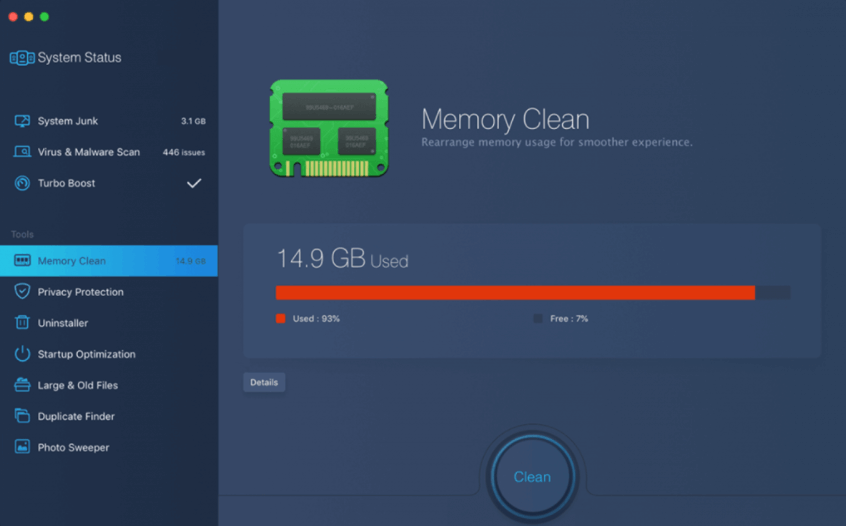 MacBooster is a tool that helps you clean your Mac to boost its overall speed and performance. This is a powerful utilization tool that aims at maintaining and protecting your Mac from malware and other malicious threats. The tool is easy to use and its interface is user friendly. You can directly download it from its official website and launch the app on your macOS. Once done, click on the Clean and Boost to check for any errors, threats and redundant files under system tabs. It further includes Internet Security, System Cleanup, System Optimization, and more.
Pros:
Single solution with a wide range of functionalities and instruments.
High performing software with reliable service.
Thorough cleaning of startup items and duplicate files.
Cons:
Brief feature explanations
Duplication of Mac OS optimization tools.
5. App Cleaner & Uninstaller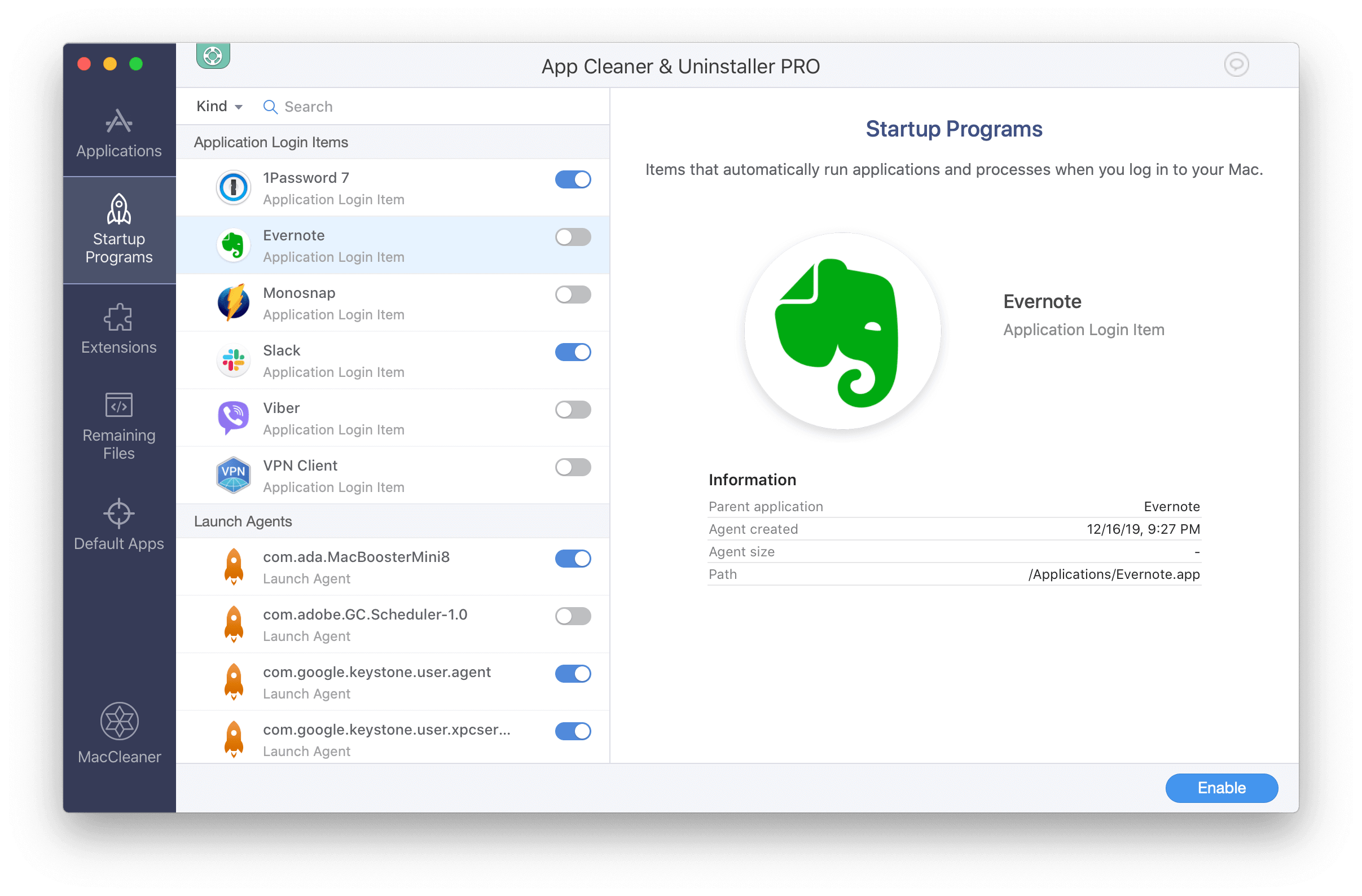 While you are looking for the best mac cleaning and optimization tools, App Cleaner & Uninstaller gets a position in the list of top 10 startup managers. This tool is effective for Mac users to remove unwanted applications from Mac or delete only unwanted service files and even their remains. You can choose this tool to uninstall unwanted apps and junk files, stop apps and programs that run during Mac startup, clean up remaining files, disable or uninstall Mac system extensions and more.
Pros:
Informative window about programs.
File tree with their program components.
Search and delete traces.
Cons:
Buttons to get to categories description.
Exclusions list inept
6. TuneupMyMac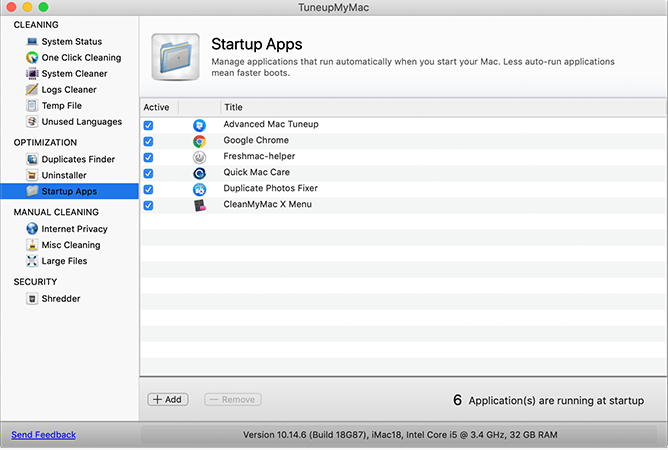 Another in the list is TuneupMyMac- a robust Mac cleaning and optimization tool. It helps you to fix the constant wear and tear of your system. This tool is helpful in cleaning the accumulated junk in the form of log files, unwanted apps and programs, temporary files, and more. Decluttering a Mac is time-consuming, but this tool has its own benefits and it aims at cleaning your precious Mac inside out for any errors. This excellent Mac optimizer and startup manager helps you to manage automatic application launch at Mac startup. You can find, enable, disable or add startup programs easily.
Pros:
A brilliant tool to let you free of unwanted files and programs.
Efficient file shredder.
Duplicate File Finder and Cleaner
Cons:
A little upgrade in its interface.
Priced a bit high.
7. MacKeeper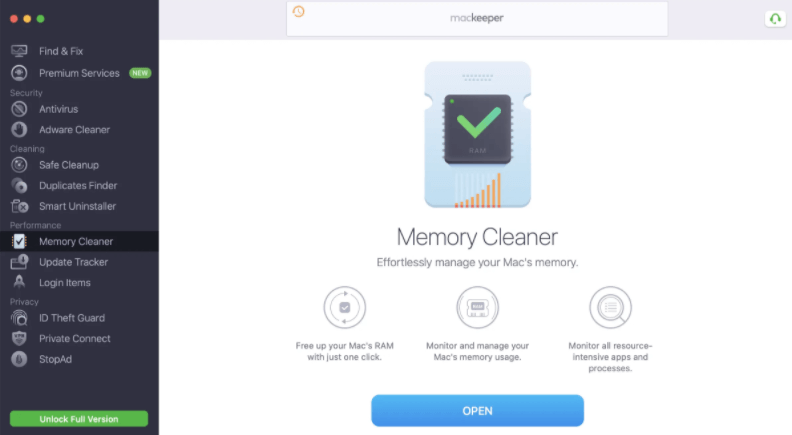 MacKeeper is all that your Mac needs. It is our top pick when it comes to the Mac cleaning and security apps. It can seamlessly tune up the performance of your system, detect and remove malware while removing junk and do a lot more than you have expected. You can use MacKeeper to clean junk, duplicates, and useless apps to save gigabytes of disk space, clean your Mac's memory, remove login items and get things done more efficiently. Additionally, you can use MacKeeper to safely download files with its reliable virus protection.
Pros:
Offers data encryption
Fast cleanup
Memory cleaner and duplicate finder
Cons:
Lacks in Mac malware protection.
8. OnyX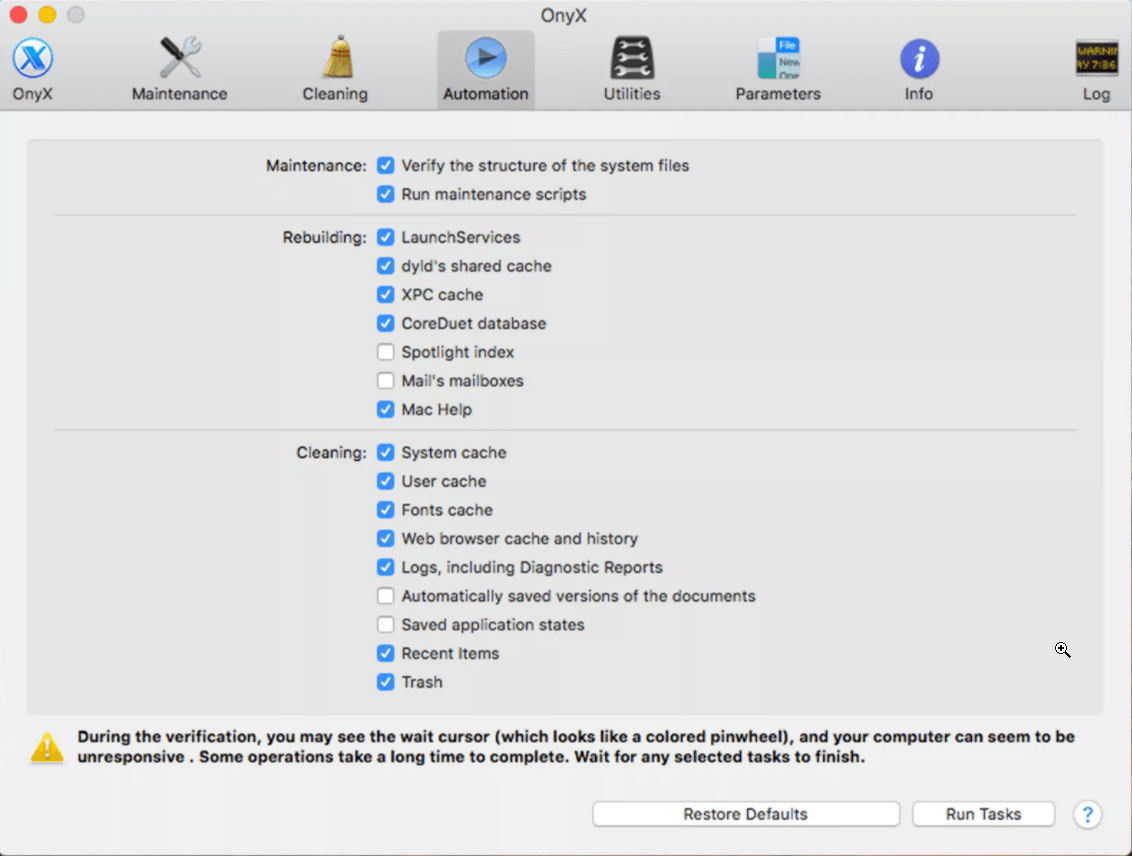 OnyX is a multifunction utility for Mac that verifies system files structure, scans for startup disk space, runs maintenance checks, and a lot more for better and faster performance of your Mac. You can use this amazing tool to manage startup programs, to delete system caches, to remove certain problematic folders and files, to rebuild various databases and indexes. OnyX is a reliable startup apps manager for Mac that provides a clean interface for many tasks.
Pros:
Free to use startup manager program for Mac.
Old program with strong stability and minimum bugs.
Cons:
The users must have an above-average know-how of macOS.
9. Mac Optimizer Pro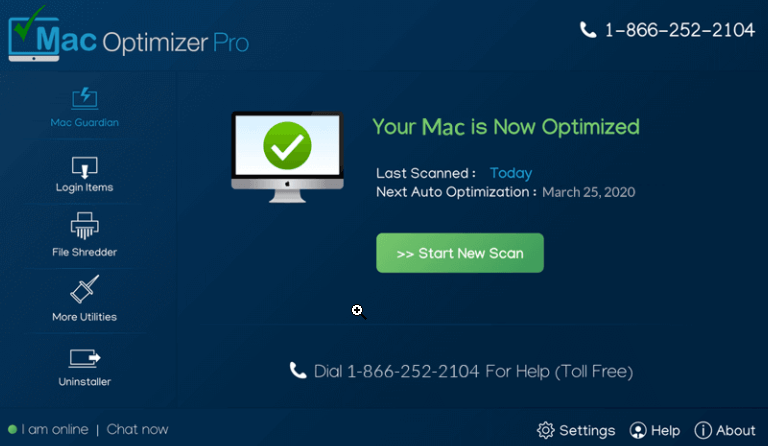 To fix your slow running Mac due to unnecessary clutter collected in the list of Startup items, you can use Mac Optimizer Pro- a 'consumer certified' speed up software for Mac. This is one of the best Mac cleaners to clean up and speed up Mac. Mac Optimizer Pro plays a vital role in tweaking, tuning and optimizing the performance of your Mac for a better and faster performance. With its awesome features, you can feel relaxed for your system's performance and speedily get rid of issues that lead to poor performance, frequent hangs and much more. Not only this, its Login items module helps you manage and monitor the apps and programs that start while you boot your system.
Pros:
Best utility to help you clean, repair, and organize your Mac.
Incredibly fast and efficient disk utility.
Get your Mac back in shape with quick, essential tools.
Cons:
Unwanted warning pop-ups that slow system performance.
Frequently Asked Questions
That's all folks! These were some of the best startup manager apps for Mac that you can use to optimize your Mac and manage its Startup items.  While researching this topic, we found TuneupMyMac to be the best match. Using TuneupMyMac not only helps you manage and disable Startup Apps but also aims at overall cleaning of your system. From malware scan to junk scan to privacy scan, this tool has more to offer.
Check out this list of top picks and let us know which one you find the best suited for your Mac in the comments section.