Best Writing Apps for Mac 2023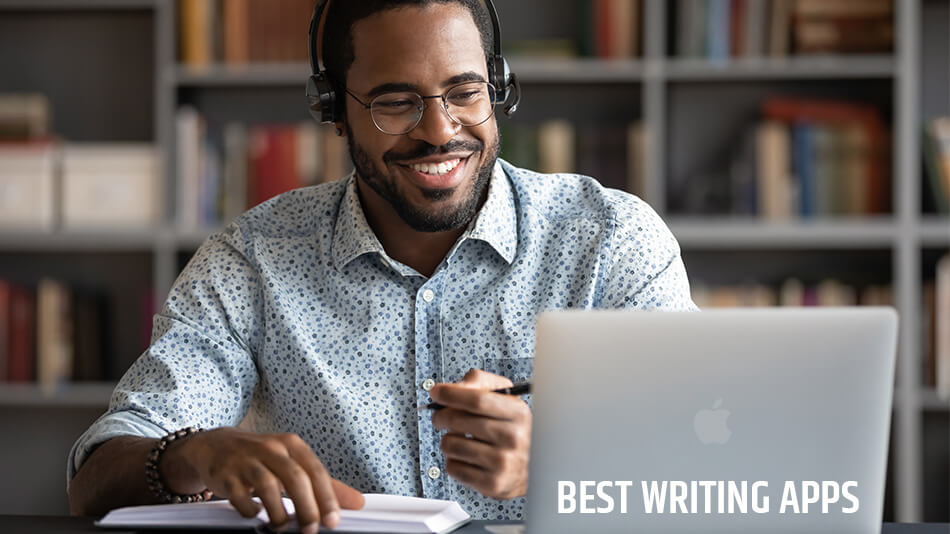 Writing is powerful, and honestly, one of the best ways to express yourself. No matter if you are an experienced writer or a beginner who wants to pursue the dream of becoming a writer. With the right thoughts, knowledge, and skill, you also need good writing apps to help you create desirable content. This  brings me to the point of carefully choosing the best writing apps for Mac which you can use smoothly to write your blogs, tasks, feelings, thoughts, and even a letter to a forgotten friend.
Here we have listed some of the popular writing apps for Mac, along with the features and what they have to offer.
Best Writing Software for Mac
1. Pages

Equivalent to Microsoft Word, this is native to the Apple family and comes with all the Apple devices. There is simplicity and abundant functionality with the tagline 'Page that says it all. Beautifully.' One can create stunning documents and enjoy real-time collaboration and teamwork. From choosing the look, customizing the texts, adding graphics, and inducing powerful features, Pages have got you covered.
More Features of Pages
All the edits done are saved automatically.
Add photos, audio, clips, equations, charts, and more than 700 shapes to the page.
Work seamlessly across all Apple devices.
Save Pages documents as Word files or import Pages in Word file.
Pros:
Excellent for team collaboration across Apple devices.
Easy exporting of documents to Microsoft Word.
Cons:
It falls short of additional features when compared with Microsoft Word.
2. Write!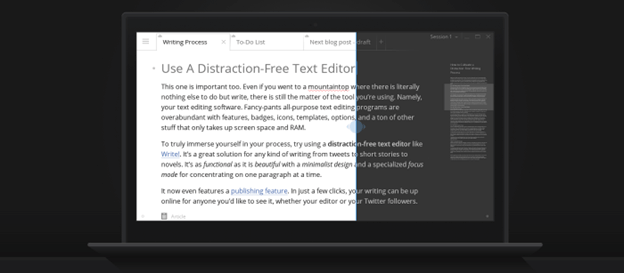 Price: $9.99
A modern note-taking application, Write is known for its distraction-free interface so one can write in peace. It is also designed for the highest productivity amongst students, writers, and bloggers. Plus, the application also helps you organize your work in a proper stack. Other interesting features include syntax highlighting, butter-smooth scrolling of documents, customizable themes as well as simple exporting options.
More Features of Write!
Use your font or pick from 8 handpicked fonts.
Get live word count and detailed document statistics.
Export files as PDF, RTF, or HTML.
Dark theme available for the health of the eyes.
Pros:
Cloud syncing of data available
Two different distraction-free modes provided
Cons:
No free trial version before purchase
Download: Write!
3. IA Writer
Price: $29.99
This writing software for Mac is simple, powerful, and gives you ownership of your writing tools. No writing and rulers so that you have a clutter-free environment to express your thoughts. It understands that focus is the key to writing fruitfully and hence offers shortcuts and simplified settings so that one doesn't get overwhelmed. Once you are done with writing, export the document to MS Word or PDF as per your need.
More Features of IA Writer
Customize templates and export them to WordPress, HTML, or other files.
An inverted light-on-dark-mode which is good for working day and night.
Focus mode dims everything except the current paragraph or sentence.
Spots weak verbs, adjectives, repetitive nouns, or other usual rumbles.
Pros:
Supports markdown formatting and syntax hacking.
Very distraction-free design.
Cons:
No pre-designed templates as offered by competitors.
Download: IA Writer
4. Drafts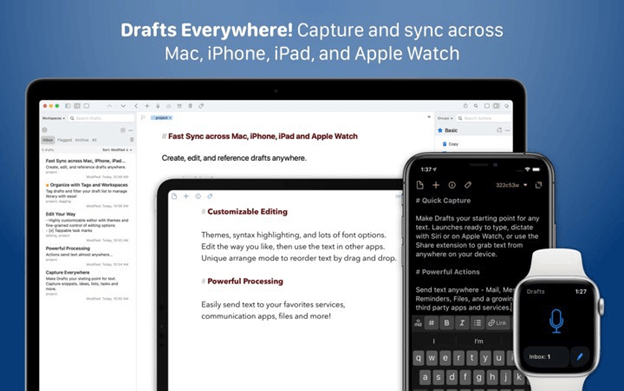 Price: Free (in-app purchases available)
A smart and free writing app for Mac, this tool is perfect for those writers who want to jot down their ideas in one go and polish them later. It acts as a quick notebook, a handy editor as well as a writing automation tool. You can even go hands-free with its dictation feature and later apply actions like copying, sharing, making it ready for tweets, and flagging important ones side by side. With tons of interface adjustment levels, it even supports capture via Siri, widget, or share extensions.
More Features of Drafts
Comes with different viewing options for larger editing areas.
Assign tags to the draft and do the filtering later.
Make different workspaces here with unique color-coded icons.
Pros:
Allows capturing through iPhone, iPad, and Apple Watch.
Archive your documents for long-term storage.
Cons:
No templates available for designing.
Download: Drafts
5. Scrivener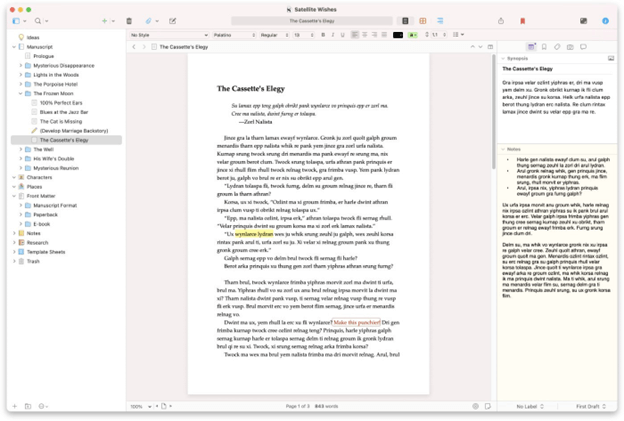 Price: $19.99
Get an interactive tutorial project at the beginning to understand how the tool works! The next part to note about this writing app for Mac is that it is tailor-made for long write-ups like a movie script or thesis. To prepare your draft, tools like Typewriter, Ring-binder, scrapbook, and more. These tools align with your writing from draft to the final read. Moreover, when your work is ready to go then you can export it to most of the popular formats like Word, PDF, or Final Draft.
More Features of Scrivener
Comprehensive keyboard shortcuts for external keyboard users.
Allows easy splitting of imported texts into separate sections.
Live word and character counts
Write in any order and organize the structure later.
Pros:
Saves required web pages in a Binder.
Prepares visual corkboard with little index cards.
Cons:
The learning curve is steep and time taking for a newcomer.
Download: Scrivener
6. Evernote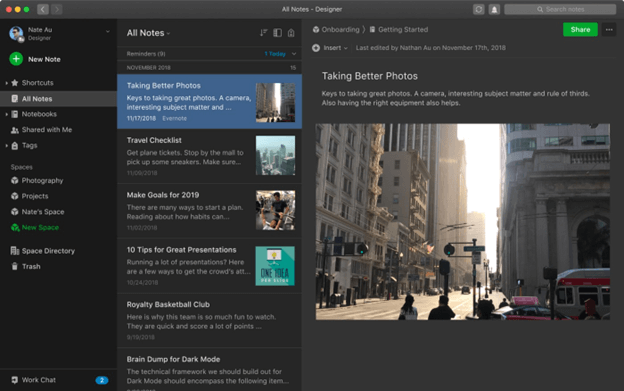 Price: Free
Known in the world of note organizers, this free writing app for Mac is just amazing. It is a great productivity app that allows you to write, collect and capture ideas, clip interesting articles and add texts, docs, and PDFs for enhanced productivity. You can manage your to-do list by setting due dates, syncing your notes across other devices, and keeping a track of all the important details. In short, it has more to offer than just a writing app.
More Features of Evernote:
Use a camera to scan and organize documents, business cards, handwritten notes, etc.
With Evernote Business, bring people and ideas together with shared Spaces.
Access the notes anytime and anywhere.
Pros:
Very quick note-taking and syncing across devices.
Powerful search options within the tool.
Cons:
Premium plans are expensive.
Download: Evernote
7. Ulysses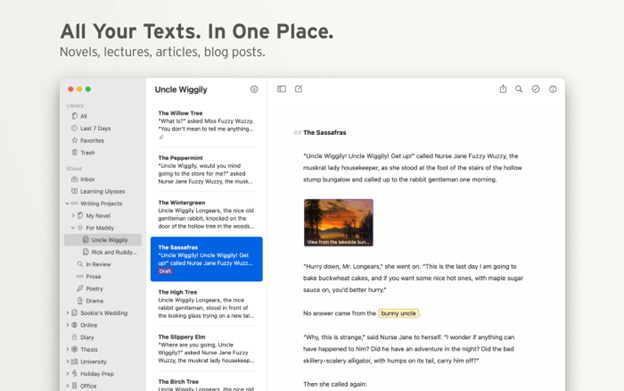 Price: Free
Consider this tool as one-stop writing experience because it is pleasant, offers focused writing, and provides effective document management. Whatever you write in the diary is automatically saved and stays in sync. It is available in more than 20 languages which is why a vast group of people download and use it for their writing experience. With this, it supports punctuation, semantics, redundancy, style, and more.
More Features of Ulysses
Also known for distraction-free editing skills.
Integrated grammar and style check available.
In-built proofreader and editing assistant.
A dedicated publishing button and publishing review.
Pros:
Tidy interface.
Allows publishing to Medium or WordPress.
Cons:
Subscription-based pricing is expensive.
Download: Ulysses
8. Bear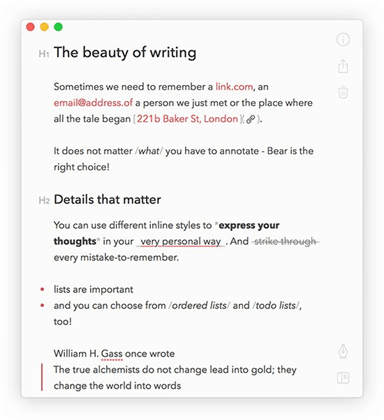 Price: Free (in-app purchases available)
Flexibility, simplicity, and organization all come at the same place with this free writing software for Mac. One can easily create notes with Siri iOS shortcuts and even Apple Watch with dictation. Apart from writing, you can also enjoy sketching and drawing with this tool. Later export the documents in different formats like HTML, PDF, Docx, and JPG.
More Features of Bear
Get Bear's app extension to grab images, texts, files, and web pages.
Add tags with # for quick note organization.
Copy part of the note easily to paste anywhere.
Pros:
Clear and user-friendly interface for a clutter-free environment.
Vast options for exporting.
Cons:
Light on features and meant for Apple users only.
Download: Bear
Wrap Up
We hope that you have found out which of the above apps is the best for writing. As per my recommendation, Write! Is one app which is best in terms of distraction-free modes, easy workability, and multiple other functionalities. What are your thoughts and views on this? Share them with us in the comments below.
Frequently Asked Questions