ClearVPN Review – Best VPN For Mac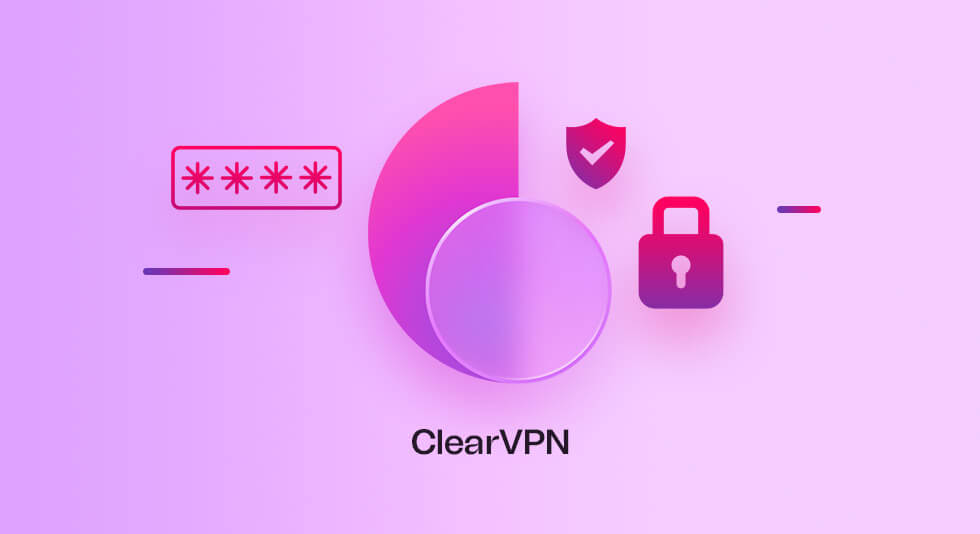 ClearVPN – Summary
Rating: 3.5/5
ClearVPN service calls itself 'the only VPN you'll ever need' as it is very user-friendly and nicely designed for identifying the best server according to user's requirements. For most use cases, it offers security and even provides unlimited free trial. However, it is known that ClearVPN can reduce the internet speed and is also more expensive than its competitors.
Pros:
It can unblock Netflix US.
Allows torrenting.
Military-grade encryption for safety
Cons:
Kill Switch is not available
Very pricey
Coming from the house of MacPaw which is a Ukrainian-based company, ClearVPN is known as a smart VPN for Macbook users. Since MacPaw already owns so many successful products, including PC optimizer, photo organizer, duplicate file finder, file encryptor, and more, ClearVPN is trusted by many users all over the world.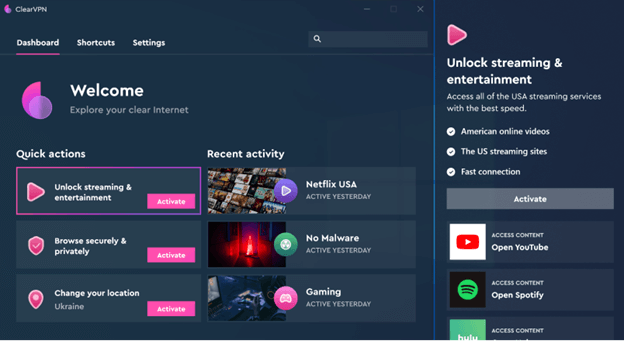 Let's check out what ClearVPN has to offer to its users and why it is known as the best VPN for Mac.
1. Unblocks Many Platforms:
So many popular websites could be unblocked with ClearVPN, including
Netflix
Hulu
HBO Max
Amazon Prime
Disney+
YouTube
YouKu
9Now
IMDB TV
Spotify
Peacock TV
However, you have to understand that if your internet connection is slow, then you may not be able to take full advantage of ClearVPN. Also, it is better to subscribe to ClearVPN if you wish to access all the platform shortcuts straightaway.
2. Server Network
Get a chance to discover VPNs of 20 different countries and the list also includes servers that are optimized for particular tasks. This VPN for Macbook has optimized server shortcuts using which you can start with streaming, torrenting, and browsing securely and smartly. Even if the server network is somewhat smaller, you can still enjoy a personalized experience amidst susceptible overcrowding. Get VPN of countries like
Netherlands
Spain
Brazil
Poland
France
USA
Germany
United Arab Emirates
Australia
UK
India
Israel
Canada
Japan
Russia
Hong Kong
Denmark
Singapore
Ukraine
Ireland
Because of low servers and overcrowding, it experiences super slow speed. However, you can filter out options from Browse securely, Safe banking, Safe chats, No malware, and No limitations.
3. Security
ClearVPN uses high-grade encryption and security methods with AES-256 encryption to ensure that your activities are secured online. Interestingly, it also uses DynamicFlow software which detects what is the current network and connects you with the fastest server. It takes this step to give you an effortless and secure VPN experience.
You may want to call it the best VPN for Mac as it comes with an adblocker so that no unwanted ads can show up. Moreover, it protects your email privacy and keeps the chat safe side by side.
We cannot forget to mention that there is an added layer of encryption available using ClearVPN and it can chain your VPN through Multihop. This means that your VPN can route your internet traffic through multiple servers at the same time. So no chance of getting exposed or hacked.
4. "No" Zero Log Policy
Although ClearVPN is very safe to use from the outside world and claims to have a zero log policy, it can collect your device's ID and other information related to the network, including speed tests and crash reports. It can also find out cellular information and connection type. ClearVPN is also found to log the number of connections, VPN location, country, and ISP being used. It is only your basic source lP address that is not logged in. But the positive side is that you can turn off the permission to get your data collected.
5. Multiple Device Connections
The good news is here! The VPN for Macbook offers you to connect 6 devices with one single license. The compatibility of different devices is also very smart as you can connect Android, iOS, and Windows with their latest updates.
Price & Plans
Before you understand the price plans, learn that you can try this product for free without paying any price. This is why it can be termed as the best free VPN for Mac.
As can be seen in the above image, the base price for buying starts with 1-month subscription of $12.95. If looking for 1-year subscription, pay $92.95, and if 2 years subscription, it costs $109.95.
Yes, it looks very pricey but you are also provided with 30 days money-back guarantee. Hence, if you are not satisfied with ClearVPN due to any reason, you can turn down the offer and get your money back.
Customer Support
It is found out that ClearVPN has a strong 24/7 customer support channel with email as well as live chat. Although you are most likely able to connect with online chat, if you don't get a proper response, then you can look for resources present at the website under Helpdesk.
Frequently Asked Questions
Q1. What Is the Best VPN for Mac?
You can call ClearVPN one of the best VPNs for Mac as it is user-friendly, safe to use, and provides private servers for browsing.
Q2. Is ClearVPN safe?
With an added layer of security that hops between servers, ClearVPN is safe to use.
Conclusion
We are hopeful that you have found out the in-depth review of ClearVPN with us and are thinking if we recommend this service. Well, it is a pricey product and does face a lot of lags but if you are someone who needs strong customer service, security and speed then it is a good choice. Also, we recommend you try ClearVPN before making a purchase decision and share the views with us in the comments below.