Duplicate Photo Fixer Pro – Best App To Find and Delete Duplicate Photos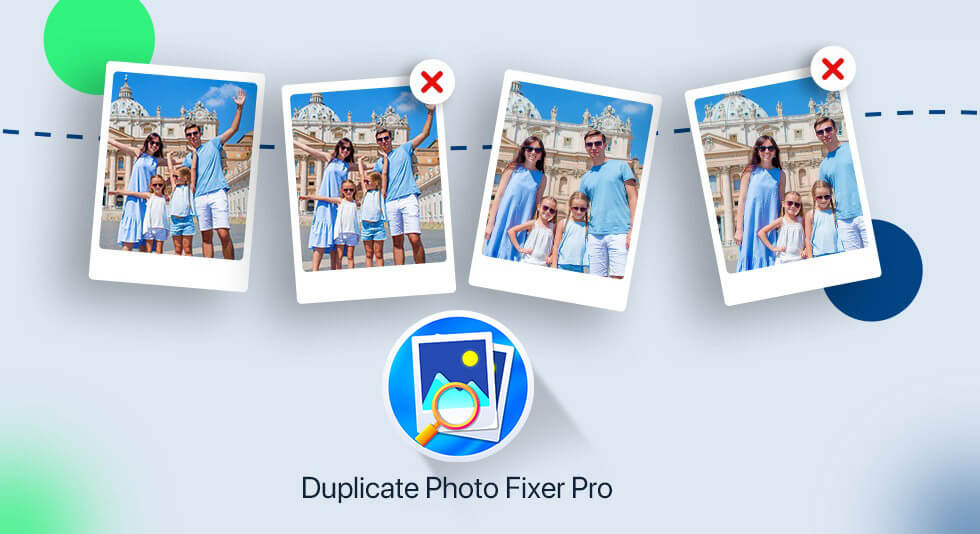 Duplicate Photo Fixer Pro for Mac is a robust tool to scan duplicate photos from your Mac and allows you to preview them before deleting them. Apart from duplicate photos, it also detects similar photos. With the fastest scanning engine at one end, it is also light on resources and offers compatibility for multiple photo formats.
Note: Hurry up! Duplicate Photo Fixer Price has dropped from $39.99 to $9.99 for a limited time period! Now organize your photos without any hassle. Click Here to Install from Mac App store!
Duplicate Photo Fixer Pro Review
Why Do You Need A Tool Like Duplicate Photo Fixer Pro for Mac?
We all love to click photos and as a matter of fact, we are hardly satisfied with just one shot. To get that one perfect shot we take several shots and eventually we store all these photos on our Mac. Over a period of time, these duplicate photos clog our Mac's storage space. Not just that, imagine, you have to choose one image from an ocean of duplicate images. Needless to say, you would probably have to spend several minutes, if not hours to select the correct image.
A Mac utility like Duplicate Photo Fixer Pro helps you remove unwanted duplicate photos from your Mac in a hassle-free and safe manner. In this Duplicate Photo Fixer Pro review, we'll have a look at its various features and we'll see how easily it can help you free up hard drive space and make your job of organizing photos on Mac.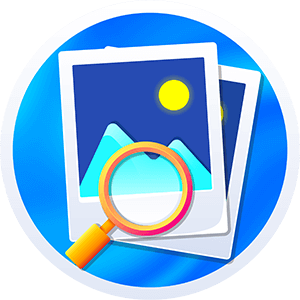 Download Duplicate Photo Fixer Pro
What Happens When You Use Duplicate Photo Fixer Pro On Mac?
Here are things that a utility like Duplicate Photo Fixer Pro has to offer to you –
●      A well-organized library
With your photo library uncluttered it becomes easy to organize your photo library and find the right photos when you need them.
●      Both External and Internal Drives Are Supported
No matter where duplicate and similar photos are – in your Mac's hard drive location, in your external hard disk, SD card, or even in your Google Drive, Duplicate Photo Fixer Pro helps you remove duplicate photos from everywhere.
●      Free Up Storage Space
Duplicate photos eat up a lot of storage space and a utility like Duplicate Photo Fixer Pro helps you recover tons of storage space.
Specifications:
macOS Compatibility – macOS 10.8 or later
Current Version: 4.5
File Size – 14.8 MB
Languages: English, German, French and Japanese
Reasons To Choose Duplicate Photo Fixer Pro For Mac:
Smart scanning engine: Finds duplicates and similar images from all corners of your Mac.
Modern, intuitive and easy to understand interface: Makes the task of finding duplicates easy.
Multiple scanning modes: Let you filter images based on bitmap size, time interval, GPS, and matching levels.
Scan both internal and external storage mediums: You can scan internal and external drives and even Google Drive for duplicate photos.
Pros & Cons:
Pros:
●      Fast scanning engine
●      Allows one to review and mark photos in batch
●      Recovers a good amount of storage space
●      Affordable duplicate photo finder and remover for Mac
●      Multi-platform duplicate cleaner
Cons:
●      A free version can delete only 15 duplicate images.
How To Use Duplicate Photo Fixer Pro On Mac?
Using this duplicate photo finder for Mac is very simple. First and foremost, install the application on your Mac and then follow the below-mentioned steps –
Download Duplicate Photo Fixer Pro
1. You can Add Photos, Add Photos Library, or Add Folder. You can also drag and drop photos from a folder, Google Drive, or your Photos Library.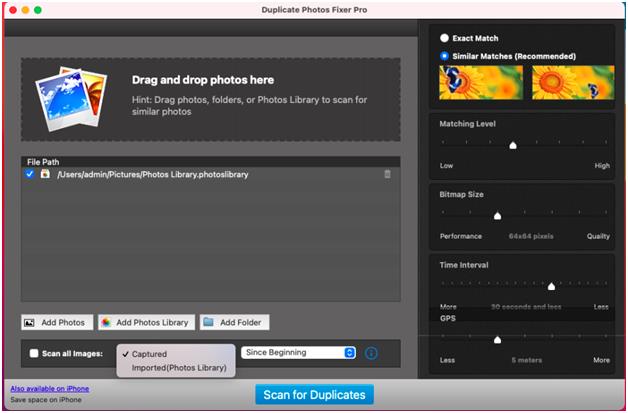 2. Once you have added the photos, click on Scan for Duplicates button and wait for the process to complete.
3. The duplicate finder tool will now let you preview all duplicates and similar photos.
4. To select photos, you can use the Auto Mark option.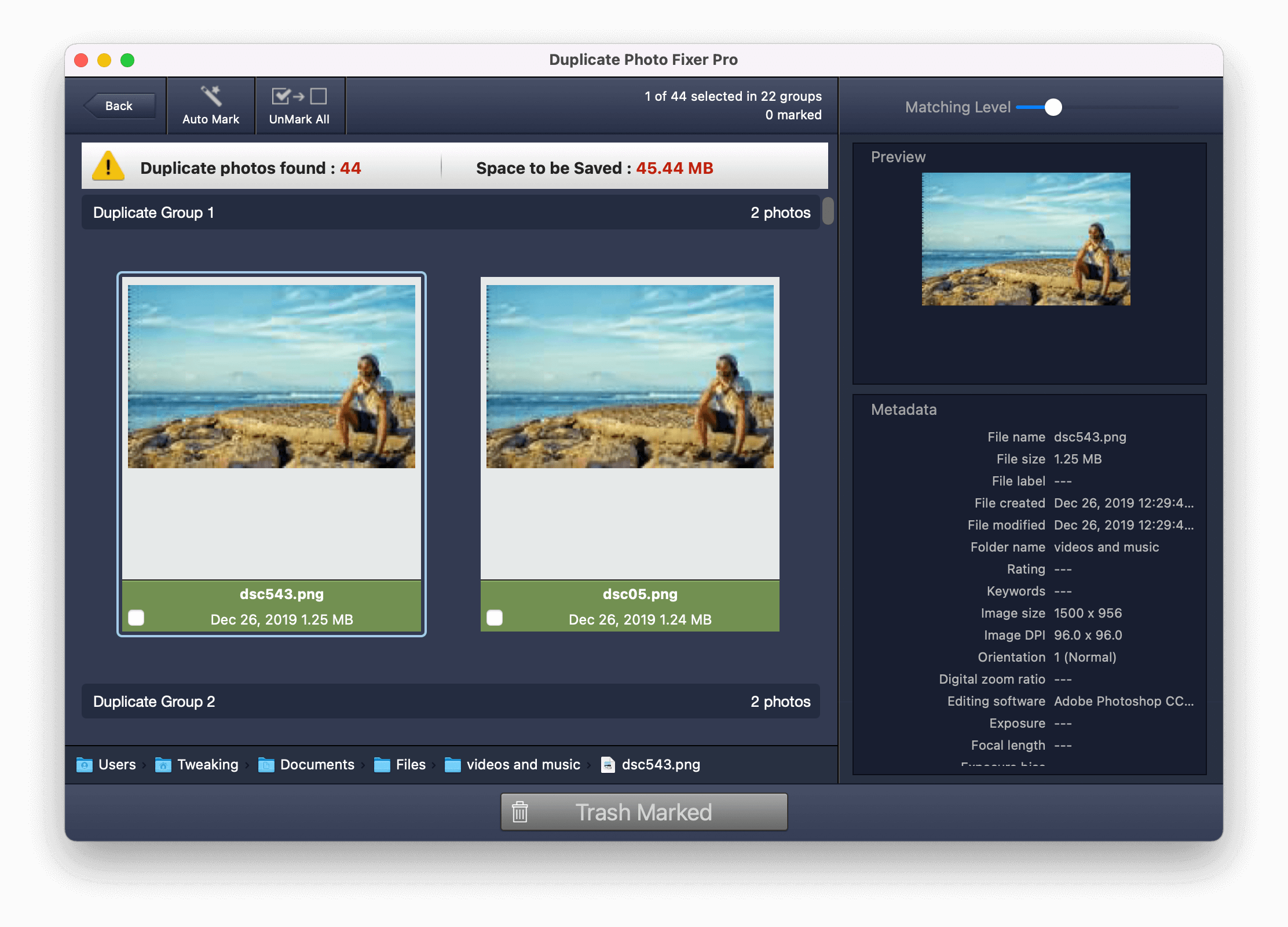 5. Once you are sure of the selection, click on the Trash Marked button.  
Interface:
4.5/5
The user interface or UI of a tool is the first thing that meets the eye. Duplicate Photos Fixer Pro has an intuitive and easy-to-use interface. All the options are neatly placed so that even a user who is interacting with the utility for the first time will be able to understand it.
The look and feel of the utility are simple, with no frills. Whether it is about adding photos or navigating through locations to select photos, applying filters, or auto-marking photos, you'll be able to perform all these tasks with utmost ease. Once duplicate photos are detected, you will also be able to preview them beforehand.
Features:
5/5
 Duplicate Photos Fixer Pro comes with various basic and advanced features. Let's first look at the features of Duplicate Photo Fixer Pro at a glance. Then we'll dive deeper into these features –
Powerful scanning engine:
To ensure that results are accurate and only the right duplicates are scanned even if there are similar images with minute changes, Duplicate Photos Fixer Pro is backed by a powerful scanning engine.
Scannable locations: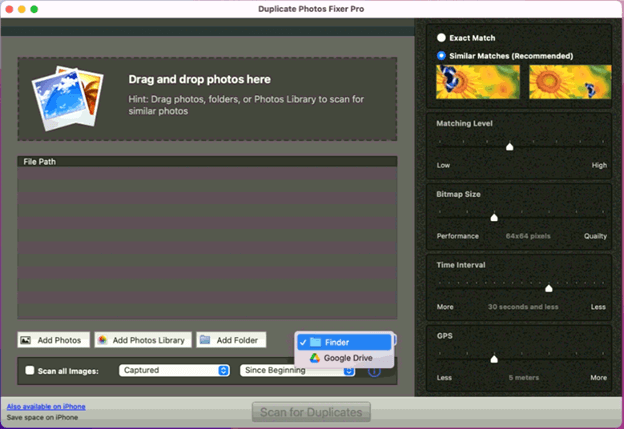 You can add photos or drag and drop photos from the Photos library, a specific folder, Finder and Google Drive.
Various matching criteria: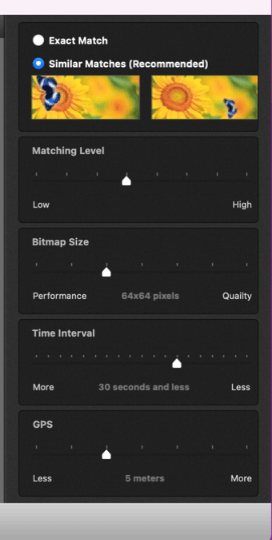 Broadly, photos can be classified as exact duplicates and similar matches. The latter category poses more difficult because the changes are very minute. Keeping that in mind, Duplicate Photos Fixer Pro further lets you set various matching criteria with the help of which you can zero in on the right duplicates. These include –
1. Matching Level:
There is a slider of matching level with this duplicate finder for Mac which allows you to adjust the amount of matching level.
Low Matching Level: If you slide the bar to the extreme left, you will allow the software to find images that are not similar or exact duplicates.
Medium Matching Level: When the slider is in the middle, the image might have similar or identical content, but the placement might not be the same. For example, check out the image below.
High Matching Level: When the slider is placed extremely right, or towards a high matching level, Duplicate Photo Fixer Pro finds exact duplicates, thereby the chances of finding identical images reduce.
2. Bitmap Size: When you want to detect the file based on the size, you can use this feature, as it helps decide what kind of an image you want to detect, i.e., based on Performance or Quality.
3. Time Interval: The time interval slider can find duplicates based on time gaps between the photos. Usually, the default time interval between two photos is 30 seconds. But, it can be changed by moving the slider from left to right and vice versa.
4. GPS:  This option helps detect duplicates based on the distance from which the photos are clicked. By default, it is set up at 5 meters, & you can slide the bar left or right as per your wish. Moreover, you can identify duplicates based on geolocation tags with this option.
Preview detected duplicate photos with metadata:
Once the scan process is over, duplicate and similar photos are categorized into groups. You can see the images in every group as a large image group. When you click on each photo, you can even glance at its metadata on the right-hand side.
Auto marking capabilities:
With this feature, you can check mark duplicates in each group while keeping one photo in the group safe.
Exclude folders:
Duplicate Photos Fixer Pro also allows you to exclude all those folders you don't want to appear in the scan.
Customizable settings:
While the default settings are sufficient to help you find the right duplicates, you can always customize settings per your needs. To make changes to Mac's default settings of the duplicate photo finder, click the 'Settings' tab. The Settings menu is divided into 4 sections:
From this tab, you make changes to the general settings of the product like – hide or unhide confirmation dialog box, auto mark dialog, confirmation window, product messages, and more.
With this option, you can filter out the type of image format and size of the image.
Set preferences to auto-mark detected duplicates as per the priority.
As the name suggests, you are free to add or remove folders to be scanned.
Speed:
4/5
The speed with which Duplicate Photos Fixer Pro scans duplicates and similar photos is decent. On a personal front, even though it took a few minutes to scan for similar photos, the results were impressive, and I could free up several MBs worth of storage space.
What Users Have to Say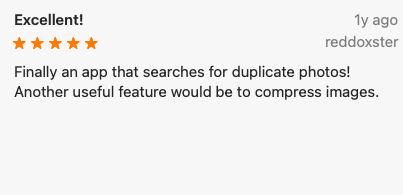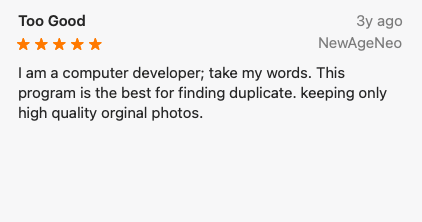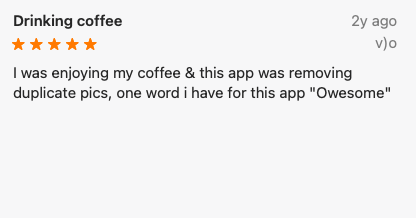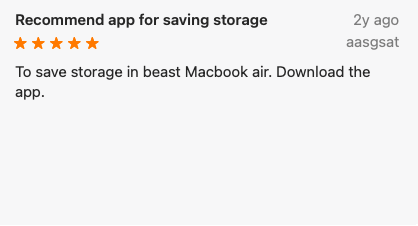 Duplicate Photo Fixer Pro Alternatives:
| Duplicate Photos Fixer Pro | Duplicate Photo Cleaner | CCleaner |
| --- | --- | --- |
| Available for Windows, macOS, iOS and Android | Available for Windows and macOS | Available for Windows and macOS |
| Preview option available | Preview option available | Preview option not available |
| Scanning customization available | Scanning customization available | Scanning customization available |
| Price: $38.99 | $39.95 | $29.95 |
Verdict
When dealing with duplicate images on Mac, you need a tool to help you identify duplicate and similar images quickly while also letting you safely remove unwanted duplicates so that you don't have to regret your decision to delete the wrong image. And Duplicate Photo Fixer for Mac is just that tool. In many respects, it even streamlines your complete photo library.
Frequently Asked Questions - Duplicate Photo Fixer Pro For Mac