How To Find and Delete Duplicate Photos On Mac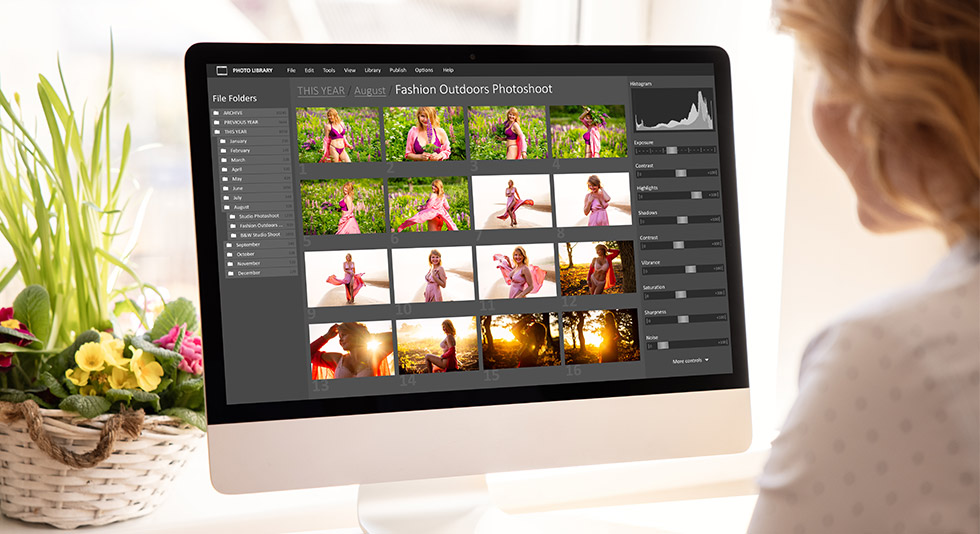 When your Mac is full of duplicates, it becomes annoying. All you want is to get rid of all these duplicates immediately. These duplicate files take unnecessary space on your computer. As people spend more time on social media, there are chances of receiving similar messages and images, which eventually pile up. Now you must be thinking about how to remove duplicates without wasting your time. Well, doing it manually can't possibly be the solution. Therefore, you must take help from third-party software. 
Before proceeding towards the solution, let's know some of the common reasons which could have led to storing duplicate files: 
Identical images on social media: There are numerous images on our social media channels like WhatsApp, Instagram, Facebook, etc. and it is very common to download them on our device from more than one contact. 

Photos taken in burst mode: As you transfer all the photos in one go, you can notice all the pictures which are clicked in burst mode are also transferred. They form duplicate photos and may even not be required to an individual. Hence these duplicate pictures need to be removed. 

Photos in the gallery on your Mac with the same thumbnail and content might be occupying unnecessary space for no reason. 

While restoring the backup from cloud storage or any other external storage, there are chances of getting back the same images on your computer which may often create duplicates.
Although there is no internal harm to your Mac for keeping duplicate photos, the consequences of occupying storage space and having an unorganized gallery are a little frustrating. Also, the storage space remains usually limited. So how to remove duplicate photos on Mac, let's explore it!
How To Delete Duplicates On Mac?
Now that you already know that duplicates can take up a lot of space as well as may hinder the performance of Mac, and deleting them manually is not always possible. Moreover, finding duplicate photos on Mac manually is a challenge within itself too.
Therefore, we recommend you choose a smart duplicate finder and remover called 'Duplicate Photo Fixer Pro'. this application is just perfect for finding all the duplicate photos at ease as it has a smart algorithm behind it. So how does this application work? Well, follow the steps below to make this application work properly and learn how to find duplicate photos on Mac.
How Duplicate Photo Fixer Pro Work:
Step 1: Download and install 'Duplicate Photo Fixer Pro' on your Mac.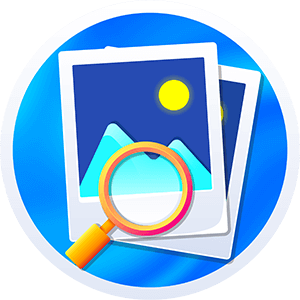 Step2: Launch the application and start the process from here. Either add photos by dragging and dropping them into the software or add a whole folder to it.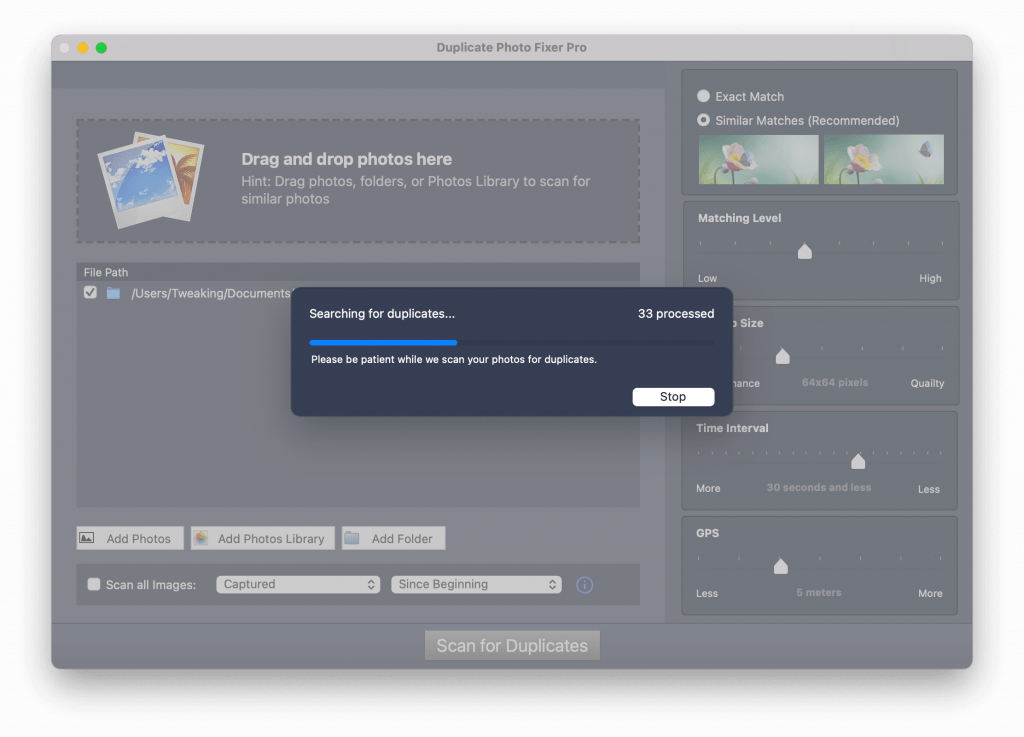 Step 3: Once the photos are added to the software, you have the whole section of making comparisons from the right-hand side panel. 
Exact match: This method helps in locating exact images and may yield you lesser results.
Similar match: This option helps in locating the near-identical or similar images and has higher chances of presenting results. This is why it is mentioned as a recommended method.
Notice the comparison modes available. This application allows you to choose within different modes like matching level, bitmap size, time interval, and GPS for refined search.
Step 4: Now click 'Scan for duplicates' at the bottom of the app's interface and let the scanning take place.
Step5: All the duplicate photos will appear in front of you, including the identical images.
Step 6: You can either choose to auto mark the duplicates which also saves one original photo or select every duplicate from the listed option. If in doubt, it is recommended to scroll through all the duplicate images quickly.
Step7: Click on the 'Delete' button at the bottom of the app and it will make sure that all the exact or similar duplicates are removed within seconds. 
And all your duplicate photos will be removed! 
Pros Cons Of Duplicate Photo Fixer Pro:
Pros:
Very easy and convenient to use.

Organizes photo library

Deletes duplicate photos on Mac, whether exact and similar duplicates
Cons:
One needs to purchase the product for its usage. 
The good part about this tool is that it is very convenient and quick to use so that even a newbie can make their way to the final result. It can organize the photo library properly, helps in saving tons of storage space, and keeps the performance of the system smooth. However, it is not free to use and users must purchase a license to use it completely.
Wrap-Up
Removed duplicate photos on Mac? Those who are planning to use manual methods for the removal of duplicate images must understand that these duplicates keep coming into the system when the system is in continuous use. No one can afford to spend so much time in manual deleting of pictures and must look for a smart tool to take up the right action. This is why we recommend you to use Duplicate Photo Fixer Pro for automatic search and removing duplicates from Mac. 
Have you tried automatically removing duplicate photos? Share your experience with us and views in the comments below.
Frequently Asked Questions:
1. Can Mac Photos delete Duplicates?
Although there is no direct way to delete duplicates in Mac Photos. To remove the duplicates using the Photos app on Mac, open the app, and click on All Photos in the view option. Scroll through the images and look for duplicates. Select duplicate images and click on Delete. A better, faster, and more secure way is to use a third-party tool like Duplicate Photo Fixer Pro for Mac.
2. How Do I Stop Importing Duplicate photos?
We all take countless shots to take one perfect snap. Here, you can either delete the bad ones instantly or, if you don't have time, spare sometime later to get rid of duplicates and have your library more sorted. Here, again a duplicate image finding tool can help you remove duplicate photos in no time at all.
3. How can I Delete All Duplicates in iPhoto?
Using a third-party tool like Duplicate Photos Fixer Pro for Mac you can simply drag and drop files from your iPhoto app into the scanning area and then weed out duplicate photos in no time at all. To help you there are smart filters as well that can expedite the process.