How To Fix A Mac That Won't Shut Down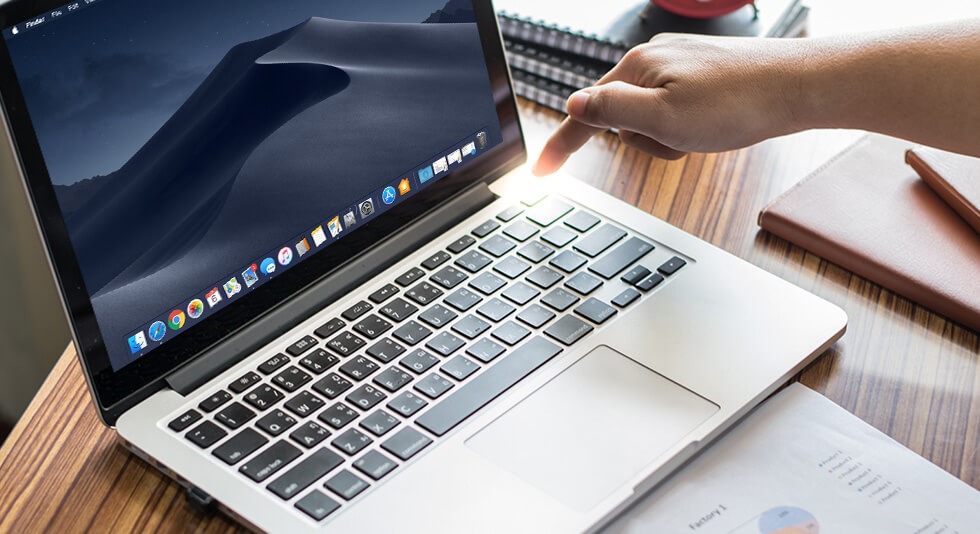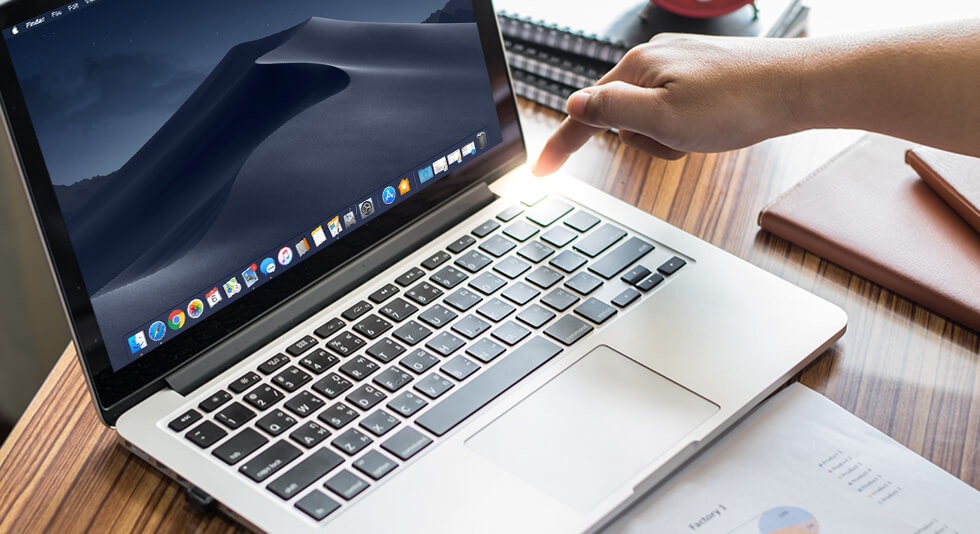 Shutting down a Mac is the easiest thing, but what if you get stuck and cannot shut down your Mac? Generally, to shut down a Mac, you have to click on the Apple menu and select Shut Down and confirm. It seems easy, right? But sometimes, there are instances when your Mac refuses to shut down, and this can be a real pain. Wondering how to fix this? This article is about the Mac or MacBook that doesn't shut down.
Things You Should Do Before You Shut Down Your Mac
Before we tell you the ways how to shut down your Mac, you should consider the below-mentioned things:
Make sure that you have closed all the applications running in the background on your Mac.
Check the Dock for the bouncing application alerts and click on Save from the Alert Window for each file or document.
After taking into consideration the above points, wait for a while and let all the processes running in the background finish, and then try shutting down your Mac. If you are still unable to shut down your Mac, try the below steps:
Press and hold the Power button for a couple of seconds and the dialog box will ask you if you want your Mac to sleep, restart or shut down.
Restart your Mac by pressing the Control and Power button simultaneously. If your Mac has an Eject key instead of Control, use the Eject + Power
What To Do If Mac Still Won't Shut Down?
Still, Mac is not shutting down? Do not worry and try pressing and holding the Power button until the Mac screen goes black and the power light goes off. You may hear a buzzing or a click sound. Wait for around 30 seconds and then turn on using the Power button again. Now, you'll probably be able to shut down your Mac.
If your MacBook Pro is not shutting down, and you are still facing issues, try the following hacks to get sorted. Have a look to resolve 'Mac is not shutting down' issue:
How To Fix A Mac Won't Shut Down
Pro Tip
In order to delete cache, system junk and keep the Mac healthy and sound, you should choose to keep CleanMyMac X in your system. While protecting the system from junk and unnecessary files, the tool: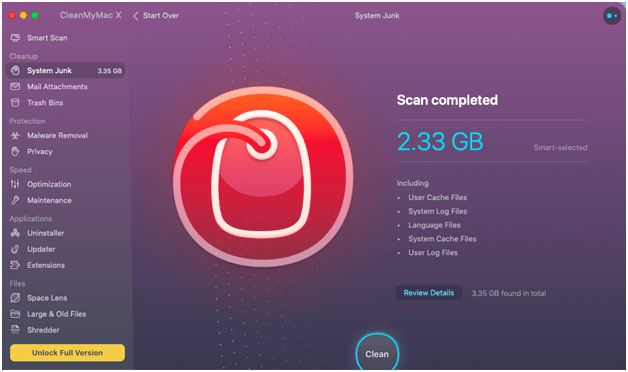 Scans out malware and deletes them 

Improves the performance of system and speed it up

Keeps up the application updated and helps in uninstalling those not needed.
1. Turn Off Your Mac Properly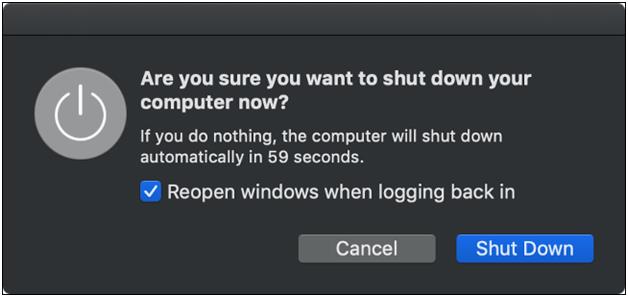 Since it's an easy task to shut down your Mac by clicking on an Apple logo and click on the Shut Down option and it will shut it down. Here's how:
Click on the Apple logo (left corner of the screen) > Shut Down.
An alert warning you will see on your Mac screen which shows that your Mac will shut down, with a clock counting down from 1 minute.
Jump off the countdown if you hold down the Command key while choosing Shut Down.
You might see the warnings that suggest, you should save things you have been working on in your various apps.
Once all the apps are closed, shut down your Mac.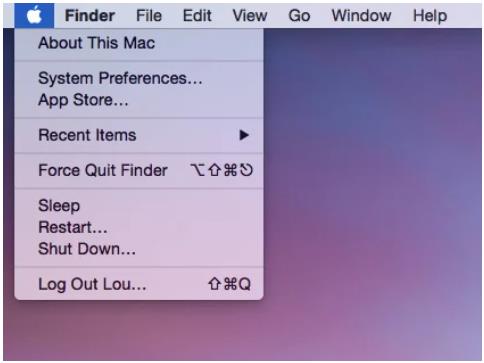 2. Run Apple Diagnostics
Quite possibly, there are some issues with the hardware of your Mac, because of which your Mac refuses to shut down. You can look into such hardware-related issues with the help of Apple Diagnostics. For this –
First, disconnect all external peripherals leaving the keyboard, mouse, and display.
Ensure your internet is working and your Mac is connected to the mains.
Click on Apple Logo and then click on Restart.
Press and hold down the D key and follow the on-screen instructions.
After approximately 5 minutes, you'll be able to see error codes that would most likely enlist the issues. You could probably take a screenshot of these issues and see if you can look into them.
3. Turn Off Reopen Windows CheckBox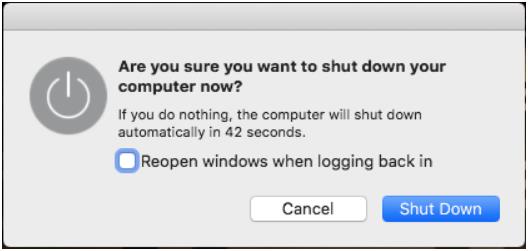 Mac has many features that will save your all data and information and current session and they re-open automatically when you log into your Mac. Mac hard drive will automatically save your all information and data. This might lead to time taking process and make your Mac runs slow.
To accelerate your shutdown, turn off this feature and shut down your Mac as normal, however when the dialogue box shows up, confirm the decision named Reopen windows when logging back in isn't checked. On the off chance that you've utilized the feature inside the past, you would conceivably require a couple of restart cycles to find out the total advantages.
4. Update Your Apps, And macOS
This might not be a direct answer to how to resolve Mac won't shut down but updating your Mac as well as the various apps is known to resolve Mac issues and enhance its performance. To update macOS, open the Apple menu > click on About this Mac > Software update.
As for updating apps –
All App Store apps can be updated by heading to the App Store > click on Updates > click on Apps that you want to update.
For non-App Store apps, you can checkout the Check for updates section and check if there is an update available or not.
5. How To Shut Down Your Mac Using Reset SMC And NVRAM

Your Mac's system has the management controller i.e. SMC. It's a chip inside your Mac that runs the majority of the physical parts of the system. This incorporates things like consoles, LED pointers, cooling fans, and power button response, etc. SMC is responsible for other low-level functions including:
Battery management
Answering to your MacBook's display lid opening and closing.
Thermal management.
Keyboard backlighting.
Ambient light sensing.
Battery status indicator lights.
Status indicator light (SIL) management.
How to Reset SMC
Shut Down your MacBook.
Remove the power cord and wait for 15 seconds.
Plug the power cord back.
Wait for 5 seconds and then turn on your Mac.
Reset NVRAM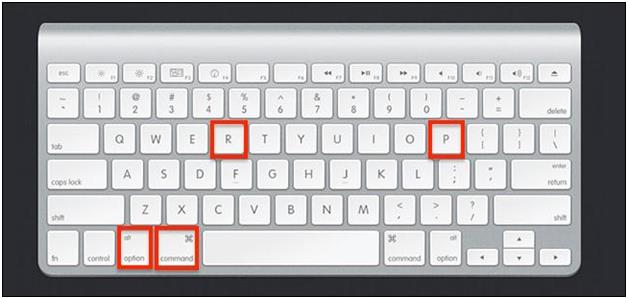 Nonvolatile Random-Access Memory (or NVRAM for short) might be a little piece of system memory that is set aside to store specific settings on your Mac. These are common settings that our Macs and its users got the chance to get to rapidly, including sound volume, show display, startup disk selection, time region, and state-of-the-art portion alarm data.
Resetting NVRAM frequently helps while encountering issues related to such settings. In the event that your Mac is confused about which disk to fires up from else you see an issue mark symbol as your Mac starts up, resetting NVRAM may resolve the trouble.
How to Reset NVRAM
Shut down the Mac and turn it back on.
While it is turning on, press and hold these keys simultaneously, Option + Command + P + R.
Don't let go of the keys until you see your Mac restarts.
Wait for the device to start up. If everything goes right, the problem will be solved.
6. Try Safe Mode Option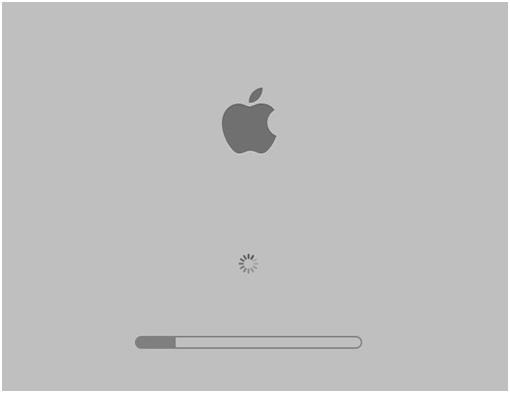 Restarting your Mac in safe mode can likewise help prevent the issue from happening again inside what's to come. When you start your Mac in safe mode, the startup disk starts scanning for issues and macOS will endeavor to fix any issues that are identified. Safe mode additionally erases textual style, part, and system caches, close by a few different things. Safe mode will check:-
Repair any directory issues.
Use required kernels only.
Prevent any start-up items from launching.
Delete caches files
What To Do If Mac Won't Shut Down Since Its Frozen
Let's presume you can't move your cursor because your Mac's frozen, and this is the reason why you can't shut down your Mac. What would you do? Here are a few steps you can undertake –
Press cmd + ctrl + Power. This key combination will restart your Mac
Press and hold down the Power button
How to reboot your Mac in Safe mode
Shut down your Mac and wait for 10 seconds and press the power button again.
Now, after you hear the startup or beep sound, hold down the "Shift" key.
Release the Shift key once when you are able to see the Apple logo and a progress indicator on the display.
Your Mac will start in the Safe mode option.