How To Uninstall Chromium On Mac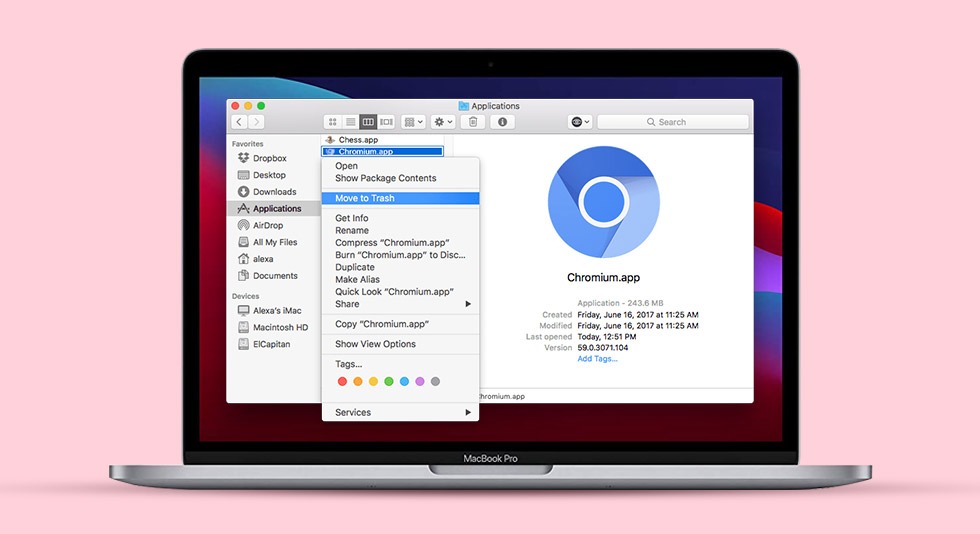 Google Chromium is an open-source codebase browser whose aim is to provide a faster and safer way to experience web services. Most of the popular browsers such as Edge and Chrome use its codebase. Even though Chromium is a legitimate browser, hackers use its codebase to disguise and insert viruses on your computer, therefore there is a need to uninstall Chromium on Mac.
Understand these notorious attackers run the campaign in which they spread a variant of Chromium which is already equipped with adverse functionality. The edition of Chromium looks the same as the original one and no one can form a suspicion around it in the beginning. However, it begins sending the traffic to a particular website, makes some applications as default browsers without permission, or adds various invasive plugins affecting the user experience.
Considering the above adversaries spread by Chromium's variants, this blog will help you in finding how to uninstall Chromium through various means and methods here.
How To Remove Chromium From Mac (Manually)
The manual method for removing Chromium from Mac is a little lengthy process and requires you to go in-depth into the macOS catalog system. Also, you need to be very careful in removing the Chromium so that none of your important files get lost in between as well.
Now you might be thinking that you can drag and drop the Chromium browser in the Trash and it can be removed instantly but that's not true. Follow the steps mentioned below to delete Chromium from Mac:
Step 1: From the Dock menu, quit Chromium.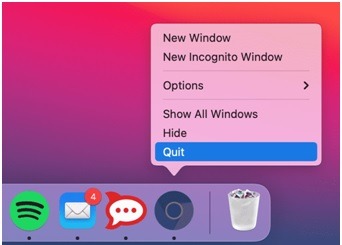 Step 2: It's time to stop all the processes related to browsers running in the background by visiting Activity Monitor. Here, open the CPU tab and select all the processes which are associated with Chromium. Now click the X icon in the left-hand corner to close the window.
Step 3: Now open Finder > Applications folder > delete Chromium by double-clicking it and select 'Move to Bin'.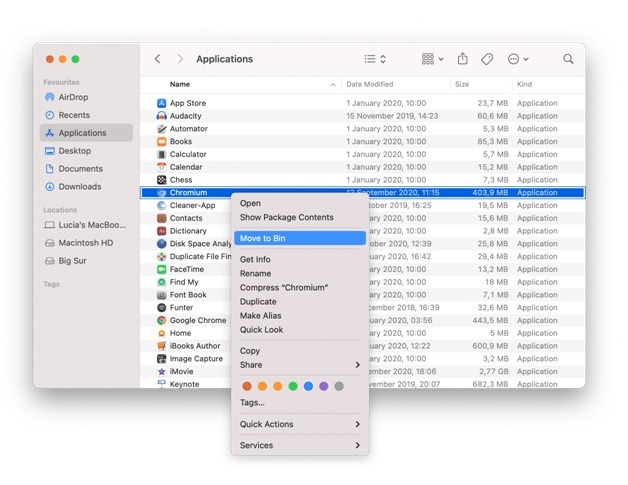 Step 4: It's time to remove all the leftovers hidden beside every file as just dragging and dropping the file doesn't remove all the files. So to remove the service files, open Finder > go to menu bar > click Go > select Go To Folder > type ~/Library > click Go.
Step 5: Now click the subfolders mentioned here.
~/Library/Caches
~/Library/Cookies
~/Library/Application Support
~/Library/Containers
~/Library/Preferences
Step 6: Now empty the trash bin and you will be able to uninstall Chromium on Mac.
How To Remove Chromium From Mac (Using CleanUp My System)
Now that you have seen uninstalling Chromium manually from Mac is a long process and having an uninstaller in your system can be much easier. Apart from easy removal, you are saving your time as well to completely remove the application and manage the unnecessary extensions and startup items.
For this, follow the steps mentioned below.
Step 1: Launch Cleanup My System on your Mac after downloading and installing it.

Download Cleanup My System
Step 2: Go to 'Uninstall Manager' from the Menu on the left side and select it.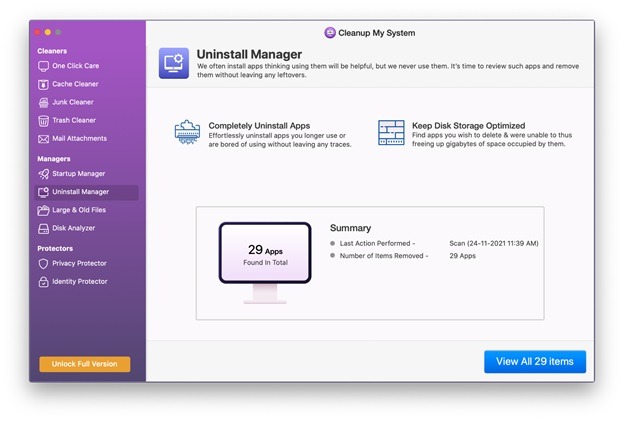 Step 3: Let the software scan out all the apps available on your computer and list them out. To view the list, go to the View All items button. Here, select Chromium and choose to uninstall it instantly.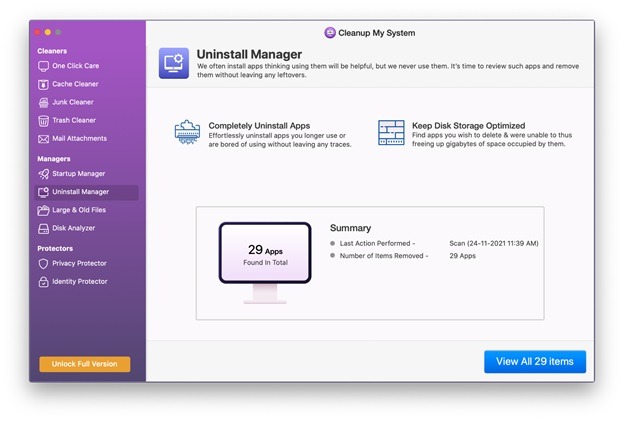 You can also see that this application is also equipped with numerous other features which take care of the health of your Mac apart from removing Chromium. Other features include:
Smart cleaning up of the system while removing unwanted junk, cache, mail attachments, and trash. This helps in shedding off the extra weight from Mac and keeping its condition healthier.
It offers privacy protection by wiping out all the browsing data, autofill data, search history, and associated digital footprints, including passwords. You can safeguard all the sensitive data from web browsers using this tool.
Helps in speeding up the performance of Mac by helping you manage startup agents. With Disk Analyzer, you can get what file types are stored on your computer.
Removal of old and large files helps in cleaning the computer and regains space on your computer.
It's very easy and simple to use which makes it convenient for any new user to navigate themselves at specific functions.
We recommend you to use a third-party tool like Cleanup My System to uninstall Chromium on Mac rather than going for a manual method and we are sure that the reason behind it looks absolutely clear to the readers. Instead of digging into a long method of manual removal of the app and its associated files, you can rely on the third-party app which is capable of cutting out unnecessary files in a shorter amount of time and from the roots. Also, we are not even aware where these services files have made their space or if they have sprawled all over the folders.
Cleanup My System makes sure that every file associated with Chromium is removed from Mac, no matter which folder or file it is hidden into.
Wrap-Up
We hope that you have found out the safest and most reliable way to uninstall Chromium on Mac and save your computer from any kind of intrusion. Using a professional tool called Cleanup My System is the best way to Chromium on a Mac so that no other intruder can make their way into the system and steal the information you have been saving online for a long time. Try it out today and share your experience with us in the comments below.