Intego Internet Security Review: Save Your Mac From Malware Attacks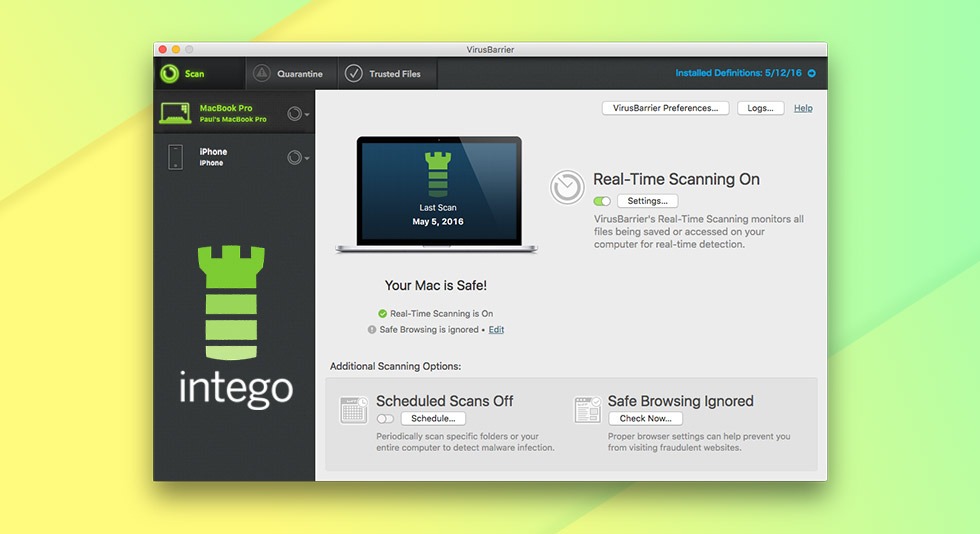 Summary
Rating: 3.8/5
macOS Compatibility: macOS 10.9 Mavericks or later
USP: Strong malware protection
Money-back guarantee: 30 days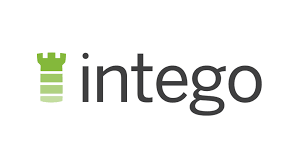 Download Intego Internet Security For Mac
Intego Mac Internet Security stands out from its competitors as it provides fast malware scanning features and was recently awarded the Approved Security Product Award for 2022. It is capable of detecting 100% malware on Mac and has reliable protection against malware attacks.
When it comes to finding a good antivirus for Mac, it's not an easy job. Only after rigorous testing and trials, one can find out the best antivirus for Mac, and Intego security is a standout for sure. Coming to review of this Mac internet security tool, it has two strong protection engines called VirusBarrier and NetBarrier.
It is also referred to as better than Mac's in-built security protection as it is capable of detecting and deleting all the Mac-specific malware. Containing a strong antivirus scanner, data backup method, firewall, web protection, and parental controls, it is also cheaper than various other antiviruses.
Let's go through the security features of the Intego Mac Internet Security tool here.
1. VirusBarrier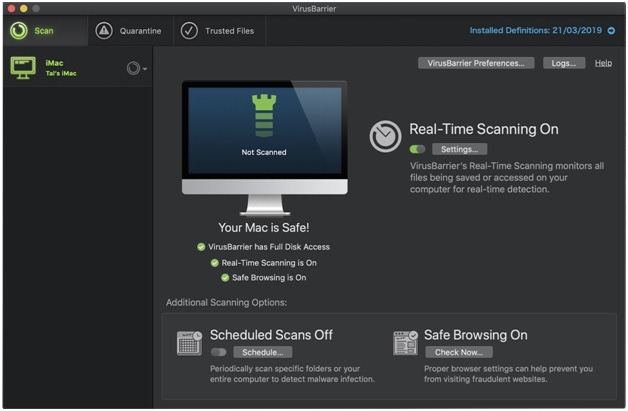 A strong malware scanner, VirusBarrier comes with a very simple interface. Despite having a simple interface, there are tools like virus scanners, scan scheduling system, malware removal strategies, and real-time protection engines.
VirusBarrier can easily scan out malware not only within the system but also connected external drives and iOS devices. When you select a particular device to be scanned, it offers you options for Quick Scanning and Full Scanning. The quick scan takes very little time to scan and yet finds out malware from a good number of files. Whereas when you choose Full Scan, it may take some time to go in-depth but the results are just impressive.
You don't need to worry about time being wasted here as the smart technology makes sure that all the files scanned under Full Scan do not go through Quick Scan files again.
VirusBarrier makes sure that it finds out all the potentially harmful viruses like trojan, adware, or other files which are bothering the system. Once the threats are detected, you are asked if you wish to Trust, Quarantine, or Repair the files.
2. NetBarrier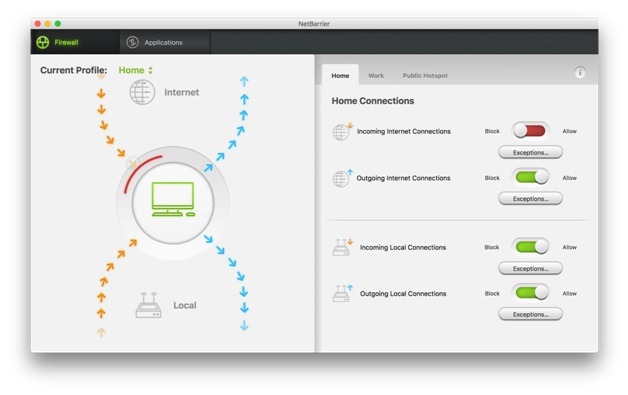 Also known as Firewall here, this tool can automatically find out which network you are using and makes sure that the firewall security settings are changed according to the network. Intego Internet Security makes sure that your Mac is not threatened at all when you are connected to public networks. You can manually tweak the settings to allow or block internet connections.
The Application tab gives you options to allow, block or request programs to ask for permissions before any connection is made. It is known to have much better functionality and security than Apple's in-built firewall so that one can block unwanted programs easily.
3. ContentBarrier
This is a parental control software by Intego Internet Security and can block inappropriate websites which you don't want your kids to access. Apart from this, other features include anti-predator alerts, screenshot recording, keystroke trading, and application blocking.
4. Washing Machine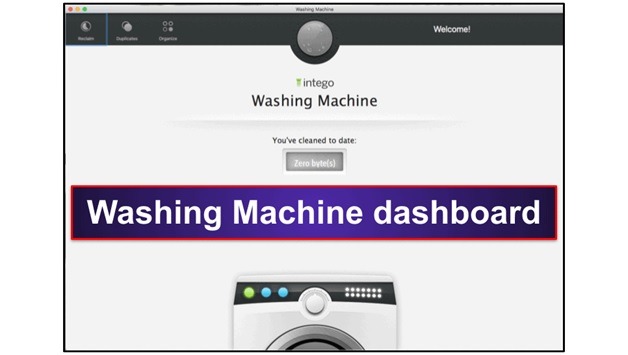 Washing machine dashboard has several cleaning and organization tools associated with it and it possesses all the tools which are required to keep system performance going. Just like other modules, you have the option to choose from Reclaim, Duplicates & Organize.
Here, Reclaim scans the whole device for old as well as unused files which block the disk space unnecessarily. The section of Duplicates can find out any number of duplicate files stuck inside the system and keeping a lot of space for no reason. The Organize section is meant to tidy up the whole system. You can choose to make folders, subfolders, or even revert any changes when required. Intego Mac Internet Security even allows you to drag and drop the files into the trash or appropriate folders.
5. Backup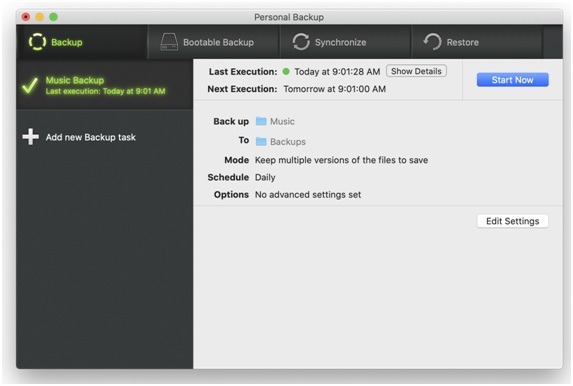 Designed to backup all the important files, Intego Security allows you to secure files in a very customizable manner. You can back up specific files and folders and even allow backing up documents timely. Other options which come with backup are Bootable backup, Synchronize and Restore. It is even competitive to Apple's Time Machine as additional features like file synchronization and even backing up the entire system are available.
Pros:
A robust Mac protection tool.
Offers fastest scanning features with quick and full scan features.
Offers a 30 days money-back guarantee if you wish to return the product.
Cons:
It is certainly an expensive tool when compared with others.
The user interface may look a little off-beat and disjointed.
Price & Plans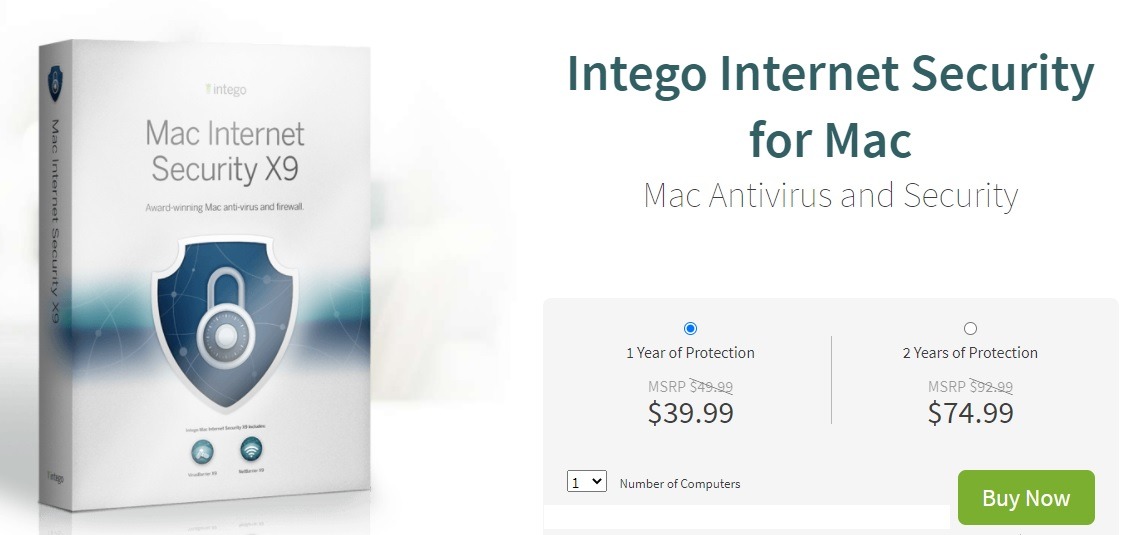 Source:- intego
One can find different packages here which allow you to protect 1 or 3 or 5 macs. There are different packages including: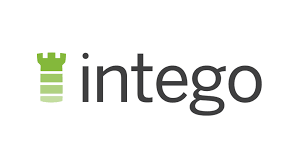 Download Intego Internet Security For Mac
Mac Internet Security X9: It contains VirusBarrier and NetBarrier. (1,3 or 5 Macs)
Mac Washing Machine Secure X9: It contains VirusBarrier, NetBarrier, and Mac Washing Machine. (1 or 3 Macs)
ContentBarrier Secure X9: It contains VirusBarrier, NetBarrier and ContentBarrier. (1 or 3 Macs)
You can even choose only Mac ContentBarrier Secure X9 or Mac Washing Machine Secure X9 individually. It starts from $39.99 and the price varies depending on the plan you choose for yourself.
Wrap-Up
After reviewing the product called Intego Internet Security for Mac, we found that this is definitely a powerful tool that every Mac user must keep in their system. Although it is a little expensive than its competitors, having it in your system is going to protect you from all the malware attacks in the most efficient way.