OnyX Mac Review: Must-Have Disk Utility For Mac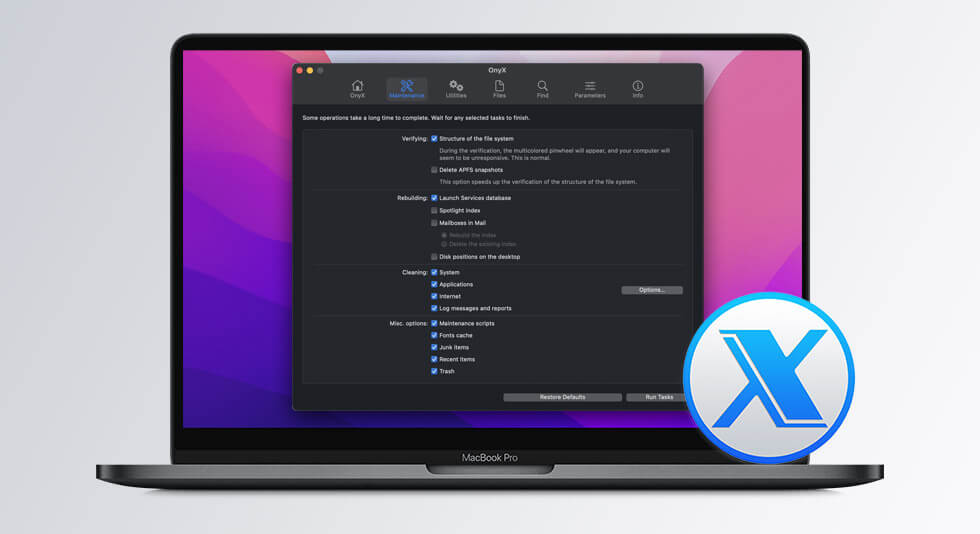 OnyX Mac Review – In Depth
Table of Content: 
Quick Summary: OnyX For Mac
Overall Rating:  4/5*
Compatibility: macOS 10.7 or higher
OnyX Mac is a multifunction utility that runs tasks of cleaning the computer, maintaining it, and verifying the startup disk. It helps in managing the storage space, improving startup speed and overall performance for a good working state of the system. 
Interface: 60%
Features: 90%
Updates: 90%
Pricing: 100%
Speed: 90%
Customer support: 70%
Brief Overview:
Remove malware from Mac: No

Clenas space: Yes

Search old and large files: No

Manage folder visibility: Yes

macOS customization: Yes

Free application: Yes

Delete duplicate files: Yes
Download OnyX to Your mac
Pros Cons of OnyX:
Pros:
Manages folder visibility and optimizes macOS
A powerful toolset to maintain your Mac
Versions for older Mac are also available
Cons:
The user interface needs a little more understanding for a newbie
It is a challenge to figure out tasks on the screen
There are some small difficulties that could be reason for bad experience of a Mac user, including low storage space, sluggish performance, slow startup speed, and poorly optimized computer. To overcome, there areabundant Mac optimization tools in the market. One such robust and powerful tool is OnyX and this blog will give you an OnyX review for an in-depth understanding of the tool.
Let's go through its features one by one by scrolling through the blog below.
Features Of OnyX
1. Maintenance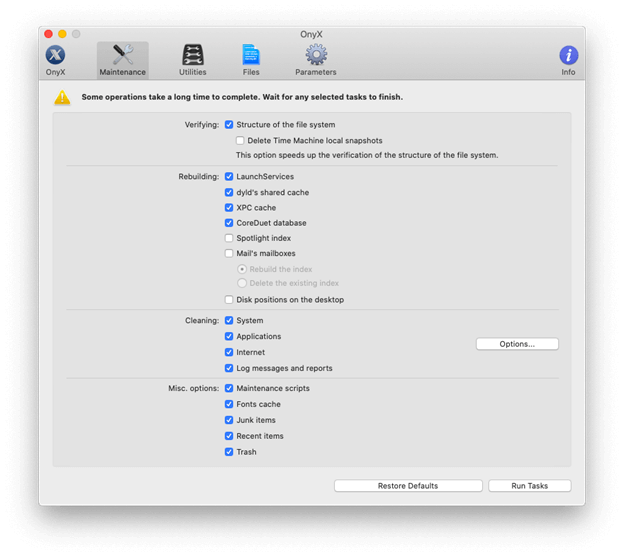 There are several tasks associated with the maintenance of OnyX in the interface. Because everything is stacked clearly and neatly, you just need to check the box and hit 'Run Tasks'. Every task mentioned here is crafted for the flawless working of the system. 
'Verifying' group allows speeding up of the verification process by noticing the file structure properly.

The 'Rebuilding' group is capable of removing cache, leftovers, and all the associated files which may clutter the system.

'Cleaning' group can remove system applications, log messages, and unnecessary reports available within the system.

'Misc. options' have items that couldn't be grouped above and include fonts cache, clearing trash, and maintaining scripts.
2. Utilities
The next section comes with utilities for OnyX. This group is quite advanced as it allows storage management, screen sharing, network utility, wireless diagnostics, directory utility, system image utility, color picker, and summary services. All the operations available in this section are quite advanced and useful for the performance of Mac. 
3. Files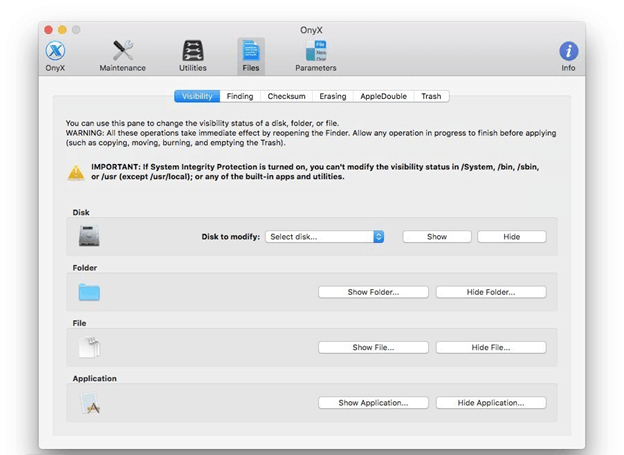 Just as the name suggests, you can enjoy full control over the files, folder, and disk using this feature. Moreover, you can change the disk visibility by adding a (.) to the file name as well as show or hide files by pressing Shift+Command. Also, this section allows you to permanently delete files timely. 
4. Parameters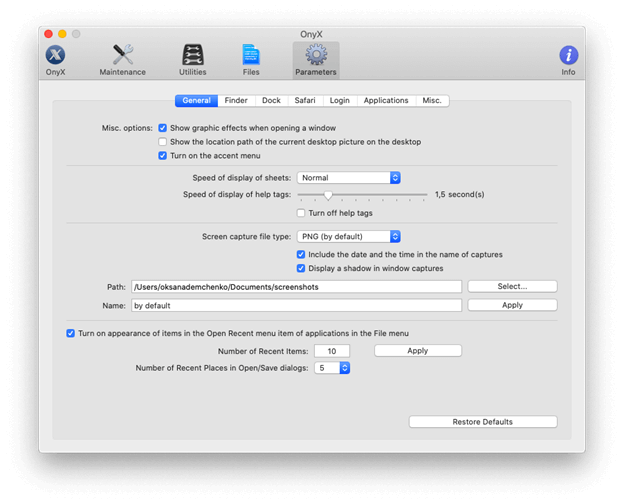 This section in OnyX is an all-in-one configuration panel using which one can change the display of sheets, help tags and screen capture the file type. Apart from this, change the path type, and name, and choose to show graphics effects or turn on/off the accent menu. Also, you can choose to save screenshots in another format, remove the restart option, change the hover color on dark icons and do a lot more to customize the system. 
What Else….
Apart from all the described features above, you can personalize your work environment or choose to hide or show certain functions. The new version is also available with the 'Protection' tool using which one can see a list of all the malware recognized by XProtect. With that, choose to force quit the apps which are hung, restart prompt, clean up the junk and ultimately, reclaim precious space back in the system. 
5. Price & Plans
Thankfully, OnyX is freeware and you can use it without paying any money. Yes, the application is free. However, the developers are open to accepting donations and the amount could be decided by you. The user can compare the tool with its competitors openly and pay as desired. The good part is that developer pushes updates now and then and the newest version is available on the official website called Titanium-Software.fr
6. Customer Service
It is because OnyX is a free tool and developed by one person mainly, it doesn't come with proper customer service. However, you can connect with the developer via email for any suggestions and enhancements.  
How To Use OnyX?
Developed by Titanium Software and Joel Barriere, this software can be freely downloaded  from the official website. 
Step 1: Launch the tool on Mac.
Step2: From the Maintenance tab, tick mark the services which are needed to be done and click 'Run Tasks'. If you wish to revert to the original, select 'Restore Defaults'.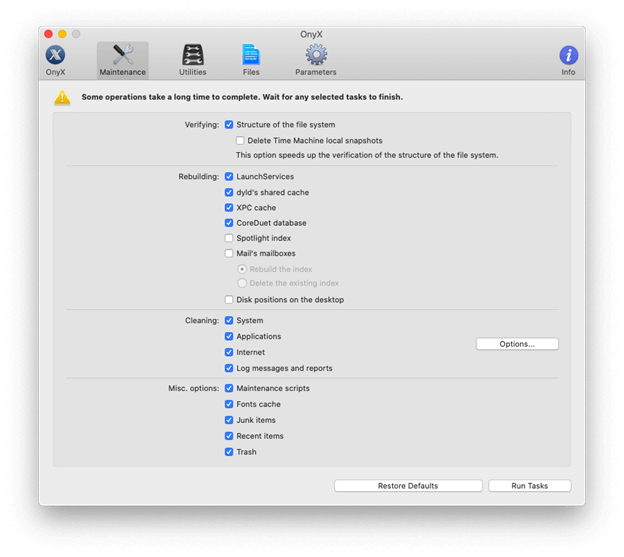 Step 3: In the Utilities tab, one can share screen, help with network, diagnose problems or pick colors.
Step4: In the 'Files' section, modify disk, folder, file, and applications by choosing the required option.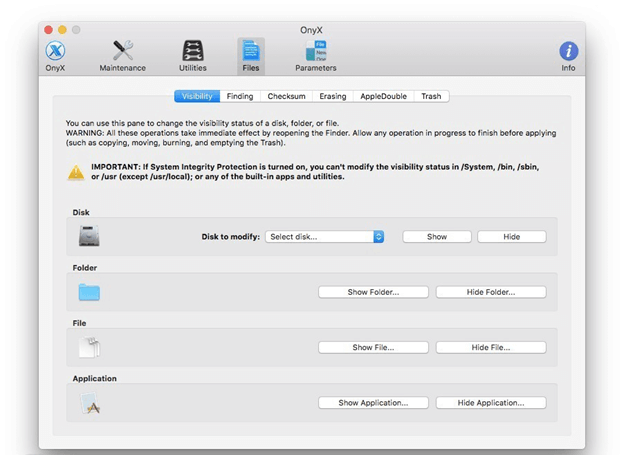 Step 5: In the 'Parameters' section, work upon Disk utility, Finder, Dock, Safari, iTunes, Log in, and Applications.
Top 5 Alternatives Of OnyX
Name

Features

Download Link

CleanMyMac X

(Starts at $39.95)

Remove system junk, mail attachments, and clear trash.

Optimizes and maintains the system.

Has uninstaller and updater

CleanMyMac X

Cleanup My System
(Starts at $34.99)

Improve Your Mac's Startup Time

Uninstalls Unwanted apps

Free up precious space by deleting cache and junk files

Cleanup My System

AVG TuneUp

(Starts at $70)

Clean junk to make better storage space

Locate duplicate files and erase them

AVG TuneUp

MacBooster 8

(Starts at $39.95)

Detect and remove malware and virus

Deep clean system and boost Mac performance

MacBooster 8

MacCleaner Pro

(Starts at $44.95)

Removes cache, junk, pictures, etc.

Speeds up Mac and manages disk space

MacCleaner Pro
FAQs on OnyX for Mac:
Q1. What are the OnyX alternatives?
OnyX alternatives include names like CleanMyMac X, Cleanup My System, and AVG Tuneup, MacBooster 8, and MacCleaner Pro.
Q2. Does OnyX Make Mac Faster?
Yes. OnyX is known for cleaning up and optimizing the system because of which Mac works faster and smoother.
Q3. How often should I Run Disk Utility on my Mac?
One can run Disk Utility once or twice a month to find and repair any sort of disk error present. 
Wrap Up
We are hopeful that this OnyX Mac review was helpful for you to decide if the tool is right for you and your Mac. According to us, this tool is a great utility and comes free of cost. At the same time, the same features come for a heavy price from its competitors. It is best to try this application and make a judgment by yourself at the end. What is your view about OnyX as the disk utility? Share your views with us in the comments below.