OnyX vs CleanMyMac: Which Mac Cleaner Is Best?
admin
,
Comparison
,
June 16th, 2022
,
0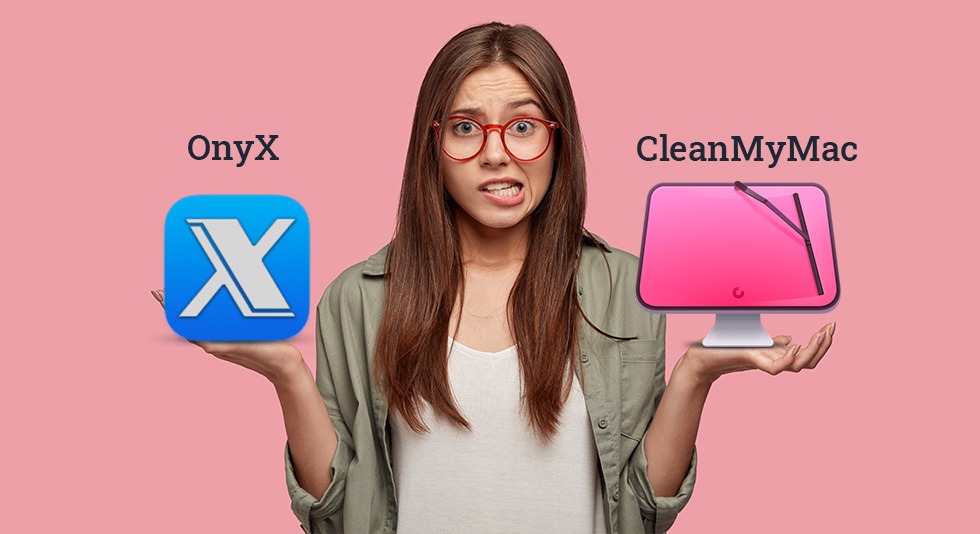 Every Mac needs proper optimization so that it not only runs smoothly but also offers long-running capacity. In this case, a good optimization tool is all you need to install, and the rest of the work is done in no time. When it comes to select the best Mac optimization app, the consumers can find two efficient products in their list i.e. OnyX and CleanMyMac. However, we can sense the rising confusion and it is also understandable.
This is why this blog will help you to make a clear choice between two worthy products for Mac optimization. We are not talking about the price difference straight away (although it's necessary most of the time) but we aim to give you the idea of the best Mac cleaner. To do so, let's have a look at descriptions, differences, and much more details of each of the products.
Why Do We Need A Mac Cleaner?
Yes, Mac is a self-sufficient machine and it can take care of itself. Despite the fact, it is a great deal to keep an advanced tool for cleaning so that junk files, cluttered data, duplicate files, and all the other data which are not even required could be deleted. If one doesn't want to keep these tools in their system, they may have to go through a long process of getting rid of unwanted items.
So whether you are a novice, intermediate, or experienced Mac user, the need for a Mac optimization app is an essential one. As we saw OnyX vs CleanMyMac, we would see that both the tools are quite efficient and distinct in cleaning Mac. After reading this article, you would be able to choose between one of them.
OnyX vs. CleanMyMac: Which Mac Cleaner Is Best?
| Features | CleanyMyMac X | Onyx |
| --- | --- | --- |
| Removing malware | ✅ | ❌ |
| Freeing up space | ✅ | ✅ |
| Stopping applications that are hung | ✅ | ❌ |
| Updating apps | ✅ | ❌ |
| Large and old files | ✅ | ❌ |
| Optimizing Mac | ✅ | ❌ |
| Manage folders | ❌ | ✅ |
| Customizing Mac | ❌ | ✅ |
OnyX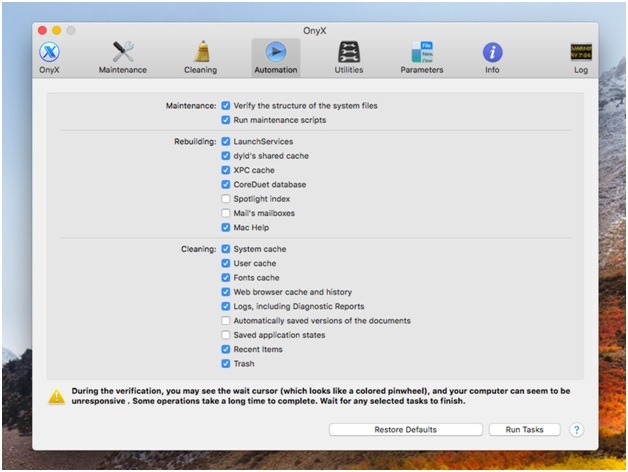 This is one of the best Mac optimization tools which doesn't even cost you a penny. Coming from the house of Titanium Software, it has a long-standing reputation in the digital world.
Interestingly, OnyX gives you a clean-looking digital interface despite offering multiple tasks which would otherwise be required to enter complex commands. Apart from complex ones, tasks like cleaning cache, removing problematic files and folders, rebuilding indexes, etc. are done quickly.
Cleaning & maintenance are not the only feature which makes OnyX stand apart from others but powerful features like utilities, parameters, and info. Here, you can find many other useful functions that help in personalizing the environment for your use.
There could be a few reasons why you don't want to stick around with OnyX and wish to look for other Mac cleaner tool including:
Lack of option to examine the scanned files. Users are left with the choice of only trusting the application where they can hit the Execute button to finally be done away with maintenance.
One needs to restart the Mac anytime changes are done within OnyX. although you are free to change this setting by going to Preferences > Advanced. Here you need to select 'Don't Check' to stop the prompts from showing up.
CleanMyMac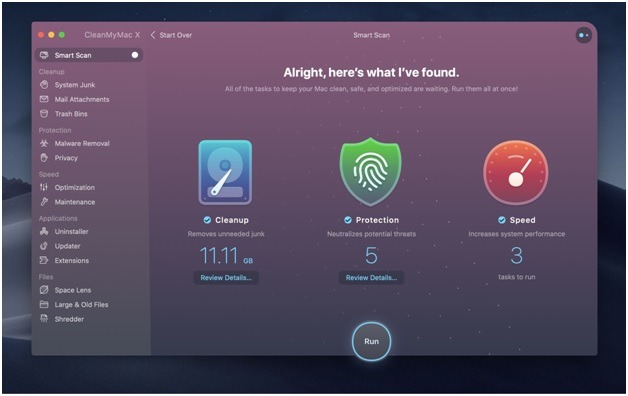 From the parent company called MacPaw, CleanMyMac is a powerful and paid Mac optimization tool that focuses more on cleaning the system than anything else. It is so easy to understand and navigate that one doesn't need to have training or assistance to get attributes performed.
The best of it starts with one click scanning which instantly gives individual information about unnecessary junk, malicious activities, and reasons for slow speed. In the Cleanup section, you will be able to cut down system junk, mail attachments, and even get the trash bins cleaned up. It helps in reclaiming a big chunk of storage space which could later also be used for storing new files.
In the section of Protection, get all the malicious activities detected and keep a track of privacy side by side. Most importantly, optimization and maintenance are the main modules for enhancing the speed of Mac and increasing the performance. Here, disk performance, task management, and system tasks are controlled for users' satisfaction.
CleanMyMac stands out as it also provides an uninstaller so that you can get rid of unwanted apps without leaving traces behind. Along with an updater to make sure that all the applications in the system are updated to the date.
CleanMyMac X is also compatible with shredding large and old files so that you could have free space for further storage and that's why it is known as one of the best Mac optimization tools.
OnyX vs CleanMyMac: Who Wins The War?
What Are The Advantages & Disadvantages Of OnyX?
The reasons why OnyX could be seriously considered as an essential tool are:
Advantages:
Cleans system cache and temporary files which takes unnecessary space in the system.
This Mac cleaner software runs peacefully and doesn't hinder the ongoing work.
Free of cost and perfect for those who want optimization without paying any fees.
Disadvantages:
If the user is not aware of the in-built tools, a single click can mess up the whole system.
While verifying the disk, it may freeze the Mac.
What Are The Advantages & Disadvantages Of CleanMyMac?
CleanMyMac has its advantages and disadvantages according to which you can find if you are suitable with it or not.
Advantages:
Helps you get rid of large and old files from my Mac.
Gets you away from system junk, iTunes junk, photo junk, browser cache, incomplete downloads, mail attachments, and much more.
Helps boost Mac performance and repair disk permissions
Have multilingual options to explore
Multiple security features to protect you from viruses, spyware, and multiple other threats
Email and call support are available
Provides disk and estimation space after performing the cleaning actions
Uninstaller and Shredder are the two most important features.
 Disadvantages:
Auto launching of the application as soon as the system launches
Certain warning signs and alerts may annoy the users
A trial version can clean upto 500MB of junk files only
FAQs: OnyX vs CleanMyMac
1. Is OnyX better than CleanMyMac X?
OnyX doesn't include as many advanced features as CleanMyMac X. For instance, CleanMyMac X lets you remove malware and identify and remove large files. Also, CleanMyMac X offers you more options to customize for Mac.
2. Does Apple recommend CleanMyMac?
Understand that Apple has its in-built security system, Apple personally doesn't recommend you to use any Mac cleaner software.
3. Which Mac cleaner is best?
If one is comfortable with paid Mac cleaners, the best amongst all is CleanMyMac. However, if you are alright with freeware offering limited features, it comes with OnyX and may be considered as the best Mac cleaner.
4. Does OnyX Remove Malware?
OnyX can't detect or remove malware or even run other maintenance tasks, which are where some Mac cleaners get an edge over it.
5. Which is the best program for Mac cleaner?
CleanMyMac X is one of the best programs to clean and optimize your Mac. It helps you remove all redundant junk items, uninstall unwanted applications, and various other items from your Mac. Apart from that, it also lets you remove malware from your Mac.
Well, if you ask us then we would recommend CleanMyMac X as it contains a huge range of features which makes the product better than OnyX which comes with limited features. We hope that this article can help you pick up the right one for you.