10 Best Photo Editing Software For Mac In 2023 (Free & Paid)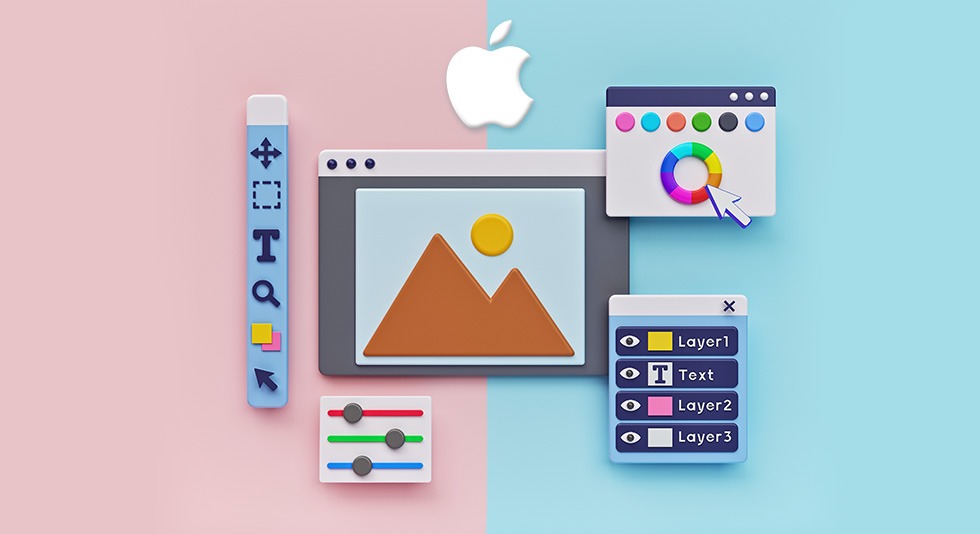 While we now use several applications on our phones to edit pictures and post online, however, photo editing apps for Mac are still unbeatable. Serious or professional photographers usually make out time to edit photos on Mac before posting anywhere online or presenting them to their clients to make them look the best.
Want to know which are the best editing Software for Mac? Well, we will provide a list of the best photo editing apps for Mac which come with a variety of features. With advanced features available on these photo editors for Mac, the editing process becomes easier.
Let's get started, and choose the best for you.
Best Photo Editing Software For Mac (Free and Paid)
| Photo Editor For Mac | Best Known For |
| --- | --- |
| 1. Luminar 4 | AI-powered photo editor for Mac |
| 2. Lightroom | In-app photos organization and cataloging feature |
| 3. Affinity Photo | Strong customizing tools |
| 4. Pixelmator Pro | Plethora of effects for editing |
| 5. Fotor | Suitable for newbies |
| 6. GIMP | Simple and free photo editing software for Mac |
| 7. Pixlr X | Free online Photo editor |
| 8. Polarr | Easy offline usage |
| 9. Photolemur | AI-powered crisp editing |
| 10. Aurora HDR | Perfect for newbies as well as professionals |
 1. Lumiar 4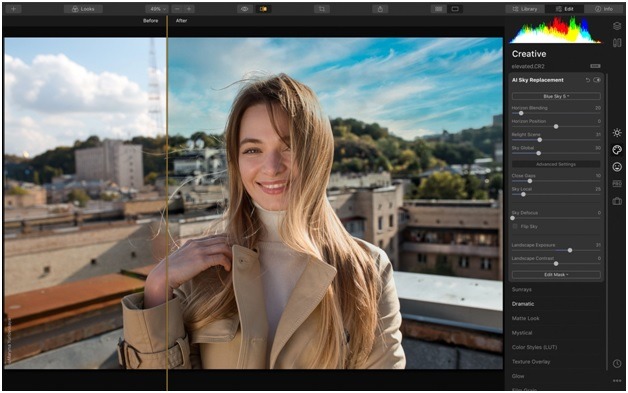 No need to hassle much for your photo editing on Mac as Lumiar 4 contains more than 60 filters which can show instant changes in a picture without spending too much time. It comes with several editing options as well as tools where you can find layer functionality, transforming, cloning, and even a number of brushes to adjust the color tone.
Interestingly, this can be called the best photo editor for Mac owing to the Artificial Intelligence augmented tools. This feature lets the tool alone detect the areas that could be enhanced without damaging the natural vibes. Indeed, one of the best photo editing apps for Mac.
Pros:
One-time price gives you Luminar 4 for your entire life.
Very clean interface and easy to understand for newcomers
Cons:
Management of photos may not be as smart.
Download: Lumiar 4
Price: Free trial for 7 days; Subscription starts from $89
2. Lightroom For Mac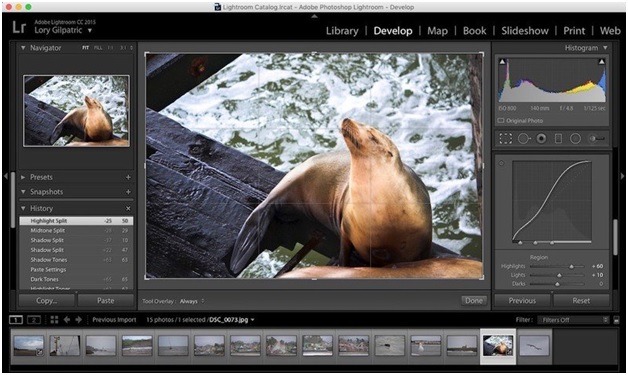 Adobe's Lightroom is always good to go macOS photo editor for all the goodness it has to offer. Anything you want to do with your photo is pretty much manageable as the number of presets and sliders allow you to explore more of the magic of Lightroom. Blending or merging of shadows, sharpening the blurry images, making the dull picture look better, and adding tiny details could make the final output just amazing with this best photo editing software for Mac.
With the editing of photos on Mac, this smart tool makes organizing photos easier. It can recognize people and themes your Mac has and helps in creating a photo album. With that, the app comes with in-app tutorials, a community for inspiration, and powerful color controls.
Pros:
Easy integration of Mac application with iPad
In-built files and cataloging management
Cons:
There could be short of graphic designing elements like advanced collages or adding text elements.
Download: Lightroom
Price: Free. Although Premium subscription can be accessed with Creative Cloud membership starting from $9.99.
3. Affinity Photo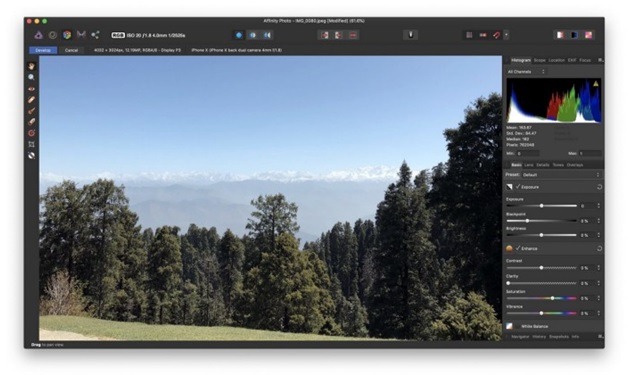 Trusted by professionals all around the world, Affinity provides a plethora of options to change the way you work on your photos. From quick corrections to delicate touching to finally immerse yourself in the world of art, this Mac editing app is just right. It offers panorama stitching, batch processing, smart object support, HDR merge, and even digital painting.
How about having real-time editing support? Yes, Affinity has it for you! The set of incredible live filter layers would leave you amazed as you can apply filter layers nondestructively, mask and erase areas after the application is done, and enjoy a live full-resolution preview. Shoot your photos and videos in RAW and make the finest of corrections with Affinity later.
Pros:
Strong customization skills with brush selection and layer editing.
Works well with raster and vector images
Cons:
Photo adjustment tools are not upto the mark.
Download: Affinity
Price: Free trial for 9 days; One time price is $49.99
4. Pixelmator Pro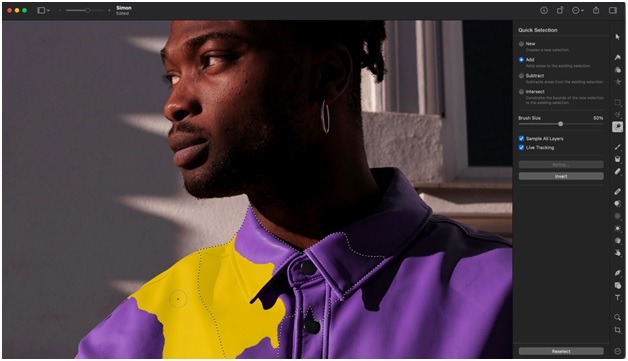 Designed with state of art technology, Pixelmator Pro is loaded with pixel accurate tools that allows editors to edit even the smallest part of the picture. There are beautiful text editors in this best photo editing software for Mac using which you can type a variety of text styles and customize them the way you want.
Offering more than 60 effects nicely arranged into 10 different groups like blur, distortion, sharpen, color adjustments and more, Pixelmator is a layer-based image editing software. It is powered by machine learning which helps in the easy recreation of image areas and automatically adjusts the photos to perfection.
Pros:
Wide range of effects with easy user interface.
Amazing painting tools
Cons:
No history panel to find previous edits
Download: Pixelmator Pro
Price: Free trial for 15 days, Price $39.99
5. Fotor For Mac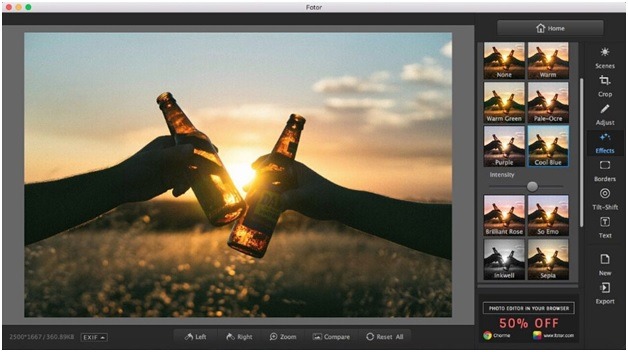 This can be considered as one of the best free photo editor apps for mac as it's simple and straightforward by any means. Whether you want powerful mac photo editing tools or you want good batch editing in one place, ask Fotor to do it for you. Supporting many image formats like TIFF, RAW, PNG, JPG, you have just got to name the right one.
The impressive part is that all the yielded results look just the way you wanted them to look. And you can never complain about its sleek and intuitive interface, it's just perfect for all.
Pros:
Create collages like a masterpiece.
Perfect Mac photos editing app for beginners
Cons:
May not be suitable for advanced professionals
Download: Fotor
Price: Free; in-app purchases
6. GIMP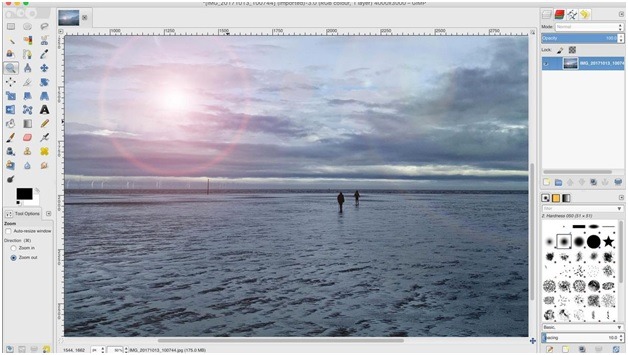 GIMP, an abbreviation for GNU Image Manipulation Program, is a strong contender for a photo editing app for Mac since 1996. Well, that's a lot of experience! There are no complicated options here and its ease of use makes sure that GIMP is worth editing your pictures. The advanced image manipulation program offers detailed customization for color reproduction.
When editing a photo, add layers to it, tweak colors, adjust the contrast or saturation, and much more than you expected from Photoshop before. However, not many of us are comfortable using Photoshop considering the price and complications, so GIMP is a perfect alternative. Moreover, it's an open-source and best free photo editing software for Mac at the end.
Pros:
A large number of tools at your disposal for manipulating any image.
Lightweight to your system resources
Cons:
Sometimes copying and adjusting layers become a cumbersome process
Download: GIMP
Price: Free
7. Pixlr X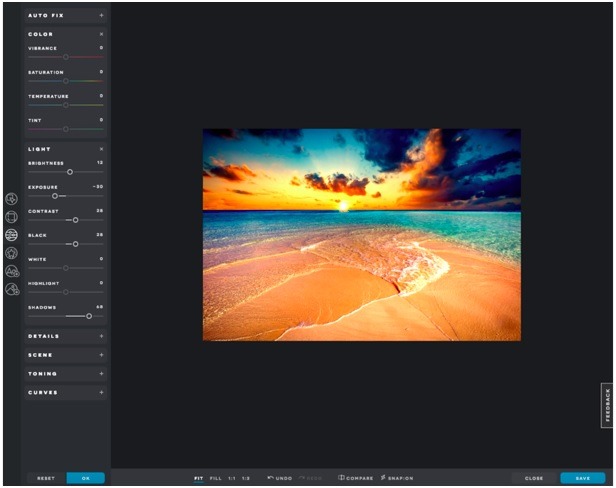 Pixlr X is a light and breezy online photo editor for Mac that is powerful as well as user-friendly. Several templates are already available here for user-friendly behavior and giving you the right look with easy adjustments and filters. The slider-based adjustments sprinkle more easiness and find the ultimate look at the end.
Interestingly, this photo editor for Mac also saves your time and energy while providing complete image modification satisfaction.
Pros:
Very simply and interactive interface
Can be used right after making an account.
Cons:
Some of the handy tools are lacking here.
Edit Images Using : Pixlr X
Price: Free
8. Polarr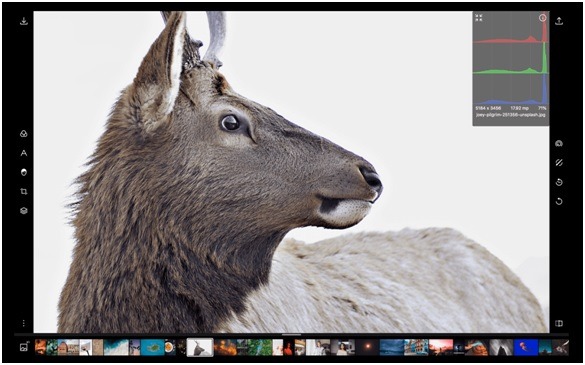 The free photo editing Software for Mac section has numerous options that you may not even want to know. It is because you can adjust the images with light, color, cropping, detailing, effects, curves, toning, graining, and borders that enhance the overall look nicely. Although you may not find masking features in the free version, retouches and a plethora of utilities will make up for you.
Yes, customize your images the way you want, learn editing techniques with in-built tutorials, add watermarks and export them with proper compression strategy.
Pros:
The Cross-platform feature provides you to access the account from any device.
It can work offline as well.
Cons:
You cannot install any third-party plugins for further assistance.
Download: Polarr
Price: Free download available; Pro features can be accessed with $3.99 per month
9. Photolemur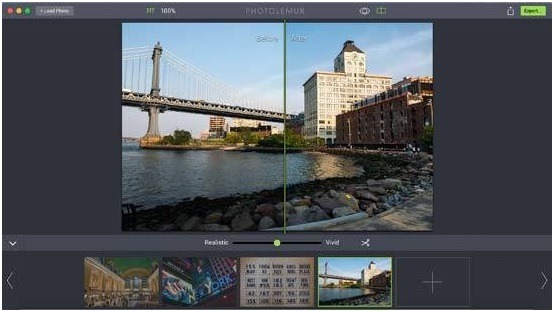 Not exactly a photo editor, this application is good enough to make your photos look decent. All you have to do is drag and drop the picture in this software, either batches or one by one, and from here the real magic begins. Apply AI photo editing skills so that there are more possibilities and less boring changes.
AI is so powerful that it also suggests a perfect template for each image so you don't waste hours choosing the right one. You must know that retouching and editing may not be possible due to a lack of handy editing features. If you want everything to be done automatically, then this macOS photo editor is just right for you.
Pros:
Uses very little memory and takes up little space
Improves color and crispness
Cons:
Control of mac photo editing is not in your hands
Download: Photolemur
Price: After a free trial, download it at the flat rate of $30
10. Aurora HDR
You work with it as standalone software or combine it with extensions or plugins like Apple Photos, Adobe Photoshop, or Lightroom. The standalone mac editing app has more than 8- unique looks that are capable of turning your pictures from raw to unique. Professionals would love to use layers and masking, batch processing of photos, and see the RAW support.
The exclusive tools can automatically recognize noise in photos, enhance details, restructure with artificial intelligence, and improves clarity.
Pros:
Flexible operations to customize all the features.
Fixes images that are poorly shot.
Cons:
Localized retouching is limited.
Download: Aurora HDR
Price: $99
Conclusion
You must have found out the right paid or free photo editing Software for Mac from the list above. If you ask us, Lightroom and Lumiar 4 top the list for ease, amount of features, and prices. Tell us which one suits you best and why in the comments below.
FAQs: Best Photo Editing Software For Mac