WinX HD Video Converter For Mac Review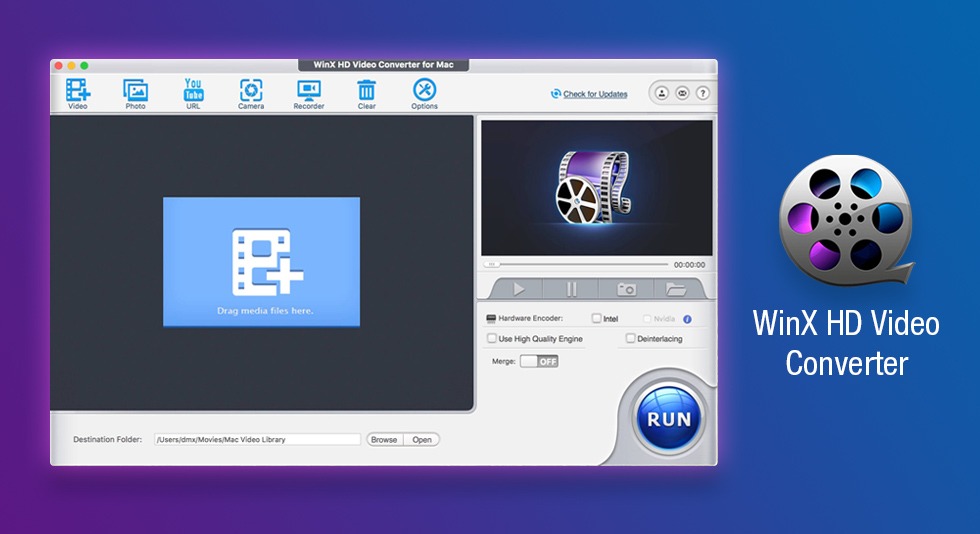 A Mac user needs a smart video converter in his system so that he or she is capable of converting video files in various formats, provide a lot of benefits and even give a chance for editing the videos in between. If you agree with us in this scenario, the WinX video converter for Mac may give you almost full assurance that it can play all the required roles as a video converter for Mac successfully.
Summary:
Rating: 4.5/5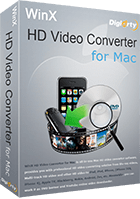 WinX HD video converter for Mac possesses one of the biggest libraries for conversion and optimization profiles. All the videos which are converted through this video converter almost maintain their original quality. It is very easy to use for a newbie and one can navigate themselves throughout the interface without any help from an expert.
Download WinX HD Video Converter For Mac
Pros:
The software supports 24 different video formats and 9 HD formats.
Very quick and easy installation.
Downloading and encoding videos from the web are possible.
Not just videos, audio files, and photos could also be converted to other formats.
Cons:
Editing features are limited when compared to others.
Conversion time may go a little longer than usual.
What Is WinX HD Converter For Mac?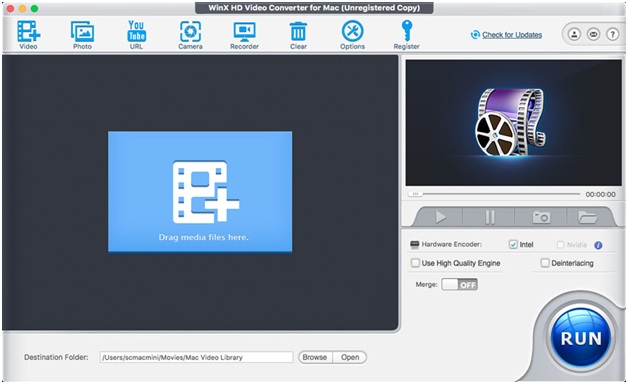 WinX HD converter is one of the strongest tools for those who wish to keep maintenance of their converted videos and wish to trust the brand for a longer run. Its hardware acceleration technique allows you to convert AV1 videos, Blu-Ray videos, HDTV/HD camcorder videos, 1080p multi-track HD videos at the fastest speed possible.
One can also export their videos in more than 420 video and audio formats and allows you to customize the video quality. One can edit their videos as and however required by cutting, cropping, adding subtitles, trimming, or renaming the videos using WinX HD video converter for Mac.
What Are The Special Features Of the WinX HD Converter For Mac?
1. Supporting Multi-track HD & Blu-Ray Videos
This Mac video converter is capable of supporting 320 input video formats, including AV1 and HEVC encoded videos, standard videos, multi-track HD videos, MKV, AVCHD, MTS, MPEG-TS, and Ultra HD. It even converts MOD/TOD/MTS recorded by GoPro or other camcorders from Panasonic, Canon, Sony into MPEG, MP4, MOV, M4V, WMV, and many other formats.
2. Converting Videos For Apple
With more than 420 profiles for mobile, tablets, and consoles, this video converter can convert videos to iPhone 11/Pro/Max, iPad Pro/mini/Air, Apple TV, Amazon Fire Phone, Asus Pad, Sony PSP, and much more.
3. Edit/Enhance Videos With Additional Features
Several video editing features within WinX HD video converter for Mac allow you to clip or crop videos, merge separate videos into one, add watermark for the personal touch and even let you make customizable changes within. Apart from inner MKV and Blu-Ray caption tracks, you can also enjoy the implantation of external subtitle files into videos. There is also an in-built player which provides access to file preview.
4. Quality Output
The output image quality with this video converter for Mac is well maintained because of the high-quality conversion engine. It possesses a De-interlace Accelerator which is capable of delivering almost original output videos. With that, balancing of audio and video quality and adjustment of file size in bitrate resolution parameters is workable.
5. Quick Conversion Speed
One of the fastest and best converters for Mac, the WinX HD video converter contains Hyper-threading technology and multi-core CPU utility. It can preserve 98% of video quality when the conversion from one format to another takes place. It claims to have a 5x faster conversion speed than an average video converter.
6. Neat User Interface
One can download it for a trial and see the neatness it possesses. The interface has all the tabs located like Video, Photos, URL, Camera, and Recorder separately. The required tab could be chosen according to your requirements and be done with the process. The good thing is that this video converter for Mac comes in six different languages like English, Spanish, German, French, Japanese, and German and attracts a wide range of users.
Although there are a few hurdles that you may feel are not that easy. It can sometimes be hard to find what you are looking for in the outset menu. Moreover, you need to dig down the options for aspect ratio and screen resolution. Although it is very easy to use, you still need to find out the menu and options within the system.
Price & Plans
After learning about the powerful features of the WinX HD video converter, we believe you are looking for price plans. Well, the good part here is that it offers a free trial which also gives conversion and editing features as others but only up to a video length of 5 minutes. The free version is properly functional for you to understand a demo.
However, the paid version is $29.95 by which you can unlock the full-time version for life. You also get a lifetime free upgrade to enjoy the services offered by the WinX HD converter for Mac.
Download WinX HD Video Converter For Mac
FAQs: WinX HD Video Converter For Mac
1. Is WinX Video Converter good?
In short, yes. WinX video converter is a powerful and good tool for all those who wish to convert their videos from one format to another as well as wish to edit certain sections.
2. Which is the best video converter for Mac?
One of the best video converters for mac is the WinX HD converter for Mac which comprises quick conversion speed, supports multiple file formats, has an acceptable user interface, and offers quality output.
Conclusion
We hope that learning more about the WinX HD video converter for mac has given you an idea about why you should choose this product for video conversion on Mac. We highly recommend the tool or you can even go for a trial before finally buying the same. We would also like to know your reviews about it in the comments section below.