Best Android Emulator For Mac in 2022
Just because you belong to the Apple ecosystem with MacBook and iPhone by your side, doesn't mean you can't run Android apps and games. Thanks to some of the best Android emulators on Mac, you can now have the best of both worlds. In this blog, we are going to discuss some of the best Android emulators through which you can run Android apps and games on your Mac.
Before We Dive Into Some Of The Best Android Emulators for Mac
Installing an Android emulator on a Mac or downloading Android apps may make you vulnerable to malware attacks, especially if you are trying to sideload apps. So, before you embark on your journey of trying out Android OS on your Mac, how about putting your guard up?
You can install a tool like CleanMyMac X which scans your computer for all kinds of malicious threats and alerts you in advance. You can then remove them with a click of a button. To know more about its features, pros, cons, and other such aspects, check out this post.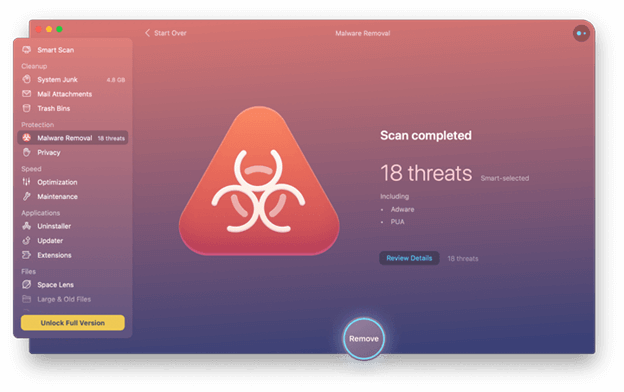 Best Android Emulators for Mac –
1. BlueStacks Emulator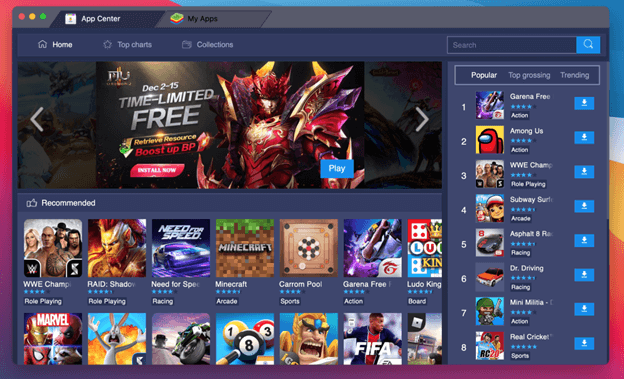 BlueStacks Emulator is one of the best Android emulators for Mac and chances are that if you want to run Android apps, you have been recommended to use BlueStacks. It comes with Keymapping tools for creating customized control schemes. Then there is an Instance Manager with the help of which you can run several games at the same time.   
Pros:
Play Android apps and games on your Mac.
GDPR certified.
Fast performance.
No compromise on quality.
Superb graphics.
Cons:
Restriction on home screen applications
2. NoxPlayer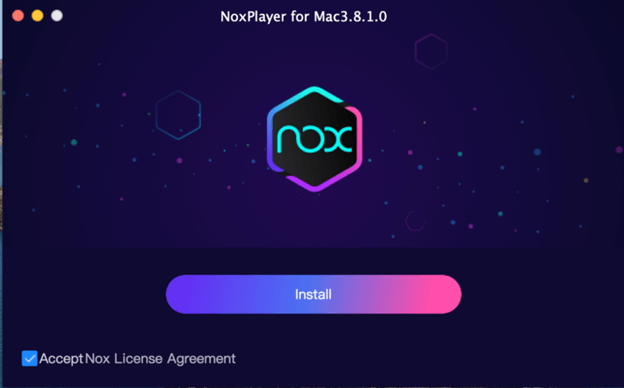 NoxPlayer from Bignox is one of the best Android emulators for Mac. it supports Android 9 and is easy to install. It offers multi-instances, smart keyboard mapping controls, and great hardware support. It is well optimized for both Android apps and games, and as such it delivers a great experience, especially for mobile games.. 
Pros:
High-quality graphics.
Plays most Google Play Store apps.
GDPR compliant.
Comes with a macro reader to record and execute complex operations.
3. KO Player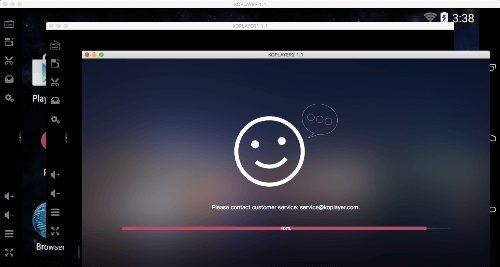 Although intended to play Android games on Mac, KO Player also lets you download other apps as well. And, it is trusted by millions of users for its stability and performance. It offers unlimited storage and is comparatively lighter as compared to various other Android emulators for Mac.
Pros:
Simple UI
Comes with a video recorder.
Built-in Google Play Store.
Quick access toolbar.
Cons:
Lacks customizability.
Some applications lag.
4. ARChon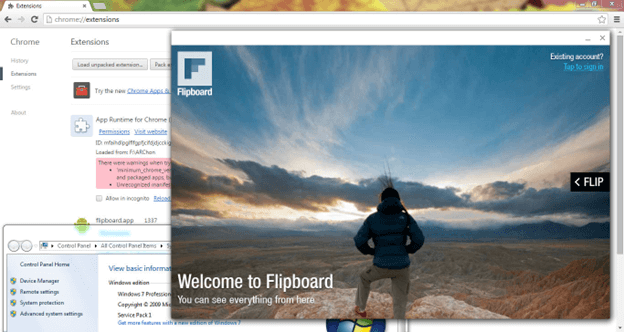 If you have Chrome, you can run Android apps in OSX, no installation required. You can run it as a Chrome extension. This means you needn't invest precious storage by installing another piece of heavy software on your machine. It is highly secure and is trusted by a user base across the globe.
Pros:
Supports multiple applications.
Open-source.
Emulate Android directly from the browser itself.
Cons:
Stability issues.
Installation can prove to be hectic at times since you need to convert APKs to Chrome compatible APKs.
5. VirtualBox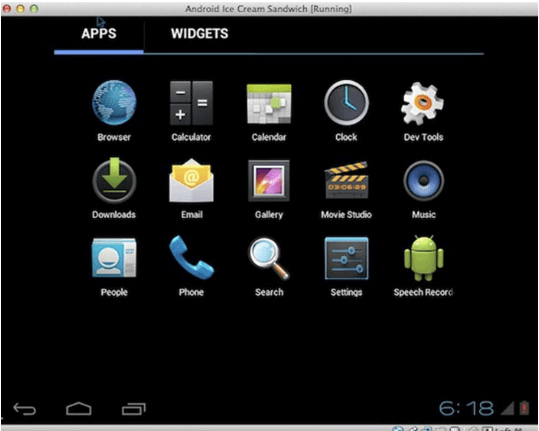 Not saying that it is a direct Android emulator for Mac, but, VirtualBox can help you create your very own Android emulator for Mac, provided you set it up with the help of an ISO image of Android from Android-x86.org. This is one way in which you can test Android without dedicating a device to it. 
Pros:
High customizability.
Complete control over how much hardware and resources you want to invest.
Play any Android game or app.
Cons:
Installation is a little time taking.
Some feature requires advanced skills.
Download VirtualBox on Mac |  Get ISO of Android-X86 Here
6. Genymotion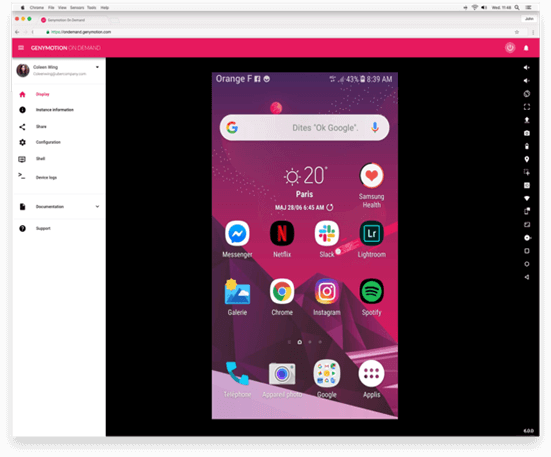 Another Android emulator for Mac that doesn't need an installation is GenyMotion. It is a cloud-based emulator which makes the job of developing and producing Android apps simple. Genymotion has also been tested on the latest Mac versions as well, and you can even check out a detailed guide on their website. 
Pros:
Secure virtual environment.
Presents Android apps with clarity on Mac.
Users can forward multi-touch events and gyroscope.
Cons:
Audio can be an issue
Issues in setting a custom display resolution.
7.  GameLoop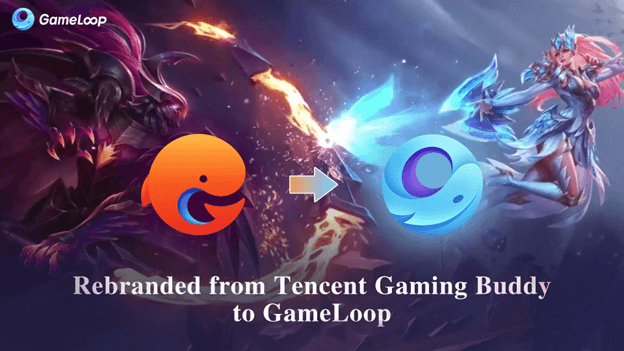 We know that your friends using Android flaunt the games they so easily install on their device, and, don't worry! Because you are not going to stay behind. Enter GameLoop. It's a decent gaming Android emulator for Mac for mobile FPS and it comes packed with splendid performance and goof keyboard controls.
Pros:
High-performance
Intelligent keymapping
Anti-cheat system to thwart hackers.
Library of some great games available.
Cons:
No support for other apps.
Occasional lags.
8. Android Studio Emulator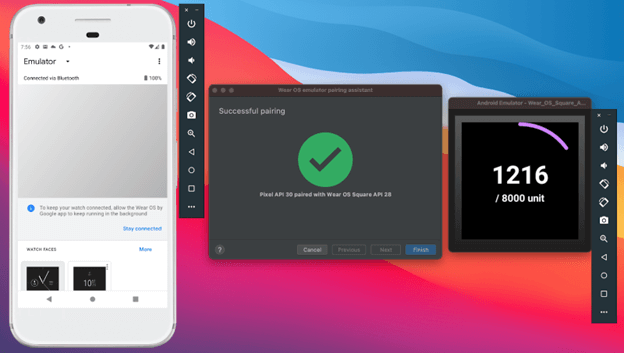 If you are a developer looking to test Android apps before making them go live, needn't go anywhere else because you can test them out on Google's official emulator.
Pros:
Updated regularly.
Great development tools.
Multiple options for a variety of
Cons:
Installation is a little tricky.
The interface could have been better.
Beginners may find it complicated.
Download Android Studio Emulator for Mac Here
Wrapping Up
Up until now if you had any notion that to enjoy Android apps, you need to have an Android device, give an Android emulator for Mac a chance. Liked what you read? Share this post with your other friends, family, and colleagues who have a Mac and who wish to run Android apps and games. And, if you already have a favorite Android emulator for Mac that didn't make it to the list, tell us in the comments and we'll feature it here.
Frequently Asked Questions On Android Emulator for mac:
What is an Android Emulator?
As the name states, an Android emulator lets you run Android apps on your intended device. For instance, if you wish to run Google Play Store apps on Mac, you can use an Android emulator like BlueStacks
What are the benefits of using Android Emulator software?
An Android emulator comes with various benefits. Some of them include – not worrying about the battery or not investing in a high-end Android device. With an Android emulator for Mac, you can enjoy the apps on a much bigger screen while also working on your Mac's apps.
How do Android Emulators Work?
An Android emulator creates a virtual Android environment with the help of software and hardware on your Mac. Once installed, you can further install Android apps or games and use them just as you would on an Android device.
[recommended title="Must Read" postid="3484,4762,2973″]