CleanMyMac X Review: Pros, Cons & All You Want To Know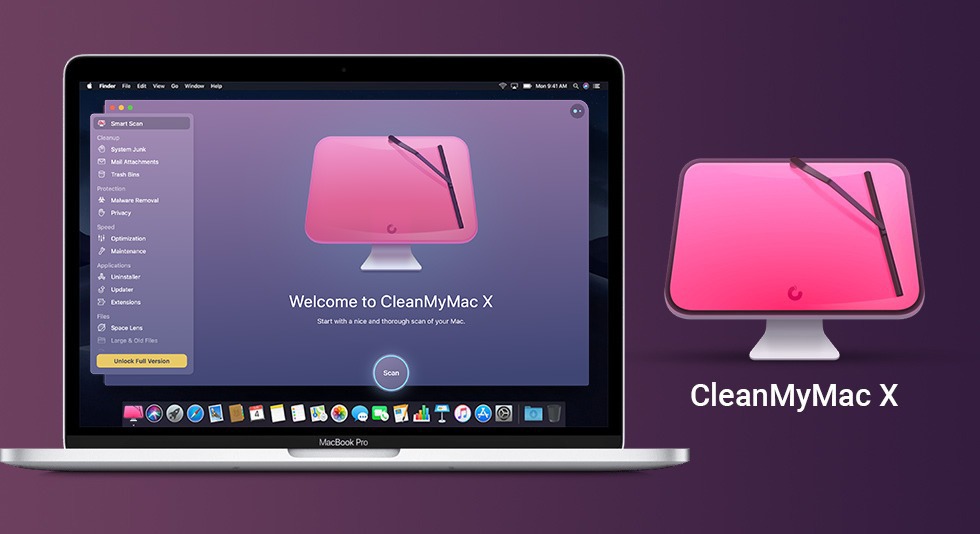 CleanMyMac X for Mac is a reliable and powerful tool for your Mac to check its health. It helps keep Mac clutter-free by removing junk files and making space for new files. There are chances of temporary files building in your Mac, which must be cleared with time. Manual cleaning is not an easy process; hence, CleanMyMac X acts as your assistant.
This Mac cleaner tool also offers tools for Mac optimization, speed scanning for malware removals, and keeps up with the computer's performance. It handles the responsibility of protecting your system by uninstalling unwanted apps, cleaning the browser history & cookies, and removing the heavy CPU consumers side by side.
CleanMyMac X Review:
Overview
Interface & Navigation: Sleek, elegant, and easy to use

Price (Free and Paid):
Starts at $39.95 for 1 Mac for 1 Year.
Trial available. You can scan and remove 500 MB worth of junk with the trial version.
30-day money-back guarantee.
Remove large and old files: Yes
Size comparison of files and folders: Yes
Delete duplicate files: No
Customer Support: 24/7 support via live chat, support ticket, knowledgebase
Get CleanMyMac X From Here
What Is The Need Of CleanMyMac X?
You might not realize the need for this tool, but it is necessary because:
Finds out junk from every corner of the Mac and removes them all.
Scans out malware from the system and deletes them.
Keeps the applications updated and helps in uninstalling those not needed.
Improves the performance of Mac and speeds up the overall system.
Inbuilt assistant gives you tips for personalized cleaning.
Pros & Cons of CleanMyMac X
Pros:
Brilliant and logical interface. One can guide oneself to run it on Mac without any technical assistance.
Scanning speed is breakneck, and results for every action are highlighted in no time.
Free up gigabytes of space for future requirements.
Mac runs faster and becomes optimized as per modern needs.
Cons:
It is pretty expensive when compared with other products. There are similar variations available in the market having lesser prices.
It does not have the option to search for duplicate files. Hence, if there is any negative space covered by duplicates, they may escape from the eyes of CleanMyMac X.
Subscription & Pricing
| No of Macs | Subscription Cost for One-Year | One-Time Purchase |
| --- | --- | --- |
| 1 Mac | $39.95 | $89.95 |
| 2 Macs | $79.90 | $179.90 |
| 5 Macs | $199.75 | $449.75 |
Before paying for a premium subscription of CleanMyMac X, you can give it a try. The trial version lets you run endless scans. However, you can clean 500 MBs worth of unneeded items. Also, you won't be able to clean up cookies. Plus, there are a few other limitations.
To get unrestrained access to all features, you can purchase a premium version of CleanMyMac X. Broadly, CleanMyMac X offers two kinds of subscription – An annual subscription and a one-time purchase. The latter gives you lifetime access to all features, and your subscription is renewed yearly. You can refer to the table mentioned just above to check the pricing plans.
CleanMyMac Essential Features
1. System Cleanup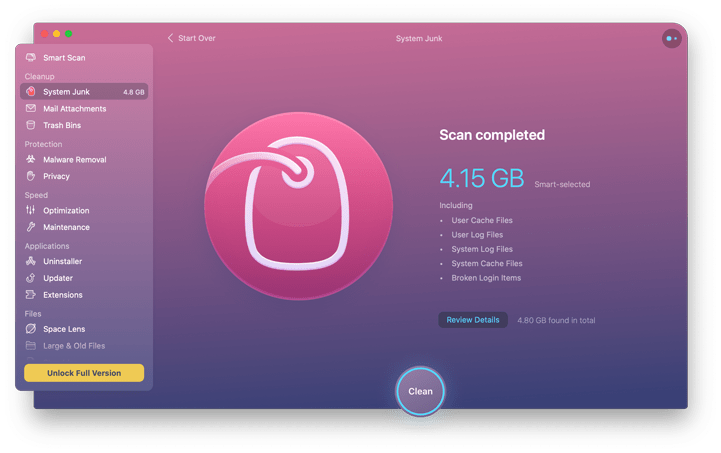 CleanMyMac X for Mac is an amazing Mac cleaning software that scans the system for junk, cache files, system log files, language files, user log files, etc. and removes them for better performance of the system.
Mail attachments: When it comes to Mail attachments, this tool removes local copies of mail downloads along with the attachments. Hence, local disk space is saved, and local mail data is optimized. Win-win!
Photos junk and iTunes junk: With this cleaning system, one can remove Photos junk and iTunes junk as well. For each, click on the Scan button and after that, tap Clean. And it's done!
Trash bins: Trash bins can act as a savior if you have deleted your files by mistake and can't find it provided you haven't already emptied the Trash bin.
Also Read: CleanMyMac X VS. MacBooster 8 – Side by Side Comparisons
2. Protection From Malware & Intruders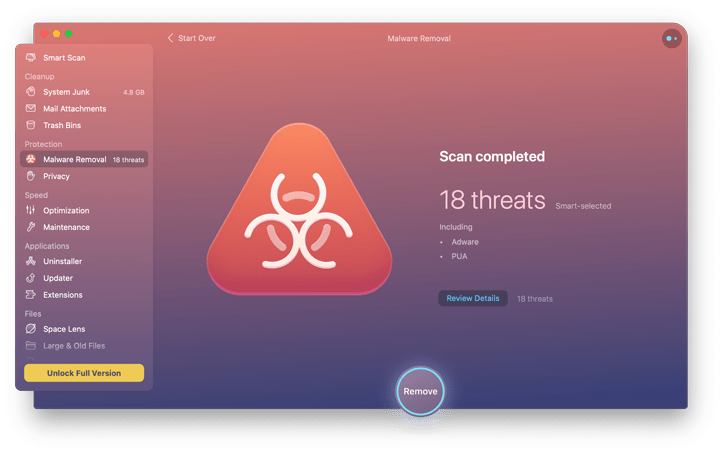 CleanMyMac X for Mac is arguably a robust malware removal tool than its competitors.
Malware Removal: When the scan is being turned on, it searches all the kinds of viruses through the system and alerts you for them in advance. Once they are found, it is best to delete them all and save Mac from any chances of intrusion.
Privacy: Want full browsing and internet security? This CleanMyMac X review deals with the same. All the sensitive information present on your browsers are deleted instantly and saves them from prying eyes. For example, browsing history, autofill forms, and other chat logs are taken care of. You will find here all the browsers, recent items list, Wi-Fi networks and connectivity apps like Skype.
Also Read : CleanMyMac VS. CCleaner – Which Mac Cleaner is The Best?
3. Improves The Speed Of Mac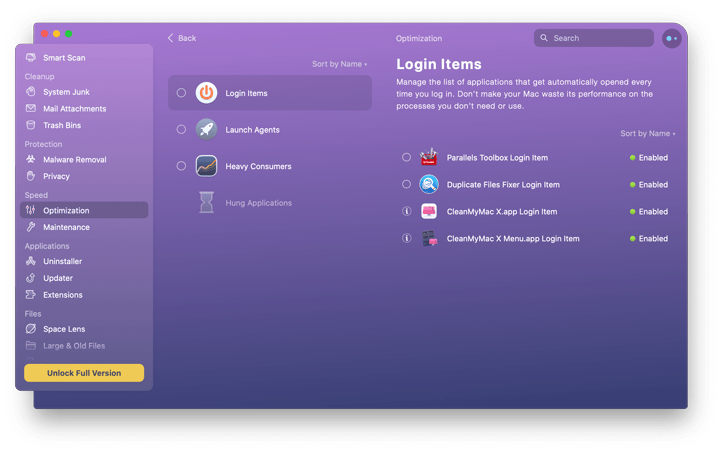 CleanMyMac X helps in improving the system speed by optimizing the login items and maintaining the drive's performance. It is also capable of removing application errors and increasing search speed results.
Optimization: Do you know that when you start any application, various other background processes start at the background. These processes start hogging other resources and finally, this results in a lag in the performance of your system. This Mac cleaner tool can optimize the system by letting you know the list of Login Items, Launch Agents, slow and resource hogging apps. For each of the points, you can find the detailed list right beside it.
Maintenance: There are times when your Mac's memory gets full and doesn't let other apps and files work smoothly. In this Maintenance section, you can find out options to free up RAM, run maintenance scripts, flush DNS cache, speed up mail, reindex spotlight, rebuild launch services, etc. As you click on the required process, your system is probably going to stay well-maintained and have an improved performance than ever.
All About Applications.
CleanMyMac X has various other features to support the purpose of Mac's working capacity. There is an Uninstaller that can delete the applications, Updater for applications update and different other extensions for the rest of the services.
Uninstaller: Uninstalling the applications manually is a cumbersome process. A smart Uninstaller through CleanMyMac X can not only delete apps but also redundant files that tag along with them. The list of all the applications gets displayed in front of you, so, you may select even those you were not aware of.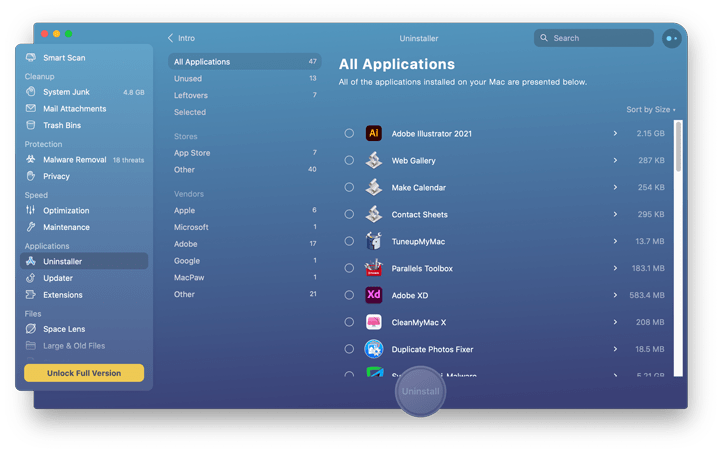 Updater: This CleanMyMac X also possesses an Updater which again lists down the number of applications installed on your Mac. It will undoubtedly keep your apps up to date.
Extensions: All your widgets and system extensions can be accessed from the tool itself wherein, you can also choose to enable/disable or remove from one single location.
Also Read : Top Ten Duplicate File Finders For Mac
4. All About Files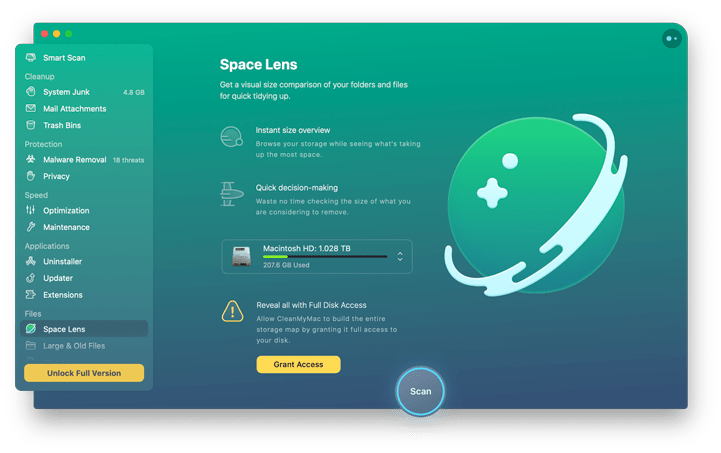 It's essential to manage your storage space by going through all the files and folders strategically.
Space Lens: It seems like you can view all the files and folders in a zoom mode to understand what is happening inside your Mac. Each file forms the bubble of its size so that you can understand which ones are storing most of the space.
Large & Old Files: Before file sorting could be done, it is required to find where the old files are hidden. And CleanMyMac X can do both jobs easily.
Shredder: When a file is deleted, their leftovers remain in the system and Shredder removes all the leftovers. This, in turn, also removes the sensitive data you have present.
Also Read: Best App Uninstaller For Mac to Remove Unwanted Apps
Conclusion
Overall, we would say that CleanMyMac X is undoubtedly the best tool to keep your Mac healthy and hearty. To maintain privacy and other necessities intact, you surely would like to spend some extra money on the same. Overall, a thumbs up to CleanMyMac X.
Frequently Asked Questions