CleanMyMac X VS. MacBooster 8 – Side by Side Comparisons
admin
,
Comparison
,
May 26th, 2022
,
0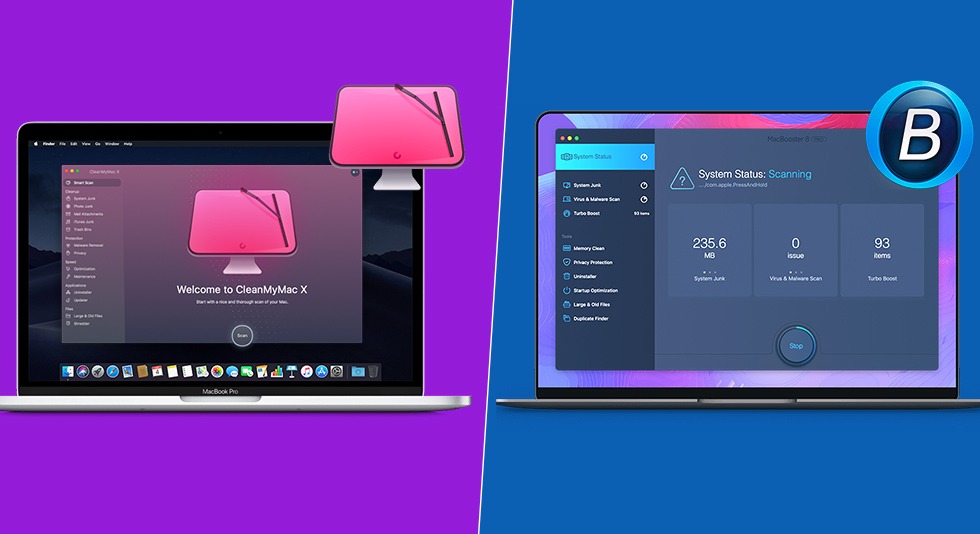 The importance of Mac Cleaner cannot be stressed upon enough. It removes all those unwanted files which you might not be able to pay heed to. and It optimizes your Mac in a manner that all the settings are optimized. Additionally, a Mac cleaner keeps all security issues at bay.
There are several Mac cleaner software available in the market and it could become tough for you to choose the one that best suits your needs. We'll make things simpler for you.
Here is a head to head comparison of two of the top Mac cleaners – CleanMyMac X for Mac and MacBooster 8 for Mac. While both these Mac cleaners clean and boost your Mac's performance, there are instances where one Mac cleaner has a one-up over the other. So, read the blog from start to end and decide which is the Mac cleaner that you wish to choose.
Also Read: 5 Best Mac Optimizer Software to Free up Valuable Disk Space
CleanMyMac X VS. MacBooster 8: Comparison
Let's have a quick glance at some of the features that both these Mac cleaner software entail –
| Features | CleanMyMac X | MacBooster 8 |
| --- | --- | --- |
| Junk Removal | Yes | Yes |
| Duplicate photo finder | No | Yes |
| Duplicate file finder | No | Yes |
| Cleanup Tips | Yes | No |
| Application Updater | Yes | No |
| Removal Of Malware | Yes | Yes |
| Disable hung Apps | Yes | No |
| Shredding Files | Yes | No |
| iOS device monitor | Yes | No |
| Space visualization | Yes | No |
Features
Talking of features CleanMyMac X definitely has an advantage over MacBooster 8. While there are some features that are common in both the Mac cleaning software, there are certain features that are exclusive in CleanMyMac X for Mac.
For instance, CleanMyMac X efficiently tracks apps which are hanging for no reason. It completely shreds files in a manner that no traces are left after the files are deleted. CleanMyMacX gives you comprehensive information of the cleanup it performs. These are the aspects that you might not find in MacBooster 8.
MacBooster 8 For Mac takes due care of cleaning, security and optimization needs of your Mac. And, there are two aspects which evidently give it an edge over its counterparts. It has a dedicated duplicate file finder and duplicate photo finder. These are two aspects where MacBooster earns a higher point over CleanMyMac X.
Also Read: CleanMyMac VS. CCleaner – Which Mac Cleaner is The Best?
Cleaning of junk files – CleanMyMac X Vs MacBooster
You might not be aware but your Mac generates tons of junk files that can hamper its performance. It is imperative that they are cleaned timely. And, both CleanMyMac and MacBooster clean junk files with utmost efficiency.
CleanMyMac X cleans dozens of unwanted files in a nanosecond. It detects junk from all the nook and crannies of your Mac. This junk is inclusive of but not limited to system junk, iTunes junk, trash files, and many others.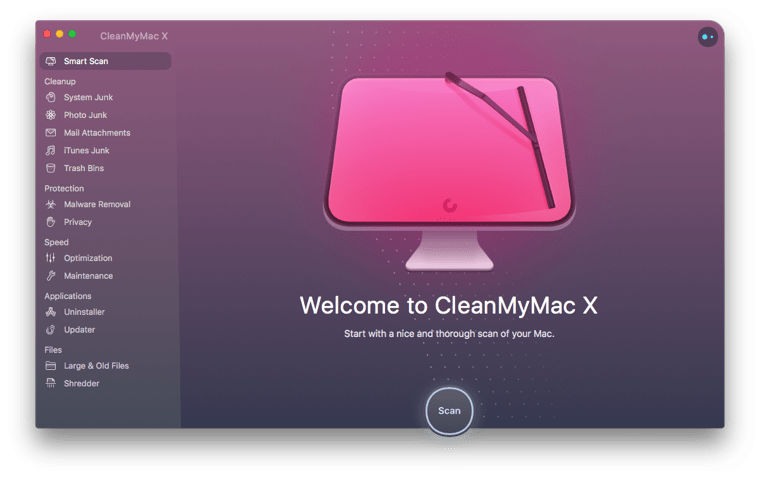 When it comes to cleaning junk files, as a dedicated App to clean Mac, MacBooster promises to clean 20 types of junk files which include Application junk, broken log items, trash, iTunes cache, and many other such files.
Also Read: Top Ten Duplicate File Finders For Mac

Security
When it comes to security both CleanMyMac X and MacBooster 8 have measures in place to ensure your Mac's security. CleanMyMac X offers a privacy cleanup that removes every aspect that might put your privacy at stake. This includes your browsing history, cookies, saved passwords, message history, file transfers, and many other things. Apart from that, it has an exhaustive database of malware because of which it easily tackles all the malware on your Mac PC.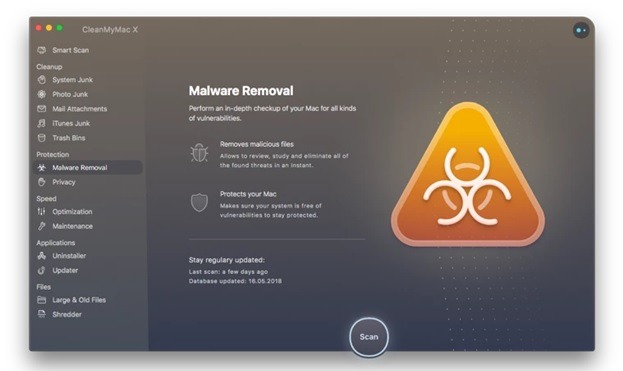 MacBooster 8 also scans your Mac for viruses, cleans cookies and another internet history which might put your security and privacy at stake. It further activates the inbuilt security settings of your computer in a way that no intruder can attack these.

Something that cements the fact that CleanMyMac X is safe and secure is the fact that it is notarized by Apple itself which means there is no chance that any malicious files can attack the tool. It is 100% safe to use.
Pricing
Both CleanMyMac X and MacBooster offer a free trial but after the trial, you will have to upgrade to a premium version. Where CleanMyMac X would cost you around $ 34.95, MacBooster will cost you around $ 59.95.
CleanMyMac X and MacBooster's Role In Disk Cleaning
CleanMyMac X and MacBooster both beside being great Mac cleaning software also play an important role in being disk cleaners for Mac as well.
CleanMyMac X  has a dedicated smart assistant that regularly guides for performing disk cleanups. It does this by showing you everything that you need to remove so that your Mac is all cleaned up.
MacBooster takes disk cleaning to the next level. As a disk cleaner for Mac, MacBooster optimizes your hard disk by removing unwanted junk and thereby giving you more space so that your Mac can run smoothly. It helps you locate all those files that could be acquiring huge space on your hard disk. It also fixes disk permission issues as well.
Also Read: How To Fix "Photoshop Scratch Disk Full Mac" On Mac?
CleanMyMac X and MacBooster 8 – Pros and Cons
Though both CleanMyMac X and MacBooster 8 are hailed as top Mac cleaners, both of them come with their share of pros and cons. We shall try and enlist these pros and cons individually.
MacBooster 8 Pros and Cons
Going by the MacBooster 8 Reviews, here are some of the pros and cons which will help you gain a better insight into this Junk Cleaner for Mac –
Pros:
MacBooster 8 has a clean GUI and is easy to get hang of. Even a beginner won't have any issues in understanding the interface
It removes several gigabytes of unnecessary files in a very short span of time and helps you regain precious disk space
It effectively searches and removes duplicate files in a very comprehensive manner
Cons:
Ad pop-ups have been an issue as per MacBooster 8 review given by many Mac users. But that being said, it is important that you download MacBooster from the official website
There are many optimization tools that just replicate the ones which are already built-in as Mac optimization tools.
CleanMyMac X Pros and Cons
Going by several CleanMyMac X review, here are some of the notable pros and cons of this Mac storage cleaner –
Pros:
CleanMyMac X is notarized by apple itself which means you can rest assured that CleanMyMac X is free from all kinds of malicious files and is therefore safe to use
The Mac storage cleaner hardly takes a toll on your CPU and runs smoothly
It is one app that is a powerhouse of many functions – apart of cleaning Mac and optimizing it, it even keeps you upgraded with several updates as well.
Cons:
Pricing might be an issue for some
Only 500 MB is offered when you choose the trial version
Settings might be a little hard to understand especially if you are a beginner
Also Read: 7 Best App Uninstaller For Mac to Remove Unwanted Apps
Wrapping Up
That's it! Now since you have a clear overview of both the Mac cleaners, you might be able to choose as per your requirements. If there's a point where you think one Mac cleaner has an advantage over the other, do let us know in the comments section below.