CleanMyMac VS. CCleaner – Which Mac Cleaner is The Best?
admin
,
Comparison
,
July 13th, 2023
,
0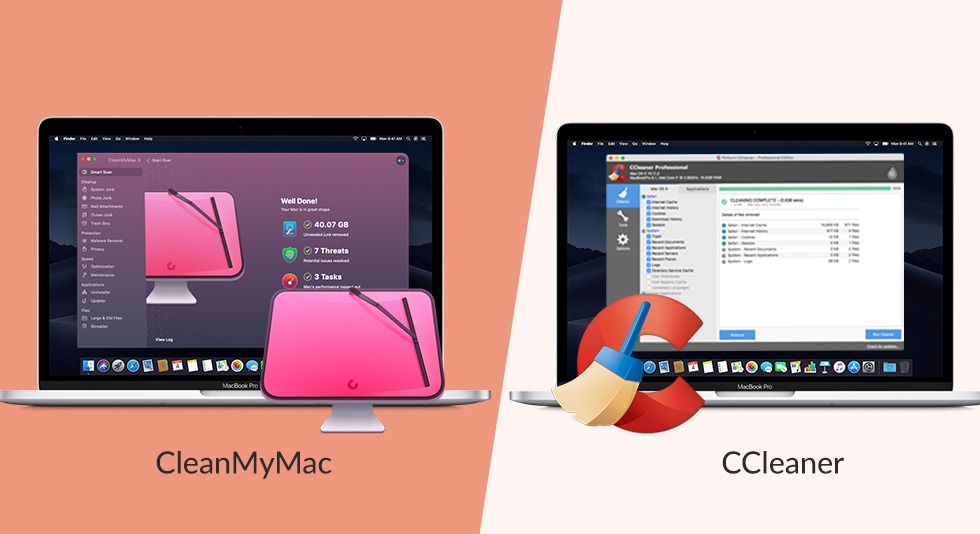 There are dozens of Best Mac Cleaner software available in the market. But have you ever been caught in a dilemma, as to which tool will work best for your Mac?
To end this quest we will look upon two top Mac cleaners; CCleaner for Mac and CleanMyMac. Both of them guarantee you for effective cleaning so let's compare, whether they really do what they claim?
CleanyMyMac X Vs CCleaner:
We have shared a table below that will help you understand the features for both Mac Cleaner software:
Short Glimpse Of Features
| Features | CleanMyMac X For Mac | CCleaner for Mac |
| --- | --- | --- |
| Personalized Cleanup Tips | Yes | No |
| Overwriting of unused space | No | Yes |
| Application reset | Yes | No |
| Browser cleanup | Yes | Yes |
| Time machine thinning | Yes | No |
| Uninstaller | Yes | Yes |
| Custom folder cleanup | No | Yes |
| Login items removal | Yes | Yes |
| Large & Old files cleaner | Yes | No |
The Comparison – CleanMyMac X Vs CCleaner
As we can see in the above table, some of the features are working the same on both Mac optimization tools. Apart from the listed features, we will share a detailed comparison in this section.
If we talk about Free And Premium Packages of both mac cleaner software.
With CleanMYMac's free package, you can dispose of up to 500 MB junk on your system. For the rest of the cleaning, you need to spend $39.95 or you can even buy 5 licenses for 55% less than purchase price. You can also find a software bundle from MacPaw to keep your system in good health.
You can use CCleaner to launch unlimited scans or repairs on both free and paid versions. With its premium version, you get multiple useful features including junk cleaning, automated browser cleanup, priority support, and program updating.
Are They User-friendly?
This is another important question regarding a product. Whether it's an App to clean mac or software. The foremost question is are they user-friendly? Let's start with CleanMyMac.
This mac cleaner software provides an amazing interface that possesses some complicated settings that hide some useful features. Honestly, its dashboard will make you a little confused if you are a beginner.
CCleaner offers a clean interface that will not be confusing. You will understand its features and options in an easy way. In other words, straightforward navigation is there in CCleaner for Mac.
What About Security?
Being the top mac cleaners, both of these software are concerned about security.  Unlike CleanMyMac, CCleaner's free version offers privacy protection features for comprehensive security. It tracks and cleans cookies or JavaScript that usually accumulates during web browsing.
For enhanced security, it inhibits tracking by ad networks to keep your online activities secure. While a lot of sensitive data is stashed in cookies, it becomes crucial to keep cookies and cache clean for better security.
Also Read: How To Fix "Photoshop Scratch Disk Full Mac" On Mac?
Pros and Cons Of CleanMyMac VS. CCleaner
In this section, we will talk about the Pros and Cons of both mac cleaning software.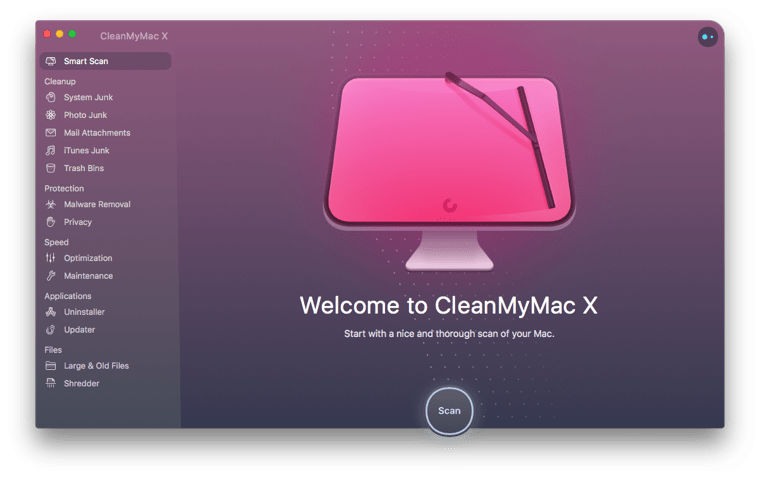 Pros and Cons of CleanMyMac X:
Pros:
System Speed Optimization: This feature helps you to handle running applications on your Mac system. Additionally, if you encounter any frozen software, head back to the CleanMyMac X Optimization and end it there.
Application Managing- This is another working package of this mac cleaner software; You can check on your Mac OS applications with its app drawer window and execute basic actions on them. If you remove any software or application through Uninstaller, a complete specific file or folder will get deleted.
File Handling- with the help of CleanMyMac, you can detect hidden files under several subfolders and other directories. There is also a feature that works as a Junk Cleaner for Mac; the file shredder tool that will help you to permanently delete data from your system.
Also Read: 7 Best App Uninstaller For Mac to Remove Unwanted Apps
Cons:
It has complicated settings
It offers 500 MB Limitations for the trial version.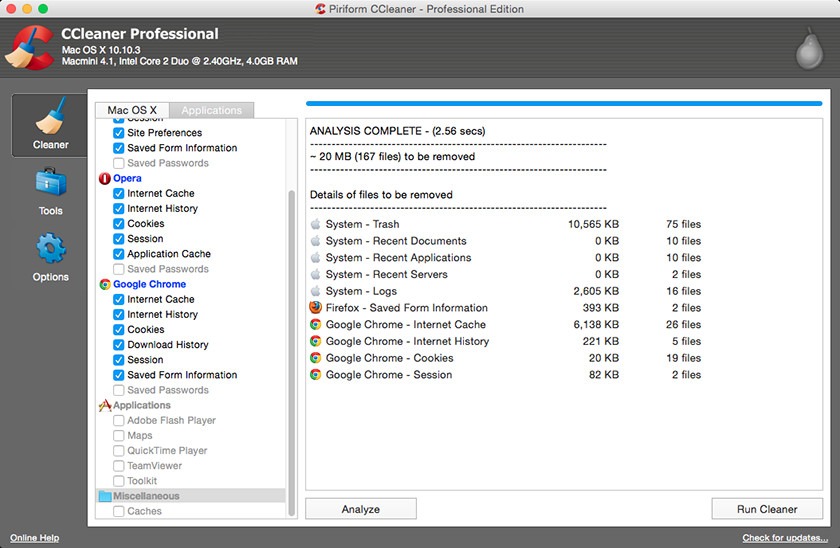 Pros and Cons Of CCleaner:
Pros:
Speed Boosting: As we know our computer machine may slow down with time. Some think it happens because of hardware and others think because of malicious activities. But in reality, system slowdowns because of unused programs accumulate and run in the background without even your knowledge. This is when CCleaner comes into the process by flushing all unused and unnecessary files. Hence this disk cleaner for mac offers amazing speed to your system.
Straightforward Interface: CCleaner is an amazing tool that offers a clean interface with easy to understand features. Along with its specifications, you can use this Mac optimization tool on Windows, Android and yes! Mac OS. Oh! I missed a point; its free version lets you delete browser junk and cache!
Monitoring: CCleaner helps you in cleaning the system and browser and monitor them for you.
 Cons:
Wrapping Up!
hat's all folks! We have successfully helped you with the comparison between CleanMyMac and CCleaner. If you have any other better way or is there any other specification, share in the below comment section.
Also Read: Top Ten Duplicate File Finders For Mac
FAQs: CleanMyMac VS. CCleaner
1. Is CCleaner safe now?
CCleaner is a state-of-the-art solution meticulously designed to keep your system clean & protected. While this smart tool is trusted by millions of users around the world, it is one of the best cleaning tools that is going to lead the market for many years from now.
2. Is CleanMyMac safe?
CleanMyMac is absolutely safe to use since it is notarization by Apple itself. You can rest assured that the app is free from all malicious threats. Also, it has a safety database and is capable of removing gigabytes of unnecessary malware and junk.
3. Which Mac cleaner is the best?
Based on our testing both the products, we consider they both stand at par when it comes to effective cleaning. You can pick one of these tools based on features it offers that meet your needs. If you don't have personal favorites, then you can give try any of these best Mac cleaner tools.