10 Best Disk Space Analyzers for Mac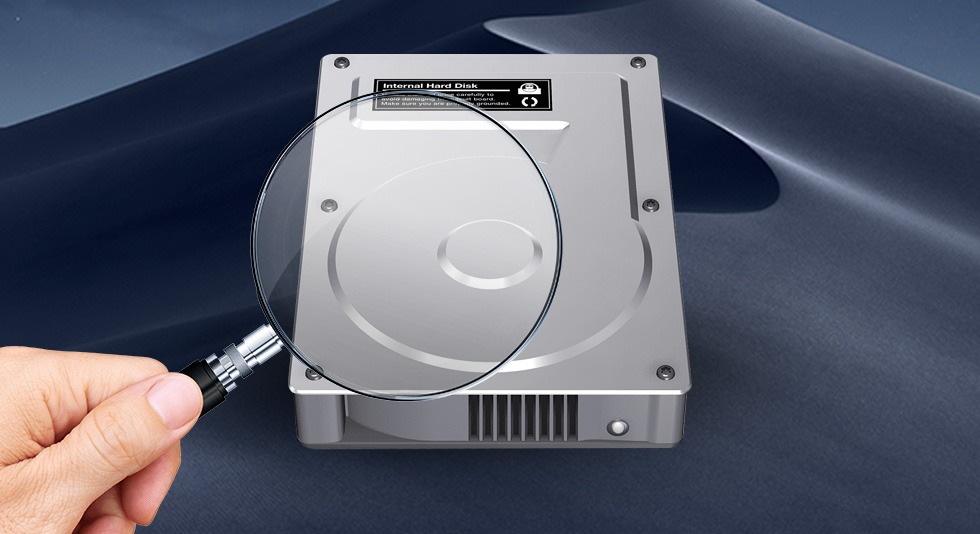 It's only a matter of time before you encounter the dreaded "Your disk is almost full" message. To deal with this problem, you might attempt to free up disk space on Mac or think of purchasing an external disk. While there's nothing wrong with it, but sifting through each file manually will be time-consuming. So, to make things easy and help deal with Mac storage, we will enlist the best disk space analyzer for mac and Mac storage manager.

These storage manager utilities, by scanning your Mac, will help find out what exactly is taking up space.
So, without any delay, let's know more about the best disk space analyzers for Mac.
Additional Information
How To Manually Track Available Storage Space On Mac
1. Click the Apple menu > About This Mac > Storage Tab.
2. You will now see a colored bar, hover the mouse, and see which content is taking up most disk space.

In addition to this, you can also head to Activity Monitor and look for available space. To do so, press Cmd+Space > select startup volume > check for the amount of used space > click Info button in the toolbar.
You'll now be able to see details like Available space, Purgeable space, and free space.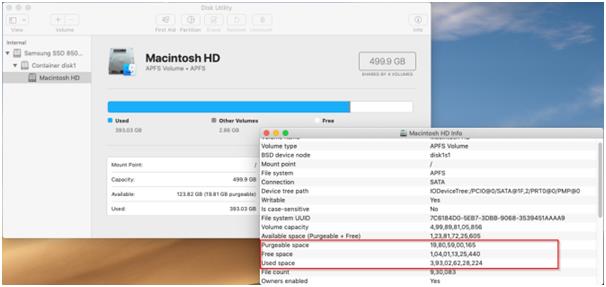 Besides this, you can also right-click Macintosh HD disk icon > Get Info. This will give all the information related to Available and Used disk space.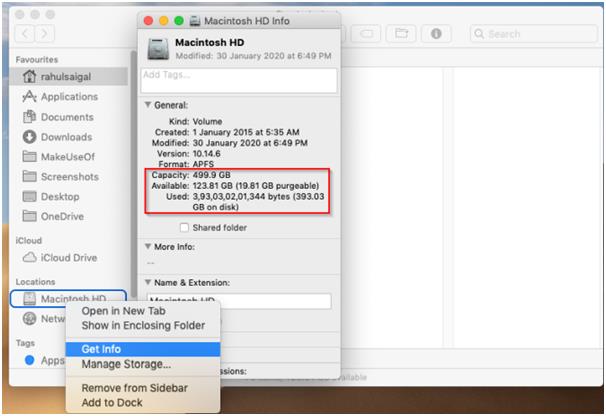 Now that you know how to check disk space on Mac manually let's learn how to manage disk space using Mac disk usage analyzer tools.
List of Best Disk Space Analyzer for Mac to Free Up Disk Space on Mac
1. Disk Analyzer Pro
Pricing – $9.99 | System Requirements (macOS Compatibility) – macOS 10.9 or later
Excellent macOS disk usage analyzer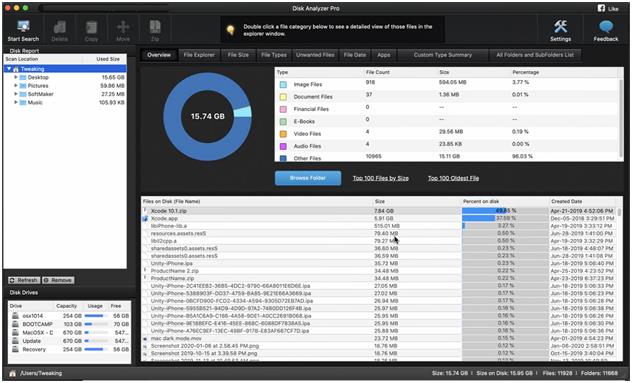 Disk Analyzer Pro is one of the best Mac storage analyzer tools. This tool is available for free, which helps view drive consumption by file size, type, date, ownership, and attributes. Not only this, but Disk Analyzer Pro also identifies large files and folders, gives options to view the top 100 files by size and top 100 oldest files, thereby helping delete and de-clutter unwanted files from Mac.
Overall, it is a great tool that helps free up disk space on Mac and recover disk space in no time.
Features:
Shows a complete list of folders and subfolders on drive sorted by file size
Displays folder properties like name, path, and size
For easy sorting groups data into categories
Provides built-in File Explorer
Customizable scan settings
Pros:
Detailed disk analysis report.
Integrated file explorer.
You can find the largest and oldest files.
2. DaisyDisk
Pricing –  Free trial available, then, $9.99 | System Requirements (macOS Compatibility) – macOS 10.10 or later
state-of-the-art disk space analyzer for Mac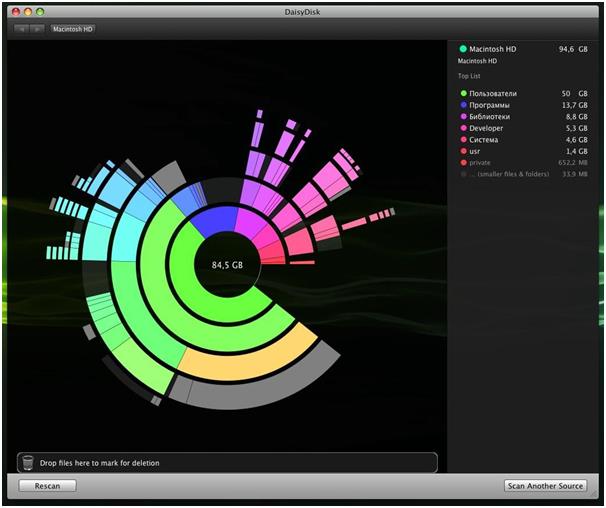 DaisyDisk is a stylish Mac check disk space tool that scans the disk and shows all files and folders in an interactive visual map. You can preview the contents of the file and delete it if you don't need it anymore.
Moreover, all the changes made to the Mac are updated in real-time; this helps keep a check on the amount of disk space recovered.
Overall, DaisyDisk is an excellent Mac disk analyzer that helps recover storage space occupied by unwanted files. Using its free version, you can sweep hard disk drives and use the space intelligently.
Features:
Fast and safe disk space analyzer
Cost-effective storage manager
Helps recover hidden and purgeable space
Visualizes hard disk usage & helps free up space
Scan multiple disk and folders at the same time
Pros:
Scan cloud storage.
Identify and free up hidden space.
Comprehensively preview files.
Cons:
There is a need to rescan every time because it doesn't save scanned information.
3. GrandPerspective
Pricing – $2.99 | System Requirements (macOS Compatibility) – macOS 10.9 and later
Easy to Use Mac Disk Usage Analyzer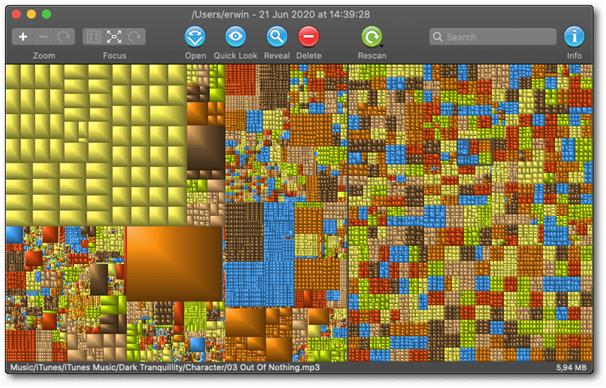 GrandPerspective is a nifty tool to check the storage on Mac. Using it, you can manage your disk, spot files & folders taking up storage space, and free up disk space on Mac. For visualization, it uses a treemap, and each file is shown as a rectangle with an area proportional to the file's size.
In general, it is a good option for novice users that helps free up space and manage data. Upon launch, the disk space manager asks the user to select a folder or disk that needs to be scanned. Once done to view the scan results hover the mouse pointer over the block; this will display the file name and size at the bottom of the window.
Features:

Shows files and folders in the Finder
Give the option to search the file by name.
Multiple view support
Uses treemap for disk usage visualization
Analyses cloud storage
Pros:
One of the best file comparison views offered.
Highly configurable.
Remove files from right within the interface.
Cons:
The interface might be a little hard to navigate for some users.
4. Disk Inventory X
Pricing – Free | System Requirements (macOS Compatibility) –  macOS 10.3 and later.
Professional Disk Space Analyzer for Mac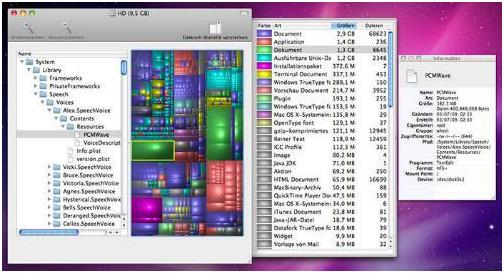 Disk Inventory X is another free disk analyzer tool for Mac. The app via treemap shows an overview of all disks in a machine. The size of each file is specified, and more specific data about each file is also available. The data is presented in an organized list that helps analyze the entire disk. To use this storage organizer utility, open the File menu > select the drive/folder to scan. Once the scanning is done, you will see a graphical treemap with information about storage space. Using this information, you can look for the largest files and delete the unwanted ones.
Features:
Easy to use
User friendly
Treemaps to present detailed information
Selection made in the treemap graph gets synced with a finder-like view.
Allows zooming into folders
Pros:
Free of cost.
Customizable interface.
Treemap method to display files further streamlines the file viewing process.
Cons:
Scanning speed could have been better as compared to many competitors.
Also Read: Top 10 MacBooster Alternatives For Optimizing Your Mac
5. OmniDiskSweeper
Pricing – Free | System Requirements (macOS Compatibility) – macOS 10.5 and later.
Mac Check Disk Space Utility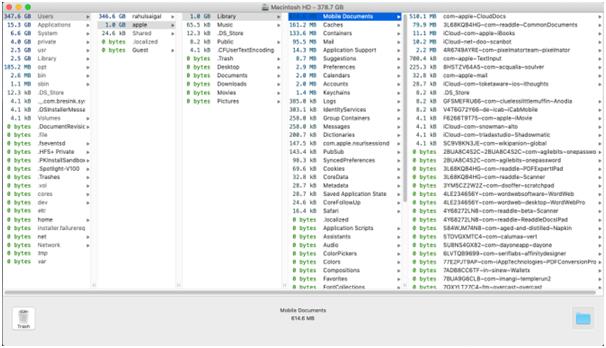 OmniDiskSweeper is also a free disk space utility for finding and deleting big files on Mac. Upon launch, select the drive > click Sweep Selected Drive > once done click on a folder, and head to any file that takes significant space. This functionality makes OmniDiskSweeper a great tool to free up disk space.
Also, based on the macOS you are using, the application offers different download versions.
Features
Small yet effective app
Fastest and effective storage space recovery tool
Provided detailed information about each scanned file
Scans shared folders
Let's sweep external & disk drivers located on the network.
Pros:
Menus are stacked so that moving in and out of a folder is easy.
Removes files directly.
Color coding makes it easier to identify what files are taking up storage.
Cons:
When downloaded, may bring along other apps.
6. Disk Cartography
Pricing – $2.99 | System Requirements (macOS Compatibility) –  macOS 10.12.6 or later
Clever Disk Space Analyzer for Mac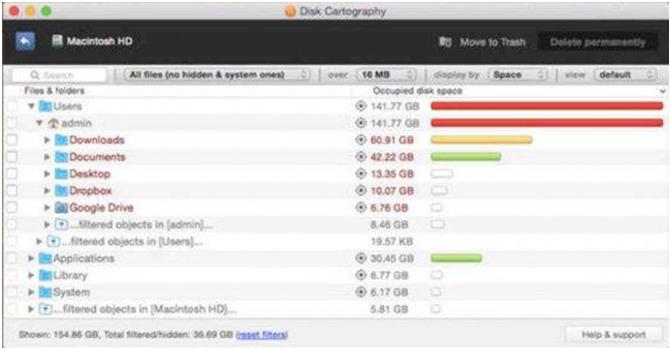 When you are dealing with low storage space on Mac, Disk Cartography proves to be a beneficial macOS disk space analyzer. The application helps identify large files and folders that take up a large chunk of disk space. Moreover, the application scans the content of individual directories, USB sticks, external disks, etc. Once the scanning is done, the application shows a tree view representation of the analyzed folders, displaying the largest files and directories.
To sum up, Disk Cartography is an excellent Disk Space analyzer for mac.
Features:
3 display modes: by disk Space, Percent or File Count
Real-time scanning results
Automatic and manual filters to sort by file/folder type, size, or name
Color-coded folder names to identify the largest folders
Visual maps of disk, folder, and sub-folder sizes
Pros:
Color-coded folders to identify large files.
Three display modes.
You can save the scanning session and load it later.
Also Read: 11 Best App Uninstaller For Mac to Remove Unwanted Apps
7. Disk Space Analyzer
Pricing – Free trial available and then $9.99 | System Requirements (macOS Compatibility) – macOS 10.10 or later
Powerful Mac Storage Analyzer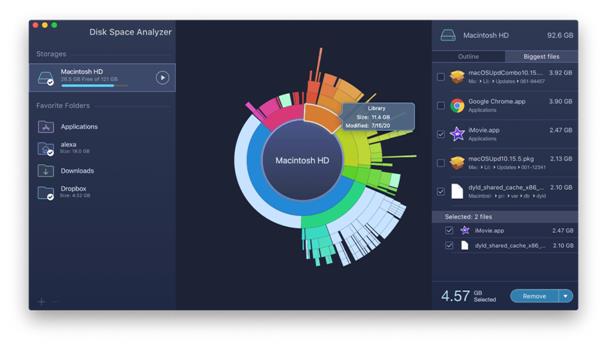 Another powerful storage checker for Mac that helps free up disk space and organize data. This utility allows you to find the largest file on Mac. This means if you encounter Startup Disk is almost full, you can quickly free up disk space using this disk cleaner utility. The application scans different hard drives and even hidden system files that take up the most space on your disk.
To recover space, you need to select the disk and scan the system for the bulkiest files. Nonetheless, Disk Space Analyzer for mac also scans cloud storage folders.
Features:
Fast Scanning
Display list of 25 biggest files and folders
Finds even hidden files on Mac
A drop-down list to show files
Scans external disk
Pros:
Beautiful sunburst disk usage visualization.
You can identify the largest file and folders.
Locate old unused files and even identify storage size that's purgeable.
Cons:
Disk diagrams can be confusing for some users.
8. WhatSize
Pricing – $14.99 | System Requirements (macOS Compatibility) – macOS 10.12 and later.
Disk space checker and manager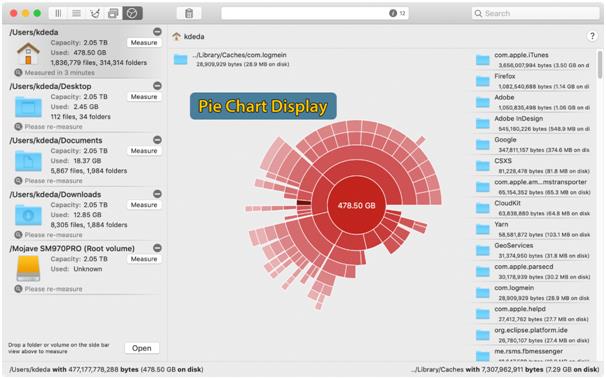 WhatSize is a disk space manager for Mac that helps check disk usage and find the largest files occupying unnecessary space on the hard disk. Using this simple shareware tool, you can view all the files stored on Mac and free up disk space.
Moreover, this intelligent tool suggests ways to reclaim storage space and remove duplicates that clutter Mac and consume unnecessary space.
Features:
Chart display to visualize disk usage
Help find space wasters
Finds duplicates
Quickly measures the size of storage devices.
To stay up to date uses the latest macOS technologies to stay.
Pros:
You can get rid of files from right within the interface.
Track and remove duplicate files.
Interactive display chart,
Cons:
A bit on the pricier end.
9. Disk Drill
Pricing – Free trial available, then, $89 | System Requirements (macOS Compatibility) – macOS 10.12 and later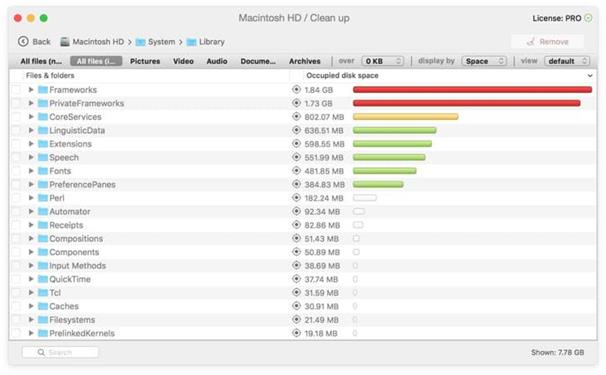 Disk Drill for Mac is an excellent disk space analyzer that allows you to see hard drive usage and locate items that can be deleted or moved to another drive to free up space on Mac.
The scan results are presented intuitively; this helps manage data efficiently.
Besides, Disk Drill allows the user to select different views, according to file types. Also, you can use this tool to recover deleted files.
This means it is a comprehensive disk space analyzer and data recovery tool for Mac users.
Features:
Helps detect and delete duplicates
Does not scan system files
Three display modes for better disk management
Thoroughly scans your Mac.
Help recover deleted files too.
Pros:
Clearly shows how much space is taken up by each kind of file.
Better viewing filters. You can filter files by kind, size, and last modified date.
Supports network drives
Cons:
Previewing files could have been better compared to many of its competitors.
10. NCDU
Pricing – Free | System Requirements (macOS Compatibility) – macOS 10.5 and higher.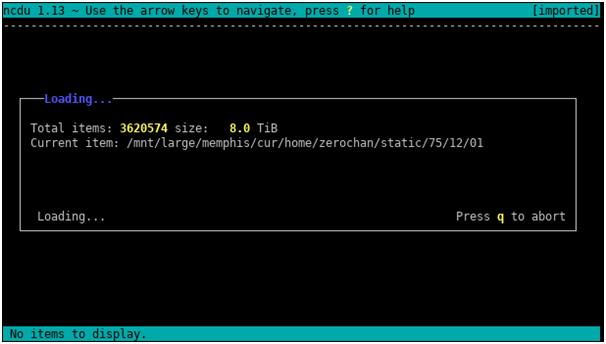 Unlike the other OS X disk space analyzer apps discussed above, this one is different. Ncdu is a command-line check disk space usage analyzer that uses the Ncurses interface. Designed to find space-hogging files on remote servers, this tool also works well on desktop systems.  Is based on du command and is much faster.
Once installed, launch Terminal and type ncdu/ to start scanning. To navigate through the items, use arrow keys.
Features
Fast, simple, and easy to use
Different options to enhance disk-related information
Lets you export information on an output file
Allows using file comparison apps
DU command-based storage analyzer utility
Pros:
Decent performance even on older Mac versions.
Freeware
Can even scan shared folders.
Cons:
No graphical user interface.
Bonus Tip
If you are not comfortable installing and using third-party apps, try using the Mac search function within the Finder. This will help locate large files. To use it, you just need to set a file size to look for, and you are all set.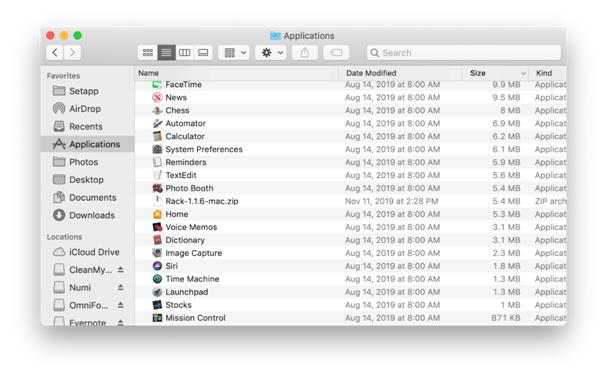 The finder search function will easily locate large files for you.
Conclusion
This is it; you can use any of the utilities explained above to analyze the disk. Which one is the best? The answer depends on the skills you possess.  Of course, all of them will help free up disk space on Mac. But if you are looking for an easy to use solution Disk Analyzer Pro is the best storage analyzer for Mac.
In addition to this, if you know of any other great disk space analyzer for Mac, do let us know in the comments section.
FAQs: Best Disk Space Analyzers for mac