Best File Manager For Mac That Are Perfect Alternatives To Finder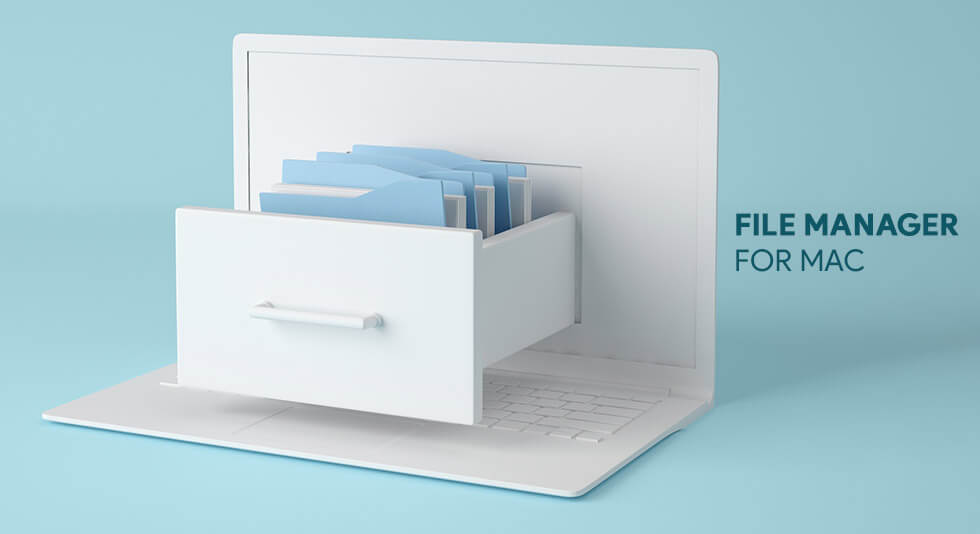 From documents to music, photos, and applications, the amount of data we store on our devices is growing every day. And, to manage and organize all these files and folders, it is essential to have a reliable file manager app. Mac users often rely on the pre-installed Finder app to find and organize a variety of multimedia files. But if your default file manager just won't do, you can count on third-party Macintosh File Management Apps to fill the gaps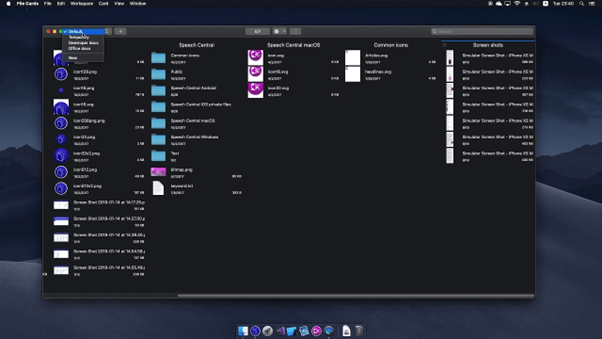 Do I actually need a file manager app on Mac?
Well, the answer is affirmative!
Just like any other device, your Mac also needs a handy file manager app that can help you to store and manage data with ease. With the help of such applications, you can easily find the files you need and avoid unnecessary clutter. In fact, a file manager also makes it easy to collaborate with others and share files with friends and family. This post lists some of the best file managers for Mac to keep your files tidy and well-organized.
Best Mac File Manager Apps To Use in 2023
Let's get started and explore a bunch of macOS file managers that will save you precious time & efforts, when it comes to managing loads of files & folders.
Here you go!
1. Forklift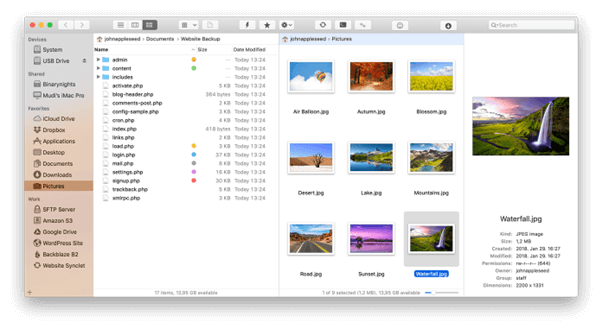 The Forklift app is a powerful file manager and file transfer application for macOS. It is designed to help Mac users manage their files and folders more efficiently, with a wide range of features that make it easy to organize, transfer, and synchronize files.
Forklift features an easy-to-use, dual-pane interface that allows users to browse and manage files in two different locations simultaneously. This can be helpful when copying or moving files from one location to another. The app also supports a wide range of file transfer protocols, including FTP, SFTP, WebDAV, Amazon S3, and more.
Also read: How To Transfer Files From Mac to Mac
2. Commander One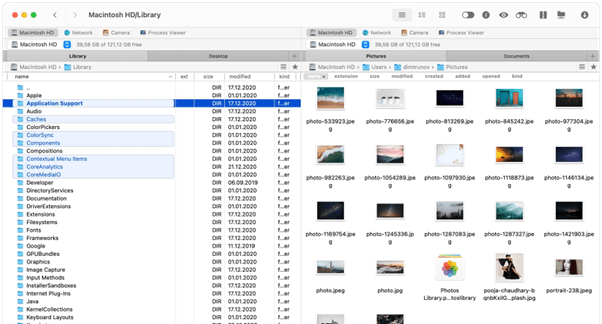 Commander One is undoubtedly one of the best file manager for Mac, ideal for both beginners and advanced users. It is designed to be a more powerful and feature-rich alternative to the default Finder app that comes with macOS. Some of the key features of Commander One include advanced search options, a dual-panel interface, cloud services integration, and more.
And the best part is, Commander One also includes a built-in Terminal emulator that allows you to execute commands and scripts directly from the app. The app is fully compatible with macOS Monterey and other popular versions and lets you handle files on Mac efficiently. Awesome, right?
3. Transmit 5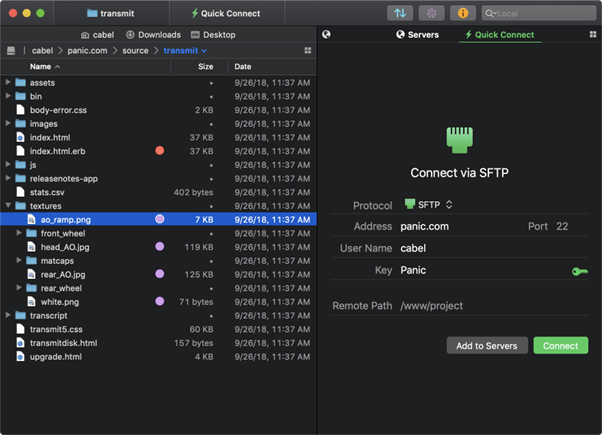 Transmit is a file transfer client application for macOS developed by Panic Inc. It allows users to transfer files between their Mac and various remote servers, such as FTP, SFTP, WebDAV, and Amazon S3.
The app provides a user-friendly interface with drag-and-drop functionality that allows you to easily upload and download files from remote servers. It also offers you powerful file management features such as the ability to rename, delete, and move files, and the ability to synchronize folders between your Mac and remote servers.
Also read: How to Reduce PDF File Size on Mac
4. Fman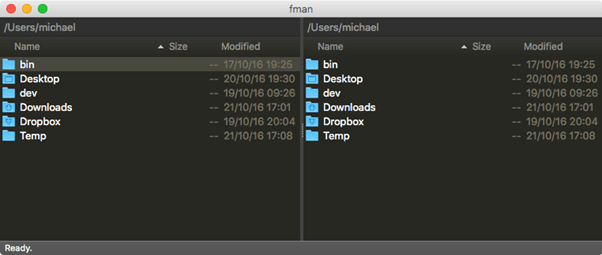 Fman is a cross-platform dual-pane file manager for Mac that is designed to be highly customizable and extendable through the use of plugins. One of the main features of Fman is its dual-pane interface, which allows users to view and manage files and folders in two separate panes.
Besides that, with the built-in search bar at the top of the screen, users can quickly access anything you need. So, if you are looking for a light-weight file explorer for Mac that doesn't eat up much of system resources and storage, Fman can serve as an ideal pick.
5. TotalFinder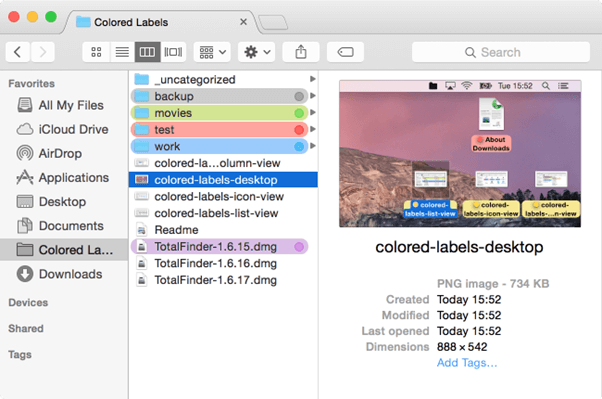 If you're someone who is quite used to Mac's Finder then TotalFinder is a must-try. The macOS App is a powerful and customizable add-on to the native Finder app, and it offers many features that can enhance the file management experience for users.
It also includes other features that improve the Finder app's functionality, such as tabbed browsing, which allows you to open multiple Finder windows in a single window with tabs, and folders on top. This way, folders are displayed before files in the Finder window. It even offers the ability to sort files with the option "Folders always on top".
6. DropOver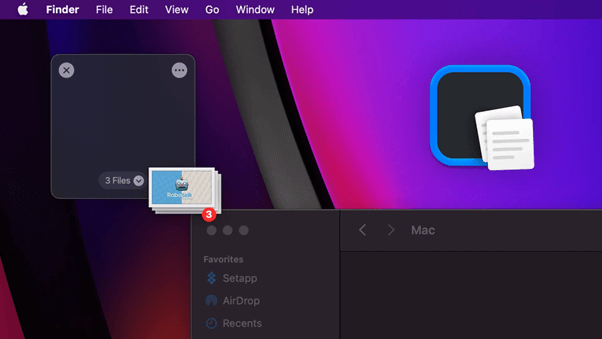 DropOver is an intuitive Mac File Manager app that makes the task of dragging and dropping files a breeze. This app can help you in speeding up your workflow and be more productive while working with multiple files and folders.
You can use the DropOver tool to easily stash, gather and move any content from one window to another. With the help of the DropOver app, you can create multiple shelves and stacks to keep your data organized just how you like it. The app is free to install and use it for 14 days without limitation. Later, you can get your hands on  the "Dropover Pro" version for $4,99.
Also read: How To Open and Run Exe Files On Mac
7. HoudahSpot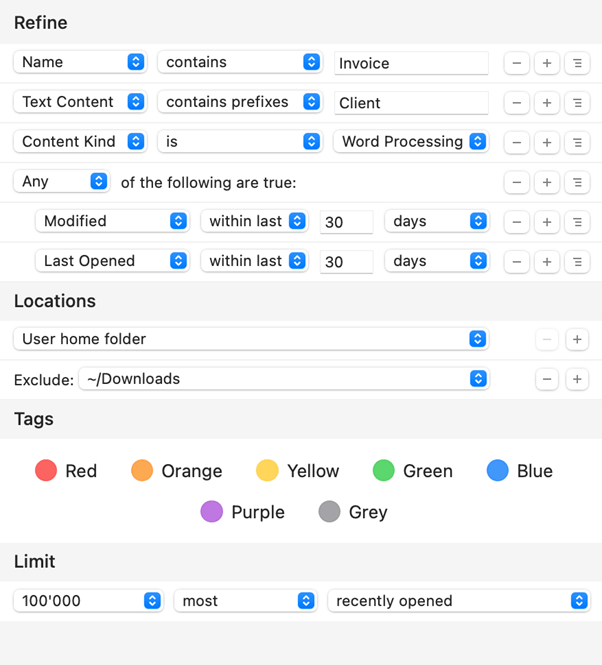 HoudahSpot is a powerful search tool for macOS that helps users find files and folders quickly and easily. It is developed by Houdah Software and provides advanced search capabilities that go beyond what is available in the native Finder app.
It is a powerful and versatile search tool for macOS that can help users find files and folders quickly and easily. HoudahSpot also includes other advanced search features, such as the ability to search multiple locations at once, search within compressed files, and perform boolean searches. Additionally, HoudahSpot helps performing search for files, folders, mapped network drives, even in a mail application.
Also read: Best Ways To Delete Temp Files On Mac
Conclusion
This wraps up our guide on the best macOS file managers (2023) that can help you streamline your workflow, save time, and be more productive. You can use any of the above-listed file explorers for Mac, each with its own unique set of features and benefits. From the dual-pane interface of ForkLift to the customizability of Total Finder, and the powerful search capabilities of HoudahSpot, there is a file manager to suit every user's needs.
And yes, don't forget to tell us your favorite pick. Drop your recommendations in the comments space!