10 Best Image Viewer Apps for Mac 2023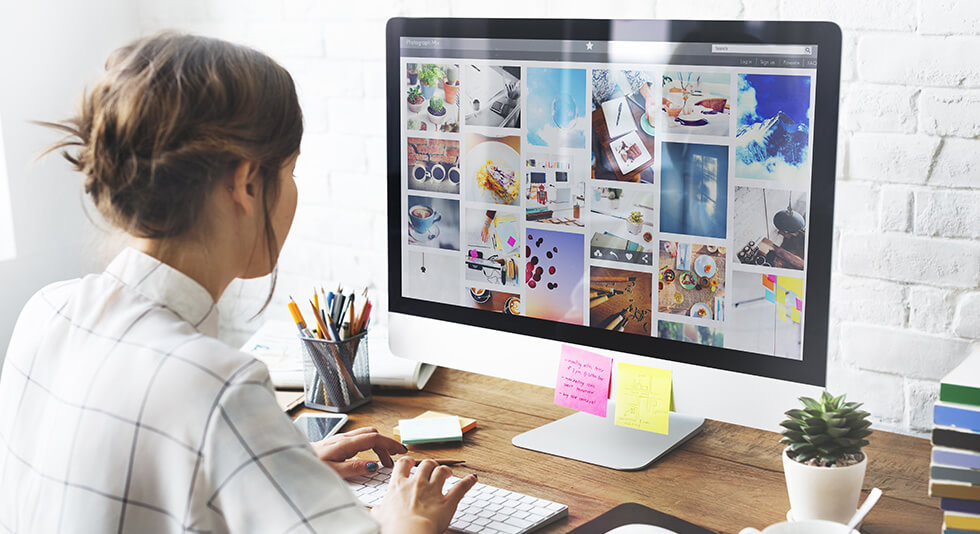 Why look around or choose from some of the best image viewers for Mac when you can swear by your Mac Finder's own Gallery or use Preview for the same? The short answer for this is – loads of features and a great viewing experience.
During the course of this blog, you'll come across image viewing tools for Mac that offers more than just throwing in images and viewing them. So, read on!
Best Image Viewers for Mac:
1. Movavi Picverse Photo Editor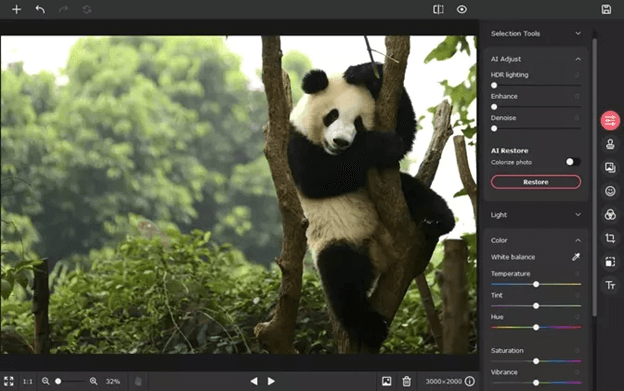 You must be wondering why would we include a photo editor in the list of photo viewers? Well, let's say you are browsing through photos, come across a photo where you wished you could change the background to something more captivating. In that case, a photo editor like Movavi Picverse can come in really handy.
Pros:
View the original photo in high-quality and analyze it to the very detail
It comes with AI-based technology for a variety of tasks like color adjustment and old photo restoration
Easily replace backgrounds
It comes with 100+ filters to enhance your photos
Cons:
Users have reported occasional freezes when applying too many actions
Download Movavi Picverse Photo Editor For Mac
Read Complete Review on Movavi Photo Editor
2. XnView MP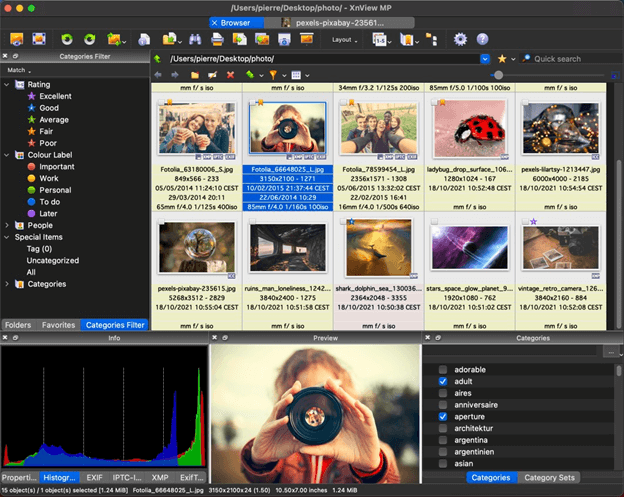 XnView MP is a powerful and versatile option if you are looking for a photo view for Mac. It is more than just an image viewer, it can even help you with image management as well as image resizing. Many users have been using XnView MP as their primary Mac image viewer.
Pros:
View photos in numerous ways such as thumbnail view, image comparison. FilmStrip View, etc
Perform editing operations such as rotate, crop, tweak contrast levels, etc
It supports over 500 image formats and you can export in approximately 70 file formats
The image viewer comes packed with batch conversion capabilities
Face detection functionality is available
Cons:
Some users have reported issues with renaming and moving images
3. Photo Mechanic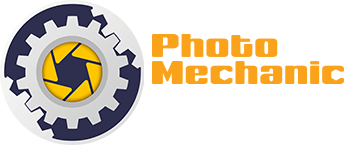 Photo Mechanic from Camera Bits is touted as a great pal for photojournalists across the globe. And, it can be your go-to tool to view, manage, organize and export your digital images. Many Mac users regard it as one of the fastest and best image viewers on Mac.
Pros:
Watch image previews as and when they load
Functionality to add metadata, keywords, copyright information, and other information
Works well with RAW images
Integration with cloud sharing platforms like PhotoShelter and Flickr
Free for 30 days
Cons:
Download Photo Mechanic 6 for Mac
4. Phiewer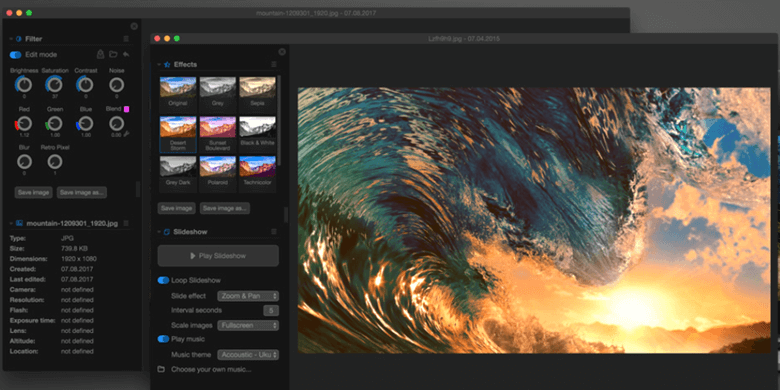 Next on our list of best image viewers for Mac is Phiewer and rightly so, because of its media viewing and editing capabilities. With this image viewer for Mac, you shouldn't have any issues viewing or processing photos of any file format. It comes in two variants namely – Phiewer free and Phiewer Pro. You can sign up for the Pro variant and access various cropping tools, filters, and many other features.
Pros:
Customizable workspace
Shows detailed EXIF data
Supports a large number of file formats
Not just photos, the tool even supports several audio and video formats as well
Efficient folder management
Cons:
Lacks few filters and functions that you might see in many of its competitors
5. Pixea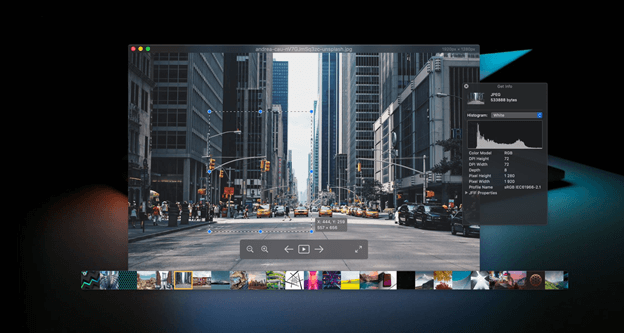 Looking for a free, minimalistic yet efficient image viewer for Mac? Your search might just end with Pixel. It does a good job with all major image file formats on Mac and even helps with the majority of image processing tasks.
Pros:
clean and minimalistic user interface
Easy to remember keyboard shortcuts that can take your productivity around this image viewer for Mac to a whole new level
Supports all major image formats and even web optimized formats such as TIFF and JPEG-2000
Shows a detailed color histogram
You can see images inside archives without having the need to even extract them
Cons:
Close/ minimize/ zoom buttons at times are overlaid on images which can cause distraction
6. ApolloOne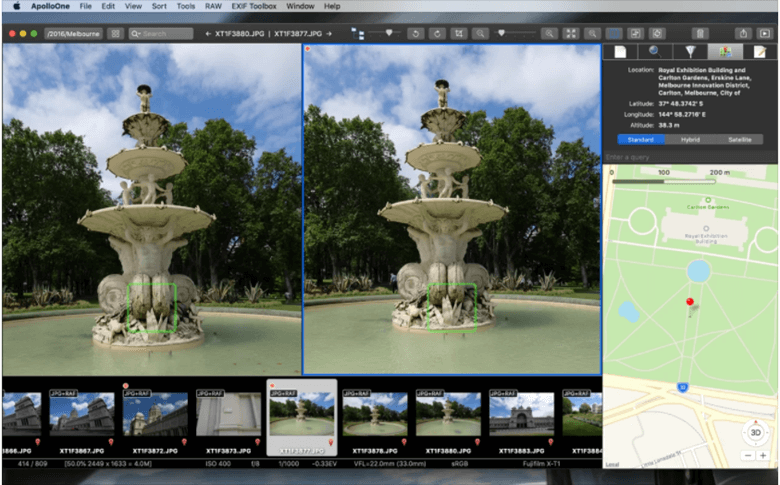 Reading the name, you probably are wondering if instead of talking about an image viewer for Mac, we are talking about a spacecraft. Worry not! We are right on track, but we bet that ApolloOne is an image viewer for Mac that can totally enhance your image viewing experience, thanks to its wide range of features.
Pros:
Now comes with native support for both M1 as well as Intel Macs
Process images without altering metadata
Split view for smooth image comparison
Customizable user toolbar
User interface localized in 11 different languages
Cons:
Search capability to browse files and folders can be improved
7. Xee3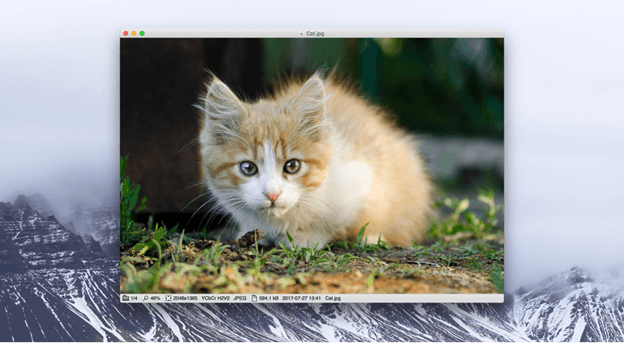 Love the look and feel of the Preview image viewer of your Mac? You are sure going to like Xee as well. Although it resembles Preview in many aspects, it has add ons like animation and GIF viewing as well. Many users switch to Xee when they receive "unsupported file format" on Preview.
Pros:
Supports all major picture formats
Needn't extract archives to view images or folders
Better image organization abilities
Integrated Command Line Tool with the help of which you can use the same on other operating systems
Cons:
Might not be able to handle the newer Macs
8. Lyn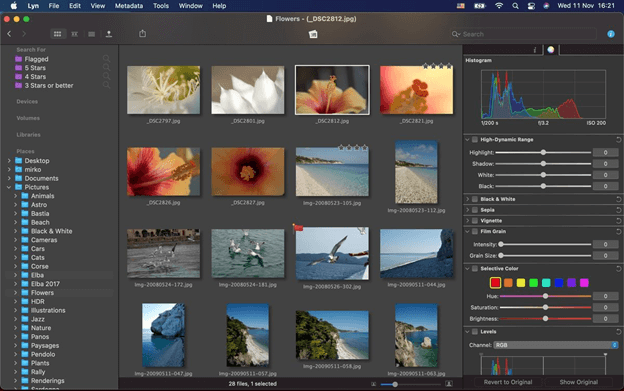 Lyn is a lightweight photo viewer for Mac that can help you with the task of organizing, editing, viewing, and sharing photos. It comes with a 15-day trial in which you can use all the various features of this image viewer for Mac. The best part is that it is Apple Silicon and macOS Big Sur ready.
Pros:
4 predefined customizable presets
Ability to create personalized search folders which makes organizing photos all the more simple
Functionality to edit images without altering the original photos
Explore your iPhoto, Aperture, Photos, and even Lightroom Libraries from one place
Display images with soft proofing functions and correct profile
Cons:
Image editing, unlike its competitors, is very basic
9. PicArrange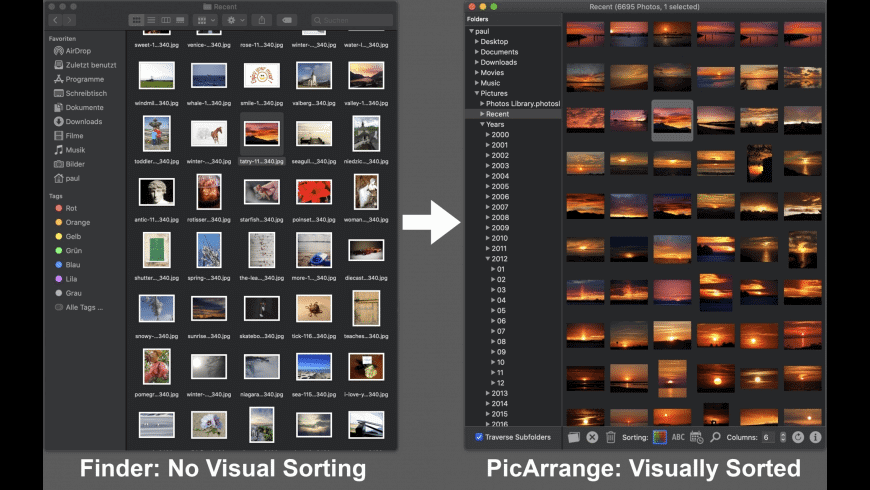 If you are an avid photographer who has to juggle an ocean of photos every single day, PicArrange can be a great image viewer for Mac to have. It makes navigating visually through the images and finding duplicates and similar photos on Mac a breeze.
Pros:
Sort images by content and color
Integrate with Preview and Finder and delete, copy, move, preview, and display images
Multiple view modes
Remove duplicate and similar images
You can export your image sortings
Cons:
Doesn't work directly with the Photos library
10. LilyView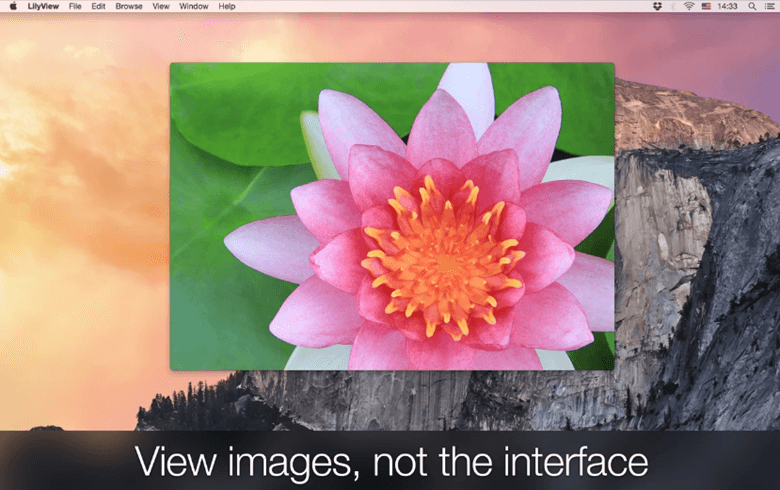 Last but not least, we have LilyView – an efficient, elegant, and fast image viewer on Mac. one of the reasons why it is considered one of the best image viewers for Mac is because it has a minimalistic and next to not-to-be-seen interface which makes image viewing a great experience all together.
Pros:
Multi-touch gestures
Fast and responsive
Few controls on the interface
Cons:
Some Big Sur users are not able to delete images
11. qView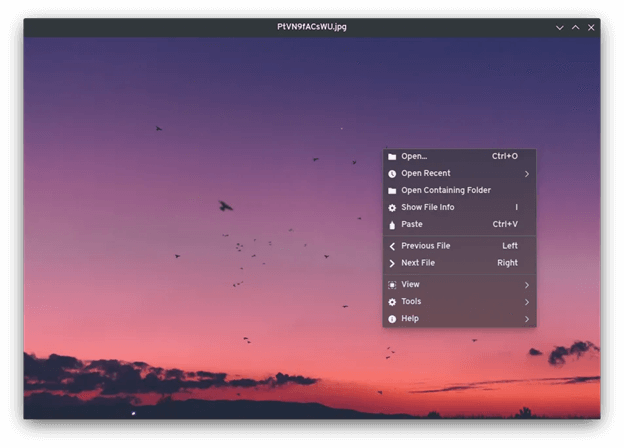 Looking for a simple image viewer for Mac, consider bringing qView onboard. With no distractions and toolbars, it gives you the space you need to view images on your Mac. Despite its simple design, it is fast in opening images, and it takes a minimal load on your Mac's CPU.
Pros:
Free, open-source, and cross-platform.
Space efficient and minimalistic interface.
Loaded with features like file history, GIF controls, multithread preloading, rotation/ mirroring, etc.
Preferences are configurable.
Supports all common image formats like gif, bmp, jpeg, tiff, png, and many more.
Cons:
Could have been a bit more toggleable.
12. Picturama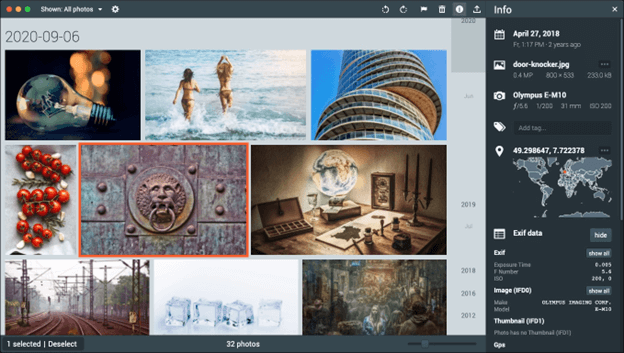 Picturerama is an elegant free, and open-source image viewer for Mac. You can view images spanning various file formats, including RAW photos. It is an electron-based viewing application for Mac.
Pros:
Supports formats like JPG, TIF, PNG, WebP, HEIF/ HEIC.
Access EXIF data.
Rotate, crop, delete, zoom and tilt photos right from the interface.
Filter photos by dates.
Tag and favorite photos.
Cons:
Less image file formats are supported.
13. Adobe Bridge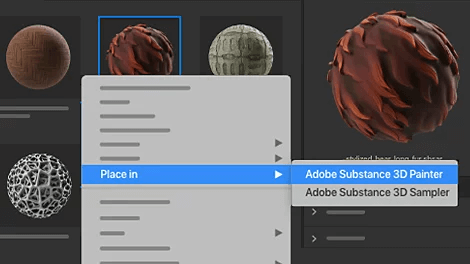 You probably didn't expect this name to appear, but Adobe Bridge is indeed a great image viewer for Mac. It is a powerful creative asset manager that lets you organize, preview, edit and publish images hassle-free.
Pros:
Advanced filters to zero in on the exact images you are searching for.
Edit metadata alongside viewing images.
Edit creative assets by opening them in Adobe Creative Cloud apps.
Add keywords, labels, and ratings to images.
Hassle-free import and export.
Cons:
Processing multiple images can be time taking.
14. ACDSee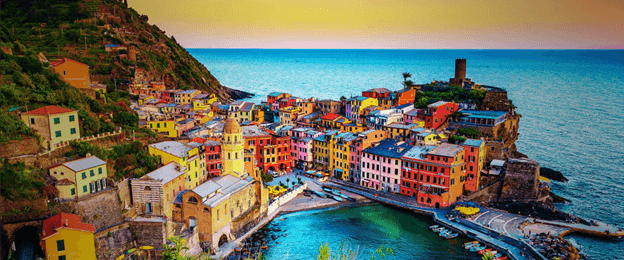 Seeing the name, you probably wonder why we just misspelled a legendary rock band's name. But, all things kept aside, ACDSee is indeed a great image viewer for Mac and it comes packed with unique features. It also doubles up as a decent photo editor as well.
Pros:
Facial recognition to select particular pictures of people.
Map viewer shows where different images were taken.
Advanced Light EQ helps brighten specific pixels or parts.
Sort, add color, rate, add labels and tags, set categories and even add keywords.
Restore detail, contrast, and lost color.
Cons:
Zooming and panning are confusing.
15. Viso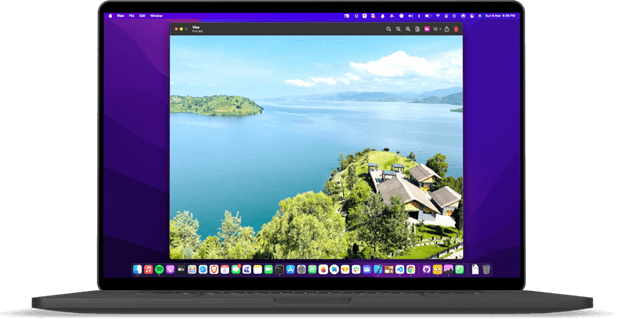 Viso is what it states – a minimalist image viewer for Mac. But, again, looks can be misleading, and it does a lot more than it advertises. It has a non-intrusive user interface, and it comes loaded with many features.
Pros:
Edgeless window to render images in the best resolution.
Navigate images in a folder through arrow keys, delete pictures, and open photos in Darkroom (if you have it installed).
Zoom in and out of images.
Comes with touch bar support for quick action controls.
You can convert images to various file formats easily.
Cons:
If you aren't used to a minimalistic interface, you might take a little time to get accustomed to Viso.
Wrapping Up
Which image viewer would you choose? Do let us know in the comments section below. And, if you already have a favorite, do share with the readers what that is and what makes it your favorite. For more such content, keep reading Best Mac Tools.
Frequently Asked Questions on Image Viewer for Mac: