Cisdem Data Recovery For Mac- Complete Review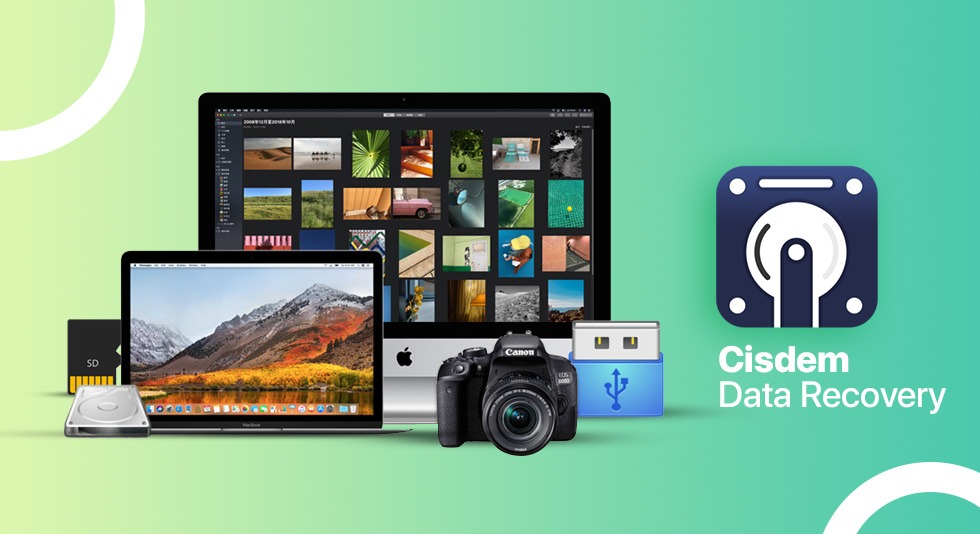 Lost data on Mac? Facing difficulty in recovering it? Looking for Mac data recovery software?
Well, if the answer is yes for all or even for one, you are at the right place.
Today, we will discuss Cisdem Data Recovery – the best data recovery tool for Mac that helps recover deleted files in no time.
What's The Need for a Data Recovery Tool for Mac?
Nowadays, everyone saves everything from photos to documents, videos to movies, and more on the computer. This makes accessing data easy as it is stored in one place. But things get complicated when unforeseen situations like human error (accidentally deleting files), hard drive crash, or natural disaster make you lose this data.
This is just the tip of the iceberg; the scariest part comes when you don't have a backup of this data and need it urgently. With that said, if you or anyone else you know is stuck in the same situation, we have a solution known as Cisdem Data Recovery.
Read More: 10 Best Data Recovery Tools for Mac in 2022
As the name infers, it is data recovery software compatible with Mac machines that helps recover deleted photos, documents, and other files lost for any reason.
So, without any delay, let's learn more about the best data recovery software for Mac.
Cisdem Data Recovery – Important Facts
Trial Version – Yes

Money-Back Guarantee – 30 Days

Lifetime Updates – Yes

Price – starts at $49.99

Supported OS – macOS 10.11 and later

File Size – 7 MB
What is Cisdem Data Recovery?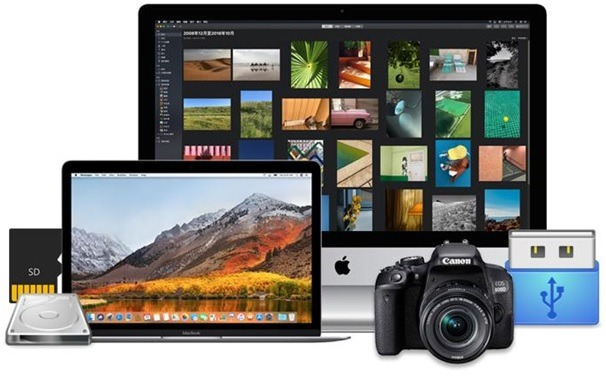 Cisdem Data Recovery for Mac is a robust tool to recover deleted data from Mac. Whether you have lost data due to formatting a drive or deleted files accidentally, this tool will help restore maximum files. It supports a large number of files like –
HFS+
exFAT
NTFS
FAT16
FAT32
Moreover, it works with many gadgets like hard drives, USB, SD cards, computerized cameras, and more. Also, Cisdem Data Recovery software recovers photos, video, audio, and other multimedia files in original quality.
This means, unlike other Mac data recovery tools, this tool does not compromise the quality.
About The Company
With a mission to create Mac-centric software, Cisdem offers innovative and state-of-the-art tools to optimize and clean Mac. In addition, the company offers apps like Cisdem Data Recovery – known for its simple and intuitive user interface. Using this professional utility in no time, Mac users can restore deleted data.
Cisdem Data Recovery – Pros & Cons
Pros:
Easy to Use
Preview files after scan
Support all types of devices and recovers any file format
30-day money-back guarantee
5 specific modes to recover data
Free lifetime updates
Cons:
No pre-scan filtering option
Incompatible with macOS 10.10 and older version
Subscription & Pricing
Cisdem Data Recovery offers you first to test a trial version. However, with the trial version, you will be able to scan your Mac for lost files and preview them, but for recovering them, you will have to sign up for a premium version. The monthly plan for 1 Mac is priced at $69.95. With all plans, you get a 30-day money-back guarantee and a 24 hours, 5 day-week one to one customer support. Here we have tabulated the other plans as well.
| Plan Name | No of Macs (License for) | Price |
| --- | --- | --- |
| Annual Plan | 1 Mac | $99.95 |
| Lifetime Plan | 1 Mac | $149.95 |
Get Cisdem Data Recovery for Mac Here
Cisdem Data Recovery for Mac – Features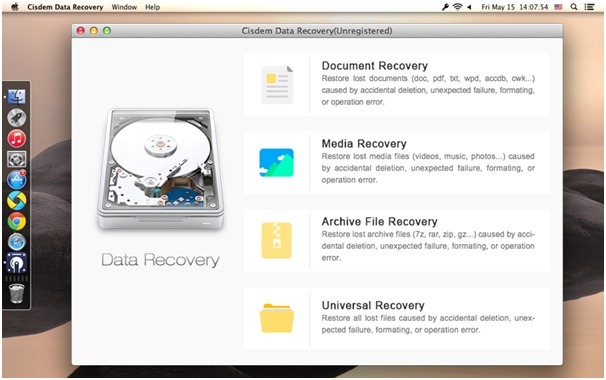 Easy to Use – With a straightforward interface, Cisdem Data Recovery for Mac allows selecting the drive to recover data easily.
Advanced Tools – Alongside recovering data, it provides different settings to recover various data. This helps scan the drive for specific files instead of a complete disk.
Different Scan Types – Cisdem offers two scan types Quick and Deep Scan. Using this, you can scan the drive easily for erased documents and locate the deleted files quickly. However, if you are looking for more thorough scanning, using Deep Scan options is recommended.
Recover 200+ File Types – This best data recovery tool for Mac allows recovering 200+ file types on Mac. This includes photos, music, video, archives, emails, and raw file types.
Large File System Support – Cisdem Data Recovery tool for Mac supports multiple file systems like – NTFS, FAT32, FAT16, exFAT, and more. Besides this, it also helps restore data from the mounted devices or removable storage media.
Accurate Results – Cisdem Data Recovery, the best data recovery tool for Mac, does the job well when finding and deleting files. It effectively scans the selected drive for lost files. The only drawback is that it takes time to scan the drive, especially if it is large.
What Are The Benefits of Using Cisdem Data Recovery?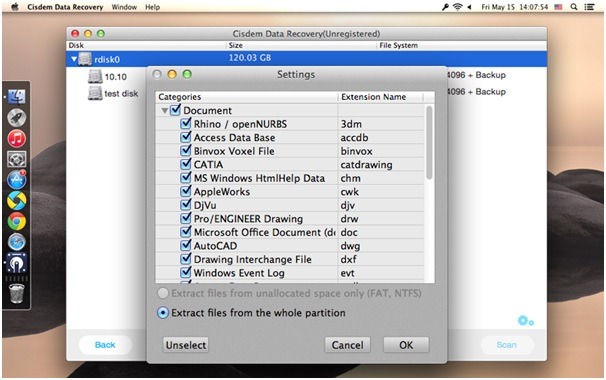 Helps recover lost data from external devices like USB, memory card, removable drive, and so on.
Assists in recovering data deleted from Bin on Mac.
Restore data from formatted hard drive or storage drive
Get back deleted photos, audio, video, music files, and other data leaving unnecessary files behind
Offers advanced data recovery options to restore data that you are uncertain about
Preview feature to review scan results during the process and restore files.
Categorized scan result to sort data.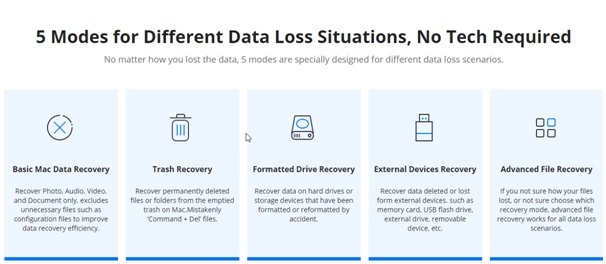 How to recover data using Cisdem Data Recovery?
Restoring deleted files on Mac using the best data recovery software is very simple. In just 3 steps using the latest scanning algorithm, Cisdem Data Recovery scans and recovery data from all devices. In addition to this, when the scanning is in process, users can preview files.
Steps to recover deleted data on Mac:
1. Download and install Cisdem Data Recovery on Mac
2. You will now see five modes; pick the one from which you want to recover data.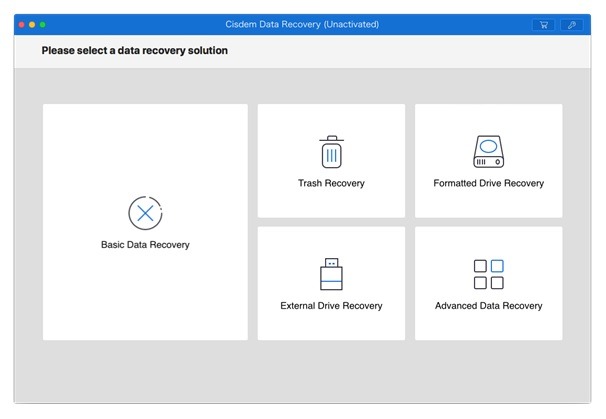 3. Scan the device for lost files and preview scan results while the scanning is in progress.
Note: You can stop the scanning process in the middle if the deleted files are found.
4. Once the scanning is done, select the files you want to recover and hit Recover.
5. That's it; you will now have the lost or deleted on your Mac machine.
Verdict
Cisdem Data Recovery is an excellent data recovery tool for Mac users. It works flawlessly on Mac and offers various options to make data recovery easy. Furthermore, it supports 200+ file formats, making recovering any type of data easy. If you have accidentally deleted any file or lost any data, we recommend using the Cisdem Data Recovery tool.
We know no one wants to use data recovery software, but if there comes a time when you might require one, try out this best data recovery tool. Do share your thoughts and feedback on the same in the comments section.
FAQs: Data Recovery Software For Mac