How to Fix "Read Only" External Drive Problems on Your Mac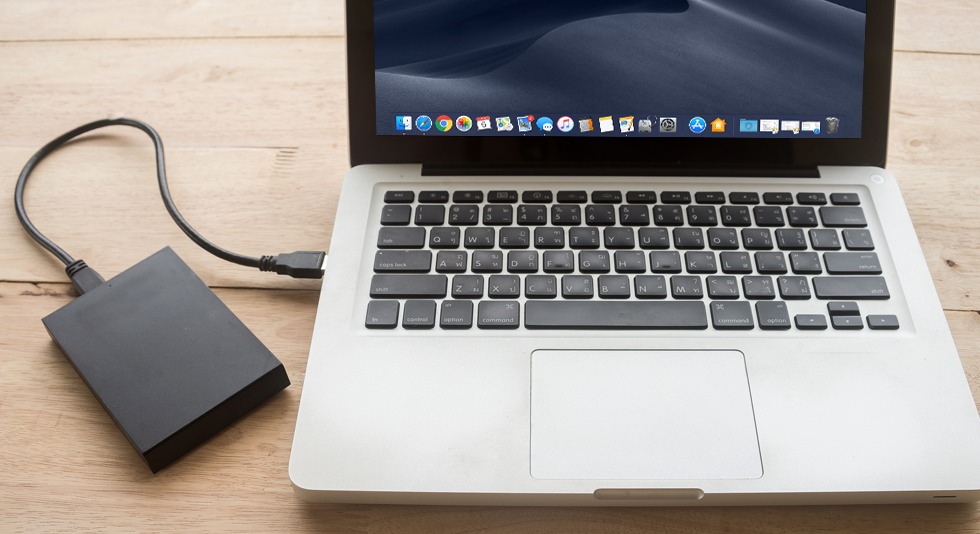 If you get an error on your Mac about 'External Hard Drive Read Only' and are not able to access or copy your files and folders stored on it, then this means there is an issue with the file system. There are many different file systems like FAT, NTFS, APFS etc. designed to store your data on the external hard disk. These file systems are not always compatible with each other. Also, if a hard drive with the NTFS file system is connected to your Apple system, then you probably will get 'Macintosh HD is read-only' prompt when you try to transfer files to it.
Fortunately, there are several ways to resolve the 'Hard Drive Read Only Mac' error. While some of them are easy, others require you to perform some complex technical steps. Let's discuss all the methods first before we decide which way would be more suitable for us.
Pro Tip
Resolve your external and internal hard drive issues with CleanMyMac X on your Mac! It is because CleanMyMac x for Mac makes sure that your drives are not hit by negative junk, large and old files and trash which flutters with the running system.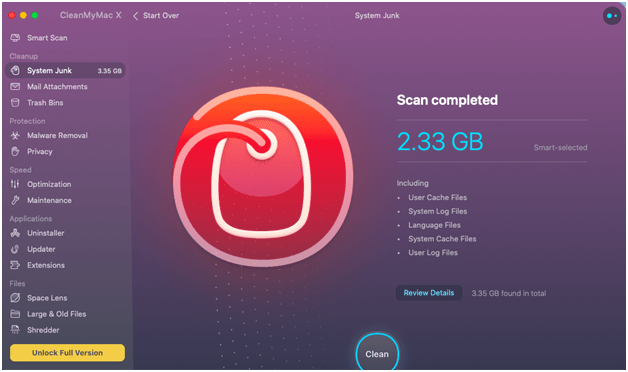 Steps to Fix "Read Only" External Drive Problems on Your Mac
Method 1: Format the Hard Drive.
The easiest, hassle-free and a sure fix to your Mac External Hard Drive Read Only error is to format the hard drive, which will erase all the data and make it 'Good as New'. However, this is only possible if your disk was blank or did not contain data of much importance, which can be replaced again. But if you have important, irreplaceable files, then I suggest you follow the next method.
To format your Hard drive and resolve the Macintosh HD is a read-only error, follow these steps:
Step 1. Connect your external hard drive to your Mac system and open the Disk Utility.
Step 2. Now from the sidebar, choose the disk you just connected and click on Erase.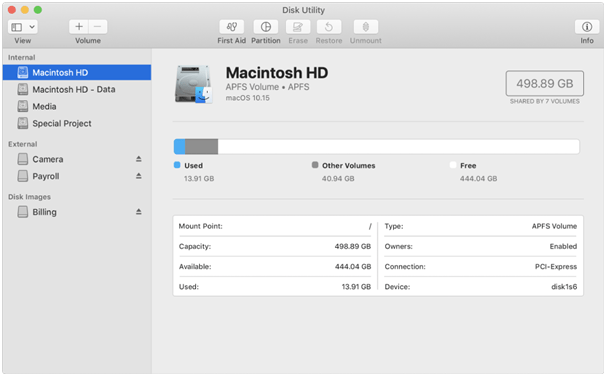 Step 3. Choose the format option that is most suitable for you.
Also Read : Best Mac Apps 2020- That Every Apple Newbie Should Install
Format Options.
Time Machine backup:  This option appears as macOS extended and will format the drive to HFS+ file format, which will be the correct choice if you want to use the external disk as a backup with the Time Machine app.
Portable drive: If you require to convert your hard drive into a giant flash disk, transferring data among multiple computers with different operating systems, then it is recommended to format the Hard drive with the exFAT system. This will allow you to connect your portable hard drive with all systems you have. However, this file system is slower that others and if you have only Apple computers, then I recommend you should format your drive to HFS system under macOS extended.
After the format is successful, you will be able to open, read and write on your hard disk with the Hard Drive Read-Only on Mac error being resolved for good.
Method 2: Change Permissions.
If you cannot format your hard drive due to the importance of data stored in it, then you can simply modify the permission settings and resolve the Hard Drive Read Only error on your system.
Step 1. Open your system and Right-Click the drive, which is locked and then select "Get Info".
Step 2. Click on the Sharing & Permissions section to expand it.
Step 3. Click the lock icon and verify your password if prompted.
Step 4. In the new dialog box that opens up, place a check-mark next to the checkbox next to "Ignore Ownership on this Volume".
Step 5. Try to copy files on your external hard drive and check if the issue in you Mac about the 'External Hard Drive Read-Only' is resolved.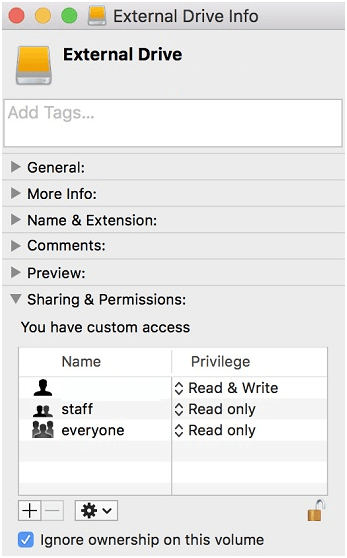 Also Read : Most Common MacBook Problems and How to Fix Them
Method 3: Repair Hard Disk Errors.
The Disk Utility tool is a very powerful app that can fix most of the hard drive related issues on Mac, including the Macintosh HD is read-only error. Here are the steps to use Disk Utility:
Step 1: Open "Disk Utility".
Step 2. Locate Applications and open Utilities within.
Step 3. Choose the locked disk and click on the First Aid button located on the top and run it.
This will repair all the errors on your external locked hard drive and solve Hard Drive Read-only in Mac Systems.
Method 4:  A Simple and Quick One-Time Fix
Important Notice: The below-described process is an experimental method that has worked for many and has been reported to be successful in many cases. But as it is still in the preliminary phase, there are chances that you might lose your data forever and not recover it.
If your data is not very important or you do have another back up of that data, then you can try to explore your Mac's secret and hidden abilities by using the Terminal. Once successful, you will also be able to write some files to the hard drive that is read-only in Mac with the built-in tools that you probably never knew existed.
Step 1. Open the Terminal app and type the following command line:
nano etc/fstab
Step 2. Now, copy this line into the file and replace DRIVENAME in the command below with the drive name that is locked.
LABEL=DRIVENAME none ntfs rw,auto,nobrowse
Step 3. Press CTRL + O to begin the saving process.
Step 4. Press CTRL + X to quit the Nano mode.
Step 5. Disconnect your locked external drive.
Step 6. Reconnect the drive and let it mount. It will be visible in the Volumes section now.
Step 7. Open Finder and locate your drive. You will be able to copy files to your locked drive for a single time only. Once you disconnect the drive, it will become locked again.
Note: This method can be tried once if there is something important you want to copy to the hard drive and are facing an error on your Mac like "External Hard Drive Read Only". It is not recommended for a repeated number of times.
The Final Word on the Error on Mac "External Hard Drive Read Only"
That concludes all the methods that can resolve the Hard Drive Read-Only issue in Mac system. Formatting the drive solves the error permanently, and there are very fewer chances of re-occurrence. However, before formatting the disk, you need to copy all the contents to another drive and them attempt format. Whichever method you choose, be careful while trying out anything new as it is your precious data that can be lost.
Frequently Asked Questions