iMobie MacClean Review: Is It The Best Tool To Clean & Optimize Your Mac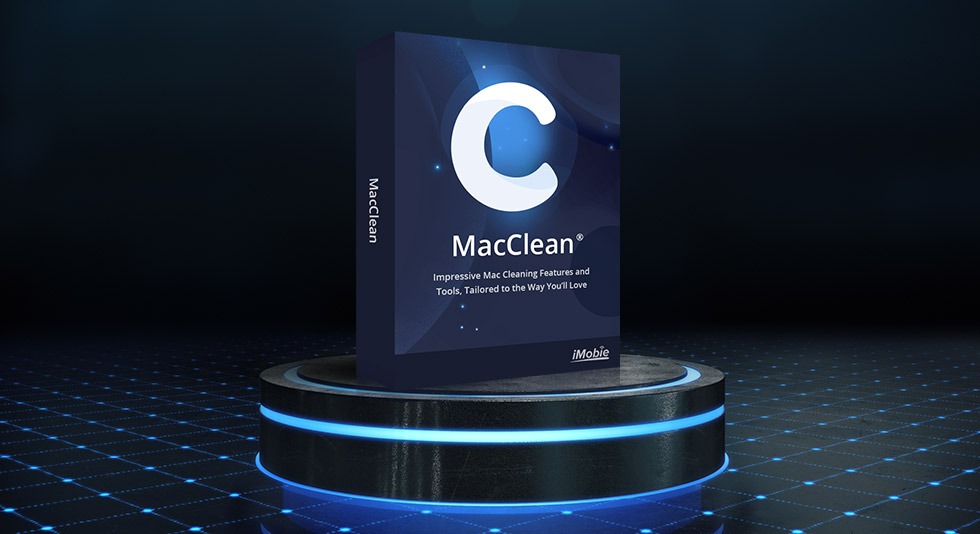 Every Mac user wishes to keep their system in a fit and running condition so that it doesn't create trouble in a longer run. Well, this is how it should be! It is important that we understand keeping a computer optimized is as essential as cleaning its surface. Therefore, we need a smart tool to clean and optimize your Mac. Mobie MacClean is such one tool that could be of great use.
You must be wondering, why is it vital to optimize Mac? Well, with time and usage, items like system junk, internet junk, malicious cookies, session files, caches, saved passwords pile up and consume storage, may even become a threat to your privacy.Therefore to keep a check on such things, you can use a one-click tool like iMobie MacClean.
Summary:
Overall Rating: 4/5
As promised, Mobie MacClean can clean up your Mac efficiently by freeing up the disk space, removing junk files and keeping security intact. The scanning speed is pretty quick and gigabytes of space is recovered right after the respectable actions.

Download: iMobie MacClean
Why Use The iMobie Mac Cleaner Tool?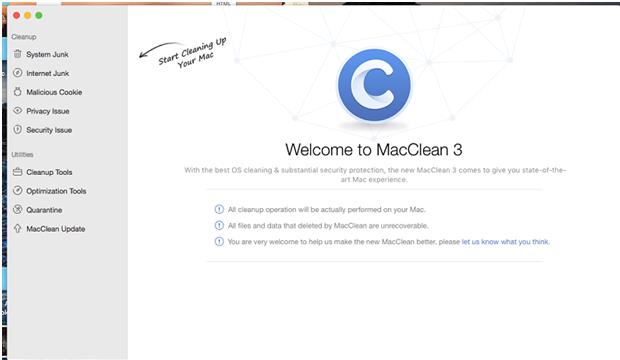 iMobie MacClean is an all rounder tool which helps the users in keeping their system optimized, privacy intact.  Let us go through the features of this Mac cleaner tool.
1. Clean Up System Junk & Internet Junk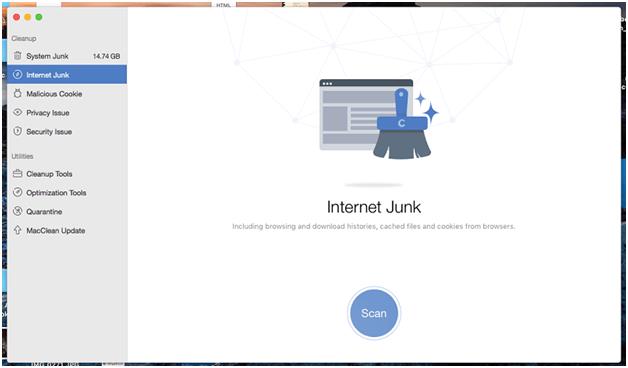 We often don't realize that our hard drive is filled with files that are not needed anymore and still occupying the precious space. As the tool scans out the system, it finds out system junk like cache files, log files, or those applications which leave the leftovers.
In case of internet junk, you can get all the personal information deleted like history logs and saved passwords. This is very much required if someone else is using your computer. Understand that such information in your system may hamper personal life, emotionally as well as financially.
2. Removes Malware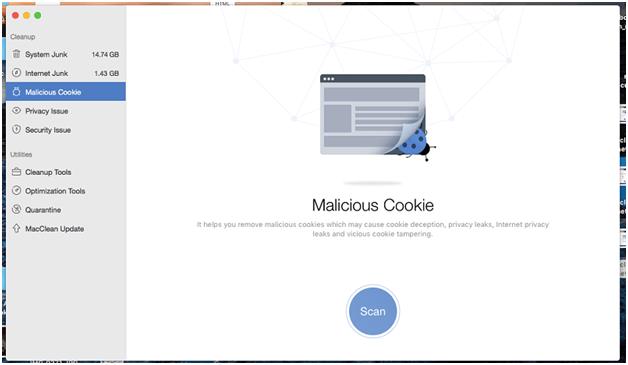 Cookies are capable of storing information from the websites that you have accessed. Now these cookies, if they are malicious in nature, can track your activities online and may hamper your privacy.
At the same time, 'Security Issue' also helps in scanning and searching applications as well as downloads for their potential risks and vulnerabilities. However, this action could be a little slow in its process but is effective in nature.
3. Number Of Optimization Tools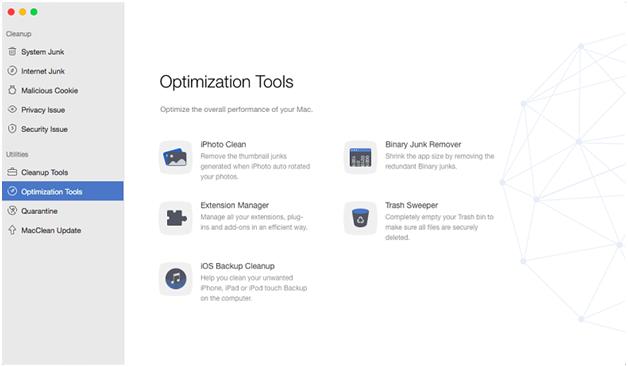 To optimize overall performance of your Mac, there are a number of optimization tools. iPhoto Cleaner can easily remove the thumbnail junks after when photos are auto rotated. The Binary Junk Remover has the capacity to remove redundant binary junks. Its Extension Manager can help manage extensions, plugins and add-ons in the best possible way. Trash Sweeper and iOS Backup Cleanup are other sets of tools to keep your system optimized.
4. A Set Of Cleanup Tools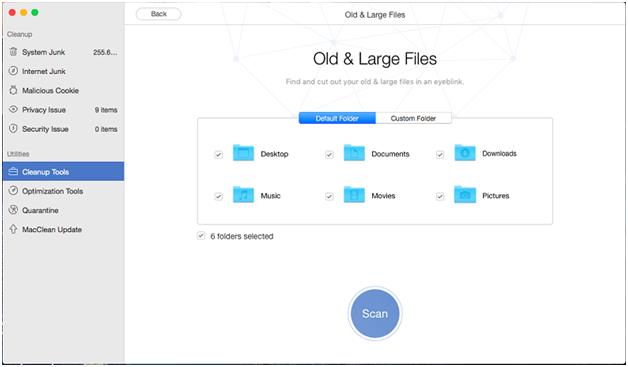 Storing the files that are not required anymore occupies unnecessary space. You can ask the tool to scan specific folders or custom folders to figure out old and large files. Such files only clog up the disk space and must be removed instantly.
Other cleanup tools that include are duplicate finder, language file clean, file eraser as well as app uninstaller.
5. Constant Updates
Thankfully, your Mac is secured very well if a number of threats come around or bother you. This is because the system has an updated list of malware, spyware, worms and adware so that suspicious files stay out of your system.
6. Saves Your Precious Time
As we know that time is the most important factor, this Mac cleaner software is going to help you by saving precious time and optimizing your system for future use. This all-in-one tool comprises almost everything that could not possible think of performing without wasting a lot of time.
7. Ease Of Use & Customer Support
How can we not mention yet that iMobie MacClean is very easy to use and has a navigable interface. A person who is not familiar with technical details will also understand the easiness. Even if you have any problem, the website has resource blogs and knowledge base questions. Moreover, you can send an email or submit a request to the website for further contact.
Pros:
Faster scanning speed
Choice of cleaning malicious cookies or all the cookies for privacy
Retrieves a huge chunk of space on Mac.
Cons:
App crashing may become an issue.
Lack of advanced cleaning tools
Subscription & Pricing
This Mac cleaner tool starts with $19.99 and one can say that it costs less than its competitors. If you wish to go for Family Plan which supports 5 Macs at a time and lifetime free support, it will cost you around $39.99. One may say that this product is value for money!
Download: iMobie MacClean
 Alternatives Of iMobie MacClean
One can also look for other alternatives to this Mac Cleaner software including:
1. CleanMyMac X: CleanMyMac is a reliable and powerful tool to keep the health of the system checked. It helps in keeping the system clutter free and removing junk while keeping temporary files at bay.
2. CCleaner for Mac: CCleaner performs every action from scanning the system thoroughly, listing out the junk files, & clearing out the junk to make more space on your Mac.
Conclusion
You can find that iMobie MacClean is the best Mac cleaner software to keep your computer clean and optimized. Now why wouldn't you save your precious time and escape from the manual and hectic process of cleaning your computer?
FAQs: iMobie MacClean For Mac