10 Best Slideshow Maker For Mac in 2023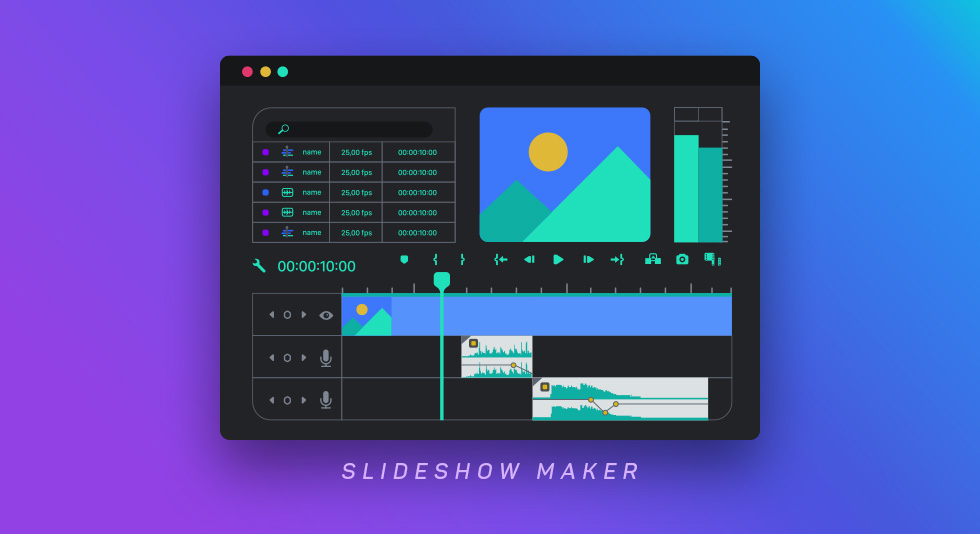 Making slideshows for special occasions like official meetings, birthday events, or a surprise party for your spouse will never go out of fashion. Slideshows are always an attention-grabbing presentation and help in persuading your audience very easily. All those who have landed on this blog mostly agree with it already and must be looking for a slideshow for Mac.
If you make a customized slideshow presentation, then you need a smart tool where the app provides you multiple options to create exciting reels, add effortless transitions and save your precious time side by side. Although Mac users feel that they have very limited options, we have found some of the best slideshow makers already for you.
Top 10  Slideshow Maker Apps For Mac in 2023
1. iSkysoft Slideshow Maker For Mac
Price: Flat $59.95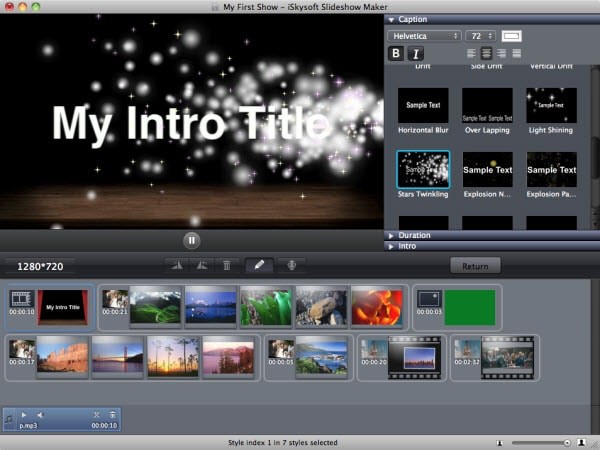 Make your slideshow exciting and amazing with iSkysoft as you can do everything that you visualize in your mind. Add images, video clips, and audio recordings in one place and start personalizing it with superb effects. Include transition, motion, filer, effects, credits, text, subtitles and more into the slideshow. You can easily mix and merge multiple audio tracks altogether and tweak the show in your desired way.
Pros:
Offers red eyes repair feature
Choose to share your videos on social media directly and even burn DVDs quickly.
Cons:
Some of the video formats may not be supported.
Download: iSkysoft Slideshow Maker For Mac
Must Read- Best Video Recovery Software for Mac
2. Movavi Slideshow Maker For Mac
Price: $48.1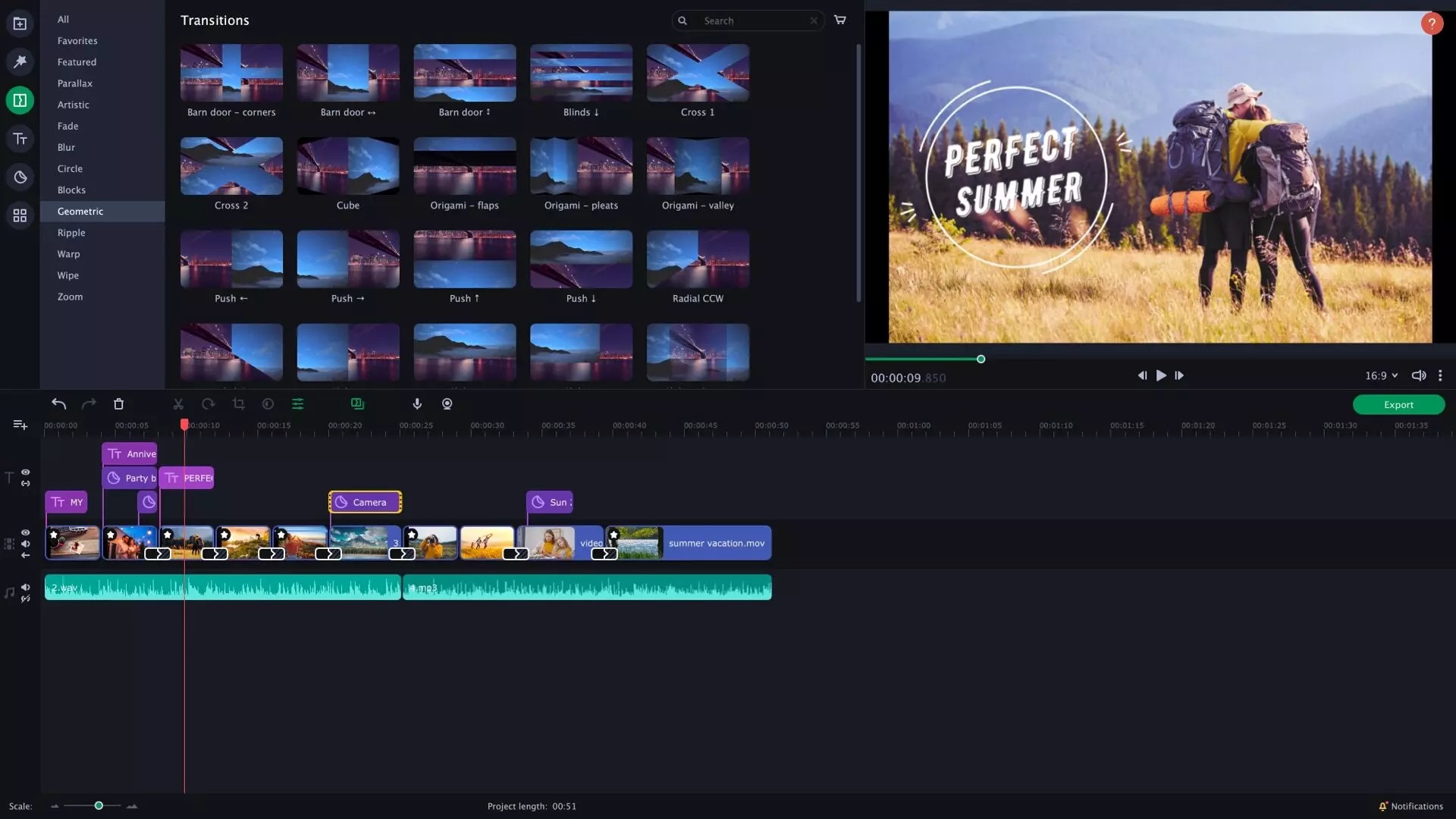 Movavi already carries its name high when it comes to making slideshow presentations. You can add media files in any format and there is no limit to the number of files you are adding. You can either customize the whole video or simply take a pre-designed template and start adding details to it. Get more than 165 visual effects, more than 105 transitions, and about 100 titles and stickers. So now you can preserve happy memories and promote your brand from the same slideshow creator for Mac.
Pros:
Multiple filters to ease out the transition options.
Lots of presets of music available.
Cons:
When there are a large number of pictures, instead of uploading, it offers organization.
Download: Movavi Slideshow Maker For Mac
3. PowerDirector 365
Price: Starts $51.99 annually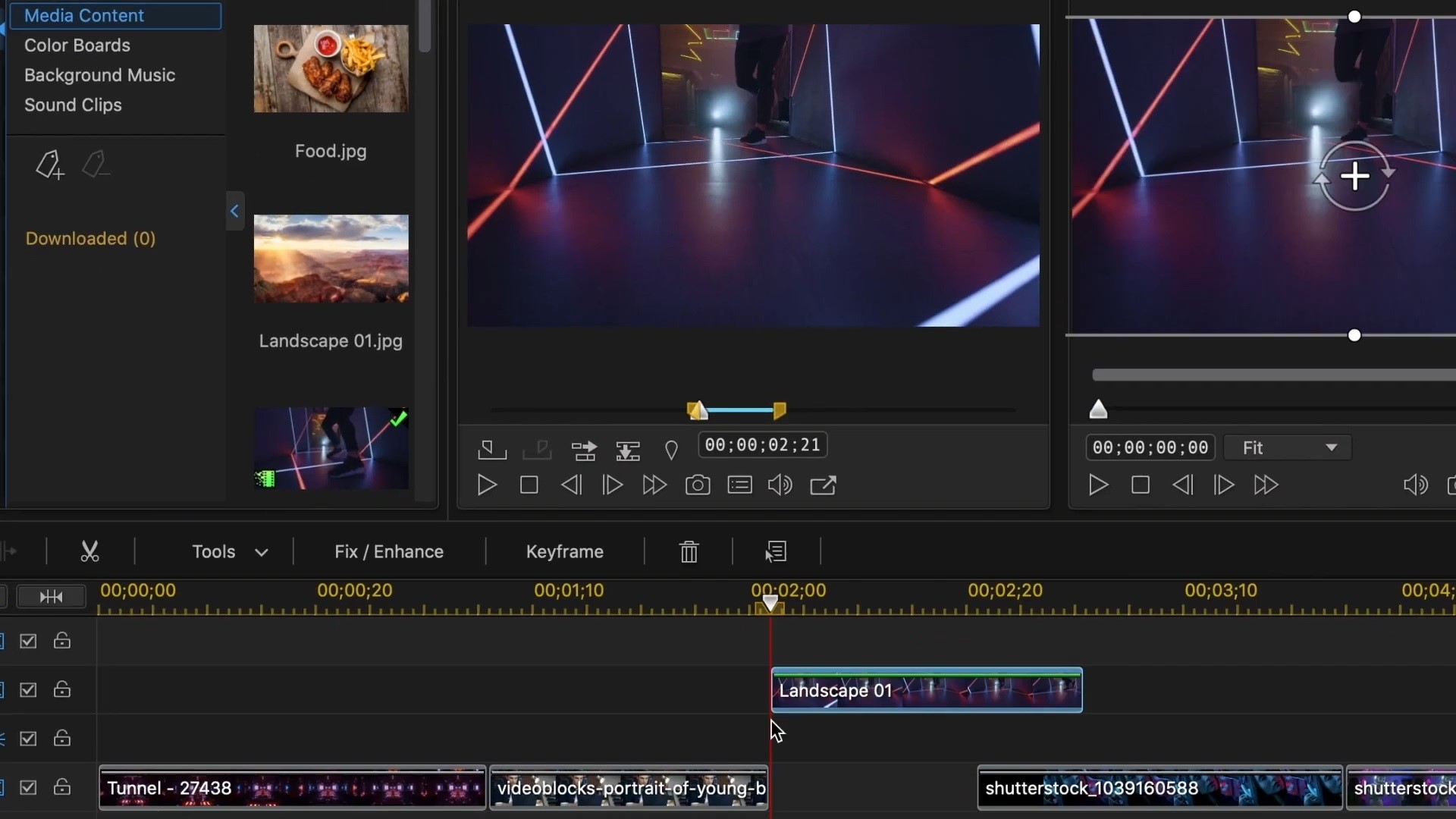 Designed for Mac as well as Windows, it's a powerful Mac slideshow app with a smart and sleek user interface. It offers you a positive chance to tell the story the way you wish. You can easily mask and blend the layers and shapes. With that, add animated effects in your slideshow and even add Hollywood-style effects with the help of green screen features. The newly added feature of AI motion tracking allows the addition of text and graphics with the motion of videos.
Pros:
Variety of transitions and video effects
Addition of smart background music
Cons:
No free trial is available
Download: PowerDirector 365
Read This- Best Tools To Take Scrolling Screenshots on Mac
4. Animoto
Price: starts $15.99 per month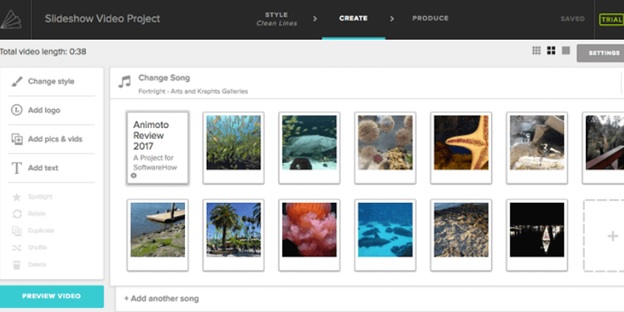 Animoto slideshow maker is another good one on the list with easy drag and drop video features. It is such an easy- to-use slideshow maker with just a few steps to make the video. There is an exclusive list of songs and licensed music that you can use for giving extra touch. Moreover, get already existing templates with amazing texts, fonts, and chances to crop and trim the videos so that everything is well-customized.
Pros:
Fun, and simple way of creating slideshows.
Creates video in the least time frame possible.
Cons:
The presentation might not look very professional and have depth.
Download: Animoto
5. Keynote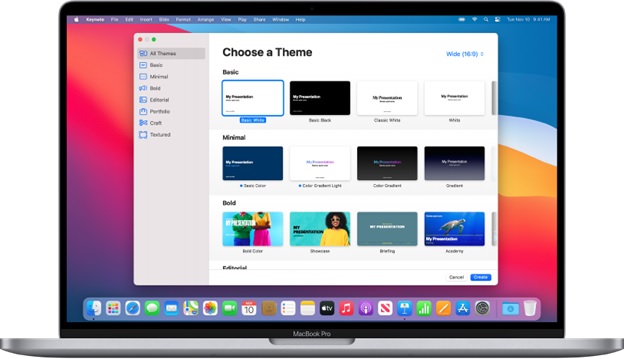 Part of Apple's iWork suite, Keynote is one of the best slideshow apps for Mac and is currently in-built with every Mac. What you can count on with this app is real-time collaboration features thatoffer the ability to create professional presentations. Moreover, you can add Apple Pencil here to add more illustrations and presentations within the app. It also plays well with Microsoft Powerpoint so that you can edit one design into another app easily.
Pros:
It's an in-built application, free for Apple users, and can be trusted completely.
The user interface is very friendly.
Cons:
If you are a Powerpoint user, this application may be a steep curve.
Download: Keynote
6. Microsoft PowerPoint for Mac
Price: 1-year license $69.99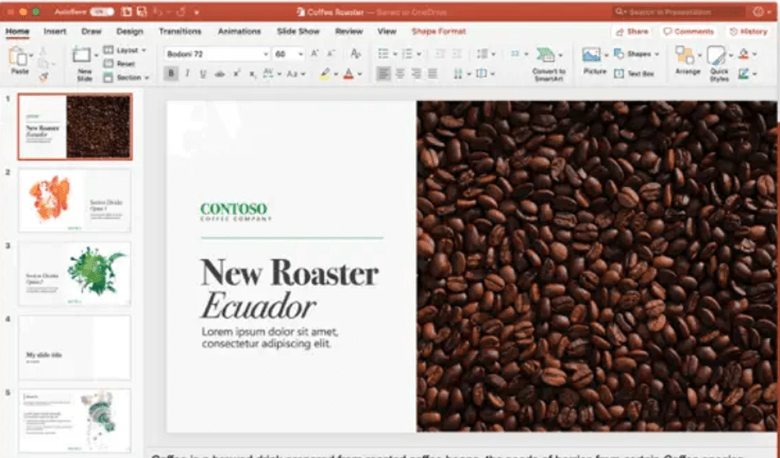 Microsoft PowerPoint is one of the best slideshow makers, even for Mac. The interface is straightforward, and users of any level can create engaging slideshows on Mac. From using templates and standard slides to using media as a mode to make engaging slideshows, there is a lot that you can do. You can spice up your slideshows with various visual elements, smoothly link slides and take your presentation to the next level.
Pros:
Create a slideshow for various purposes like creating a sales pitch, office presentation, etc.
Add several effects and visual elements.
Cons:
More templates could be added.
Download: Microsoft PowerPoint for Mac
7. Prezi
Price: Starts from $5/ month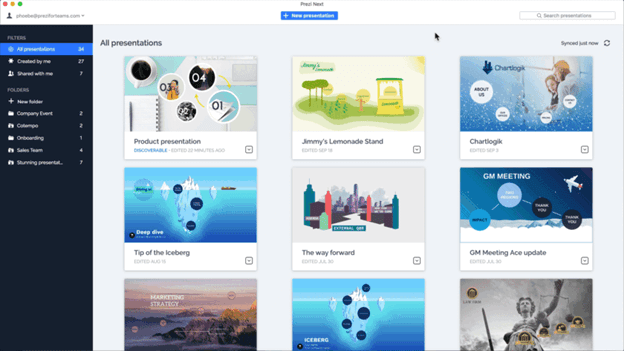 Bored of moving through slide-to-slide and are looking for a slideshow maker for Mac that can offer you a refreshed workflow? Enter Prezi – instead of moving from a slide by slide, you can zoom in and out of the sections while transitioning between slides. It also makes switching between videos and audio way more interesting than many other competitor tools.
Pros:
Zoomable canvas
Large number of exciting templates
Cons:
Conversion to other formats can be challenging.
Download: Prezi
8. FlowVella
Price: Free trial available and then $10/ month.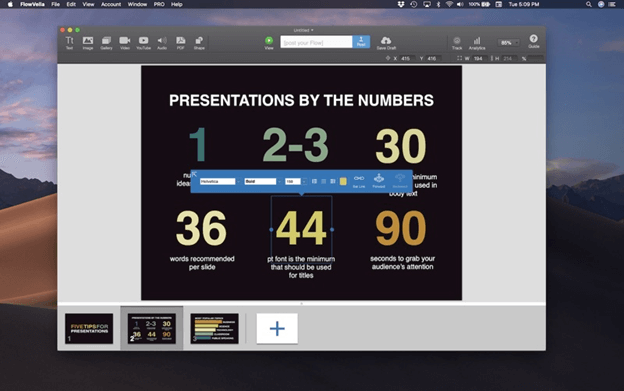 If you have to deal with creating slideshows daily, FlowVella is one option you can consider. It helps you create, edit and view multimedia presentations while juggling other tasks. FlowVella lets you easily move between videos, files, slides, and everything.
Pros:
Kiosk mode for tablet devices makes interaction and edition much easier and error-free.
Easily integrate media into slideshows.
Cons:
Could have been more intuitive.
Download: FlowVella
9. LibreOffice Impress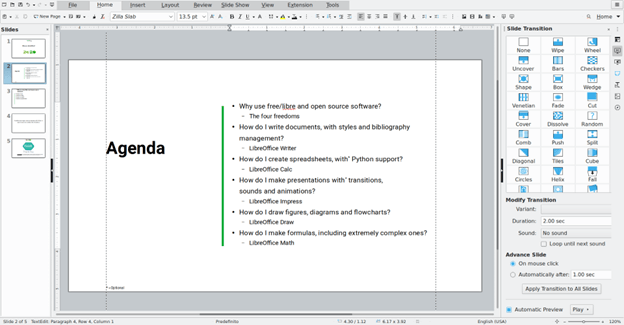 LibreOffice Impress does what its name rightly says "impress."  From creating a slideshow on Mac to effortlessly presenting to your target audience, LibreOffice Impress makes the tasks a cakewalk. To begin with, it offers you various views where you can outline your content, edit notes attached to your slide or quickly go through your slides (in a thumbnail format). In between, you can spice your slideshows with 2D and 3D elements, and lastly, you can take full control of how you display or sequence your slides on one monitor but several of them.
Pros:
Forever free
Multiple viewing modes.
Cons:
A little dated interface.
Download: LibreOffice impress
10. Slidebean
Price: $29/ month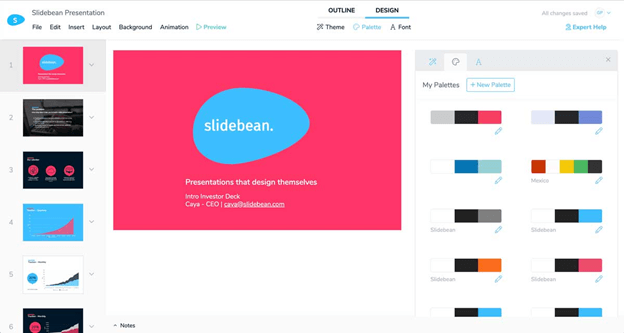 If you want your next sales pitch to be a winner, Slidebean could be your go-to tool for presentations, thanks to its PItch Deck Builder. Plus, there are several templates, many of which have been used by some of the most accomplished organizations. For direct support, you can also take the help of their "Book Project" function.
Pros:
Formatting slides is probably one of the best even if put head to head with various competitors.
Easy to use interface and cross-compatibility with various other slideshow applications for Mac.
Cons:
The scope is limited to formal presentations.
Download: Slidebean
Wrap Up
We hope that you have found the best slideshow app for Mac through this blog already and will be now presenting an amazing slideshow solution to the desired audience. We highly recommend you to try iSkysoft as well as Movavi because they are the leading players in the industry. Also, these Mac slideshow apps are open and comfortable for every new user. So which app did you choose from the list above and why? Share your views and recommendations with us in the comments below.
FAQs: Slideshow Maker for Mac