How to Use System Preferences Setting on Mac and Boost Your Productivity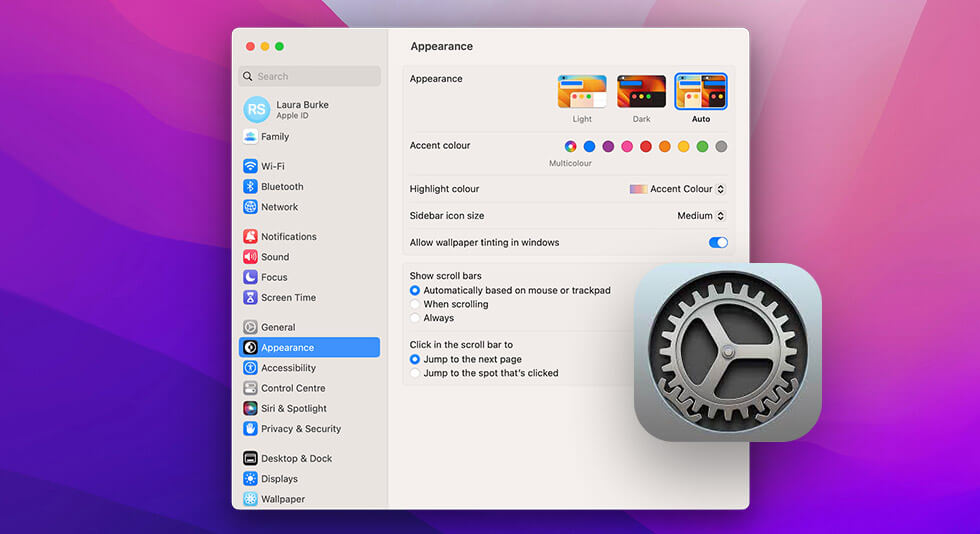 As a  Mac user, you appreciate the seamless blend of sleek design and powerful performance that Apple offers. Isn't it? However, to truly unlock the full potential of your Mac and tailor it to your specific needs, you must dive into the heart of its customization: the System Preference Mac.
Whether you're a seasoned Mac user or a new to the Apple ecosystem, the vast array of settings can sometimes feel overwhelming to navigate. Fear not, we've got you covered. In this blog, we will walk you through each section of System Preferences, revealing hidden gems and lesser-known features that will elevate your Mac experience to a whole new level.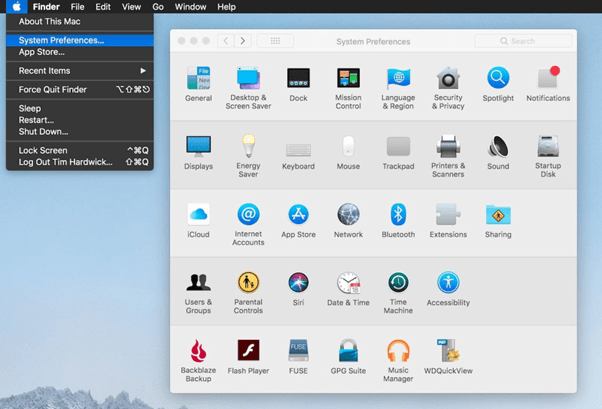 From personalizing your desktop to optimizing your security, we'll cover everything about the amazing System Preferences settings on Mac. Harness the power of your Mac by learning how to configure your display, tweak sound settings, set up network connections, and customize accessibility options. You'll also discover how to fine-tune your privacy settings, manage user accounts, and maintain your Mac's overall health.
So, without further ado, let's get started.
Also read: How To Fix "Your System Has Run Out Of Application Memory" Mac Error
How to Access System Preferences Settings on Mac
Accessing the System Setting Mac is a straightforward process. Follow these simple steps to get started:
Locate the Apple Menu: Look for the Apple logo in the top-left corner of your screen. Click on it, and a drop-down menu will appear.
Open System Preferences: From the drop-down menu, select "System Settings."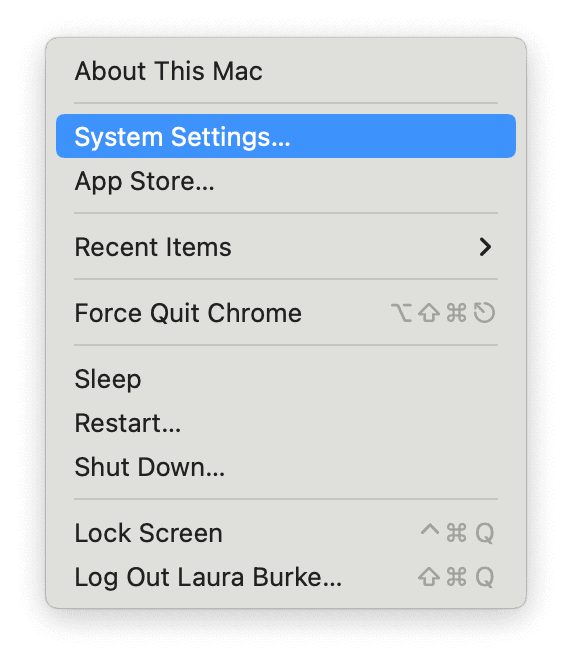 Alternatively, you can access System Preferences from the Dock. Look for its icon – it resembles a silver gearwheel – and click on it.

If you prefer using keyboard shortcuts, press "Command + Spacebar" to open Spotlight Search. Type "System Preferences," and then hit "Enter" to launch it.
If you've configured Hot Corners on your Mac, you can assign one of them to open System Preferences instantly. Move your mouse cursor to the designated corner, and System Preferences will pop up.
By following any of these methods, the System Preferences window will appear, displaying a collection of icons representing various settings categories.
Also read: How to Delete System Log Files on Your Mac
 IMPORTANT INFORMATION = Time To Revitalize Your Mac's Speed!
Are you tired of dealing with a slow and sluggish Mac? Say goodbye to performance issues with Cleanup My System, the ultimate solution to revitalize your Mac's speed and efficiency. Developed by Systweak Software, this professional tuneup tool is designed to make your Mac run faster and smoother than ever before.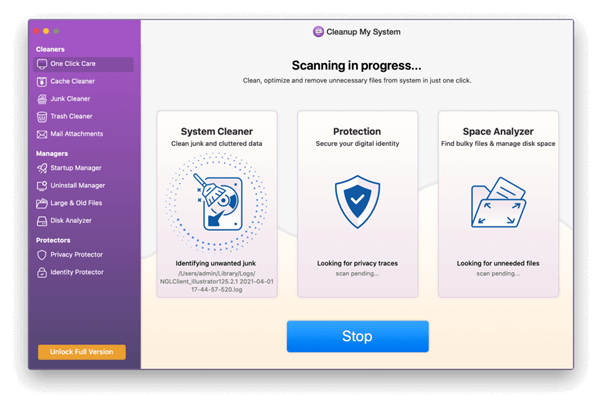 Get Cleanup My System
With Cleanup My System, you can effortlessly reclaim valuable disk space and optimize your Mac's performance in just one click. The powerful scanning engine swiftly locates and eliminates various types of junk files, freeing up precious storage space. Say goodbye to cluttered caches, redundant system files, and outdated logs that are weighing down your Mac's speed.
But that's not all! Cleanup My System goes above and beyond by targeting those sneaky unwanted mail attachments that often accumulate unnoticed, gobbling up your precious disk space. By effortlessly removing these attachments, you can free up even more space and enhance your Mac's overall performance.
Now, let's dive right back into the discussion and explore everything there is to know about System Settings, also known as System Preferences on Mac!
System Preference Settings: Explained
Let's explore the various settings options available in System Preferences on a Mac:
General: This section allows you to customize fundamental aspects of your Mac, such as appearance, accent colors, and highlight colors. You can also set your default web browser and configure options for scroll bars, sidebar icons, and more.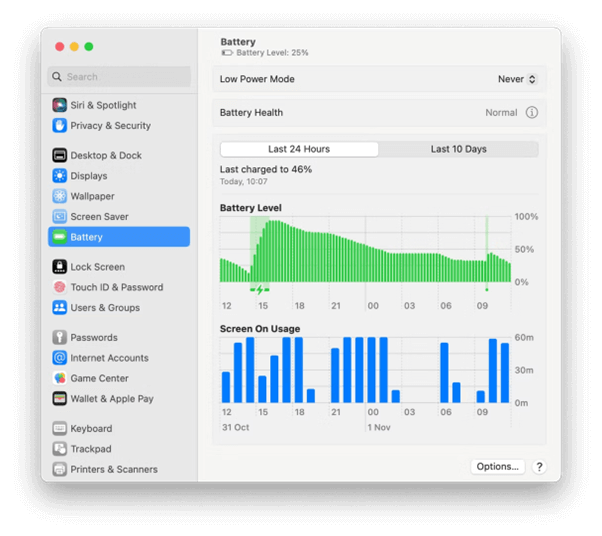 Desktop & Screen Saver: Here, you can personalize your Mac's desktop background with your favorite images or dynamic wallpapers. You can also set up your screensaver preferences, choosing from various styles and effects.
Dock & Menu Bar: Customize the behavior and appearance of your Mac's Dock, including its size, magnification, and position. In the Menu Bar section, you can control which icons appear in the top-right corner of your screen and adjust their visibility.
Mission Control: This feature allows you to manage your app windows, spaces, and hot corners. You can configure how applications are grouped, enable or disable spaces, and set up hot corners for quick access to specific functions.
Security & Privacy: Protect your Mac and its data with settings related to your privacy and security. Here, you can control access to your camera, microphone, and location services, as well as manage app permissions and firewall settings.
Displays: Adjust the settings for your connected displays, such as resolution, brightness, and arrangement. If you have an external monitor, you can set it as an extended display or mirror your main screen.
Sound: Control input and output audio devices, adjust volume levels, and manage system alert sounds. You can also set the audio output for specific apps in this section.
Network: Manage your network connections, including Wi-Fi, Ethernet, and VPN settings. You can add or remove connections, prioritize them, and configure advanced network options.
Bluetooth: Connect and configure Bluetooth devices on your Mac. Pair wireless peripherals, such as keyboards, mice, and speakers, and manage Bluetooth settings.
Keyboard: Customize keyboard shortcuts, input sources, and modifier keys that suits your typing preferences. You can also enable features like Key Repeat and Character Accent Menu.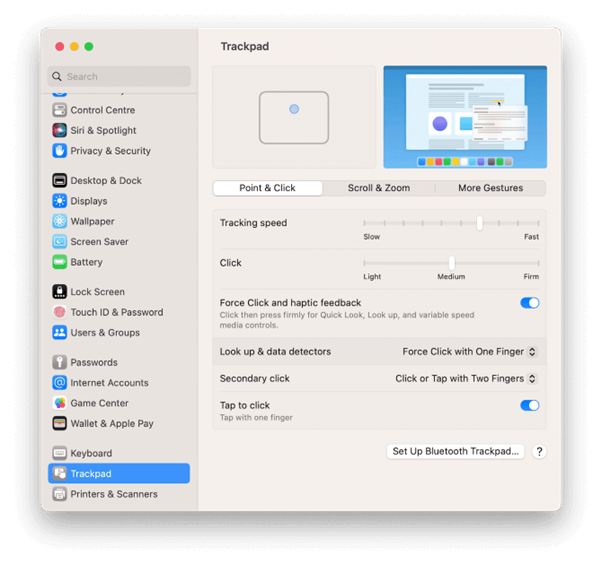 Mouse/Trackpad: Depending on your Mac model, you'll find either the Mouse or Trackpad section here. Configure settings related to tracking speed, scrolling behavior, and secondary click options.
Printers & Scanners: Add and manage printers, scanners, and other printing-related settings. Install new devices, set default printers, and access printer options.
Users & Groups: Create and manage user accounts, passwords, and login options. Set user privileges and parental controls, and control your Mac's accessibility settings.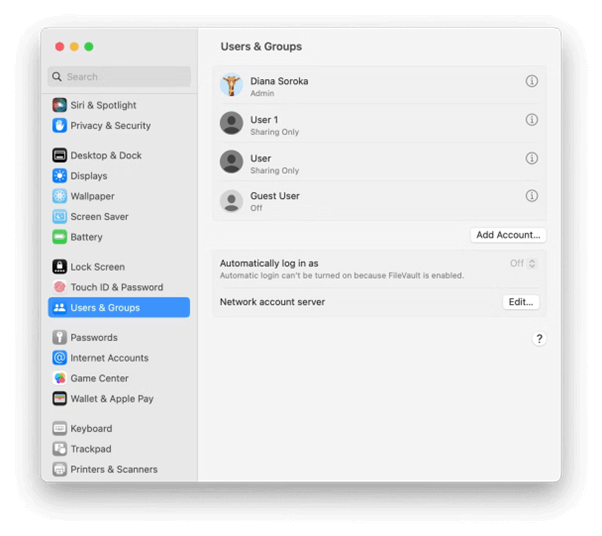 Date & Time: Adjust the date, time, and time zone settings on your Mac. You can also enable automatic time and date settings.
Accessibility: Customize accessibility options to cater to individual needs. Configure features such as VoiceOver, Zoom, Display accommodations, and Keyboard settings for users with disabilities.
Software Update: Check for macOS updates and manage automatic update preferences. This ensures your Mac stays up-to-date with the latest security patches and features.
These settings provide an in-depth look into the core functionalities of your Mac, allowing you to tailor your machine according to your specific needs and preferences. Whether it's personalizing the appearance, optimizing performance, managing networks, or protecting your privacy, System Preferences on a Mac is your gateway to a highly customizable and user-friendly experience.
Also read: How To Enable Airplane Mode On Mac
Conclusion | Master System Preference Setting on Mac and Boost Your Productivity
To conclude, understanding and utilizing the System Preference settings on your Mac is key to unlocking its full potential. By exploring the various sections, you can personalize your Mac, enhance performance, manage networks, protect your privacy, and much more.
Take control of your Mac experience and tailor it to your needs with System Preferences. With these powerful settings at your fingertips, you can optimize your workflow, streamline tasks, and make the most out of your Mac's capabilities. So, dive in, explore, and harness the true power of System Preferences on your Mac.
Was this post helpful? Feel free to share your thoughts in the comments section!