Cleanup My System Review For Mac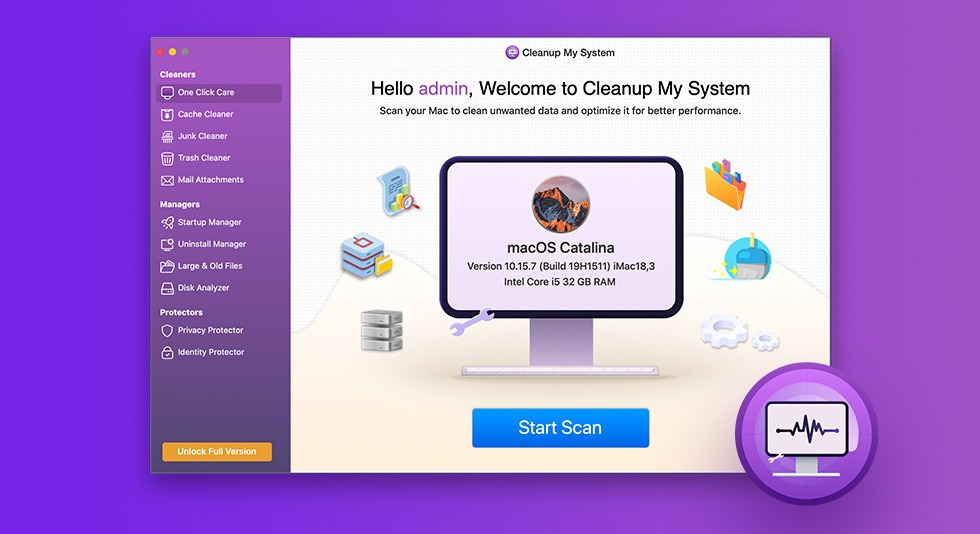 Every Mac user wants to keep their system in perfect running condition so that the system runs smoothly for a more extended period. This requires one to keep the system free from any unnecessary clutter. Cleanup My System is a powerful app to clean junk files and unnecessary items from Mac so that their computer works properly.
From cleaning cache, logs, junk files, Trash items, and mail attachments, it possesses all the essential tools in one toolbox, making it the Best App To Clean Mac in 2022. Let us understand this Mac storage cleaner:
Cleanup My System Review:
Interface and Ease of Use : Intuitive and easy to use

Pricing (Free and Paid) : Free

Identify Similar Files: Yes

Regularly Cleans Storage: No

Customer Support: 24X7
What is Cleanup My System?
Cleanup My System by Systweak Software is an innovative Mac cleaner capable of adding years to your Mac's life. The performance of your Mac is improved tremendously as system speed accelerates, clutter is removed, and junk files are dumped away from the system. While the sluggishness is removed at one end, the web privacy and management of unwanted apps are also taken care of.
Get Cleanup My System
Pros & Cons of Cleanup My System
Pros:
List the Identity traces that may expose your personal information.
Optimizes the system for the long run which ultimately gives a second life to Mac.
Multiple modules to choose the particular mode of action.
Very detailed yet easy to use for a newbie or an intermediate user. No need to ask another technical expert for its use and application. This makes it one of the best Mac storage cleaners undoubtedly.
Cons:
Doesn't include duplicate file finder and malware remover which are required to keep the system optimized.
Subscription & Pricing
The excellent news is that Cleanup My System offers a limited functionality trial version. However, to clean all the detected errors, you need to unlock the full version by paying $34.99 & optimizing your Mac.
Download Cleanup My System
Cleanup My System – Features
Here's a list of tools provided by this best disk cleaner for Mac:
1. Cleaners
Under the Cleaners header, you can find the following cleanup modules: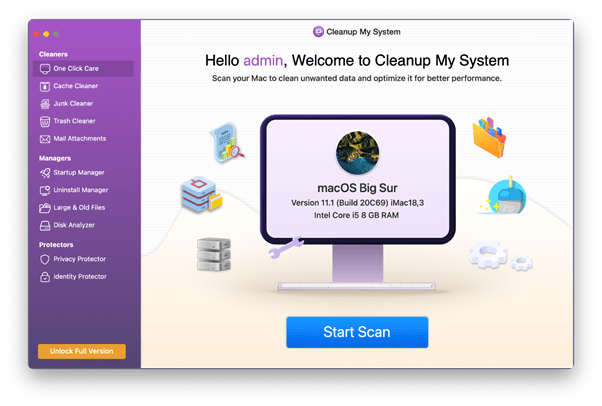 As the name suggests, One-Click Care is the first section of the user interface where you are greeted with the option 'Start Scan'. You can initiate the first comprehensive scan under this module, and get notified about the amount of unwanted junk available, items that shall be eliminated to remove sluggishness and boost performance.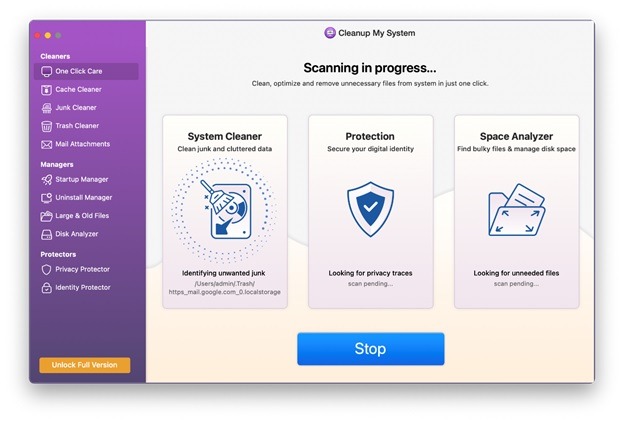 Using this Best Mac Cleaner, you can detect and delete several large and old files occupying unnecessary storage space on your machine.
Cache Cleaner is an excellent module that helps users to get rid of system cache, log reports, and crash reports occupying unwanted space on your Mac and making it run super slow. Once you click 'Start scan' under the section of this top Mac cleaner, you will be able to detect potential cache, logs, and even the crash reports which are nothing but space hoggers.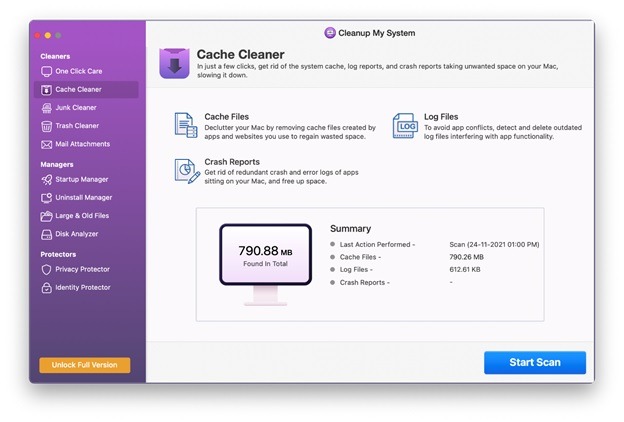 As soon as the list of useless files appears on your Mac, you can select the items manually that you wish to securely eliminate from your system.
Note: all the selected items will not be permanently deleted, it will be moved to the Bin, ensuring that no important file gets missing from your machine. You can sort the items by size and see which items are eating lots of system resources on your Mac.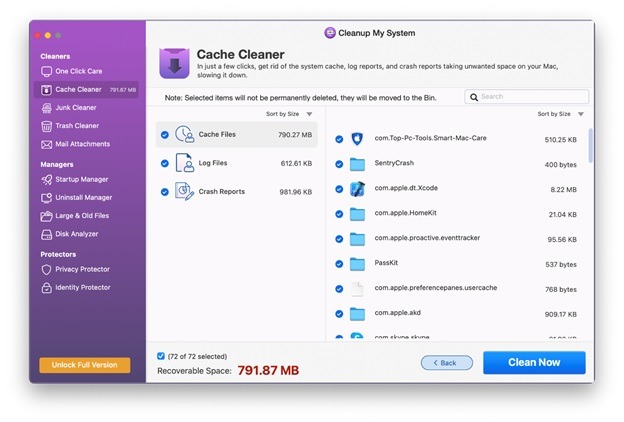 Once selected, you can hit the Clean Now button and you will be surprised to see the amount of space that has been reclaimed in a single scan.
In the junk files section, you can get rid of junk files in Xcode cache, mail downloads, and unused disk images. Get unwanted data cleaned up, remove old downloads, and get the system boosted. Additionally, the tool helps users to find multiple document versions that get created while working. It saves the last version of the text file and deletes other temporary versions, which are probably of no use to you but take a lot of space on your storage. It even takes care of the broken preferences (corrupted system files) that may hamper the speed of your Mac to some extent.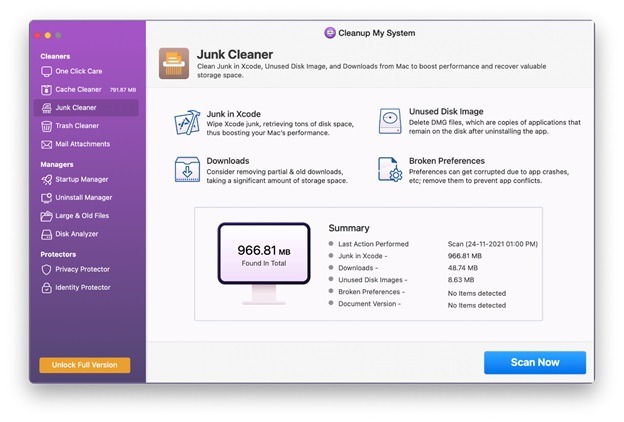 Using this best junk cleaner for Mac, you can potentially get rid of the aforementioned items and give your system a significant boost in a few clicks.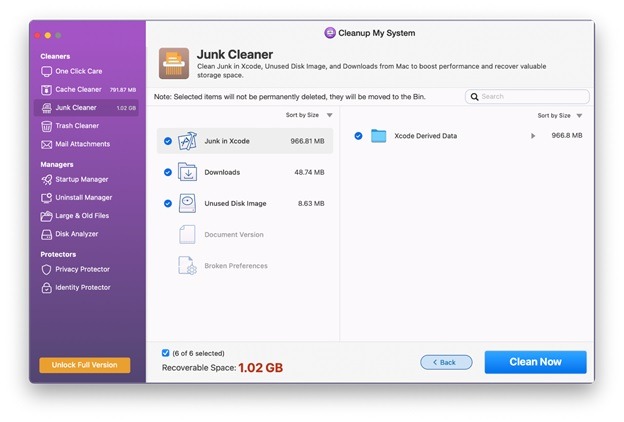 Hit the Clean Now button to recover a significant amount of space that was previously taken by unwanted junk items on Mac.
This Mac storage cleaner is capable of cleaning the trash bin in one go and all the finder errors. It could all be done timely. The Mac app allows users to instantly remove deleted items that unnecessarily take a lot of disk space.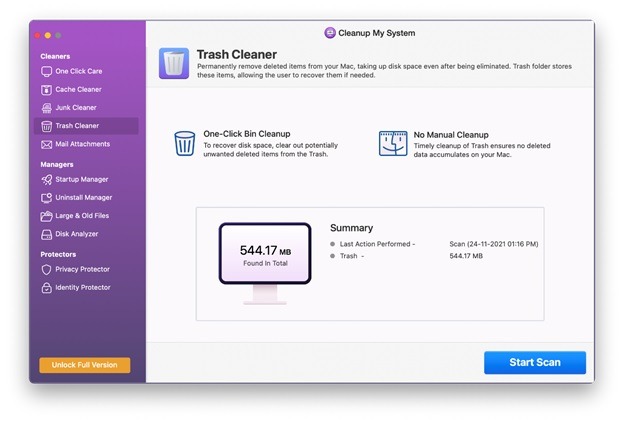 You can check the amount of recoverable space on the bottom-left corner of the screen. Hit the Clean Now button to proceed!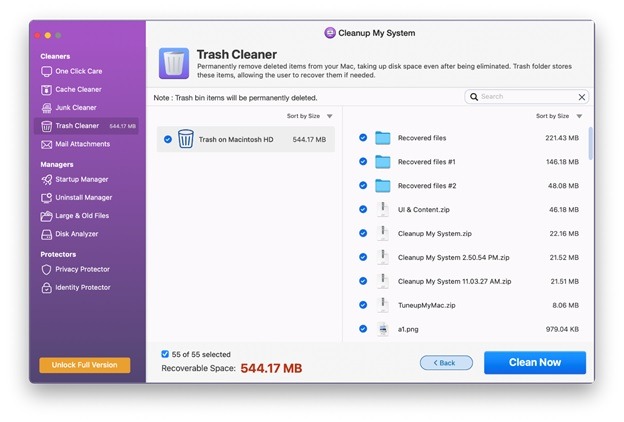 Remove all the local copies of email attachments and downloads which can save the disk space and management of local mail data. Using this module, you can free up gigabytes of disk space in no time.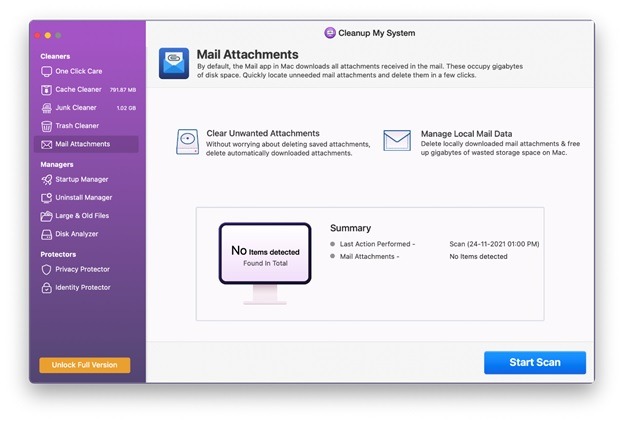 You can select the items that are eating lots of resources and sort them depending on their size. This would help you analyze which files are the largest memory hoggers. You can hit the Clean Now button to get rid of them with a click!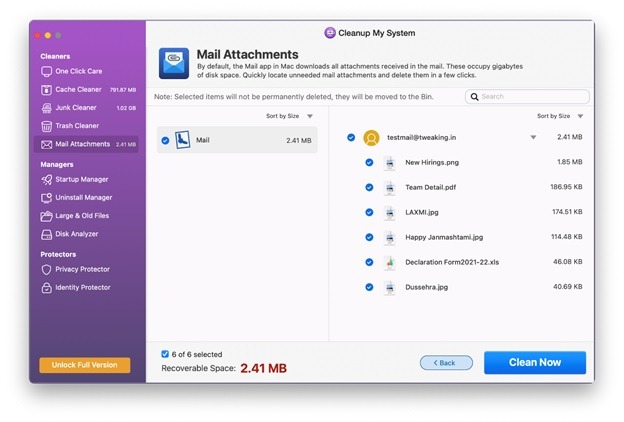 Also Read- CleanMyMac X Review: Pros, Cons & All You Want To Know
2. Managers
Under the Managers header, you can find the following management modules for Mac optimization:
The Startup Manager of Cleanup My System has another way of improving Mac's performance. It allows you to manage launch agents through which you can control apps that pop up and start running during boot time. It even lets you manage login items using which the speed of Mac is improved to a substantial scale.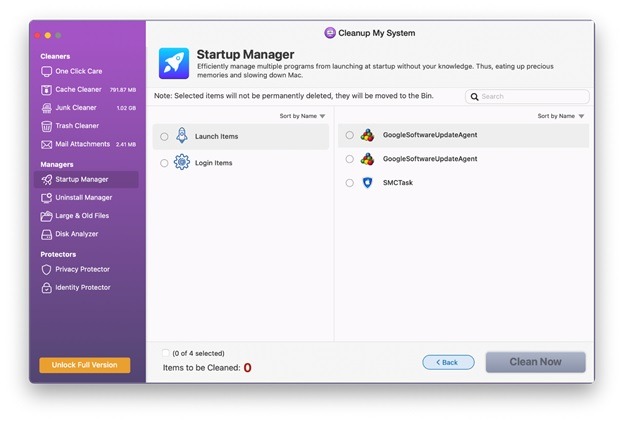 Using the best Mac Cleaning Software, you can easily manage the launch agents and improve the overall boot time without putting in much effort.
All your unwanted apps could be removed from the system completely without bothering you much. It is also because all the application leftovers are also removed. Moreover, if you don't want to uninstall apps, then you have the option to reset them all and get control of them.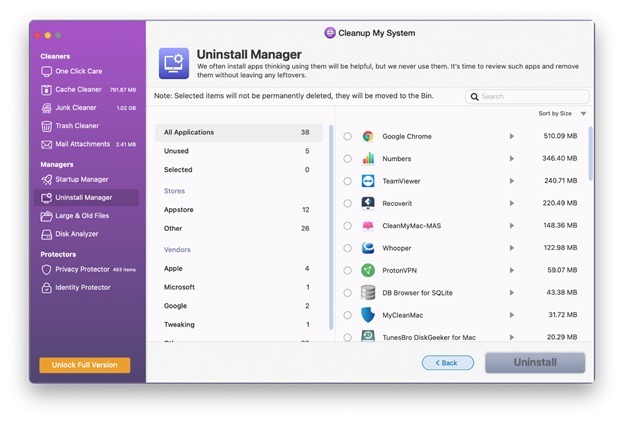 Uninstalling numerous applications in bulk has become super easy using this best disk cleaner for Mac. Do give this module a try and do share your experience in the comments section below.
See This- Review Advanced Uninstall Manager – The Best Mac Uninstaller to Remove Apps from Mac
This section is capable of analyzing the system to find old and large files which are not been accessed for a long time now. Find the location of your old files here which are usually inaccessible but you are capable of deciding whether these files need to be kept or deleted. This is probably the smartest way to review if such files are occupying space or not.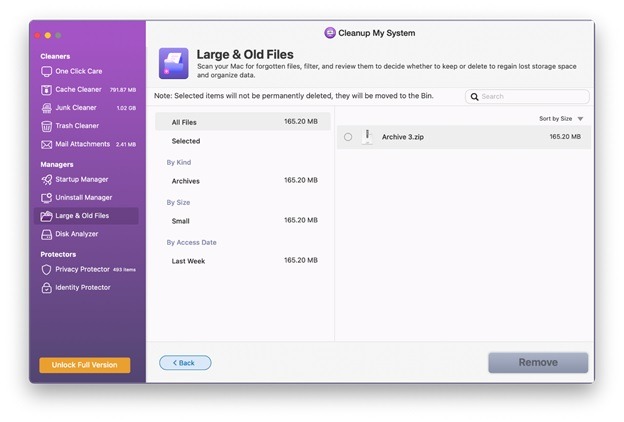 As soon as the scanning process gets completed, you can review the files and decide whether you want to keep them or delete them to regain storage space and efficiently organize your data.
With this Best Mac Storage Cleaner, you get a brilliant Disk Analyzer module that allows you to see and manage the bulkiest and unused items stored on your machine. Be it movies, documents, pictures, and other files. You can view the disk usage statistics in a graphical format and see the amount of storage space that has been eaten by various file types.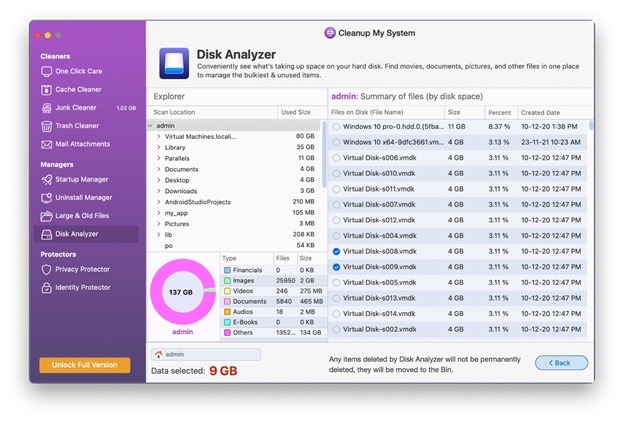 As soon as the scanning process gets completed, you can see the summary of files based on the utilization of disk space.
Read Here- A Complete Review of CCleaner For Mac
3. Protectors
Under this header, you can find the following security modules to safeguard your machine:
This best junk cleaner for Mac can wipe out the browsing history, autofill data, search history, and all the digital footprints. As web browsers save all the information like websites you visited, downloaded items, and much more. It scans the browsers for privacy to find out traces like saved passwords, autofill data, etc. to protect internet privacy.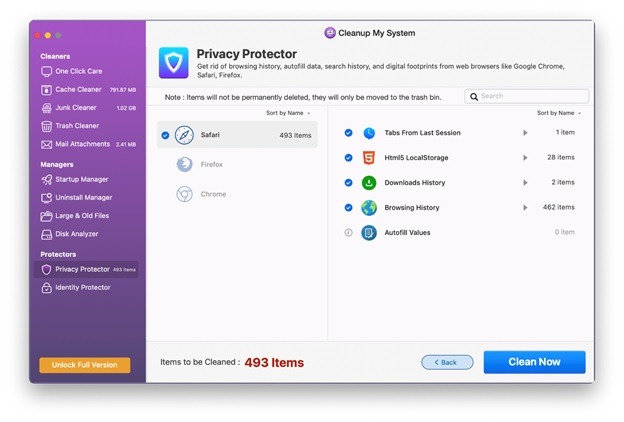 This top Mac Cleaner provides the easiest ways to eliminate autofill data, search history, and other data that may expose your online activities.
This module can detect all the digital information to delete all the identity exposing threats. Along with this, it can even safeguard all the sensitive data that is stored in web browsers.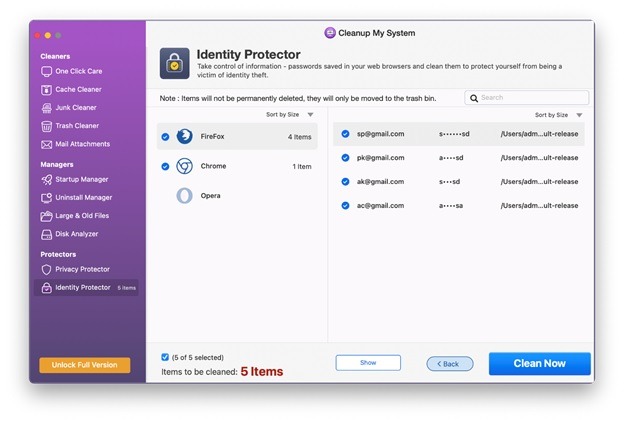 Undoubtedly, Cleanup My System is one of the best apps to clean Macs, but it also helps users significantly reduce the risk of being a victim of identity theft.
Note: Using the Trial version of Clean My System will only allow you to clean the digital debris up to 500 MB in size. If you wish to perform unlimited cleaning, we recommend you activate the full version.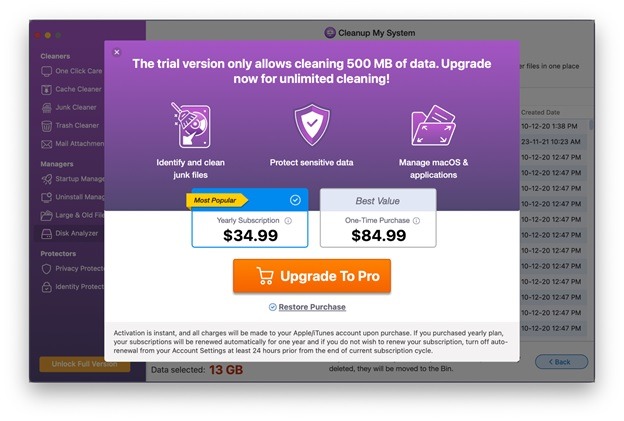 Ease Of Use: Cleanup My System
This one is surely complimentary for everyone. Apart from being one of the best apps to clean a Mac, it is very easy to use and navigable. Since all the modules are stacked up very neatly, one can easily manage to draw the actions accordingly. All you have to do is install the application from the App Store and everything will be navigated by itself.
Conclusion
After learning about this best Mac cleaner, we are sure that you have figured out the necessity of a Mac cleaner already. We recommend you to download this software today for free, get your Mac cleaned up properly, optimize it, and for the smooth functioning of the system.
Do share your experience using this Best Disk Cleaner for Mac in the comments below!