Best Calendar Apps For Mac in 2023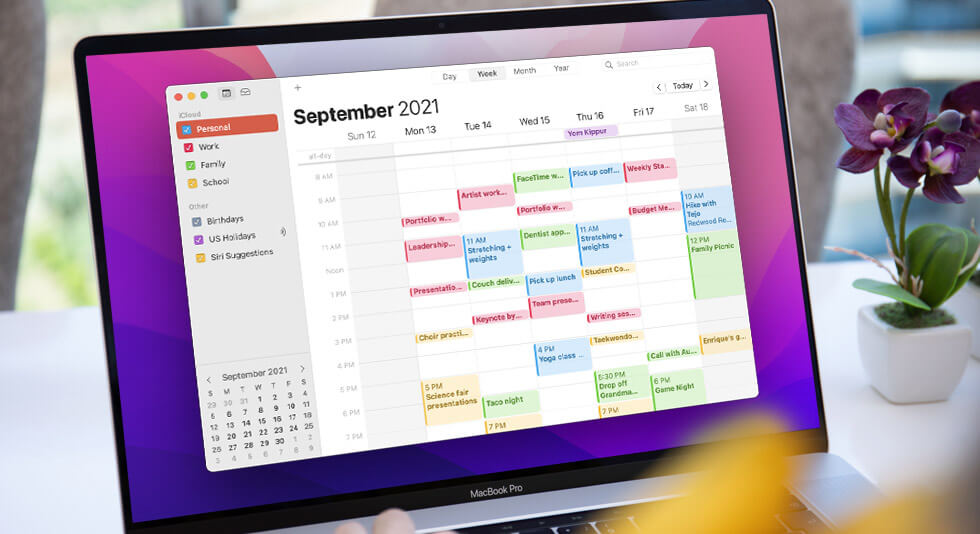 Paper Calendars had a charm of their own. But, this is a digital age, the various devices you have to keep you on the move and if you have a Mac, it's no different. So, why not consider using (or rather choosing) from some of the best calendar apps for Mac and keeping life organized.
What Should I Expect From Some of The Best Calendar Apps For Mac?
✅ User Interface Matters –
A neat, attractive, and simple to use interface.
✅ Sync Your Calendar App With Other Apps –
You should be able to sync your calendar app and its contents with other apps as well like Google Calendar, Outlook, Microsoft Teams, etc.
✅ Get Reminders When They Matter –
You get reminders when they are needed the most.
✅ Manage Day-To-Day Events and Tasks Like A Pro!
You should be able to manage events and tasks deftly. Let's face it – If you aren't able to do that, what's the app for, then?
✅ View Your Goals in Multiple Forms –
The best calendar apps should be able to visualize goals in the form of days, weeks, months, or even years.
Before We Begin – Do Consider Taking Control of Startup Apps
Every app that you install on your Mac, including the best calendar apps, takes you on a new journey, they give you a new experience. You certainly don't want any other app to pop up at the login screen and ruin that, do you?

Whether it be the best calendar apps on Mac or any other apps for that matter, we often deal with a situation where apps run at the startup. This can be an irritating situation because there are times when you probably don't want that. Also, some startup apps can slow down your Mac over the course of time. That's because there are startup apps that take a heavy toll on CPU cycles and memory. With time in your hands, take the plunge and put the redundant startup apps to sleep with the help of some of the best third-party startup manager apps for Mac.

For instance, CleanMyMac X is one of the best startup managers out there. Here's how you can stop programs from popping up at the startup using CleanMyMac X –

1. Download, run and install CleanMyMac X.

2. From the left-hand side, select Optimization under Speed.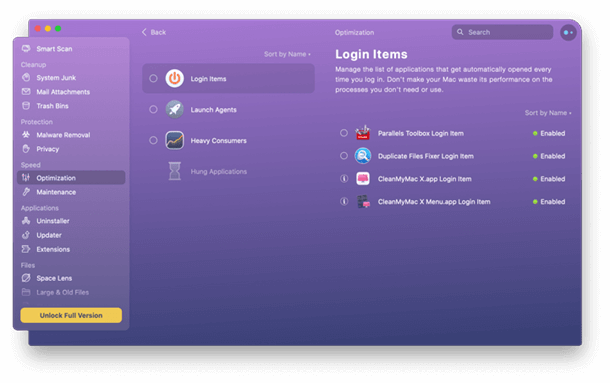 3. Check the radio button next to Login Items.
4. Select the apps that you want to stop at startup.
5. Click on Quit.
And there you are! You've just shut the apps that you don't want to run at the startup.
Want to know more about CleanMyMac X, its upsides, and cons? Check this CleanMyMac X Review.
Now, let's get straight to some of the best calendar apps on Mac, shall we? We have curated the list of some of the best, most efficient, and most attractive calendar apps that are out there.
Best Calendar Apps for Mac:
1. Fantastical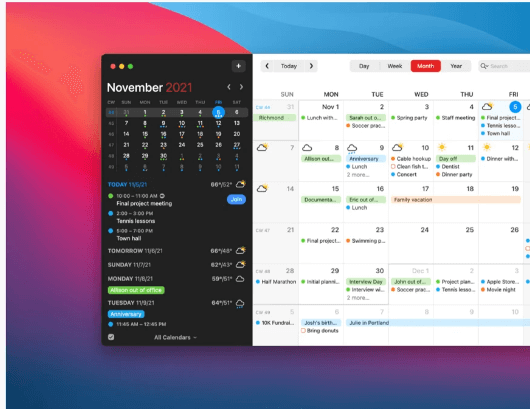 Flexibits's Fantastical stands up to its name. It is a fantastic calendar app that offers you everything in one place. Whether it is simply marking events on your calendar or joining web conferences, Fantastical is the calendar app you can trust. It has also been awarded the Mac App of the year.
Pros:
Brand new interface, multiple views, and detailed full screens for all Apple devices including the Mac.
Three themes to choose from fantastical, light, and dark.
Adding and joining conference calls was never more fun. It supports platforms like Google Meet, Microsoft teams, Zoom and Webex.
Fantastic widgets on your home screen make your tasks easier than before.
Calendars support holidays across the globe.
Cons:
Notifications can get stuck on your Mac as has been observed by some users.
Changing the time zone can be tough.
2. Apple Calendar for macOS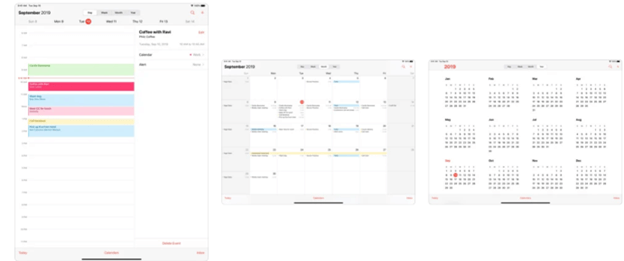 As a Mac user, your very calendar is integrated into your Apple device is probably one of the best calendar apps you can find for your Mac, iPhone, iPad, or even Apple Watch. It has a smooth user interface and it makes it easy to schedule events or tasks with a simple click or drag.
Pros:
Clean user interface.
You can use Apple's voice assistant (Siri) or Natural Language Processing (NLP) to dictate appointments.
Schedule appointments automatically at the desired time.
Sync with other Calendar apps.
It won't cost you a penny if you are an Apple user.
Cons:
It has no or limited task management options.
Hasn't been updated in a while.
3. Any.do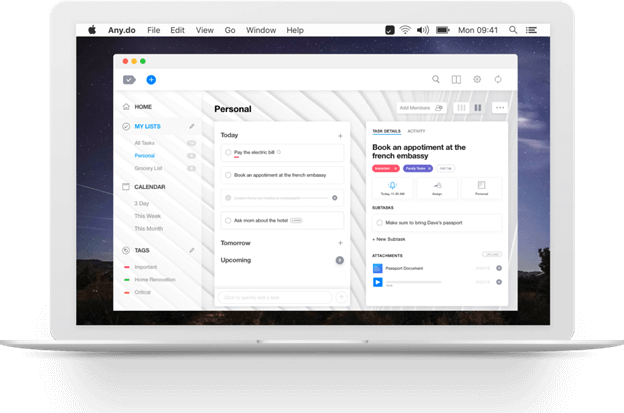 Any.do is one of the best calendar apps for Mac that combines the goodness of a calendar as well as a to-do list. It can be used by small to mid-sized businesses as well as freelancers apart from personal use. As one of the best calendar apps for Mac, it lets you control your day, week, and month with tasks and events in one place.
Pros:
Interactive and simple design.
The home screen widget puts all your events in one place.
Works seamlessly with other calendars like Google Calendar, Outlook, iCloud and more.
Focus on the events that really matter because of the Any.do app puts events in focus according to day and date.
Cons:
Microsoft integration can be slow at times.
You can't add a subtask to the main task.
4. WeekCal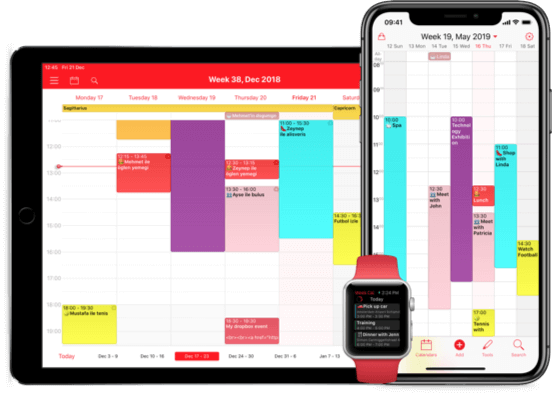 WeekCal is yet another great calendar app for Mac. It lets you view your tasks and appointments in a variety of formats – daily, weekly, monthly, and even yearly. It comes loaded with a variety of features such as easy scheduling of appointments, multilanguage support, cross-calendar app syncing, and many more.
Pros:
User interface facilitates fast usability.
Works well with all calendars such as Microsoft Outlook, iCal, CalDAV, Google Calendar, etc.
You can easily create repetitive events, create events based on rules, and move appointments with simple dragging and copy-pasting.
Easily sync calendars between different devices.
Join meeting like the ones on Zoom right from the calendar event.
Cons:
The free version has limited features.
Users have reported event duplication when creating templates with multiple repeating events.
5. BusyCal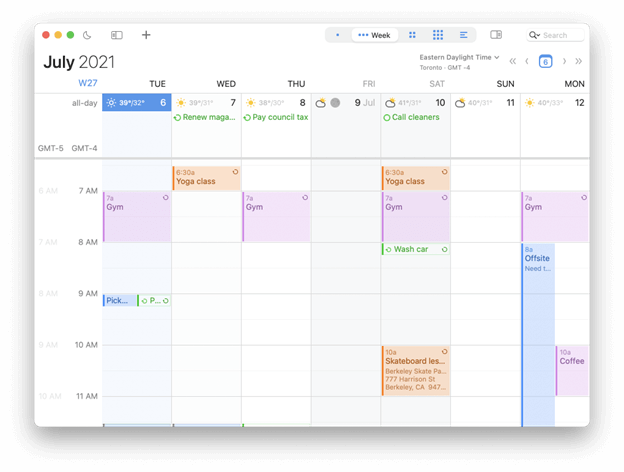 BusyCal is one of the best calendar apps for Mac which is highly customizable, flexible, and reliable. It is compatible with all major cloud services like iCloud, Exchange, Office365, ownCloud, and more. It is integrated with all major web conferencing solutions.
Pros:
Attractive, easy-to-use interface.
Embedded info panel in the sidebar for viewing and editing details of an event quickly and precisely.
Integrated well with web conferencing platforms like Zoom, Google Meet, and Webex.
Supports WLAN sync for those who don't want to use cloud services for security reasons.
Cons:
Syncing with some video calling platforms and other calendars can prove to be an issue.
A bit more expensive than competitors.
6. Calendar 366 II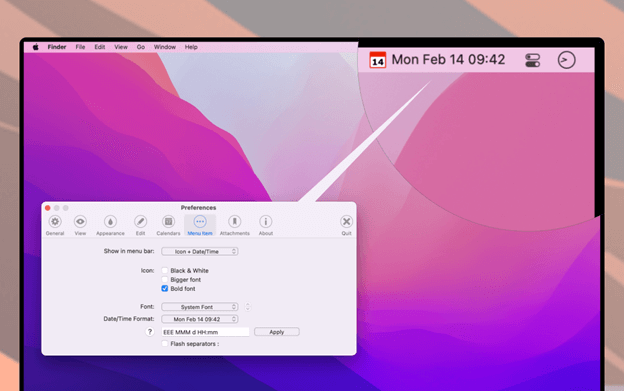 Calendar 366 II is one of the most complete menu bar calendars for your macOS. And, the best part is that it is compatible with macOS 12 (Monterey). It comes with a beautiful design and has a lot to offer.
Pros:
It offers 8 views and 9 themes
Use natural language input to view, edit, and add reminders & events.
With the help of spotlight search, you can quickly find your to-dos and events.
Customizable menu bar.
Comes with touch bar support.
Great resizability.
Cons:
iCloud integration could have been better.
Indicators can be confusing at times.
7. Microsoft Outlook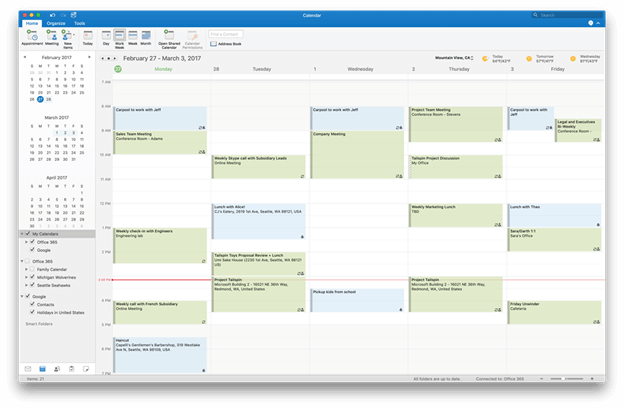 Worry not! We aren't taking you to another operating system. Even if you are on Mac, Microsoft Outlook can be a great calendar app, especially if work is what you worship the most.
Pros:
Outlook makes hosting regular meetings fun and easy by offering several templates for appointments.
Sync well with other calendar and web conferencing apps,
The forecast toolbar helps you get a glimpse of what's coming up over the week.
Offers attractive widgets.
Cons:
Inputting frequently-used details can be a problem.
A little complicated as compared to some of the other calendar apps on the list.
8. Google Calendar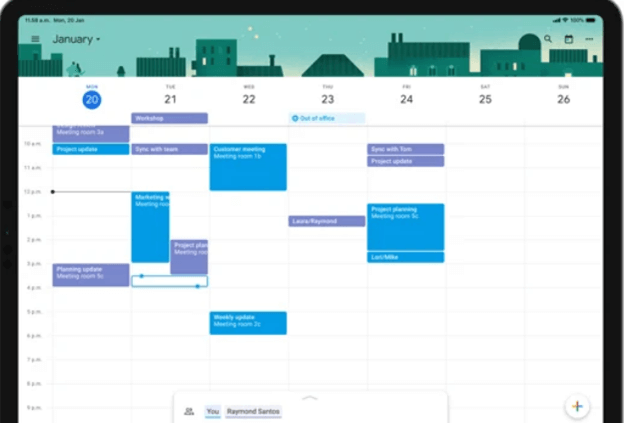 You can't sideline Google Calendar when talking best calendar apps. And, although Google Vs Apple is a hot battle that goes on between users, however, even if you are an Apple user or more specifically, a Mac user for that matter, you are still going to like Google Calendar for reasons more than one.
Pros:
Multiple views – month, week, and days.
Works with major calendar apps.
Add video conferencing to events on your calendar.
Easily schedule meeting in accordance with colleague availability.
Cross-device functionality.
Cons:
Lacks integration with some apps.
You may observe occasional crashes.
9. Itsycal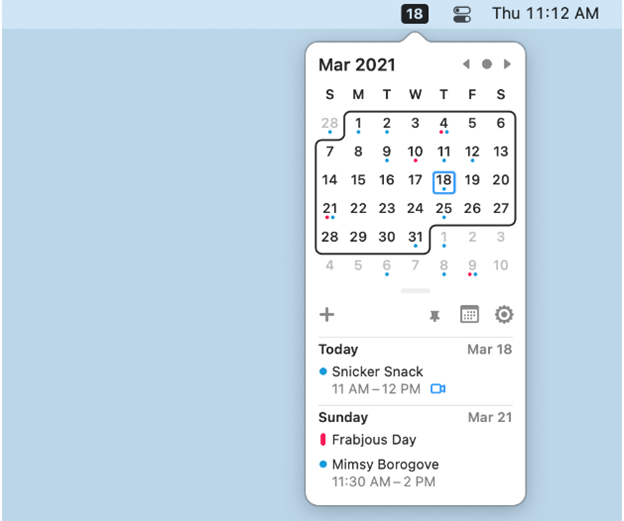 If you are happy with a handy, widget-like, small, and compact calendar for your Mac, you are going to love Itsycal. It places itself compactly on your Mac while putting all the details at a glance. Even though small, you can hardly doubt its presence.
Pros:
Compact size.
You can toggle between two modes – light and dark and change the appearance.
Everything at a glance without the app taking up space on your Mac's screen.
You can add to-do reminders.
Cons:
At the end of the day, Itsycal is still not a fully functional calendar.
10. Mini Calendar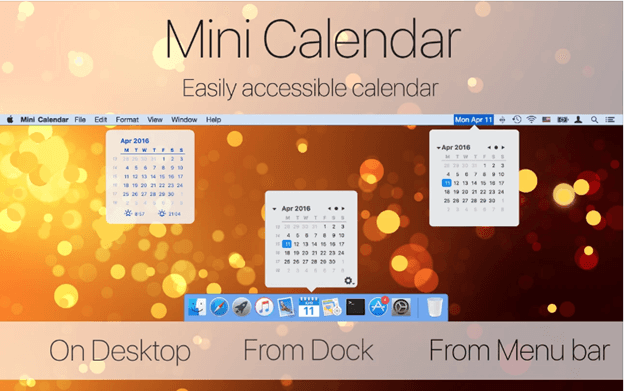 Looking for a calendar app for Mac that's lightweight? Mini Calendar can be a great option. It is a free calendar for Mac that even displays sunrise and sundown times. It comes with configurable shortcuts amidst several other features.
Pros:
Multiple ways to open. For example, you can open it by clicking on the menu bar, and dock icon, by creating a configurable shortcut, and as a notification center widget.
Each of the above ways is further configurable and you can then display the date, time, etc accordingly.
Configure the color of the calendar on your desktop as per your choice.
Display sundown and sunrise times.
Cons:
The widget size is not resizable.
Doesn't include regional holidays.
Wrapping Up
Which of the above apps according to you is the best calendar app for Mac? Do let us know in the comments section below. That being said, whatever app you use, we recommend that you have an app like CleanMyMac X on your Mac, so that redundant startup apps may no longer trouble you. For more such tech-related content, keep reading BestMactools.
Frequently Asked Questions on Best Calendar Apps For mac