10 Best Download Managers For Mac In 2023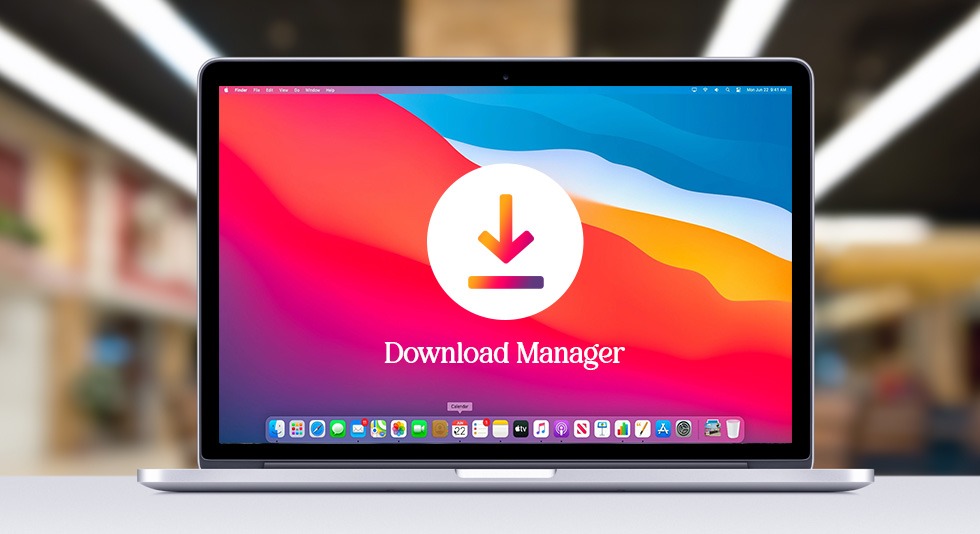 Downloading any video, audio, or document from the browser is surely a quick-fix option but sometimes you need a little more from what has already been present on your Mac. Well, it includes download managers for Mac which are designed specifically for downloading heavy movie files, music, video games, books, applications, torrents, and much more than a simple browser download cannot offer.
Apart from downloading the files directly, download managers can also provide a wide range of customization options to keep a check on your bandwidth. With that, they let you save time and space on the hard drive by allowing you to decide which downloads you need to keep running and which need to be paused.
There are many download managers, free or paid, but this blog is dedicated to telling you the best internet download managers for Mac that shall work best as per your need.
Which Download Manager is Best For Mac:
Before we get down to the list of some of the best download managers for Mac, you might be wondering what tips are for selecting a good downloader manager for Mac, right? We'll quickly jot down certain factors that will help you choose a decent download manager for Mac –
Easy to Use: The download manager for Mac that you choose should be easy to use. It should have a straightforward interface that lets you search for files online or head straight to files and folders.
Speed: Another feature that best download managers for Mac exhibit are a decent speed, if not a lightning-fast speed.
Wide Range of Websites Are Supported: A decent download manager for Mac is not merely a manager but a tool that can help you fetch video and audio files from various websites.
Look For Extra Features: At the end of the day, a download manager for Mac does what it is meant to do, manage downloads; however, what separates the best download manager for Mac from a regular one is the extra feature offered, such as the ability to edit or convert video.
Best Download Manager for Mac OS X:
1. Folx
Best in Overall Competition of Download Managers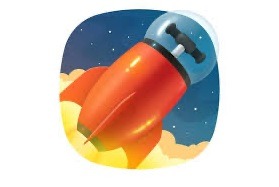 Folx is one of the best download managers for Mac that most Mac users love because of its ease of use, wide range of supporting features, and complete compatibility with Apple's latest operating system. The manager already possesses a Mac-style interface with handy tagging features to store your downloads conveniently.
You just need to type your query in the Folx download Manager for mac search bar and results would be displayed supported by a quick downloader. Now choose the required file and click Download attached to it. It is available for free and has a PRO version as well. The free version is amazing for all those who don't want to download files regularly.
Pros:
Full torrent compatibility with magnet links to download files hassle-free.
Folx PRO allows scheduling of downloads, speed control, and set priority accordingly.
Cons:
Sometimes it is difficult to uninstall browser add-ons.
2. Ninja
Best for Fast Speed Downloads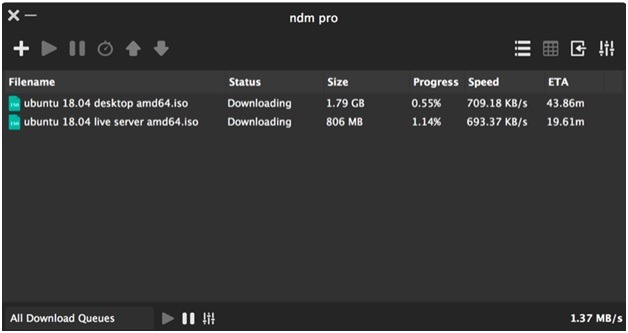 Simple, fast, and elegant downloading process could be seen with the Ninja download manager. It provides you blazing fast downloads as it can connect simultaneous connections and pressure up the speed. You can add several files that you wish to download but start them later.
What makes Ninja one of the best download managers for Mac is the fact that you can Schedule your downloads, manage the queue you have set up and control the speed as per your convenience with this download manager. Interestingly, you can find a password manager which could securely keep a track of various website logins by using an encrypted login manager. In a way, apart from being an efficient download Manager for Mac, it also doubles up as a password manager.
Pros:
Increase your download speed with multiple connections or threads.
Easily pause and resume downloads
Cons:
It doesn't have a free version to try and costs $19 as the minimum price.
3. Leech
Best lightweight Download Manager for mac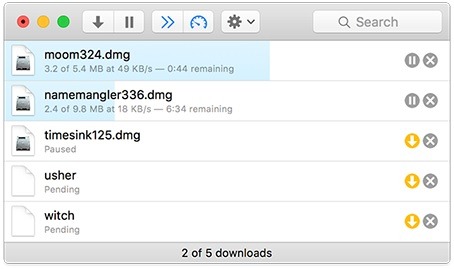 Leech is yet another great download manager for Mac that is capable of smoothly integrating into your browser. Moreover, it's so simple to use that you just need to drag and drop the URL in the downloader and everything is sorted later. The best part is its lightweight nature which doesn't make your system heavy or sluggish.
Limit or extend the bandwidth, control the schedule and master your downloads with this powerful download manager for Mac.
Pros:
Appealing and simple user interface for a newbie.
Available for Apple's new OS- Big Sur
Cons:
Not as many services are available when compared to others.
4. JDownloader
Free & Open Source Download Manager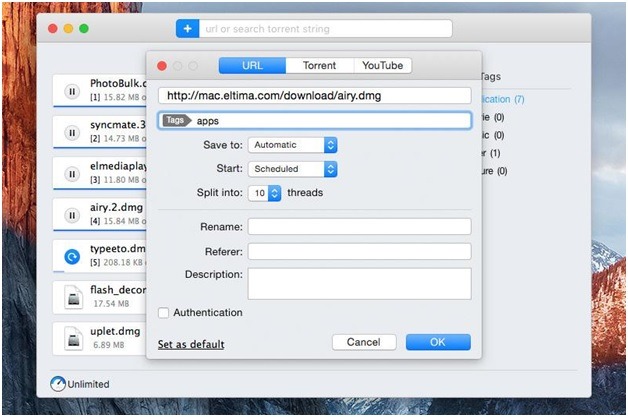 This free and open-source download manager makes downloading easy and fastest for every Mac user who wants to try basic features in their system. Users are free to start, pause, resume the downloads as and whenever they like, and even set bandwidth limitations on their terms.
It is also available on macOS Catalina and can be modified with simple coding features to work on any system.
Pros:
Appealing download manager to the users who know to code to make adjustments.
It displays some advertisements in between some which could not be safe for the system.
Cons:
As the application is designed in Java, it gets a little slow on startup.
5. iGetter
Best for Customization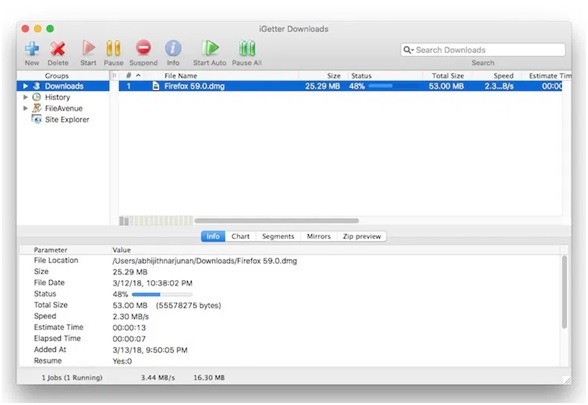 iGetter is one of the most popular and best download managers for Mac. It is entirely free and can easily integrate with your device. The user interface might make you go dry for a moment but knowing that it can finish all your jobs in one place would simply make you use this tool.
The level of customization it provides is again a big plus as you can customize all the preferences like download scheduling, download speed, and connection timeout at one single location. Other out-of-the-box features include Site Explorer, Site manager, and File-Avenue support.
Pros:
Get a tree view of all the folders with the download manager for Mac.
The free version is fully functioning without any limitations on anyone.
Cons:
Limited settings when compared to its competitors
6. Maxel Downloader
Best Minimal and Clean Interface
One of the best and minimal-looking download managers for Mac, Maxel is packed up with a lot of features despite its clean interface. It has been designed in such a way that it can easily fit into your workflow effortlessly. You can simply drag and paste links, drop snippets to extract links, automatically download large files from existing browsers and authenticate files from in-built browsers.
This tool is one of the best download managers for Mac because you can accelerate the real speed as this tool can split each download into 100 parts and download each part with maximum efficiency. That's great, isn't it? Moreover, it supports Safari, Chrome, and Firefox for browser compatibility.
Pros:
The resource consumption is pretty low.
Intuitive interface to keep you comfortable with the downloads.
Cons:
Navigation may confuse you a bit.
Get Maxel Downloader On Your Mac!
7. Progressive Downloader
Best Browser Integration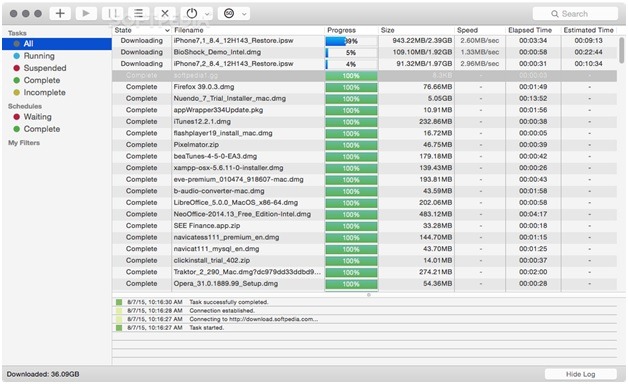 That's what this download manager for Mac makes downloads easier. We believe that this could help you with an easy downloading process, regardless of what file you want to download. This download manager for Mac is already packed with advanced features like pause and resume support, scheduling downloads, and much more.
It also has a special clipboard-based download triggering and one can use the program for managing content over FTP as well.
Pros:
Very good and simple to use interface.
Easy integration of browsers
Cons:
Speed acceleration may not be great.
Get Progressive Downloader On Your Mac!
8. Xtreme Download Manager
Increase Download speed 5 times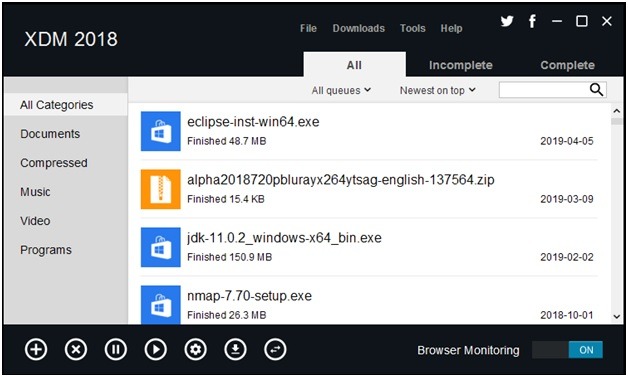 Xtreme Download Manager is one of the best download managers for Mac. It can increase download speed by about 500%, as claimed by the company, and can convert streaming videos from YouTube, Vimeo, and Dailymotion. It can integrate browsers like Chrome, Firefox, Opera, and Vivaldi.
How about adding a video converter that can easily download videos to popular MP3 and MP4 formats at the same time? Amazing, right? And this is why it is termed as one of the best download managers for Mac.
Pros:
It can resume broken or dead downloads caused by connection problems.
Supportive of HTTP, HTTPS, FTP, DASH, etc.
Cons:
User interface is not so friendly.
Get Xtreme Downloader On Your Mac!
9. Free Download Manager
Best Download Manager to Adjust Traffic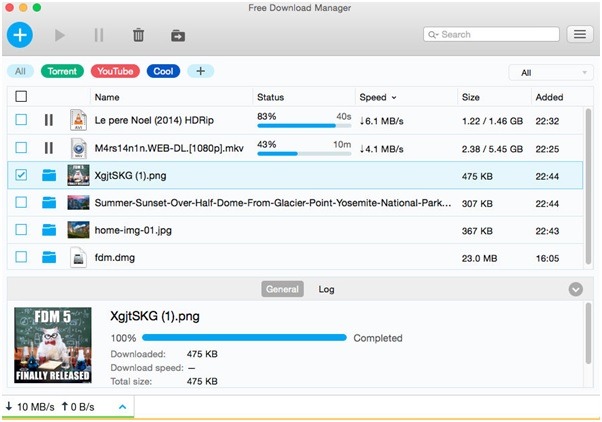 Despite being free of cost, Free Download Manager is hailed as one of the best download managers for Mac. It allows you to adjust traffic usage, control torrents' priorities, and efficiently download large files while resuming broken links. This download manager for Mac helps in processing media files of various popular formats. And yes, you can download files upto 10 times.
Browsers like Google Chrome, Mozilla Firefox, Internet Explorer, etc. are compatible.
Pros:
Free for all the users.
Supports torrents and has download categorization.
Cons:
There is a lack of a native user interface.
Get Free Download Manager On Your Mac!
10. Download Shuttle
Best for Multiple Downloads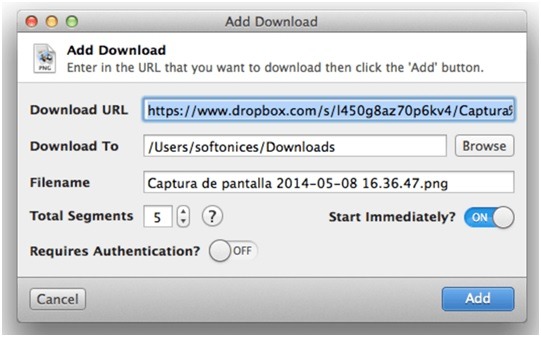 One can easily download anything from this download manager for mac which gives faster speed for multiple downloads. Moreover, you can have unlimited multiple downloads as the file is split into parts. You can even drag and drop download links which also ensures that speed is provided along.
Pros:
 Despite a simple user interface, users can easily access features.
You can decide the number of segments on your own.
Cons:
Lacks advanced features when compared to other download managers for Mac.
Get Download Shuttle On Your Mac!
Conclusion
We believe that these download managers for Mac would help you in downloading all the files that you need to download in your system. Most of the tools are free to use but some offer the paid version as well. You can choose to stay on the free version if you wish to keep file downloading for personal and occasional use but think of purchasing a premium version if you need to extract more from them.
Which version would you like to choose? Share your views in the comments section below.
FAQs: Best Download Manager For Mac