10 Best Encryption Software For Mac In 2023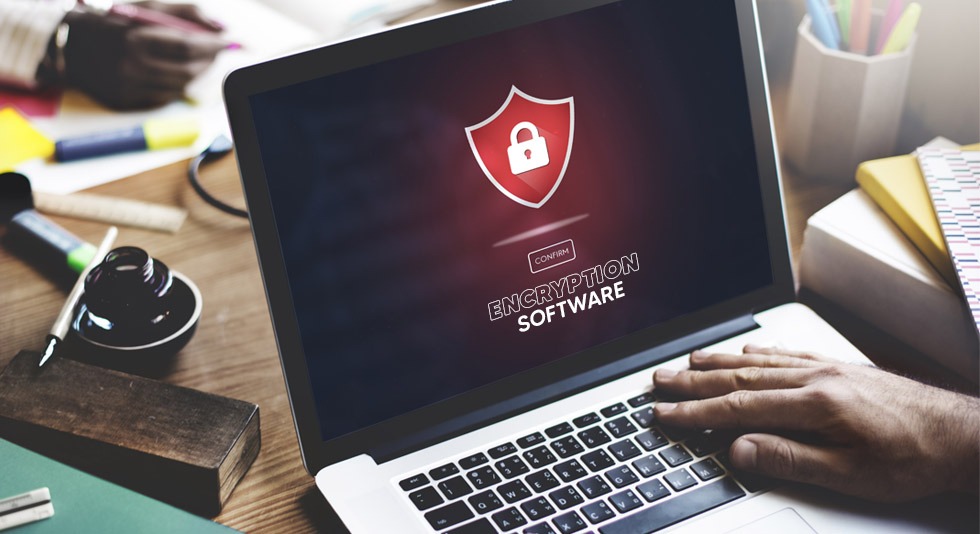 Good encryption software for Mac makes sure that your precious files, documents, photos, videos, and all the necessary things are kept safe and protected under a secured key. This encryption makes sure that no unauthorized user can access your data in any case and the personal details remain confidential.
Keeping personal data aside for a moment, any of the best encryption software is an essential tool for business owners as they do not want to lose bank information, transactions, passwords, employee details, or other information which could cost you, money as well as mental health at the same time.
Why Is An Encryption Software For Mac Is Must?
After reading the above statements, you must have already understood the reason for keeping encryption software in the system. Apart from this, identity theft is another important aspect to be kept in mind. Hackers all over the world try peeking inside the system to get credit card numbers, SSN, passport number, bank account number, etc. to gain personal information.
So put a reliable safety lock with file encryption software and don't let anyone go through your system details at all.
Best Encryption Software For Mac 2023
1. Cisdem AppCrypt
Websites and app encryption | Compatibility: macOS 10.10 or later | Purchase: Free trial available, License stars $29.99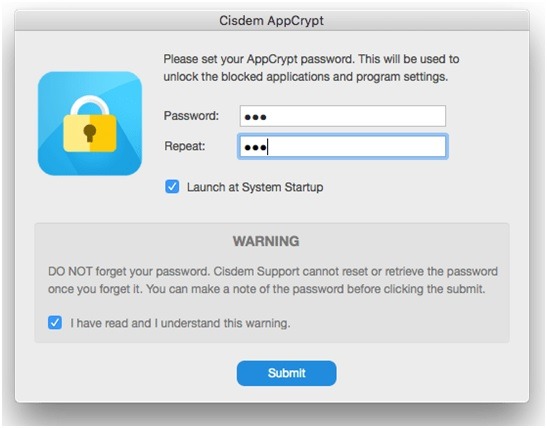 Cisdem AppCrypt is certainly the best encryption software for Mac as it locks all the apps and websites which can cause distraction in between your work. Websites like Facebook, Twitter, Reddit and other gaming websites could easily be locked behind the AppCrypt's key. With this, secure your photos, contacts, iTunes, mail and much more in just a matter of a few clicks.
Now anytime someone tries opening up any of the locked websites or apps, they need to enter a password. You can see the number of failed attempts to log in to your secured websites and apps. So yes, improve your productivity like never before using Cisdem AppCrypt.
Pros:
Gives specific time to users to lock particular apps or websites.
Tracks failed attempts to pass through the lock.
Cons:
If the password is forgotten, it cannot be retrieved.
Download: Cisdem AppCrypt
2. CloudMounter
Online data encryption | Compatibility: macOS 10.12 or later | Purchase: 15 days trial; lifetime license at $44.99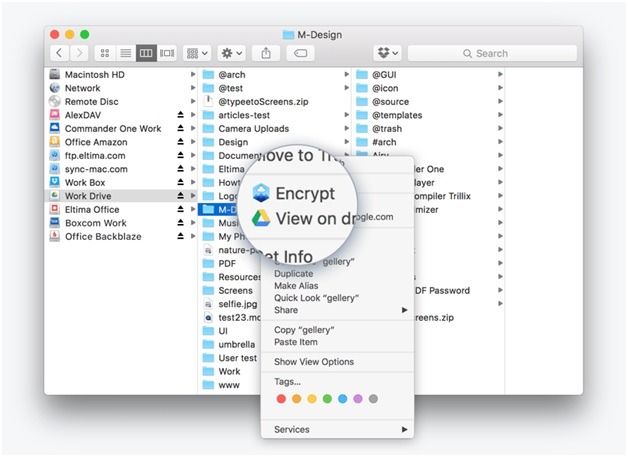 Many of us like to keep our data stacked up in a cloud server to save space in the system or keeping all the data stored in one safe location. But have you ever thought about encrypting cloud data storage under a secured password? Servers like Dropbox, Google Drive, FTP, FTPS, Amazon S3, etc. could be protected using CloudMounter.
The software is always keeping itself up to date, has an in-built Finder, and allows you to expand storage space in a macintosh easily. All you have to do is download the encryption tool, choose the files in the cloud and add a password to lock it down.
Pros:
Multi-cloud management.
Save space on your Mac.
Cons:
A lot of data on the cloud can create instability
Download: CloudMounter
3. VeraCrypt
Free encryption software | Compatibility: macOS 10.7 or later | Purchase: Available for free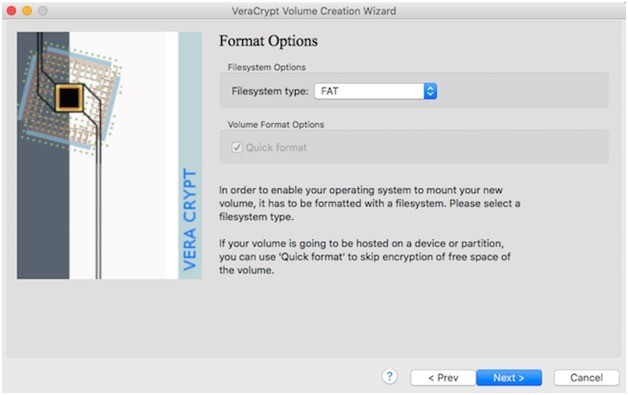 This free encryption software provides high-grade encryption for all Mac users. Interestingly, it is very easy to use and can easily help you in setting up passwords for all the data partitions. You just need to provide details about your data, like volume size, location, and specified algorithms and VeraCrypt does its job automatically.
VeraCrypt is immune to brute-force attacks and one can stay free from the tension of getting their data hacked. Backed up by fly-to-fly encryption or OTEF, you can customize your folder in any manner possible.
Pros:
Free and open-source disk encryption software
Various ways to encrypt files are available
Cons:
The user interface could have been more user-friendly.
Download: VeraCrypt
4. FileVault
Mac's in-built security system | Compatibility: macOS 10.3 or later | Purchase: In-built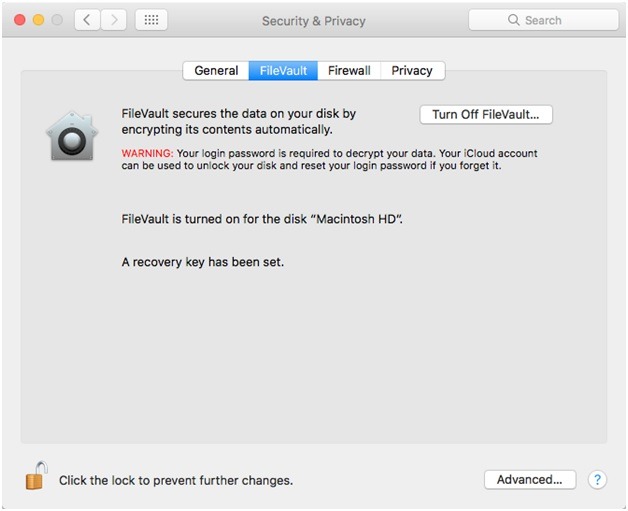 Anyone who doesn't want to download third-party software as encryption software for Mac can rely on in-built FileVault for security. It lets you make a master password prepared which could be used anytime the present password is lost or forgotten. The modern CPU power is leveraged to provide AES 128/256-bit encryption and users can even choose to leverage their iCloud account credentials to generate a recovery key.
However, it is not advised for business owners to completely rely on FileVault but keep this method on an individual scale only.
Pros:
Doesn't need to download any third-party software to access FileVault.
Military-grade encryption available
Cons:
Forgetting the password means failing to recover the data.
Download: FileVault
5. AxCrypt
Mac machine used by multiple individuals | Compatibility: macOS 10.8 or later | Purchase: Free trial; Starts $3.75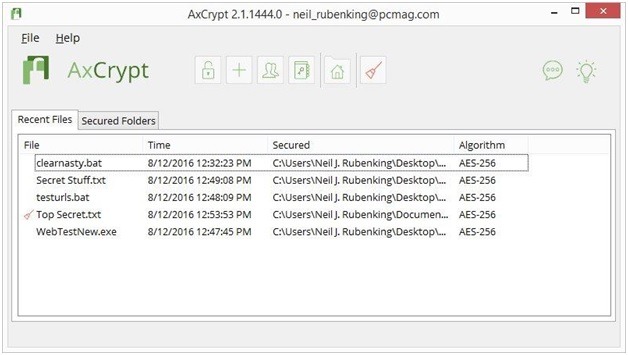 Most widely adopted encryption software for Mac, AxCrypt is a very reliable and powerful tool that cannot be surpassed by any means. It has been designed especially for those individuals who are into small businesses or working on the Mac for a longer run. The security is so strict that it provides about 128-bit or 256-bit encryption strongly.
This encryption tool also offers cloud storage capabilities with a mix; automatically protecting files saved in cloud storage as well as in the system. Another reason why it is favorable for most Mac users is that it's supportive of multiple languages like Dutch, French, Italian, Korean, Spanish, Swedish, Russian, and many more.
Pros:
Editions of encrypted files are possible.
Files could be deleted securely
Cons:
It may be risky if you do not set up a strong password.
Download: AxCrypt
6. Concealer
Hiding and encrypting files on Mac | Compatibility: macOS 10.10 or higher | Purchase: Free trial available; after that, $19.99.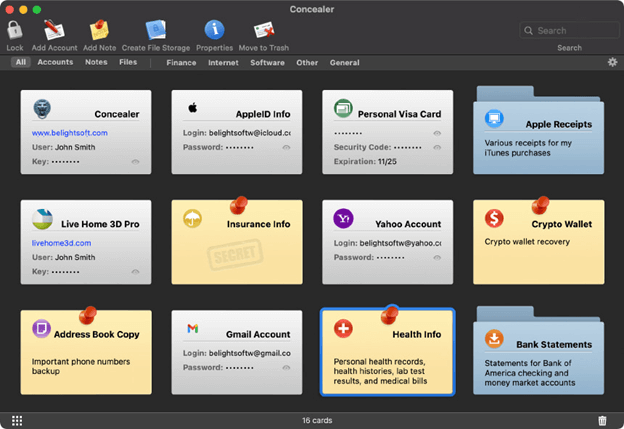 If you are looking for reliable encryption software for Mac, Concealer is a force to reckon with. You can rest assured that all your critical data, including website passwords, personal photos, files, credit card numbers, and other confidential details, are protected using AES-256 data encryption methods employed by the military.
Concealer offers ready-made templates that enhance its ease of use as you have all the fields where you can enter the details you want. It also allows you to move your card repository to a USB drive so you can take it anywhere you want.
Pros:
Hide and encrypt files and passwords.
Ability to move card repository to USB.
Cons:
The encryption options are limited as compared to some of the counterparts.
Download: Concealer
7. Disk Utility – Best Inbuilt Encryption Utility for Mac
Best inbuilt encryption utility for Mac | Compatibility: All Versions of Mac | Purchase: Free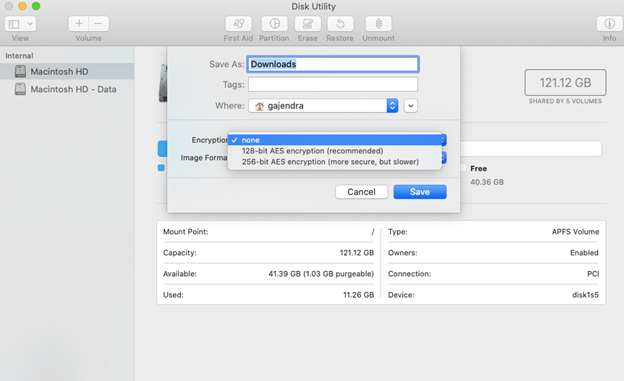 As a Mac user, you probably are aware of Disk Utility, but not many users know this feature can be used to encrypt folders as well. And, here we are not talking about weak encryption; disk Utility offers 128-bit and 256-bit AES encryption. You can either directly encrypt an existing folder, or you can choose to create an encrypted container. Here are the steps –
Open Disk Utility on your Mac.
Head to File > New Image > Image from Folder.
Select a folder you wish to encrypt and select Choose.
Select the desired location where you want to save this encrypted folder.
Choose the desired encryption type and further assign a password.
Choose an Image Format and select read/write so that you can add files.
Click on Save
Pros:
Disk Utility comes installed on your Mac.
Encryption and decryption of folders are easy.
Cons:
Not as feature-rich as many of the third-party encryption software for Mac.
8. Encrypto
Best way to encrypt files you want to send | Compatibility: macOS 10.9 or higher | Purchase: Free to use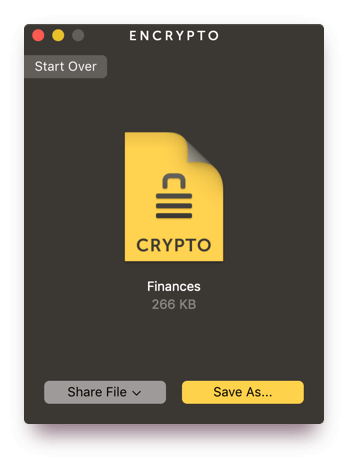 Encrypto is free to use encryption software for Mac that helps encrypt your files using AES-256 encryption. It comes from MacPaw, which is already popular for developing CleanMyMac X, one of the best Mac cleaners. If you intend to encrypt files and send them to someone, you can include a unique embedded password hint that only the recipient will be able to decrypt.
One of the best parts of Encrypto is that you can share encrypted files via AirDrop, Mail, Messages, or even Dropbox.
Pros:
Easy to use, you just need to put your files through Encrypto, and your files are secured on your hard drive.
AES-256 Encryption
Cons:
Duplicate files are created, which can be modified using this utility only.
Download: Encrypto
9. NordLocker
Free encryption software for Mac with cloud storage | Compatibility: macOS 10.13 or higher | Purchase: Free trial available with 3 GB cloud storage. Higher cloud storage, e.g., 2 TB, starts from $7.99/ month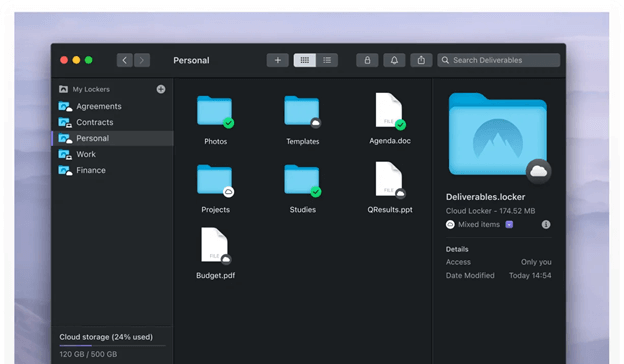 NordLocker is a great Mac encryption software. Once you put your files and folders behind this utility, thanks to the zero-knowledge architecture, no prying eyes or intruders can steal your data no matter what. Once you drag and drop the files you want to encrypt, they are backed up in an end-to-end encrypted cloud.
In short, NordLocker is a way to encrypt files on macOS that you can later access via other devices.
Pros:
High-end zero-knowledge architecture for intensive encryption.
Files are saved to the cloud and can be accessed via other devices.
Cons:
No two-factor authentication.
10. SimpleumSafe
Best real-time encryption software for Mac | Compatibility: macOS 10.12 or later | Purchase: $39.99.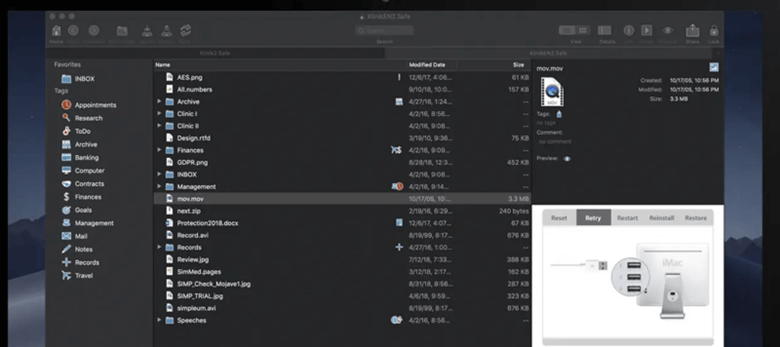 Last but not least, we have SimpleumSafe – Encryption which offers robust and continuous encryption. At the outset, all your data – photos, contacts (.vcf files), documents, and others are encrypted in real-time using AES-256 military-grade encryption technology. And while keeping your files encrypted, you can sync them or create shared folders (Mac to Mac).
It lets you view files in both icon form and list. SimpleumSafe lets you edit and organize files in an encrypted environment.
Pros:
Encrypted files can be synced in real-time, and they are continuously encrypted.
Simple drag and drop operation.
Cons:
On a pricier end as compared to some competitors.
Download: SimpleumSafe
Conclusion
We hope that the encryption software for Mac mentioned above would help you to keep your files, small or large, safe and secure from the onlookers. It depends on your choice now according to the files you want to encrypt. For example, encrypting cloud files need you to download CloudMounter whereas securing files within Mac needs you to download Cisdem AppCrypt or AxCrypt.
Which one is the best encryption software for Mac according to your opinion? Let us know in the comments section below!
FAQs: Best Encryption Software For Mac