Top 10 CCleaner Alternatives To Clean Your Mac [Free & Paid]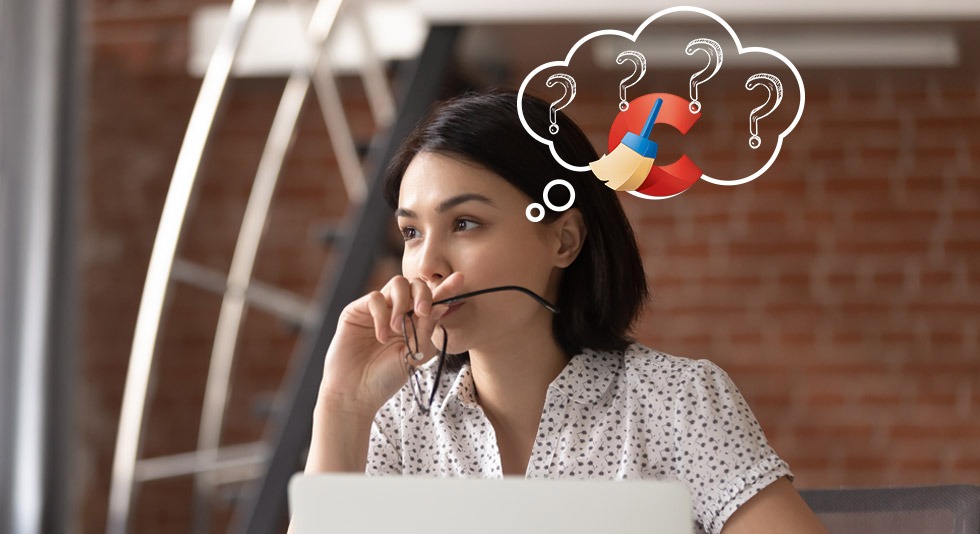 CCleaner is one of the most widely used tools to clean up your Mac and free up space. However, it doesn't mean that every user is satisfied with CCleaner as it has its flaws and setbacks like the inability to clean deleted files from a hard disk or forceful running in the background. This is why CCleaner alternatives could help you to find the best Mac cleaner.
Although CCleaner also provides a sleek interface with options like Uninstaller, custom folders cleanup and browser cleaning it lack a good updater, option for resetting applications, and time machine thinning. Considering all the additionalities that one may need, here is the curated list of CCleaner alternatives.
What is the Need for CCleaner Alternative?
There are various reasons why you might want to opt for a CCleaner alternative.
Some CCleaner installers are flagged as PUP or potentially unwanted programs by Microsoft Defender and some other Antivirus applications. A few years back, in 2017, hackers successfully injected malware into CCleaner (version 5.33.6162). Although there haven't been any such instances in CCleaner for Mac, even if you have the slightest spec of doubt, you might just want to opt for a CCleaner alternative.
There are many CCleaner alternatives for Mac that have a better interface and are more user-friendly. For a Mac cleaner, you would probably expect a less clunky interface instead of many other CCleaner alternatives that have a more streamlined interface.
A lot of CCleaner alternatives offer features that CCleaner lacks. From a pricing standpoint, such alternatives may compel you to change your decision if your primary choice was CCleaner. For instance, if you put CCleaner head to head with CleanMyMac X, you will find that CCleaner can't uninstall large and old files, it doesn't have an updater, or can't fix hung applications.
Best CCleaner Alternatives For Mac OS X – Paid & Free Mac Clean Tools
1. Cleanup My System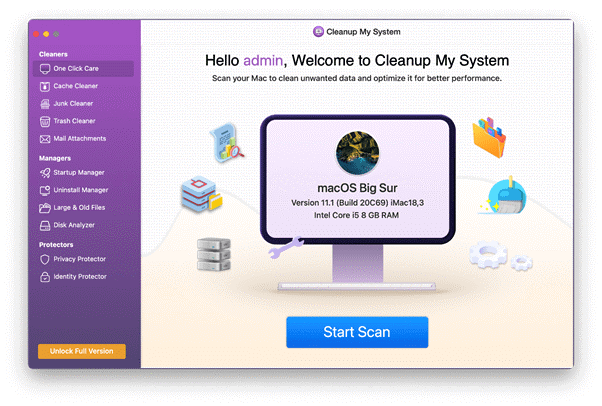 Read Complete Review of Cleanup My System
Another great CCleaner alternative for Mac is Cleanup My System. This one tool wears lots of hats, has a decent interface, and in simple words, it cleans your system inside-out. It has neatly categorized various features under three categories: Cleaners, Managers, and Protectors.
Under the Cleaners section, you can get rid of every ounce of unnecessary cache, junk, trash, or even mail attachments. Not just that, you can even see how much space you will be able to recover after you have deleted such redundant items from your Mac. To give you a glimpse of what junk we are talking about, Cleanup My System helps you eliminate potentially unwanted deleted items, unnecessary downloads, crash reports, and many such items.
Next, we have the Managers section, where you can manage startup items that launch without your prior knowledge and eat up the resources of your Mac. Here, you can analyze large and old files and choose what to keep and what not to.
Last but not least, Cleanup My System helps you remove all privacy and identity traces in your search history, your autofill data, or anywhere else.
Pros:
Separate modules for cleaning unwanted cache, redundant files, and identity/ privacy traces.
Easy to use interface.
Cons:
No specific malware removal module.
Price: Free. Then, $34.99
2. CleanMyMac X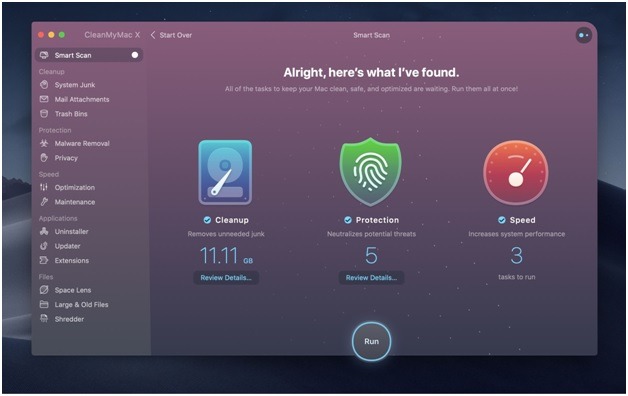 CleanMyMac X is a powerful alternative to CCleaner where it offers the easiest ways to eliminate outdated cache files, logs, corrupt downloads, and multiple other useless files. While it declutters your system, it also brings out a huge chunk of space in a few clicks alone. Interestingly, it comes with a smart assistant tool that assists you in deep cleaning your Mac timely.
The protection module offers protection from malware, spyware, adware, ransomware, and multiple other malicious threats so that your privacy remains intact. It even helps to erase browsing history, online and offline activities and removes problematic apps completely.
Price: Free version could be downloaded with limited functionality. The price starts at $34.95 per year.
Pros:
Logical and clean interface.
Very fast scanning speed and easily frees up gigabytes of space.
Cons:
Duplicate files couldn't be detected.
Download: CleanMyMac
3. MacBooster 8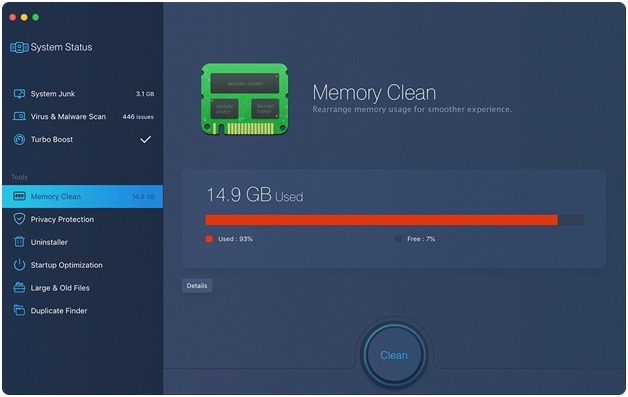 MacBooster from Iobit is another software for Mac cleaner which provides a huge collection of tools to monitor the overall performance and status of a mac machine. Its unique dashboard provides you a plethora of options to manage your Mac, including memory cleaning, Uninstaller for removal of applications and unique Turbo Boost.
Apart from cleaning, MacBooster also has privacy and security features to offer so that your Mac can keep a safe distance from threats like malware, adware, spyware, and other viruses. Fix Mac disk permission issues and improve the performance of the system in no time!
Price: Starts $39.95
Pros:
Cleans up to 20 types of junk files under deep cleaning.
The scan engine is very powerful to remove junk from remotest sections.
Cons:
Older Mac versions may face compatibility issues.
 Download: MacBooster 8
4. Avast Cleanup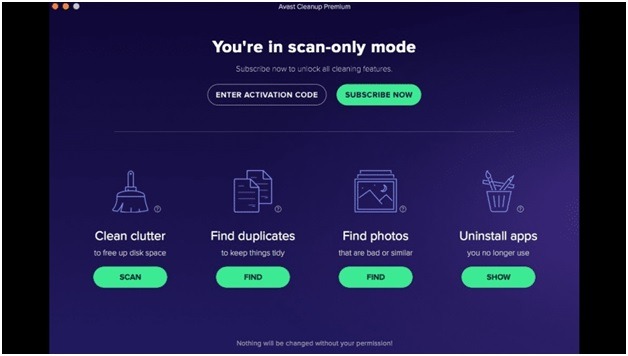 In the list of best alternatives of CCleaner, we have Avast Cleanup as one another amazing software. It is capable of cleaning the clutter which is hidden in the deepest beds of your Mac so that the performance remains stable and smooth. Apart from cleaning clutter, you can also free your Mac from duplicates, photos that are not of any use, and much more.
The uninstaller within makes sure that traces of deleted applications are also removed as soon as apps are cut down.
Price: The trial version could be downloaded for free. Products price starts at $59.99
Pros:
Doesn't consume a lot of resources which helps in saving memory.
Very simple and understandable user interface.
Cons:
The trial version is although available for 60 days but it requires you to login with a credit card or Paypal details.
Download: Avast Cleanup
5. Stellar SpeedUp Mac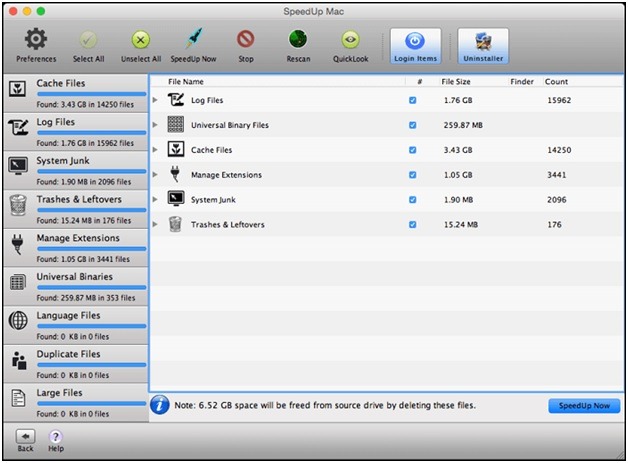 One of the best CCleaner alternatives, Stellar SpeedUp Mac is popular with its Mac utilities where advanced algorithms are also present. It allows users to easily free up the disk space and improve the system performance through the elimination of unwanted logs, trash files, duplicates, and apps that have been unused for a long time.
Interestingly, Stellar can automatically detect the boot volume and even recommend other scans, if required. You are free to schedule the tasks which need to be done at a specified time and date.
Price: Starts $39.99
Pros:
All the major junk file types are removed by Stellar
Helps you in removing duplicate files and unwanted login items.
Cons:
The application could prove to be a little more resource-hungry than its competitors.
Download: Stellar SpeedUp Mac
6. AVG TuneUp For Mac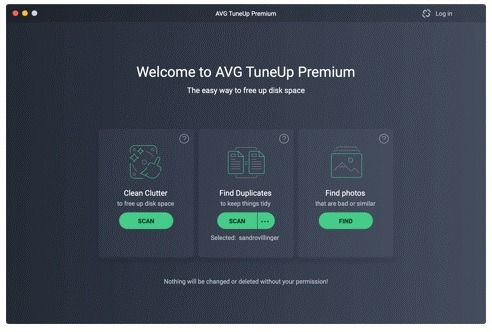 Another amazing CCleaner alternative brings you next to AVG TuneUp for Mac which comes up with cleaning and optimizing solutions in one place. It provides a multilayer system to check the performance while removing temporary files, cache files, trash, long-forgotten downloads, and files stored in browsers. Most importantly, it could all be done automatically.
All the duplicates residing in your system can be cleared out at one end. On the other hand, it has an AI-powered Photo finder that can also figure out poor-quality pictures and ways to find out similar photos.
Price: Starts $79.99
Pros:
Powerful scanning engine for deep cleaning.
Helps in streamlining photo collection along with duplicate photo finders.
Cons:
Lacks security features which is an essential part of a CCleaner alternative.
Download: AVG TuneUp for Mac
7. DaisyDisk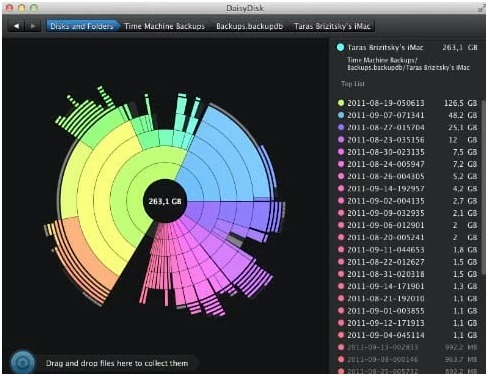 DaisyDisk is an out-of-the-box CCleaner alternative that completely scans out your system for unnecessary files which hog your resources and makes your Mac sluggish. If you would notice the user interface, a proper overview could be noticed explaining the files eating up more space or not.
DaisyDisk has a fast scanning engine that takes only a few seconds to scan out the whole system. Many professionals, filmmakers, and artists all over the world prefer using DaisyDisk for its exciting and appealing look. The ease of use is another reason why many users love to use this CCleaner similar tool.
Price: Free trial is available. Price ranges between $4.99 to $9.99 
Pros:
Beautiful color-coded chart for easy understanding of memory storage.
Best for budget users.
Cons:
Older Mac versions may find compatibility issues with DaisyDisk.
 Download: DaisyDisk
8. AppCleaner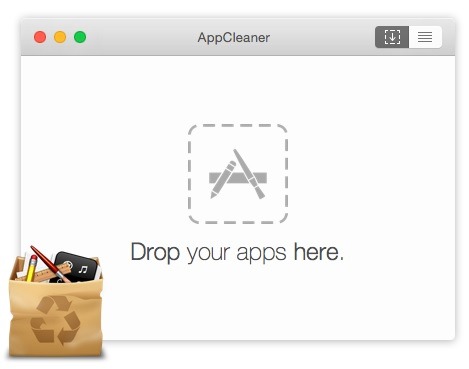 This CCleaner alternative might not have a huge section of services to offer you but it has a powerful way to uninstall the applications you do not want anymore. Once you uninstall the application, it leaves a trail of unwanted files in the system which could eat up space for no reason. But if you drag the application and drop it into AppCleaner, it is sure that you will get rid of unnecessary extensions.
Price: Starts $19.99
Pros:
Very smooth interface with no hassles.
Minimalist design
Cons:
Group selection of applications is not possible.
Download: AppCleaner
9. MacFly Pro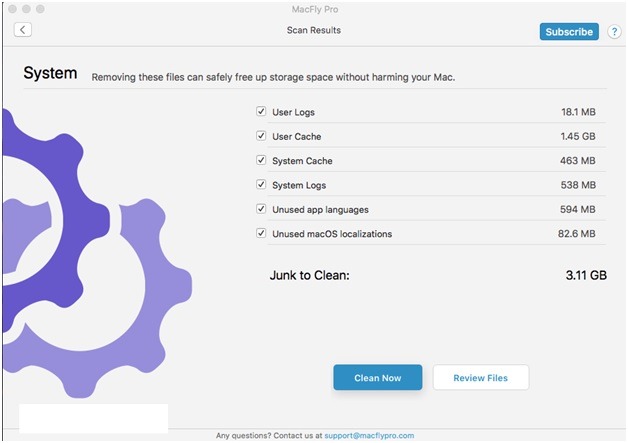 Coming to cleaning junk files, removing duplicates, and optimizing your Mac at high performance, one can rely on MacFly Pro. This could be a great alternative to CCleaner as it is designed to clean up essential advanced junk in the system. If you see the tool, you can find modules like Smart Assistant, Cleanup & Tools.
Here, smart assistants inform the users about required improvements to let the Mac perform in the best way possible. The Cleanup module is meant to scan and remove unwanted files that ultimately slow down the system. The final module is meant to scan the whole system deeply.
Price: Starts $13.95
Pros:
Creative interface for seamless user experience.
Easy handling of duplicate files and obsolete apps.
Cons:
The latest versions of Mac may not be compatible.
Download: MacFly Pro
10. OnyX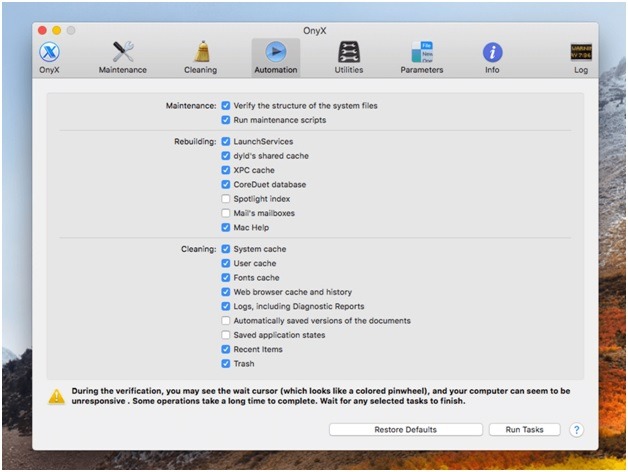 From the house of Titanium software, OnyX is a free multipurpose utility software to optimize the Mac and allow machines to run most smoothly. It helps in quickly decluttering the system, free up the disk space, monitor system memory and boost the overall performance. Consider that you are just a click away to clean and optimize your Mac with OnyX!
Price: Free
Pros:
Free CCleaner alternative and performs all the aspects of basic cleaning
Lightweight for the system resources
Cons:
Offers very limited options of cleaning.
Download: OnyX
Wrap-Up
We believe that these CCleaner alternatives are good enough to make a better choice other than CCleaner. All the flaws that you could find here could be resolved with your smart choice from the listicle above. Which one did you choose for yourself? Let us know in the comments section below.
FAQs: CCleaner For Mac Alternative
1. What is wrong with CCleaner? Why look for an alternative?
There is nothing much wrong with CCleaner but it certainly carries some flaws which are covered in CCleaner alternatives. For example, CCleaner doesn't find duplicate files, eats resources and energy, and lacks a good updater. At the same time, its alternatives help in covering these flaws.
2. Are the CCleaner alternatives safe to use?
Yes, CCleaner alternatives are safe to use. Although it is required that you download the alternative which is mentioned in the list above and not any unreliable website.
3. Which is the best CCleaner alternative, paid or free?
Most of the CCleaner alternatives offer trial versions before your purchase the premium version. It is necessary to look into the features and your requirements before finally judging which is the best alternative for CCleaner.