How to Convert MOV to MP4 on Mac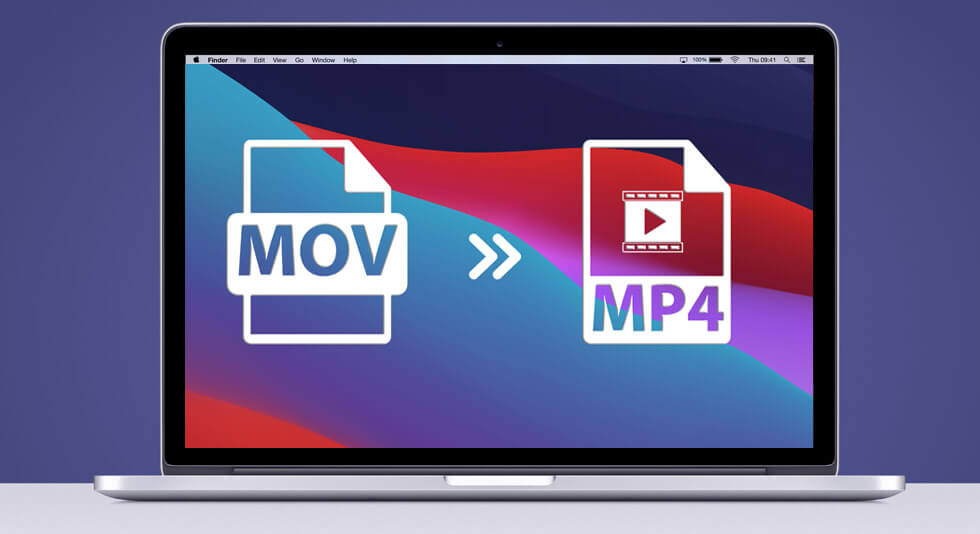 Agree or not but videos have become an integral part of our lives. Isn't it? However, compatibility issues can often hinder our seamless viewing experience. You've probably encountered it before – trying to play a video, only to be met with an error message stating that the file format isn't supported. Well, if you're a Mac user, you might have encountered this challenge when dealing with MOV files, the favored format for many Apple devices. But fear not, as a simple and effective solution is at your fingertips – converting MOV to MP4.
In this guide, we'll help you transform MOV files into universally compatible MP4 format on your Mac. Whether you're a video enthusiast, a content creator, or just someone who wants to enjoy their videos without technological barriers, this tutorial will equip you with the necessary tools and knowledge to convert MOV to MP4 on Mac seamlessly. Say goodbye to compatibility woes and hello to a world where your videos can be enjoyed on a wide range of devices and platforms.
Also read: 15 Best Video Converters For Mac
MOV VS MP4: What is the Difference?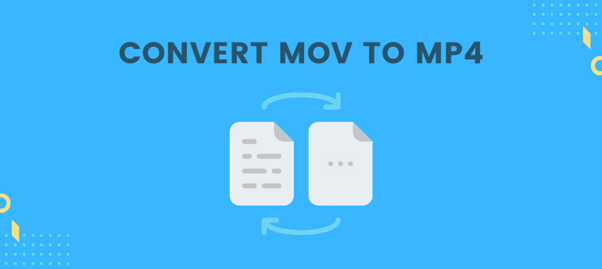 MOV and MP4 are popular video formats. MOV is preferred for Apple devices but may have compatibility issues elsewhere. MP4 is universal, with broad compatibility, making it great for sharing and streaming. MOV suits editing, while MP4 is efficient for online use. Convert MOV to MP4 for wider accessibility and seamless playback. Whether you're a Mac user or not, understanding these format differences empowers you to choose the right one for your needs.
Also read: 10 Best Video Players for Mac
How to Convert MOV to MP4 on macOS?
In this guide, we have listed a range of methods at your disposal to effortlessly convert your MOV files to the versatile MP4 format on your Mac. Here you go!
Method 1: Use iMovie
iMovie, a user-friendly video editing software by Apple, provides a straightforward pathway to convert MOV files to the widely supported MP4 format. Here's a step-by-step breakdown of the process:
Step 1: Launch iMovie either from your Applications folder or by utilizing the Spotlight search feature.
Step 2: Start by selecting the "Create New" project option and opt for the "Movie" category. Drag and drop your MOV file into the project area to import it.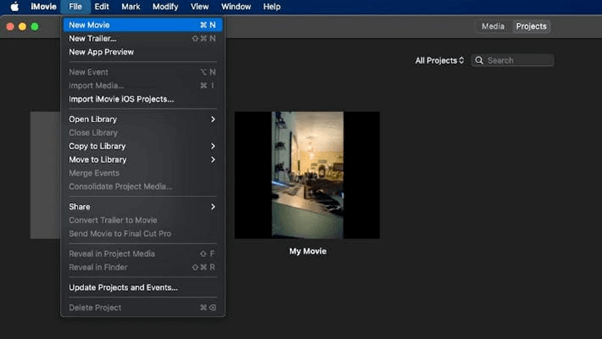 Step 3: If desired, take advantage of iMovie's editing capabilities to enhance your video with transitions, effects, or other adjustments.
Step 4: After finalizing your edits, navigate to the "File" menu and choose "Share," followed by "File." In the ensuing window, designate the "File Format" as "File." Beneath "Compress," opt for "Video and Audio".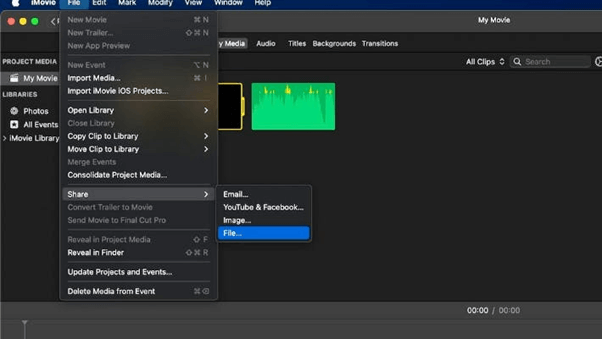 Step 5: Click "Next," specify the destination for your newly converted MP4 file, and conclude by hitting the "Save" button.
iMovie will deftly convert your MOV file to MP4 format, and the resulting file will be neatly stored in the location you assigned.
Method 2: Use Terminal
For the tech-savvy, another option to convert MOV to MP4 on Mac involves using Terminal. Note that this requires downloading free open-source software, FFmpeg. Here's a quick rundown:
Step 1: Download FFmpeg, a suite of libraries for media format handling.
Step 2: Launch Terminal on your Mac from the Utilities folder.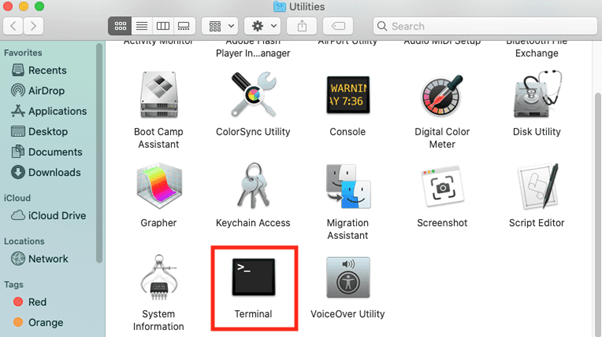 Step 3: In Terminal, input:
ffmpeg -i input.mov output.mp4
Replace "input.mov" and "output.mp4" with your file names or paths.
While Terminal offers a direct solution, exercise caution if you're not familiar with technical intricacies. If this isn't your comfort zone, you might prefer other methods.
Method 3: Effortless Conversion with Movavi Video Converter
For a user-friendly approach to MOV to MP4 on Mac conversion, look no further than Movavi Video Converter. This dedicated software streamlines the process, making it accessible to users of all levels. Here's how to do it:
Step 1: Begin by downloading and installing Movavi Video Converter from their official website. Open Movavi Video Converter once the installation is complete.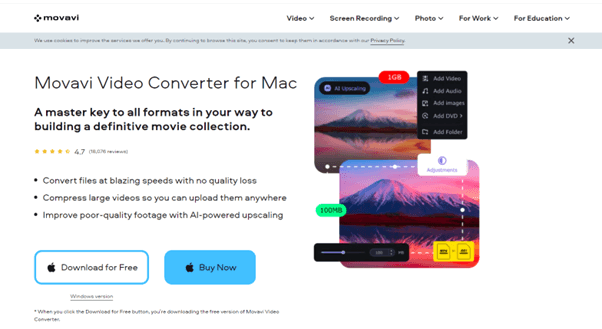 Click Here to Download Movavi Video Converter
Step 2: Click on the "+ Add Media" button and select "Add Video." Locate and import your MOV file into the program.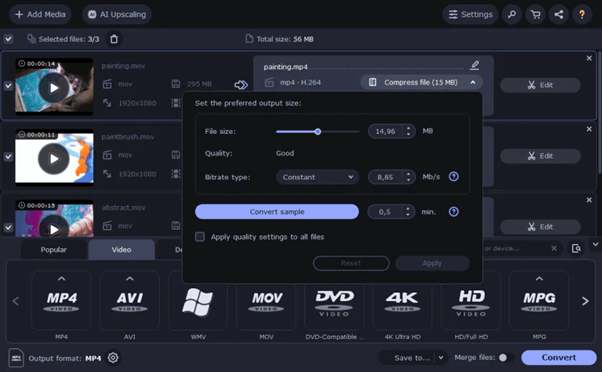 Step 3: Click on the "Video" tab, then select "MP4" as the output format. You can also adjust settings like resolution and quality if desired.
Step 4: Choose the destination where you want your converted MP4 file to be saved.
Step 5: Hit the "Convert" button to initiate the conversion process. Movavi Video Converter will efficiently transform your MOV file into MP4 format.
Step 6: Once the conversion is complete, navigate to the output folder you selected to find your newly converted MP4 file.
Movavi Video Converter's intuitive interface and comprehensive features make it an excellent choice for hassle-free MOV to MP4 conversion. This method is particularly suitable for users seeking a seamless and efficient solution without delving into technical complexities.
Also read: Unleash Your Creativity: Movavi Video Editor for Mac Review
Method 4: Use Third-Party MOV to MP4 Converters
If you're looking for a versatile solution beyond the native options, utilizing third-party MOV to MP4 converters offers another avenue to explore. These dedicated tools are designed to simplify the conversion process while providing a range of features.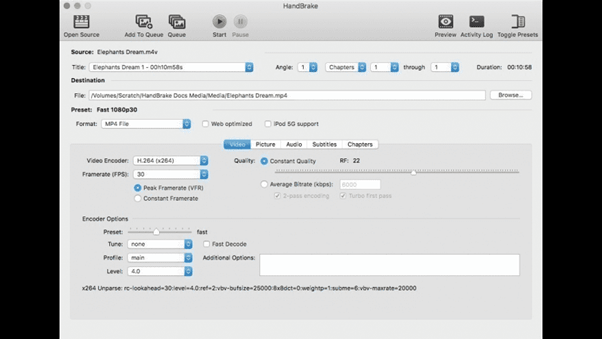 HandBrake is a popular open-source video transcoder that's known for its flexibility and advanced options. It supports a wide range of input formats and allows users to customize output settings. While it offers powerful features, it might require a bit more technical know-how.
Online-Convert is a web-based converter that requires no software installation. It's convenient for quick conversions, but keep in mind that it relies on an internet connection and might have limitations in terms of file size and privacy.
Freemake Video Converter is a straightforward tool that offers a simple drag-and-drop interface. It supports many formats, offers basic editing options, and is suitable for users who want a no-frills conversion process.
Remember to choose a converter that aligns with your specific needs, whether you're looking for advanced options, simplicity, or specialized features. It's also a good practice to verify the software's compatibility with your macOS version and ensure you're downloading from reputable sources.
Also read: How To Compress Video On Mac – Easy Ways
Conclusion
This wraps up our guide on how to convert MOV to MP4 on Mac. In a world brimming with diverse devices and platforms, ensuring your videos can be enjoyed seamlessly becomes paramount. Armed with this guide, you now possess a toolkit of options to seamlessly navigate the MOV to MP4 conversion process.
Whether you opt for the familiar territory of iMovie, the technical prowess of Terminal, or the user-friendly convenience of Movavi Video Converter, the choice is yours. Happy converting!
conver