Unleash Your Creativity: Movavi Video Editor for Mac Review 2023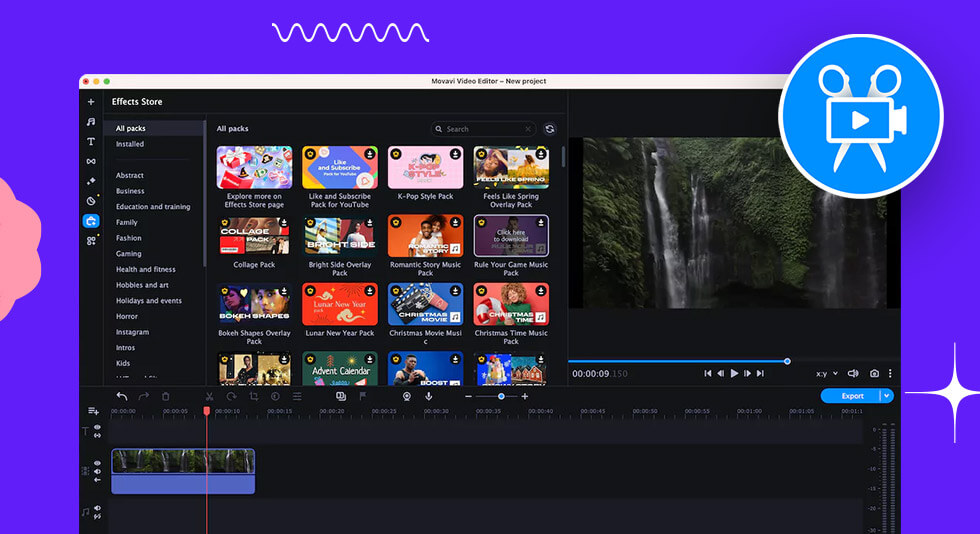 Video editing has become increasingly popular in recent years, with individuals and businesses alike or anyone who wants to unleash their creativity on a digital platform. Movavi Video Editor for Mac promises to be a powerful tool that simplifies the editing process while offering a range of advanced features to bring your creative visions to life.
If you're a creative individual or a professional looking for intuitive and feature-packed video editing software specifically designed for Mac, then you've come to the right place. In this blog post, we'll dive deep into the world of Movavi Video Editor 2023 and explore its capabilities, ease of use, and overall performance on the Mac platform covering a detailed review.
Movavi Video Editor for Mac: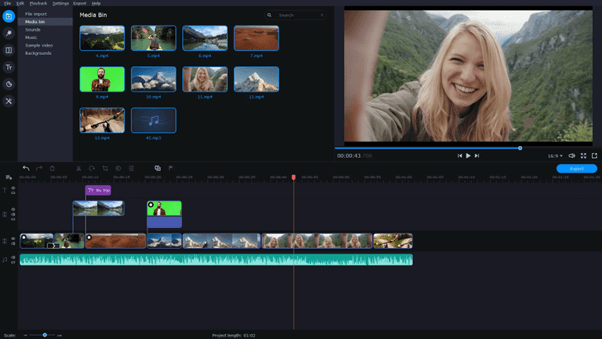 Click Here to Download Movavi Video Editor For Mac
From basic video trimming and cutting to advanced effects, transitions, and audio enhancements, Movavi Video Editor 2023 promises to provide a seamless editing experience for users of all skill levels.
The software allows you to import video files from various sources, including cameras, smartphones, and other devices, making it easy to start editing your footage. You can trim and cut clips, merge multiple videos, and apply transitions to create smooth and polished video sequences.
With this software, you can turn your ideas into engaging videos to share on YouTube, TikTok, and other social media platforms. Whether you're looking to create a viral challenge video, a daily vlog, or an educational tutorial, Movavi Video Editor provides the tools you need to make it happen. With slow-motion, reverse, and other special effects, you can add a touch of magic to your videos and make them stand out from the crowd.
The software also offers a range of ready-made intros, animated titles, and thematic stickers, making it easy to add a professional touch to your content. And with the chroma key feature, you can change the background in your videos to anything from a solid color to outer space, adding even more creativity to your productions.
Also read: Movavi Photo Editor Review for Mac – 2023
What We Loved About Movavi Video Editor 2023 (Key Features)?
Let's walk you through its user interface, discuss its range of editing tools, and highlight any notable improvements from previous versions, allowing you to make the most of Movavi video editor for Mac.
1. Supports A Wide Range Of File Formats
No longer will you find yourself stuck in the hassle of file format conversions or struggling to import your precious footage. Movavi Video Editor 2023 embraces videos in various formats. Whether your files are in the commonly used MP4, AVI, or MOV formats, or if you've got more unique file types, Movavi has got your back.
Hence, compatibility issues are a thing of the past. With Movavi Mac app, you can successfully tackle one of the most frustrating roadblocks that often hinder the video editing experience.
2. Intuitive Interface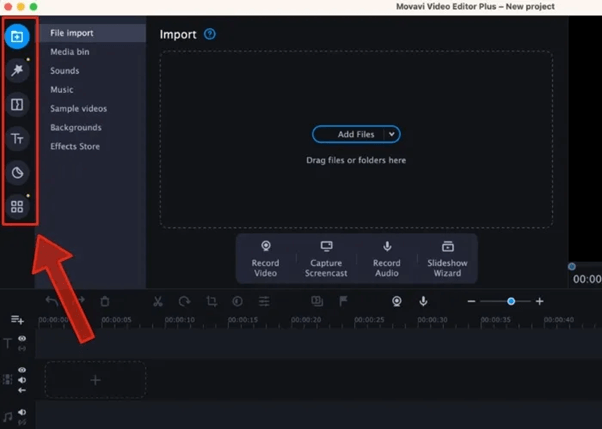 One of the standout features of Movavi Video Editor for Mac is its neatly categorized timeline and user interface. Designed with user-friendliness in mind, the software provides an intuitive and organized editing environment that makes the process smooth and efficient.
The timeline in Movavi Video Editor is thoughtfully structured, allowing you to easily navigate and manipulate your video clips. On the left menu pane, you will find all the options at quick access including Media Bin, Sounds, Music, Sample Videos, Backgrounds, Effects Store, and more.
3. Quick Access to Clip Properties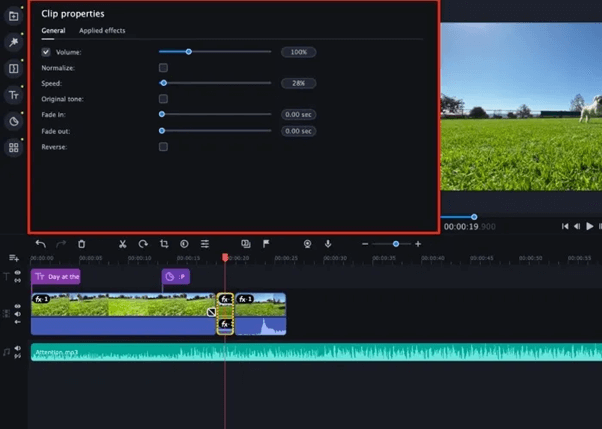 While using the Movavi Mac app, we came across another notable feature that makes the complex task of video editing a breeze. To access the clip properties, all you need to do is, double-tap on any clip on your timeline. Once the clip properties window appears on the screen, you can easily adjust the settings and achieve the desired effects in just a few clicks. So, rather than digging deep into settings and crawling over menus, you can get direct access to clip properties by simply double-clicking on a clip.
Also read: TG Pro Review: Temperature Monitoring Tool For Mac
4. Editing Made Easier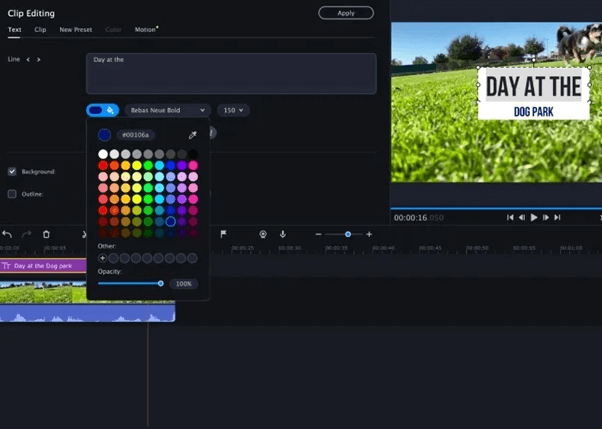 With the latest version of Movavi Video Editor for Mac, your video editing experience reaches new heights as you effortlessly enhance various elements. This handy editing tool introduces a dedicated "Clip Editing" screen, where the magic happens. From this screen, you have the power to transform your text into something truly remarkable. With just a click, you can effortlessly change the font, explore a range of vibrant colors, fine-tune opacity, and even add captivating backgrounds.
5. Seamless Integration With Other Apps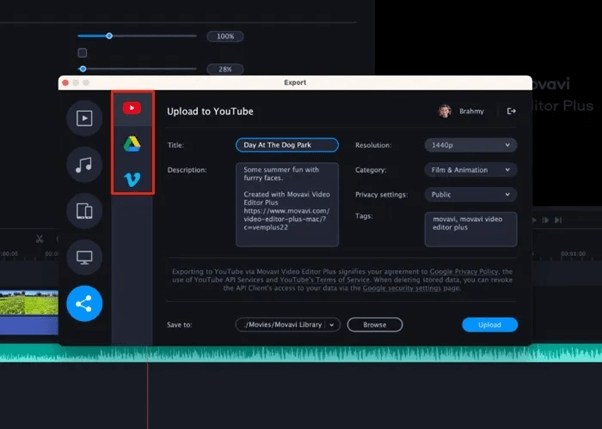 Movavi Video Editor 2023 offers a seamless integration feature that brings convenience to content creators. You'll be delighted to know that popular content-sharing platforms like YouTube, Vimeo, and Google Drive are directly integrated into the software. Once you've finished editing your masterpiece, simply click the "Export" button and choose the "Upload Online" option. Here's the best part: you only need to sign in to your accounts once. After that, Movavi takes care of the rest. It's as easy as that!
Also read: Avast Security For Mac Review 2023
6. Movavi Effects Store

Enhance your video editing projects with a touch of professionalism using the Movavi Effects Store. It's a one-stop shop for all the extra content you'll need to make your videos stand out. With an array of stunning titles, transitions, stickers, and other graphics crafted by professional designers, you can take your videos to the next level. These additional effects are designed to complement your creative vision, adding that extra oomph that can make all the difference in the final product. So why settle for a basic video when you can use the Movavi Effects Store to unleash your inner creativity?
7. AI Background and Noise Removal
Movavi video editor for Mac 2023 uses the power of AI to create stunning content. Yes, you heard that right. With this unique feature, you can instantly swap the backgrounds of your video and edit like a pro.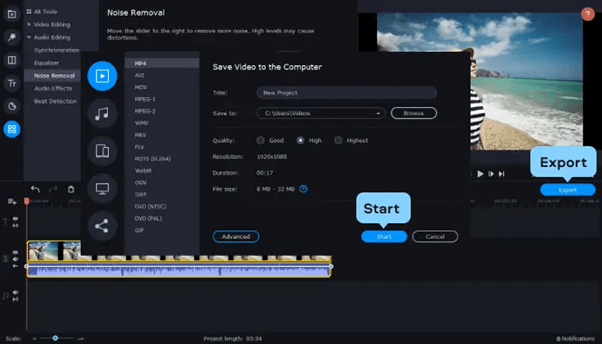 Well, wait it gets better! Movavi Mac app also offers AI noise removal that you can use to remove any unpleasant background noises.
Pricing and Availability
Unlocking the power of Movavi Video Editor 2023 for Mac is just a click away. You can download it for free and kickstart a seven-day trial period. During this trial, you'll have a chance to explore its incredible features. It's important to note that, while you have full access to the editing capabilities, there will be a watermark on your output videos. Additionally, when exporting audio files, you'll be able to save only half of their original length.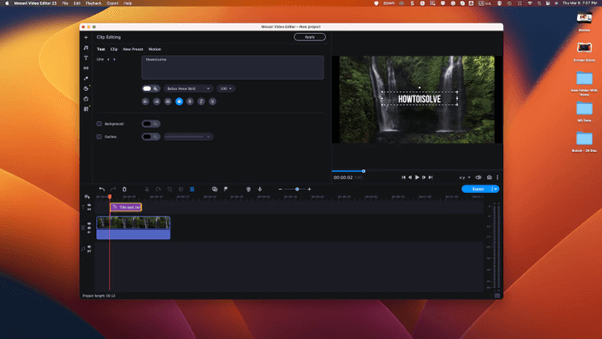 But fear not! Once the trial period comes to an end, you can continue your editing journey without any limitations. By purchasing a one-year license for $50.95 or opting for the lifetime access package for $74.95, you gain unrestricted access to all the features that Movavi Video Editor has to offer.
Technical Specifications
Size: 138.6 MB.
Latest Version: v23.3.0
Operating system: macOS X 10.13.6 or later.
Processor: 64-bit Intel Processor.
Graphics Card: Intel HD Graphics 2000, NVIDIA GeForce series 8 and 8M, Quadro FX 4800, Quadro FX 5600, AMD Radeon R600, Mobility Radeon HD 4330, Mobility FirePro series, Radeon R5 M230 or higher graphics card with up-to-date drivers.
RAM: 2 GB
Hard drive Space: Minimum of at least 400 MB for installation and 600 MB for editing operations.
Display: 1280×800 screen resolution, 32-bit color.
Also read: Disk Clean Pro Review: One-Stop Solution For Your Mac Cleanups
Final Thoughts
So, this wraps up our post on Movavi video editor for Mac 2023 complete review. Whether you're a home video enthusiast or a seasoned creator, this app is a game-changer. Its straightforward utility ensures that you can easily navigate through the editing process, making your video creation experience a breeze. And let's not forget its logical integration with popular content-sharing websites and AI-driven features, which allows you to effortlessly showcase your creations to the world. With Movavi Video Editor 23, you get incredible value that empowers you to bring your video ideas to life with finesse and efficiency.
Are you looking forward to using this tool? Feel free to share your thoughts in the comments section!