Disk Clean Pro Review : One-Stop Solution For Your Mac Cleanups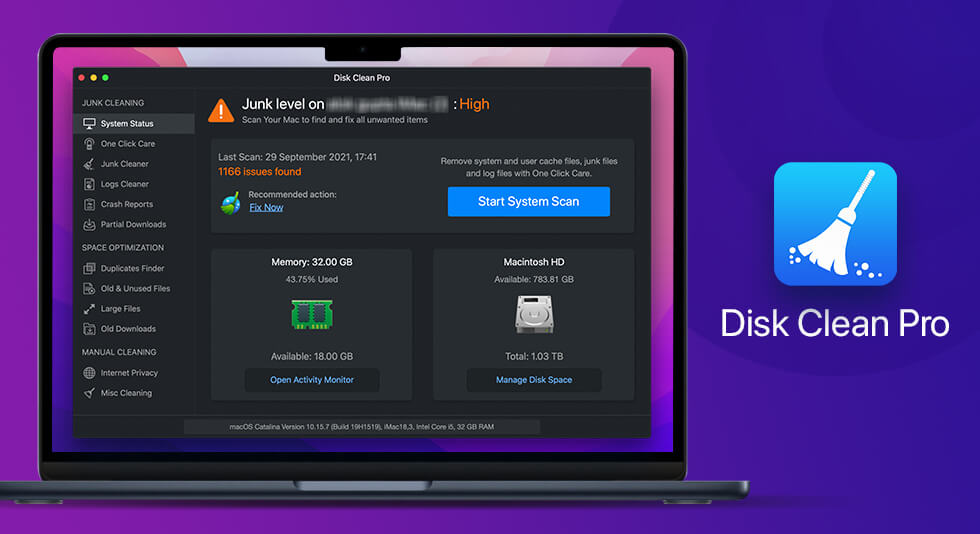 Regular internal cleanup of your Mac machine is a necessity even if it doesn't seem like. If you want to keep your system in a good functioning state, then ensure that you're properly cleaning your Mac storage; else it'll trouble you to the point that you feel like breaking it into pieces. If you don't clean up your Mac, then you're in for a significant degradation in your Mac's performance.
Ignoring Mac cleanup isn't an option. You must address this as a concern and get the mac cleanup for your system done. And it's not much hassle trust me. Just a little disk cleanup of Mac would do the job.
Disk Clean Pro is the perfect choice to perform an effective Mac cleanup and restore your Mac machine to its former work efficiency. Let's address these concerns, followed by the best Mac optimization technique that can help you get rid of them.
Disk Clean Pro -Review
Interface and Ease of Use : Intuitive and easy to use

Pricing : Starts ay $26.99

Features at a Glance:
Monitor Storage Space: Yes
Junk Cleaning: Yes
Delete Duplicate Files: Yes
Delete Old and Large Files: Yes
Customer Support: FAQs, Knowledgebase, Support ticket
What is Disk Clean Pro?
Disk Clean Pro is a Mac cleaning software, comprising multiple modules to remove redundant data, junk, and temporary files from the system, that are all piled up cluttering your Mac drive. Disk Clean Pro acts like a Mac storage cleaner and works on three different optimization processes – Cleaning, Space Optimization, and Manual Cleaning.
Starts at $26.99
Get Disk Clean Pro Here
Also Read : CleanMyMac VS. CCleaner – Which Mac Cleaner is The Best?
Pros & Cons of Disk Clean Pro
Pros:
All-in-one tool for junk cleaning and space optimization
You can remove large and old files.
Easily get rid of duplicate files
Internet privacy module helps remove all browsing history and cookies that can put your privacy in jeopardy.
Cons:
Malware removal module missing.
Disk Clean Pro – Features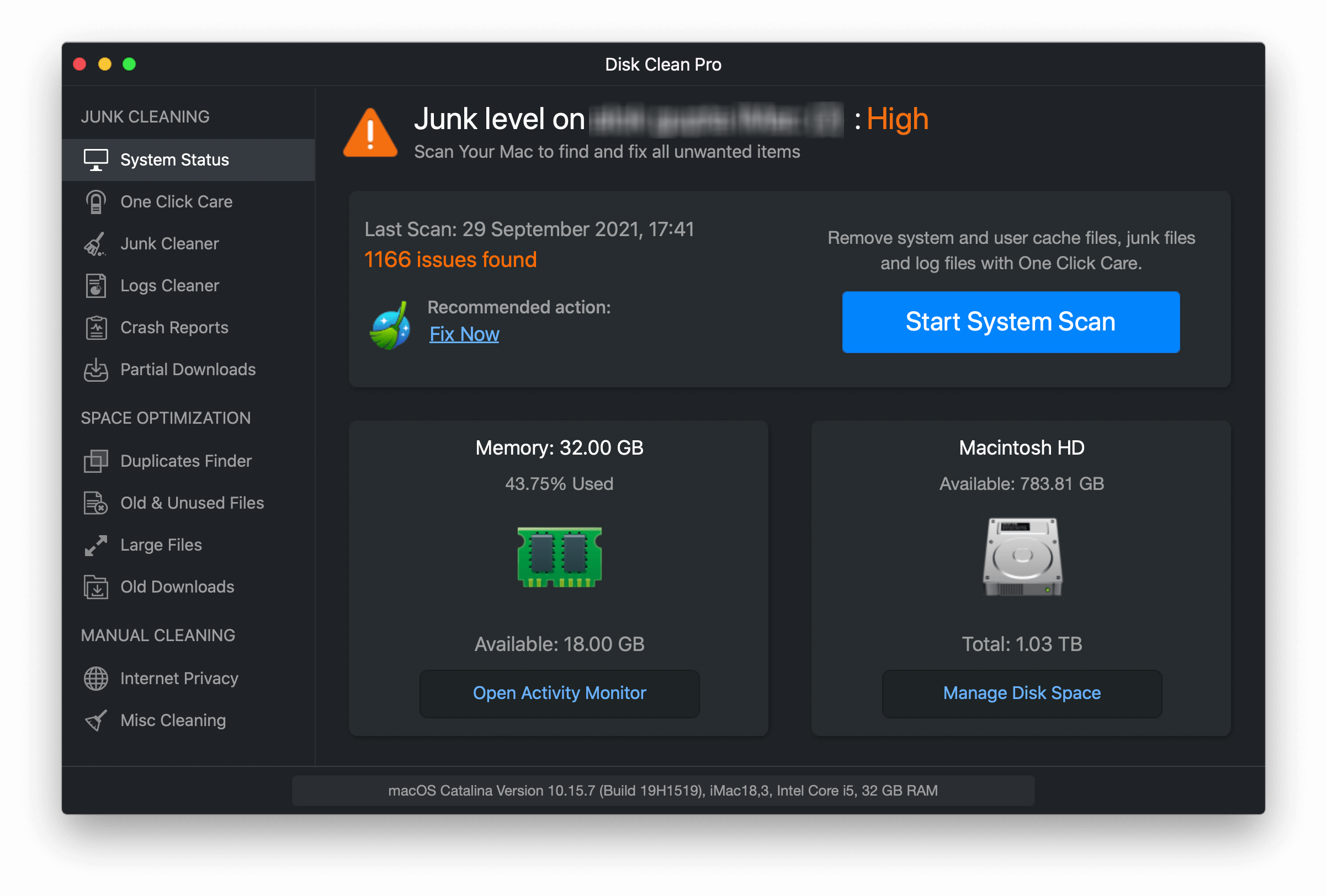 1. One-Click Cleaning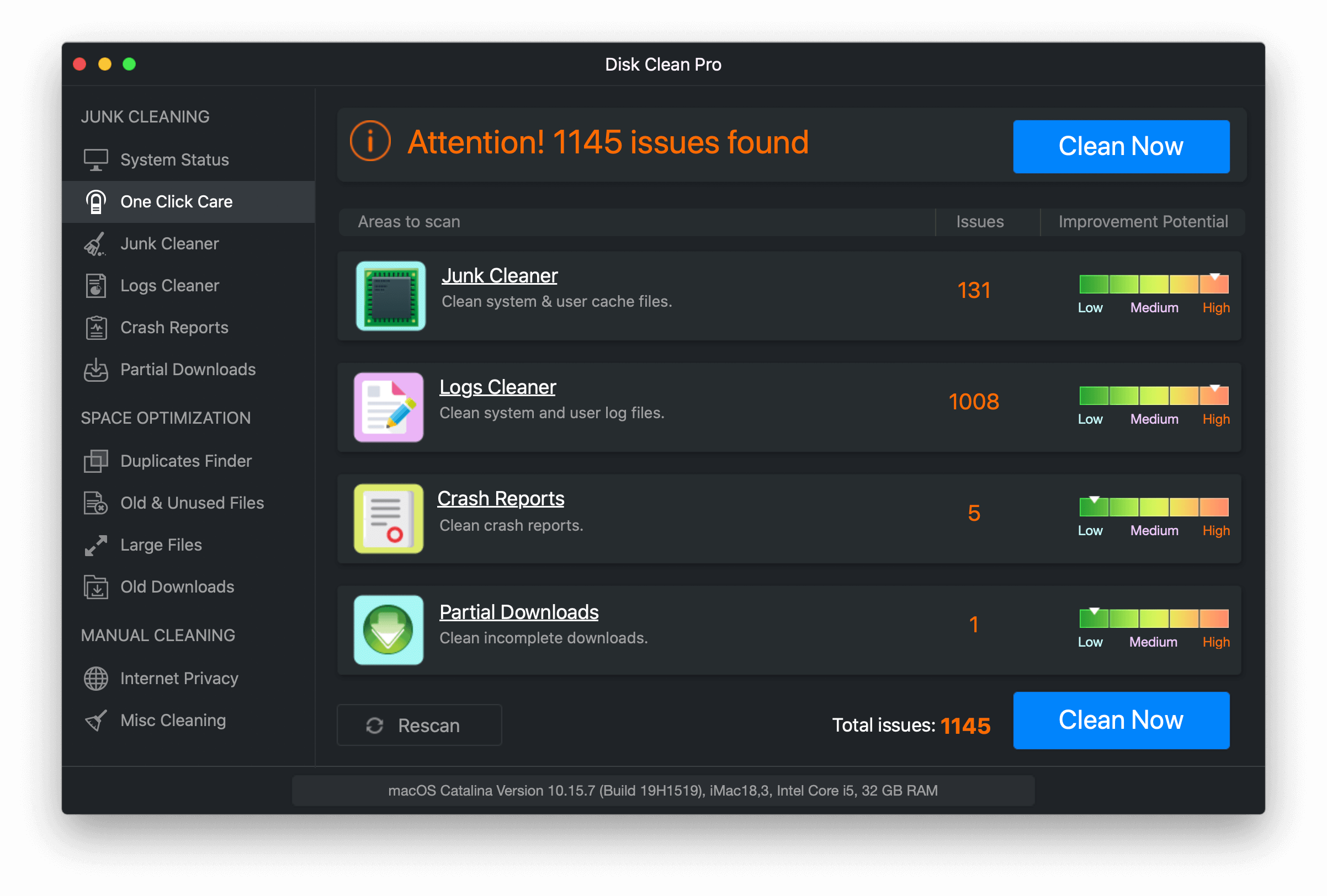 One-Click Cleaning offers you a smart, automated scan and cleanup of your Mac. It acts as an overall disk cleaner for Mac.
One-Click Cleaning performs a deep scan of your Mac machine and roots out redundant data from the Mac drive in four different parts.
Junk Cleaner for Mac is a significant aspect of the tool where it scans and roots out all the user cache files, system cache, redundant files, and other junk out of the drive.
Under Logs Cleaner, all the user logs and system log files that are no longer needed for use in the drive are cleaned.
When an app crashes , your Mac generates a crash report that can be read immediately to know the cause of that crash. Once the report is read, it is rendered useless. These reports accumulate to occupy a significant space in your system. Disk Clean Pro's cleaning module scans and deletes these Crash Reports in the easiest way possible.
Partial Downloads deleted installation and configuration files for the apps that weren't appropriately downloaded on the system.
This one single module accumulates all the positive parts for this Disk Clean Pro's review and makes it the best bet for users among other Mac storage cleaners. But this efficient Mac optimizer tool doesn't stop here.
Also Read : CleanMyMac X VS. MacBooster 8 – Side by Side Comparisons
2. Space Optimization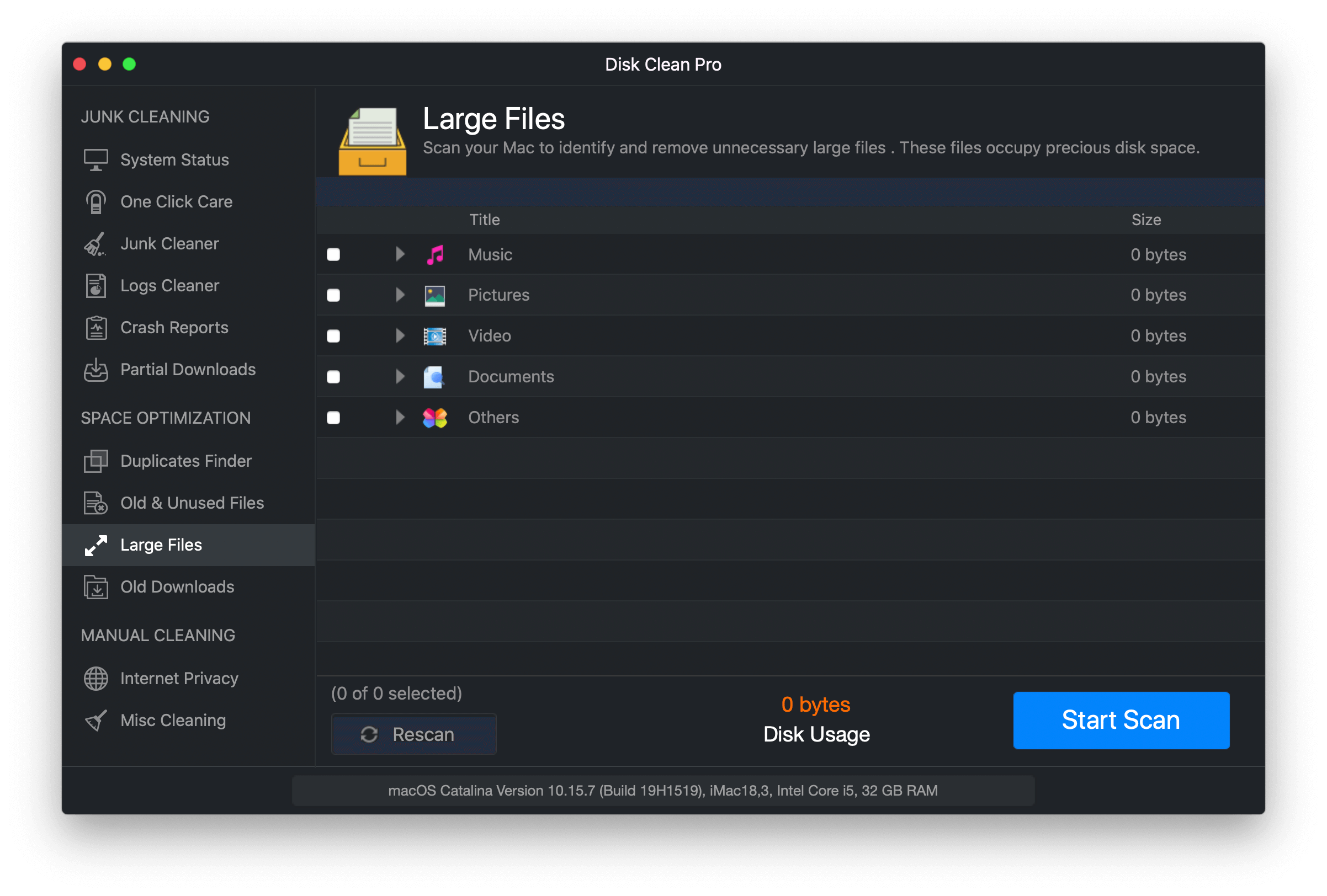 Large Files section of the module is exclusively designed to clean the Mac storage of large media files, including videos, music, and images. It just helps to get the larger files scanned separately at once and remove more space in a single go.
Old & Unused Files section comprises files that users have not taken in use or have even opened for a long while. These files are scanned by Disk Clean Pro and can then be marked and deleted.
Old Downloads comprise of files that have been downloaded on the system which may be useless as they are outdated or are replaced by an alternate option by the user. Scanning and deleting them makes up a small but considerable space on Mac drive and clean up your Mac for better performance.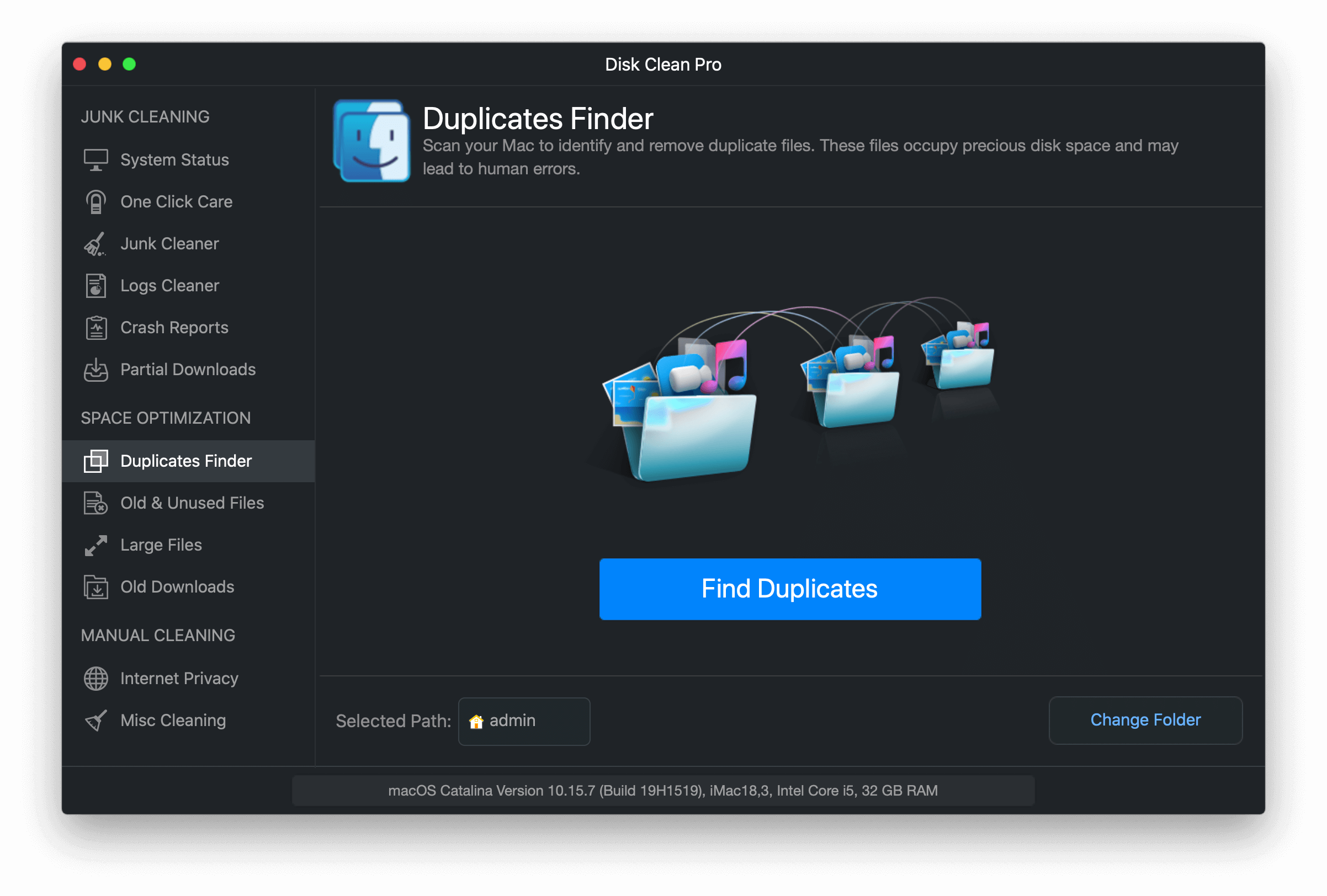 Duplicate Finder is a part of the Optimization module of Disk Clean Pro mac cleaning software. Duplicates are the unwanted documents that are downloaded or copied twice; or media files such as similar images that were taken by you to sort from and keep the best one.
This module scans all the duplicate media files and documents. You can choose to keep the best one and delete others, freeing a large amount of disk space on your Mac.
Also Read : Top Ten Duplicate File Finders For Mac
3. Manual Cleaning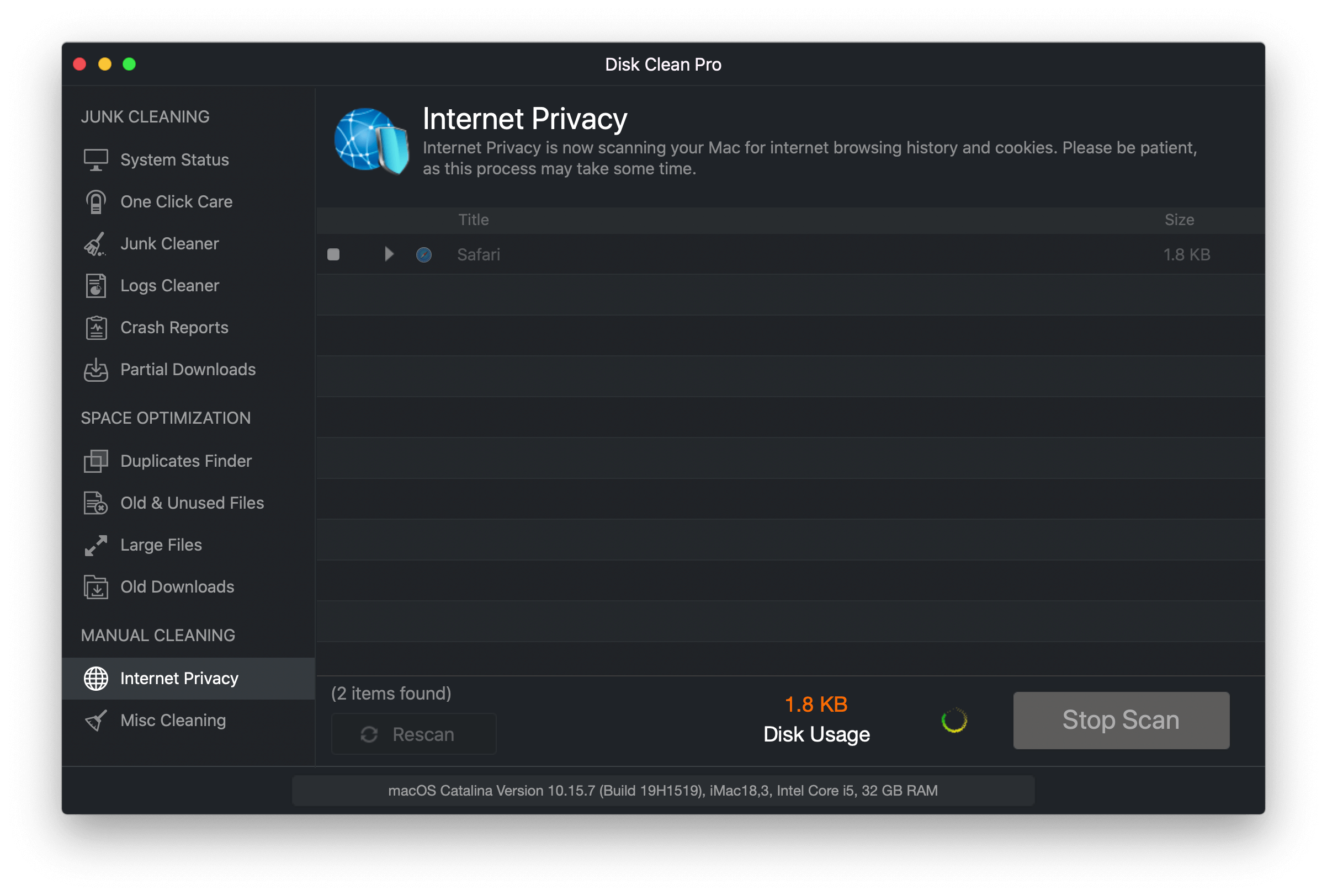 Internet Privacy refers to the protection of users' online identity and information that can be revealed by tracking online activity and saved credentials over browsers.
Your online activity leaves certain traces of information behind in the form of search history, saved passwords, and login credentials.
This poses a threat to your privacy and online identity if any of it is embezzled. Internet Privacy module removes all browsing data and saved credentials to ensure that it doesn't happen.
It also helps in the mild disk cleaning of Mac by reducing bulk on the browser and improving its speed.
The Misc. Cleaning section scans the device backup files, iTunes backups, and other redundant files that are left back in deep scan. Acts like a new junk cleaner for Mac to recover that clogged disk.
Disk Clean Pro is a reliable and renowned software and is very intuitive. It has a rich interactive interface that is easy to navigate through. You don't need to be a pro to use Disk Clean Pro. It efficiently organizes your drive by deleting all the unnecessary files and enhances Mac's performance by improving its speed and fastening up its response time over user commands.
Also Read : Best Mac Apps
FAQs: Disk Clean Pro For Mac