How To Fix MacBook Pro Overheating Problem ?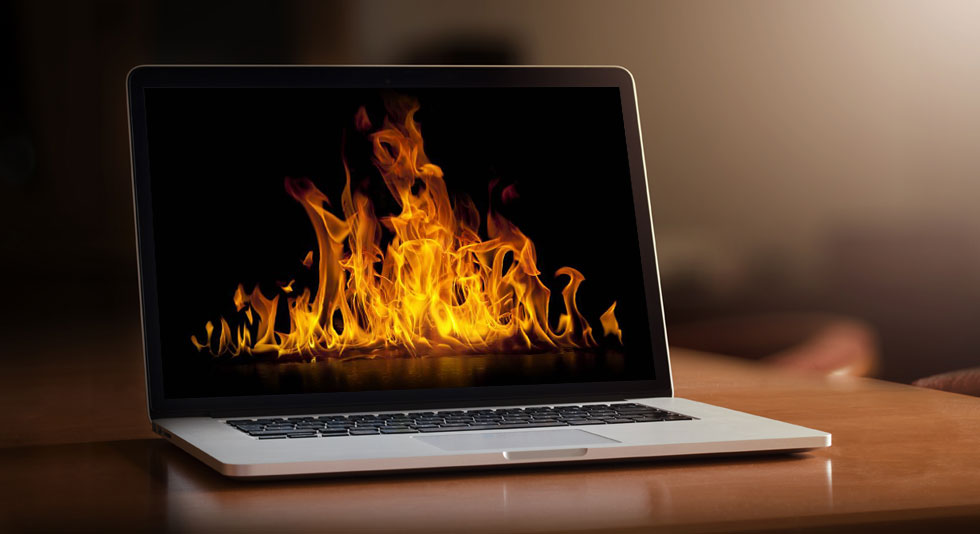 When should you be worried about Macbook overheating? It is pretty natural for any Mac to become warm throughout running apps or carrying out processes, and in most cases, it shouldn't pose any serious issues. However, if your Mac is overheating persistently, for instance, if you frequently hear excessive fan noise or see the CPU temperature surpass the 45°-65° range, you may have to ponder the causes. To check your Mac's CPU temperature, you can take the help of CleanMyMac X, a leading Apple notarized Mac cleaner. To check the temperature using CleanMyMac X –
1. Download, install and launch the free variant of CleanMyMac X.
2. Click on the mini iMac in the top bar. You'll be able to see a pane like the one in the screenshot below –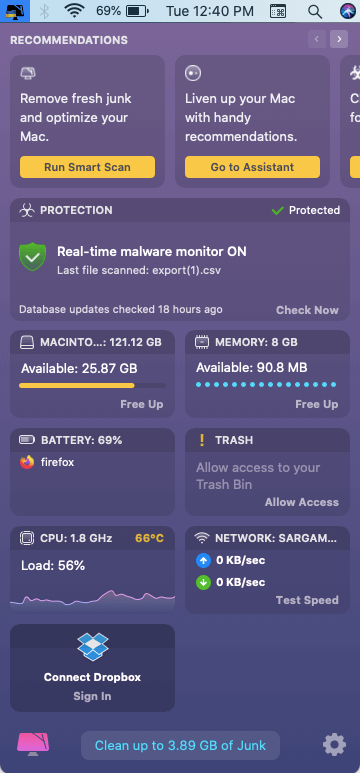 Common Causes Leading To MacBook Pro Heat Issues
If you have ascertained that your Mac's overheating indicates serious issues, it could be one of the following –
1. Malfunctioning fan
2. Presence of malware
3. Run-away or third-party apps
4. Placing MacBook Pro on softer surfaces
5. Dust and dirt
6. Multiple active tabs on browser
Pro Tip
The MacBook overheating include malware, the number of unused files, processes running in the background, and junk. These reasons could be controlled by one single software, i.e., CleanMyMac X.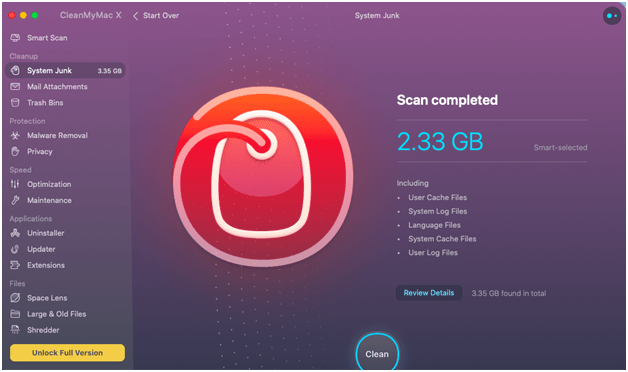 CleanMyMac X for Mac is capable of:
Cleaning the system junk and mail attachments

Clean up the trash bin

Removes malware and protects privacy

Helps in uninstalling applications completely from the system

Keeps the system and applications updated

Shreds large and old files
All the actions above make sure that the system doesn't overheat and create a ruckus. 
How to Fix MacBook Pro Overheating Problem?
1. Malware or Spyware
Besides macOS has integrated security protection against all malware, spyware and other threats, there is still scope for such threats to target your MacBook Pro. Malware and spyware are some of the most common issues that lead to the underperformance of Mac.
Solution: The best fix to this issue is to opt for a reliable software as it is pretty much difficult to manually check each app and file you've stored on your MacBook Pro. Always use software that can protect your Mac against malicious attacks and can offer overall protection. These tools can efficiently detect or delete malware, spyware, Trojan, etc. hiding in your system. Visit the link below to check the best anti-malware tools for your Mac.
Also Read : 7 Best App Uninstaller For Mac to Remove Unwanted Apps
2. Run-away or third-Party Apps
Many run-away apps require more system storage and in return, cause harm to your favorite MacBook Pro. These are apps that are not properly developed. Such third-party apps lead to excessive battery drainage and high CPU consumption. The run-away apps are another reason behind overheating MacBook Pro.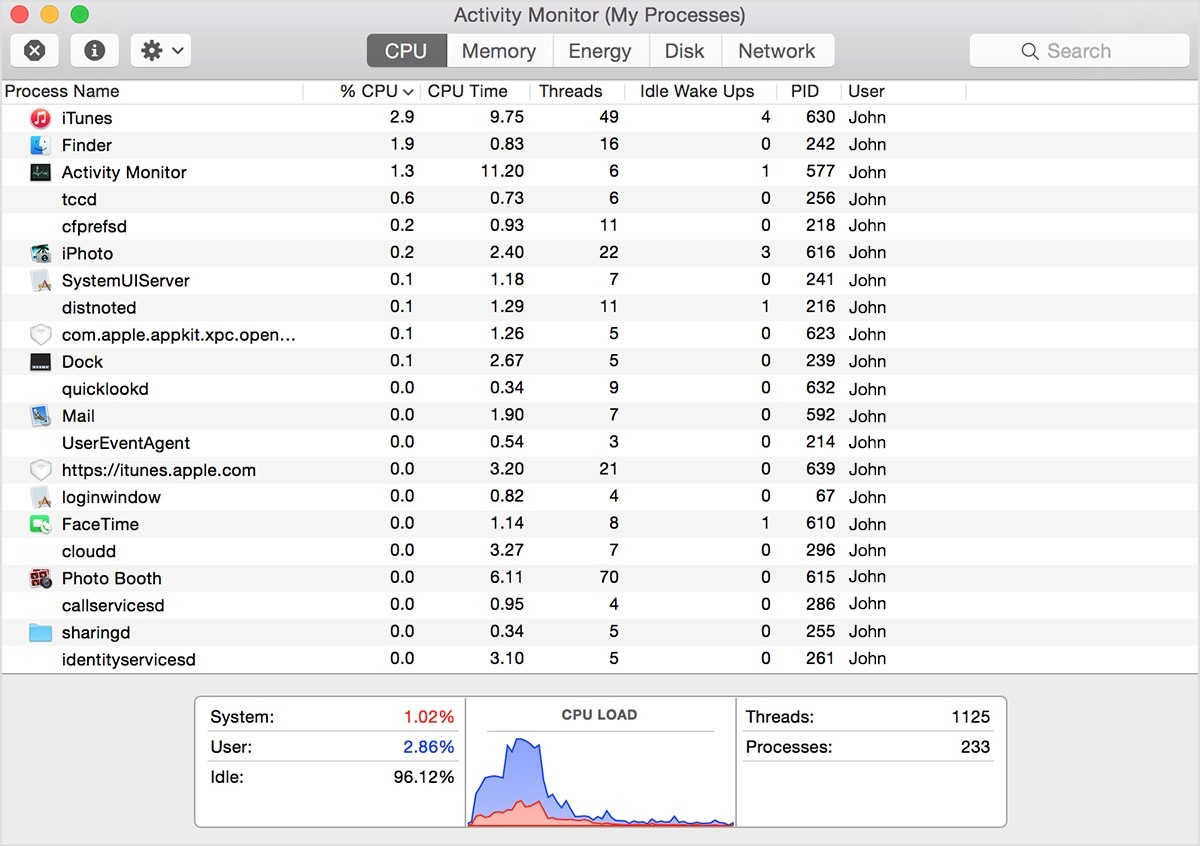 Solution: MacOS has an in-built option, i.e. Activity Monitor that lets you analyze the CPU consumption of the apps running on a Mac. The activity monitor gives you an idea of how these apps are affecting overall Mac's performance. On your MacBook Pro, go to Applications > Utilities > Activity Monitor. To check what's harming your macOS, click on CPU and look for the apps that are using approximately 80% of the CPU. Now, double click on it, and hit Quit. If the app is not responding, try Force Quit.
Also Read : 5 Best Mac Optimizer Software to Free up Valuable Disk Space
3. Placing MacBook Pro at softer surfaces
MacBook is portable, and therefore, we usually use them as and wherever needed. Be it placing it on a pillow or bed, using it this way is not wise for your MacBook Pro. This is absolutely a bad idea as there will not be adequate air circulation. Well, this is yet another major cause leading to MacBook Pro overheating.
Solution: Always remember you use your MacBook Pro or any laptop over a table or a rubber mat so that there is proper air circulation.
4. Dust and dirt affect Mac's performance
Just like placing your laptops at wrong places, dust and dirt also affect your MacBook Pro so bad. Especially the fans, it will make your MacBook warmer leading to overheating when situations turn worse. The MacBook relies on vents to dissipate heat. If there is any dust collected in the vents, it is bad for air circulation.
Solution: Firstly, you can use a small brush to remove dirt and dust. You can also use compressed air to remove dirt and dust, but you need to be careful as it can cause damage to your MacBook's components. If you know it right, open your MacBook Pro and clean its internal components like fans and CPUs. If you don't know the right way to do this, take your system to the service center to get the job done.
Also Read : Most Common MacBook Problems and How to Fix Them
5. System Management Controller (SMC) Reset
System Management Controller is a chip within your MacBook that runs many physical parts of the machine such as cooling fans etc. The SMC reset lets you resolve hardware-related issues without causing harm to your devices.
Solution: The process is easy wherein you need to shut down your MacBook and plug in the power adapter to put your MacBook in the charging mode. Now, hold Shift + Control + Option and at the same time press the Power button. Release the keys and turn on your MacBook Pro. It's done.
6. Multiple active tabs on Web Browser
macOS is known for being a humble system wherein you are allowed to use as many apps you want simultaneously. And doing this will not affect your MacBook's performance. But the same does not apply to web browsers. While surfing the internet, we tend to open multiple tabs without realizing it can harm our system and can even lead to MacBook Pro overheating issues.
Solution: Thus, it is imperative to avoid using multiple tabs on a web browser altogether. Ensure that the tabs you need no longer are closed to reduce the web browser's load.
So, these were some of the common issues that might have caused MacBook overheating.
Conclusion
That's all folks! We hope this troubleshooting guide can help you prevent and fix Mac overheating issues. If you're facing MacBook Pro heat issues, check these common causes and their associated fixes to continue working smoothly and conveniently on your MacBook Pro without any annoyance.
Also Read : Best Mac Apps – That Every Apple Newbie Should Install
FAQs: MacBook Pro Overheating Problem
1. How do I stop my MacBook Pro from overheating?
Multiple reasons can cause overheating on your MacBook Pro. For instance, it has a noisy fan, or some malware into it or it might be just the dirt. As soon as you come across any symptom where your MacBook Pro is heating up, try to find out what it is and try to resolve the issue as quickly as possible.
2. What happens if MacBook Pro Overheats?
If your MacBook Pro overheats quite often, it can make your Mac slow down or in the worst cases, it can affect your MacBook's hardware. Ensure that you always look for the best solution at the right time.
3. How do I cool down my MacBook Pro?
You can make your MacBook Pro cool down using simple steps. First, ensure that you stop using it for a while and close all running applications. Secondly, close all the tabs that are open in your web browser. Third, avoid using a MacBook on any softer surface.