MacX Video Converter Pro for Mac: Complete Review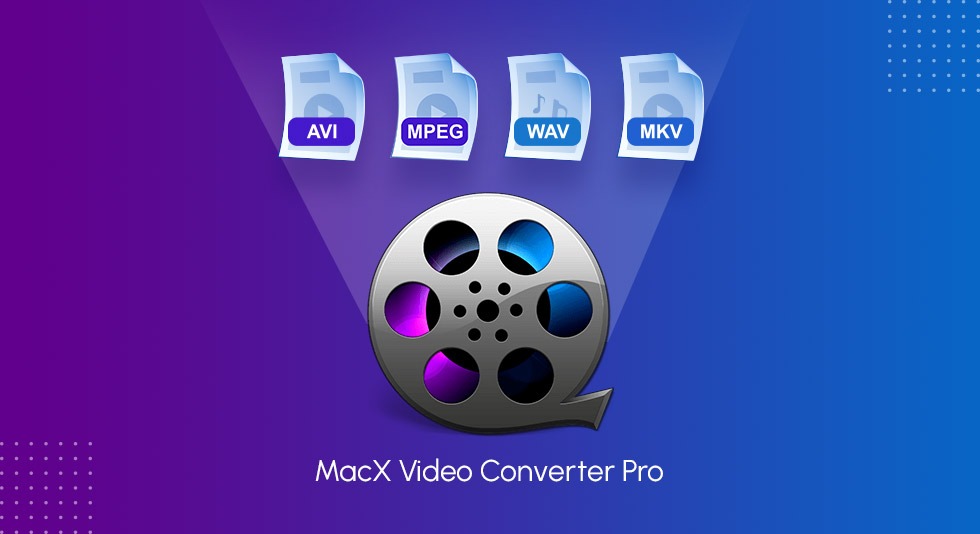 Summary:
Rating: ⅘*MacX video converter for Mac is one of the most reliable solutions to convert your videos in different file formats with the ease of a few clicks. Along with conversion of file formats as well as turning big videos into smaller ones, you can even choose to edit them. Several advanced algorithms allow you to record screen, edit videos, and offer functionality as no other tool provides.

You Can Download It From Here
MacX Video Converter Pro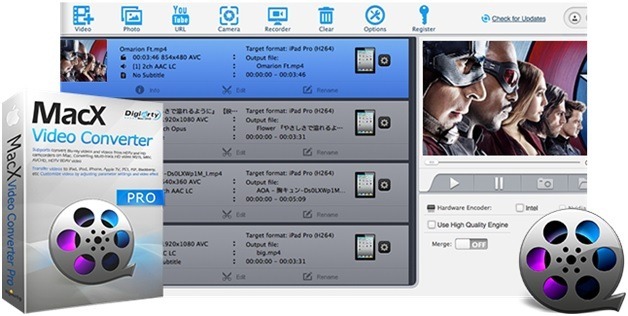 Pros:
 A user-friendly interface that makes newbies comfortable with the software.
Gives you control over the size of videos
Download your favorite shows, video games, pictures, movies, or songs in the required quality.
Try the software before downloading.
Cons:
Limited editing possibilities
The trial period offers limited features to be tested. For the rest of them, you need to download the software.
Features Of MacX Video Converter Pro for Mac
The Lives of many videographers and photographers have been simplified to a great extent with the help of this best video converter for Mac. A fantastic technology coupled with multiple other features means solutions for a broad base of people. Now you must be curious about what MacX has to offer to its users so here we go!
1. Faster Conversion Speed
Probably the most important feature which everyone is looking for. The tool is capable of offering a 5 times faster conversion rate than any of its competitors. However, the Pro version must be downloaded to experience the conversion which is worth trying. Moreover, when you try importing and converting at the same time, it happens within a few seconds depending on the size and quality of the file.
When you try navigating the folders whose conversion is required, locating videos becomes smooth.
2. Video Capturing & Editing Tools
One of the most exciting features apart from converting MOV to MP4 on Mac is an easy video capturing and recording. Any streaming video, tutorial, or YouTube video running behind could be captured without downloading any other tool when MacX Converter Pro is available here. So all you have to do is play anything on screen and start recording it through the tool.
Then comes another exciting feature that offers you to edit videos in any way possible. One can easily trim, cut, or merge any part of the video according to your choice to create a whole different look. The resolution could also be changed as per your requirement and demands. Add subtitles, overlay texts on videos, and change frame rates as and how you want to make them presentable.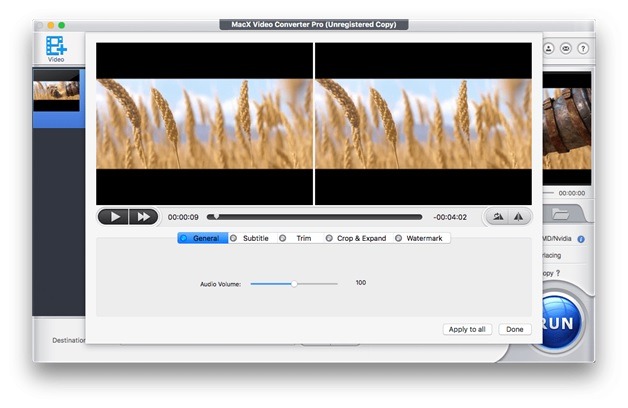 3. Download Videos
Although known as one of the best video converters for Mac, it even allows you to download any videos, songs, or images from more than 1000 websites like Facebook, YouTube, Vimeo, or more. Choose to download your favorite shows that you didn't watch or missed due to some reason. How easy it is, right?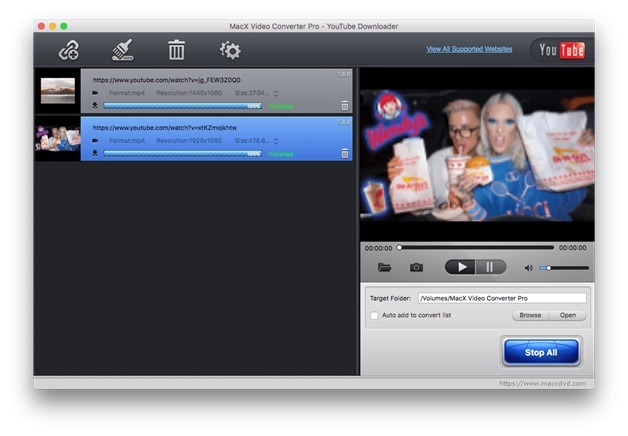 4. Support Numerous Output Formats & Devices
How about having more than 420 audio-video output format options? Well, this is why MacX is pretty different from other tools as you can choose any audio or video format that is required like MP4, MKV, MOV, MP3, MPEG4, AAC, etc. Probably, no limitations could be seen. Moreover, you have options for the conversion to run with devices like iPhone, Mac, Apple TV, and even android devices.
Also Read :- WinX HD Video Converter For Mac Review
5. Compressing Videos Without Losing Quality
Without losing the quality of your video, you can experience the decoding of any oversized video into a smaller version with this MP4 converter for Mac. Thanks to hardware acceleration, there is easy encoding and decoding of HEVC smoothly.
6. Export Photos To Slideshow
You will like the feature of exporting your photos to a slideshow. You just need to select a folder where all your pictures are kept and choose the slideshow output from here. It is good for those who want to create a slideshow presentation for their office or surprise a friend. The process is smooth and fast and you are free to edit or rename the output of your videos according to your choice.
7. Record With Camera
Now you can create videos directly by opening the camera when this YouTube converter for Mac is on. All you have to do is launch the tool, switch on the camera and start recording. Now it is ready to be edited right here and can be produced anywhere you like.
Price
If you have already gone through the free trial after reading all the features of this video converter for Mac, it's probably time to explore prices. The converter comes in three different versions including Standard, Premium, and 3 in 1 bundle.

You Can Download It From Here
MacX Video Converter Pro
Standard version: Comes with 3-month upgrades and less amount is required for the second bill cycle. A 30 days money-back guarantee is there to support you.
Premium version: Get 1 year of free upgrades, simultaneous installation on 3 Macs, chance to unsubscribe anytime, and support for all the codecs. A 30 days money-back guarantee is there to support you.
3 in 1 Bundle: Free lifetime upgrade services and a 30 days money-back guarantee are there to support you.
Read Also :- 10 Best Video Recording Software For Mac
Wrap Up
We believe that this free trial video converter for Mac is liked by you because of the plethora of additional features. The tool is highly recommended to every Mac user, especially those who deal with photos, videos, and regular video downloading features. Bloggers these days would also love to have it on their system. What's your opinion of the MP4 converter for Mac, share your views and experience with us in the comments below.