10 Best Video Recording Software For Mac 2023
"Yesterday, when I had to record my motivational speech for YouTube and I had no one to hold a camera for me at home. After doing good research, I found out that a good video recording software can get the job done smoothly."
Videos have become a new way to express your thoughts and grasp the attention of the viewers with your creative content. Well, this is why video recording software is getting popular. Whether you wish to create a video of your fighting pets, crying baby, or a new YouTube comedy content, video recording software for Mac can assist you all through the phase.
Video recording apps for Mac can not only help you in generating revenue or entertaining your viewers, but they can also turn productivity machines at work. Now chances are that you are already confronted with several video recorders where some of them could be complex and time-consuming. But this list below will help you to locate free as well as a professional best video recorder for Mac, offering a plethora of features in its lap.
Best Video Recording Software For Mac
Record videos on your computer system and reach out to the world using the best video recorder for Mac.
3. OBS Studio
6. Monosnap
7. Screenflow
8. Camtasia
1. EaseUS RecExperts

Price: Try it for free; Monthly plan starts at $19.95 (30 days money-back guarantee)
Get your web screen, the entire screen, or a specific screen recorded while also recording audio through a microphone. As soon as your video is recorded, now is the time to polish it for final output. Well, this video recording app has editing capabilities with the addition of lines, texts, arrows, and images within. The screen recording feature allows you to record games and edit the video in advance mode. You can now share the video on YouTube and other popular platforms directly.
Pros:
Number of customized settings according to the activity.
Video recording can be scheduled for a specified time.
Cons:
Expensive when compared to competitors
Download: EaseUs RecExperts
2. Wondershare DemoCreator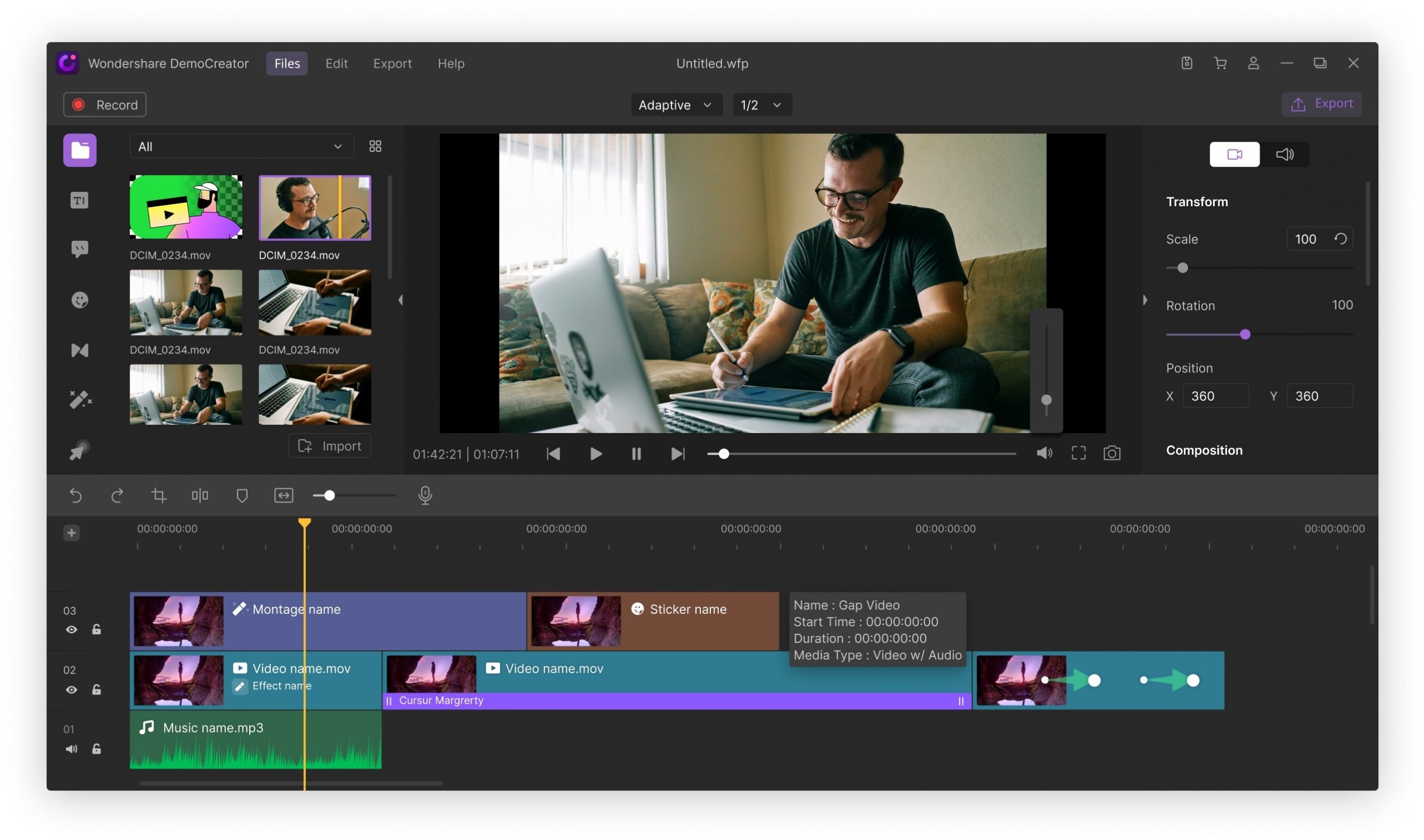 Price: Try it for free; Monthly plan starts at $7.99 (30 days money-back guarantee)
Wondershare is one of the most popular video recording software when it comes to video recording and editing smoothly, even for newbies. Through Wondershare DemoCreator, one can record anything on the screen like on-screen activities, audio as well as webcam. Once the recording is done, you can edit videos and audio files separately. With that, add special effects to your video. Whether you are a gamer, teacher, or salesman, this is the best video recording app for Mac.
Pros:
Custom frame rate could be facilitated upto 120 FPS
Helps in reducing unnecessary background noise.
Cons:
Free trial is time-limited.
Download: Wondershare DemoCreator
3. OBS Studio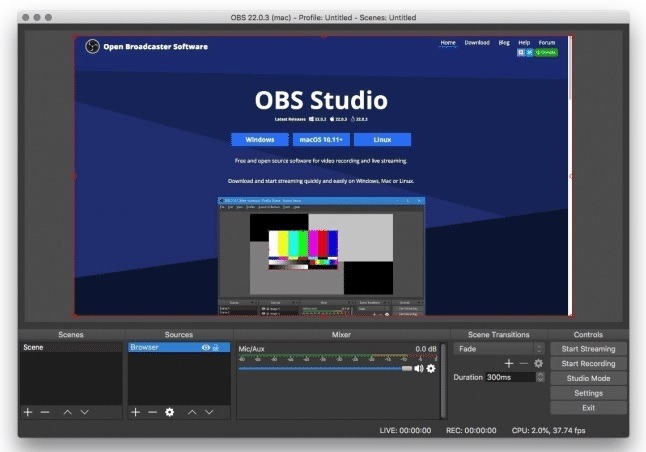 Price: Free
OBS came up with its video recording for macOS 10.13+ versions and can be called one of the most popular free and open-source software for video recording. While recording videos, you can insert real-time editing like captures, texts, images, cards, and more. With that, you are provided with powerful configuration properties for adjustment. Interestingly, its modular dock of the user interface allows you to rearrange the layout exactly the way you want. Also, add plugins and scripts for further customization and specific functionality.
Pros:
Viewers will find this video recording app easy to use.
Easy to connect with streaming providers.
Cons:
It is a free product so there is a little chance to improve upon.
Download: OBS Studio
4. QuickTime Player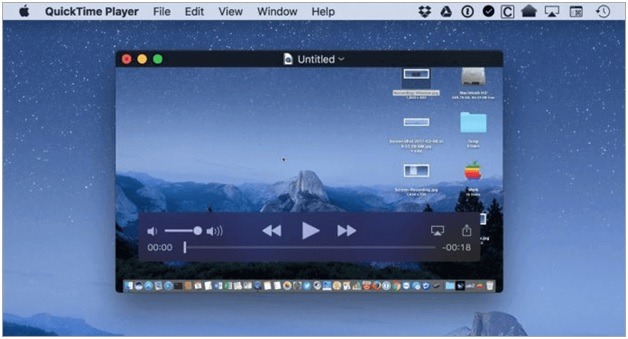 Price: In-built, hence free of cost
The easiest and affordable way to record videos is QuickTime Player which allows you to record your Mac screen and capture your iPhone or iPad screen in one go. Now comes the most interesting feature and that is editing the movie. Most of the common features like editing, trimming, rearrangement of clips, and rotation are just possible with QuickTime Player.
Pros:
Works quickly with iTunes files.
No need to download any third-party application.
Cons:
Doesn't work with common subtitle files
Download: QuickTime Player
Read This : 10 Best Video Compressors For Mac in
5. Screencast-O-Matic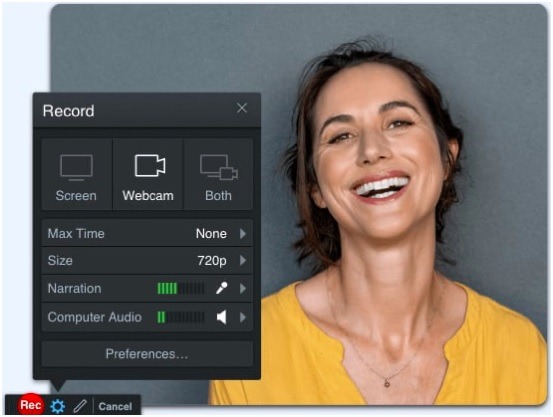 Price: Try it for free; PRO version is $15 per year
With this screen and video recorder for Mac, one can get their videos recorded through webcam and screen. Before recording, you can customize the size, maximum time of recording, narration, and computer audio settings. If you are working in the education sector, have video-related official work or wish to record videos for personal use, Screencast-O-Matic is just right for you. Later you can edit the videos through simple editing tools available.
Pros:
Direct publishing options available.
Video zooming options in PRO version
Cons:
Since it's an online video editor, one needs to have working internet for it to work.
Use Online: Screencast-O-Matic
6. Monosnap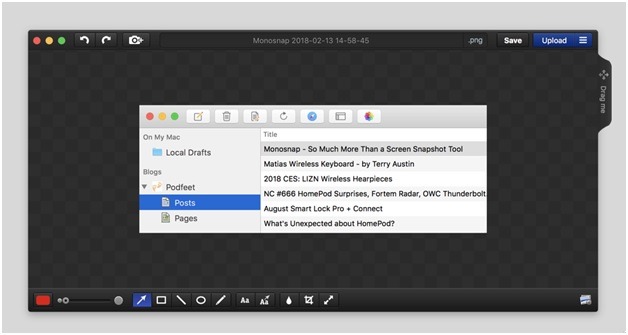 Price: Free for non-commercial use; Prices start at $2.50 per month
Monosnap is a powerful screen recording software that, allows you to record screens and use them to make videos. You can capture full screen, specific area, or window while taking perfect pixel screenshots. As the video is recorded, highlight various details, hide sensitive data using the Blur tool, and export to your favorite external editor. Now the video can be uploaded to cloud storage space or share over other platforms.
Pros:
Very sleek interface and easy to use.
Multi-screen recording available
Cons:
Doesn't have enough additional features as compared to others.
Download: Monosnap
Must Read: 10 Best Video Editing Software for Mac in
7. Screenflow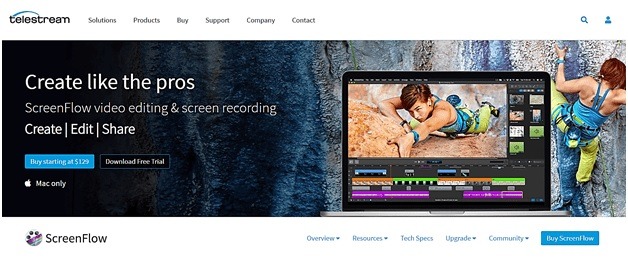 Price: Free trial; Price starting $129
An intuitive video recording software for mac, it has many standard and advanced features, including image annotation and GIF creation. You will find here the highest quality screen recordings after which videos could be edited. No matter if you are making a demo for students or recording a video for a professional presentation, Screenflow has got you covered. It wouldn't be wrong to say that this video recorder for Mac is perfect for novices as well as experts.
Pros:
Audio and video can be corrected separately.
Exporting to YouTube, Vimeo, and other streaming platforms.
Cons:
Frequent and nagging updates
Download: Screenflow
8. Camtasia

Price: Trial version available; Can be purchased for $249
Camtasia is another video recording software for Mac that provides more than traditional video editing features in one place. The best part about this software is that it gives professional-looking videos and can be learned very quickly. With powerful editing features along, make video tutorials, explainer videos, webinar recordings, training videos, how-to videos, and many more.
Pros:
Perfect tool to capture voice and record screen.
Large online library of training videos.
Cons:
Upgrade requires payment every single time.
Download: Camtasia
Also Read: 10 Best Screen Recording Software For Mac in
9. Screencastify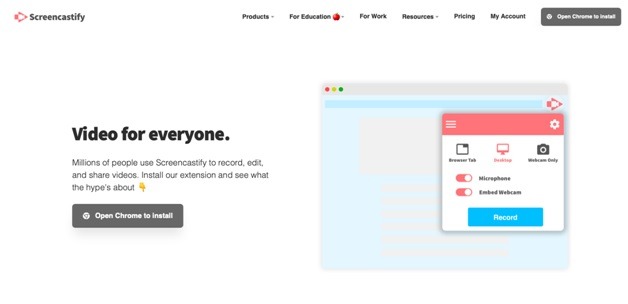 Since it's a Google Chrome extension, a Mac user needs to have Chrome to use Screencastify. Now it's so simple to use and comes with several features in one place, millions of users enjoy it to record, edit and share their videos online. Moreover, it's free of cost and doesn't occupy space in your system.
Pros:
Easy and straightforward tool.
Can be used by anyone, be it a student or professional lecturer.
Cons:
Default settings cannot be changed for customization.
Download: Screencastify
10. Debut Video Capture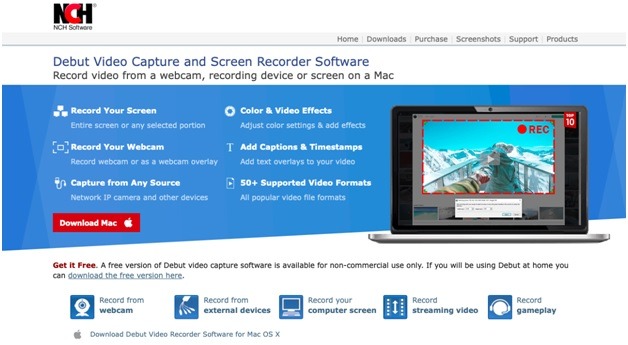 Price: Free trial; Price starts $3.33 per month
Switch on your webcam and start recording the screen in formats like avi, wmv, flv, mpg, mp4, mov, and more. Interestingly, you can also use the Green screen tool to replace the background with an image, video, or solid color. You can even record the screen and webcam simultaneously before direct upload on YouTube, Vimeo, or Flickr.
Pros:
Allows record scheduling
Highly customizable as and how required
Cons:
he user interface may look a little outdated.
Download: Debut Video Capture
Conclusion
We believe that you will be able to find suitable video recording software for yourselves. Which one did you choose? Or Do you like some other video recorder app? Share your views in the comments section below.
FAQs: Video Recording Software For Mac