10 Best Video Compressor For Mac to Reduce Video Size in 2023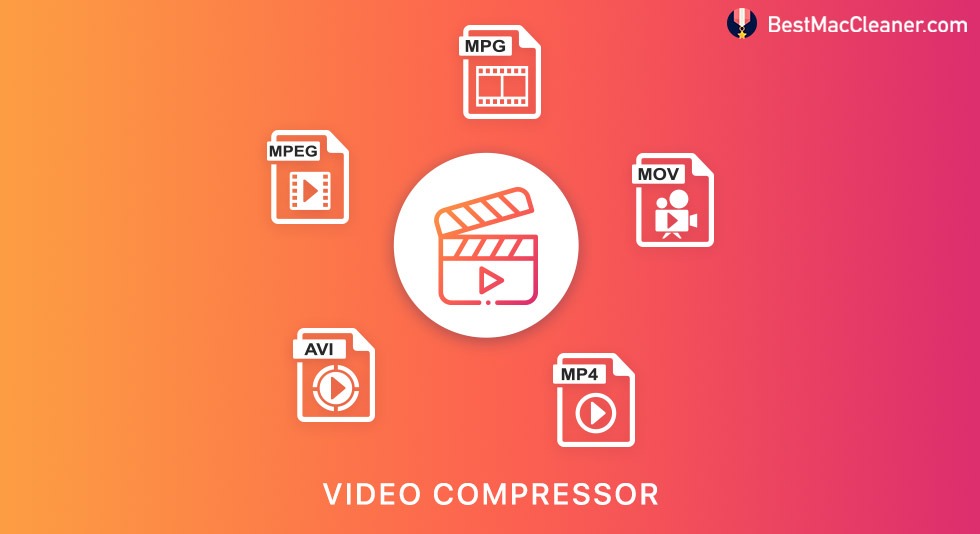 As video technology is developing every day, the demand for 4K and HD videos is also rising on a huge scale. However, heavy video files are tough to share over email or other online platforms. Moreover, they also occupy a large amount of space in your system and block the space for new files. Uploading files on Facebook, YouTube and Instagram also become simpler if you have a video compressor for Mac in the system. Right? If you have felt the same, this blog is for you.
Well, what does a video compressor Mac do?
A video compressing software for Mac helps an individual to reduce the size of a video very easily by making changes in size, format, and resolution. Many video editors take assistance from video compressors so that they can save space on Mac on one end while also converting videos in another format like FLV, MP3, or MP4.
The process starts with video compressor software analyzing the number of pixels in one single frame. It then compresses the video by bringing pixels together in batches, making a larger block. It doesn't let the data get lost during compression because of the careful restructuring of data.
What To Expect From A Good Video Compressor For Mac?
It must have an easy interface so that one doesn't need to juggle up in between multiple options.
It shall provide you with options to select multiple output formats.
You must have a choice for selecting the size and resolution of end videos.
The compression speed shall be faster to save time and energy.
Keeping the essential requirements about compressing videos, here is the list of best video compressors for Mac.
10 Best Video Compressor For Mac (2023)
SL.NO
Name of the App
macOS Compatibility
Best Features
Current Version
Price
1.
VideoProc
macOS 10.6 and above
●      Reduce video size by nearly 90% without any loss in quality.

●      Compress over 420 audio/ video formats.

●      47 times faster and stable than the real-time player.

4.7
Free. Then, for $19.95
2
Movavi Video Converter
macOS 10.13 and above
●      Compress video files on Mac in batches.

●      Compress 4K videos without any significant quality loss.

●      Fast and stable conversion.

22.4.0
$49.95
3
Wondershare UniConverter
macOS 10.11, and above
●      Before compressing the video, it shows thumbnail image, file size, and other details.

●      You have full control over how much you want to reduce the file size.

●      Preview compressed video before saving it.

13.6.1
Free. Then, $49.99
4
Handbrake
macOS 10.13 and above
●      Shrink the size of your file on Mac without losing quality.

●      Works well regardless of the format.

●      Easy to use interface.

1.5.1
Free
5
Final Cut Pro X Compressor
macOS 11.5.1 and above
●      Customize encoding settings in Motion or Final Cut Pro.

●      Batch processing is supported for encoding a large number of files.

●      Customizable settings for enhancing images and customizing the output.

4.6.1
$49.99
6
Any Video Converter
macOS 10.7 and above
●      Convert any video to H.265 efficiently and quickly.

●      Apart from compression, you can merge several videos into 1 video, add/disable subtitles or clip the original video.

●      Nearly no loss in video quality after compression.

7.2.0
Free
7
VideoSolo Video Converter
macOS 10.7 and above
●      Compress large and HD video files by up to 90% with no loss in quality.

●      Create preset profiles for social media platforms.

●      Convert large files in batches regardless of their resolution, format, or file size and share and publish them.

1.0.50
$34.95
8
VLC Media Player
macOS 10.7.5 and above
●      Easy and free to use.

●      Easily change frame and video bit rate.

●      Get rid of unwanted segment from a video.

3.017.3
Free
9
YouCompress
Online platform
●      Free, online and supports MOV, MP4, MP3, and many other audio, video, and image file formats.

●      Compress as many files as you want.

●      Files once compressed are removed from the server after a few hours.

NA
Free
10
Freemake Video Converter
Online platform
●      500+ formats supported for video compression on Mac.

●      Embed videos online.

●      Free and online.

4.1.12
Free
1. VideoProc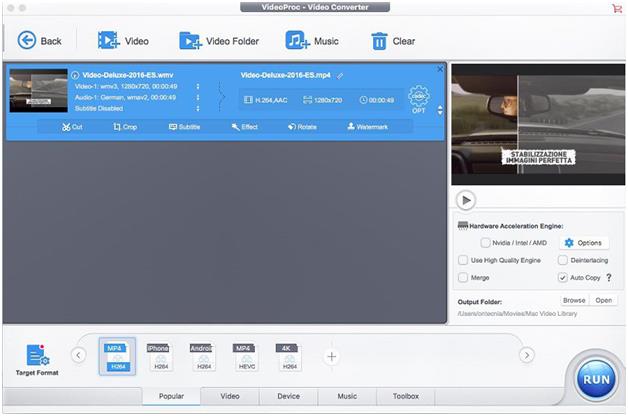 Features:
VideoProc is fully featured software that allows you to compress 4K, HD, SD, 3D, and 360 degrees VR videos. It provides an easy and fast solution to deliver video conversion via Full hardware acceleration tech. While compressing, you can edit the video by cutting or trimming down unwanted parts, downscaling the resolution, and adjusting the video parameters like bit rate, frame rate, and GOP.
With this, you have more than 420 output formats and profiles to choose from. One can easily drag and drop videos and get them compressed without losing the quality. A screen recorder, video downloader, and subtitle extractor are other features that add value to your work.
Pros:
Easy to install and use.
Full GPU accelerated video editing
Supports more than 1000 online video sharing websites
Cons:
A free trial allows you to process 5 minutes video file only.
2. Movavi Video Converter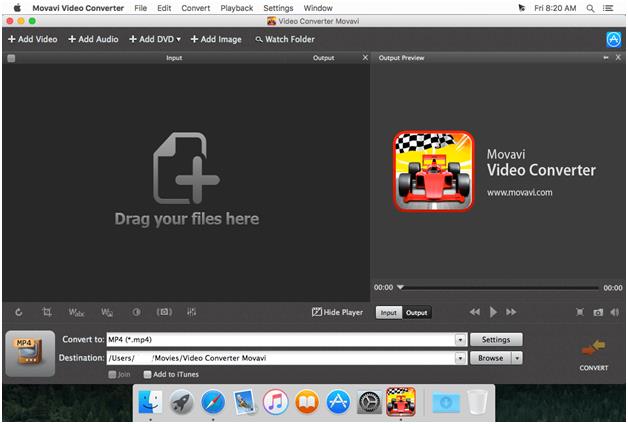 Features:
The next one in the list of best video compressors for Mac comes Movavi. It is known for its speedy conversion and compression. With that, it also provides a decent interface for quick navigation. You can even customize the settings according to your own will to find high-quality converted videos at the end.
Movavi appears with a varied number of preset settings, video editing features, and compressive abilities, supporting multiple output formats at the end.
Pros:
Supports formats like WMV, MP4, AVI, 3GP, and more.
Excellent speed to convert and compress videos with easy uploading.
Cons:
A limited number of editing features when compared to its competitors.
Movavi Video Converter : Get it Here
3. Wondershare UniConverter
Features:
How about a video compressor for Mac which provides file reduction very easily as well as has a super easy structure to deal with? Great, right? Wondershare has already its name high in the field of video editing but its compression software is no less than its competitors. If you are a beginner, you can even use their online version for trial purposes.
UniConverter is also packed with fascinating options like batch processing, additional effects, trim or merging videos, adding subtitles, and making multiple changes before the final output is expected.
Pros:
Plenty of additional features are often missing in its competitors.
Streamlined user interface
Cons:
Since it's a premium tool, one needs to pay a license fee to use it.
Wondershare UniConverter: Get it Here
4. Handbrake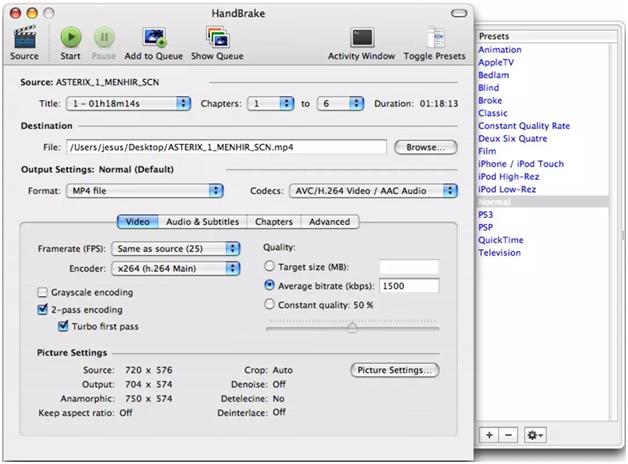 Features:
Compress videos on Mac for free with this open-source software offering you a selection of modern and widely supported codecs. It can process most common multimedia files and even any DVD or BluRay sources. Video encoders like H.265, H.264, and Theora, Audio encoders like AAC, MP3, Vorbis, and more are well-supported outputs.
Despite being an open-source and free video compressor for Mac, its features are not limited to compressing alone. It provides chapter markers, a plethora of video filters, constant quality encoding, batch scanning, and the addition of subtitles.
Pros:
It helps in restoring old and low-quality videos.
Converts video to MP4, MKV, or WebM.
Cons:
It cannot edit the videos in such a way that multiple videos can be mixed in one video.
5. Final Cut Pro X Compressor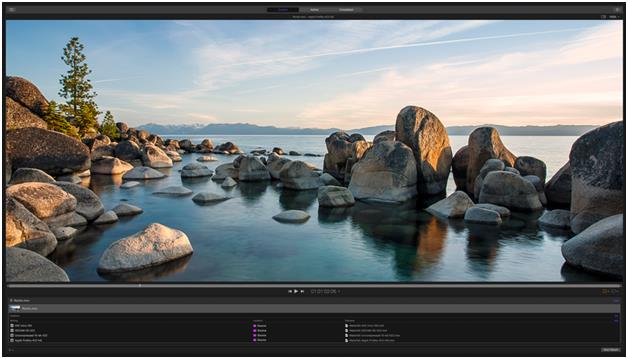 Features:
For all the experienced editors out there, here is a tool that can not only compress your video swiftly but provides you with sleek and sharp editing capabilities. It has been designed with a plethora of features which are evident at the interface itself. You can see your batch present in the center of the screen and later allow you to encode video in 8K resolution.
When compressing videos, you can take advantage of the built-in image filters and tools for audio and video processing. Its distributed encoding features even allow you to compress videos on other Mac computers to speed up the process. No wonder why it is known as the best video compressor for Mac.
Pros:
Sorting becomes easier because of its straightforward nature.
You can export the videos straight to YouTube.
Cons:
User interface looks a little complicated due to the mix of multiple features
6. Any Video Converter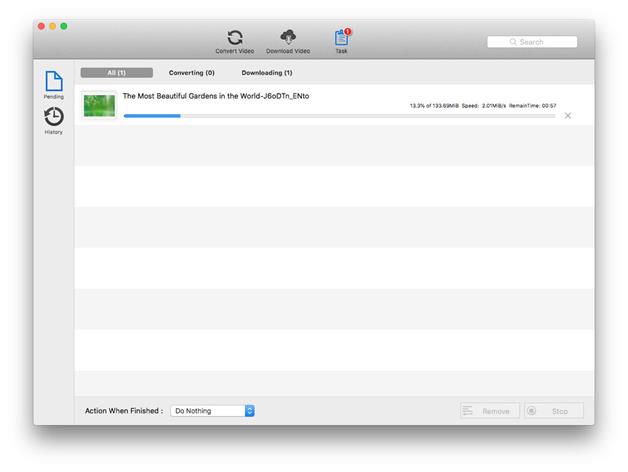 Although the name suggests it as a converter, this video compressor for Mac certainly does compress the videos in a required aspect while maintaining the quality. It's so simple to use that you just have to drag and drop the video to compress it, choose the parameters, and launch it straight away.
While you are ready to compress, you can even try it in different formats which could also be exported on various online platforms. The free version is also pretty strong to convert videos in more than 160 formats. To your advantage, no ads or malware are bothering the system.
Pros:
Video outputs supported like WMV, M2TS, 3GP, 3G2, MPG, MP4, etc.
Crisp and clear interface to navigate yourself.
Cons:
Sometimes it tries to install additional software while downloading the tool.
Any Video Converter: Get it Here
7. Videosolo Video Converter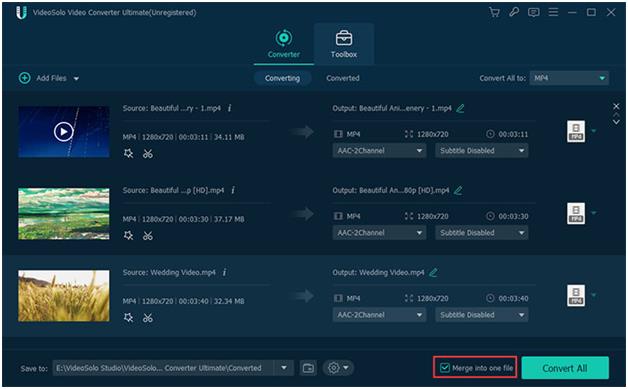 This video conversion software has an incredible user interface to which you can get attracted easily. One can easily compress their videos in more than 300 formats through mobile or web platforms. Moreover, one can compress several videos and audio files in one go, no matter how huge the file size is.
Just drag and drop your file in the video compressor software and get the batch processing done in a quick mode. Along with compressing, enjoy editing features like clipping, merging, cropping, rotating, watermarks, and audio tracking.
Pros:
Hardware-accelerated conversion gives a 6 times faster video conversion rate.
Formats like 4K, MP3, MP4, AVI, 3GP, AAC, AC3, etc.
Cons:
Mac users may not get a chance to enjoy extra video conversion features.
8. VLC Media Player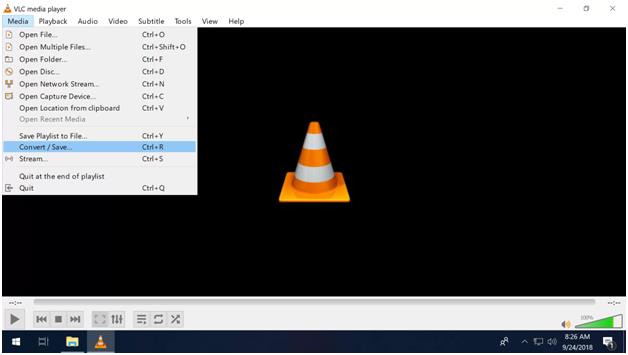 Probably the easiest way to compress videos on Mac for free! The VLC media player is used worldwide and is a favorite tool for most of us to watch movies and enjoy video songs. What you need to do is open the VLC media player, go to the Media tab, and select Convert/Save. Now select the video to be compressed and click Start.
If you wish to compress in another manner, go to the Settings section, choose video codec and adjust the height and width of your video.
Pros:
The easiest tool to compress videos.
Highly reliable source without the need of downloading anonymous software.
Cons:
The output is not as high quality as expected.
9. YouCompress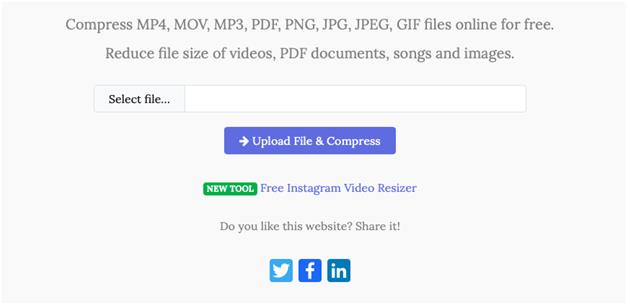 An online but best video compressor for Mac is YouCompress. If you wish to compress only a few videos and that too instantly then this online tool can help you. All you need is a supportive internet connection at the back. Most importantly, you don't even need to worry about installing third-party software in the system that certainly occupies some space.
This tool is friendly for every user, to be precise. Just click on the blue button mentioning 'Upload file & compress' and the uploaded file will take a turn as expected. Why just videos? Your audio files, photos, and documents will also be compressed the way you wish.
Pros:
Do not worry about privacy as all the uploaded files will be deleted from the server automatically.
No watermarks or any other additional glitch will surround your videos.
Cons:
No editing features are available when compared to its competitors.
10. Freemake Video Converter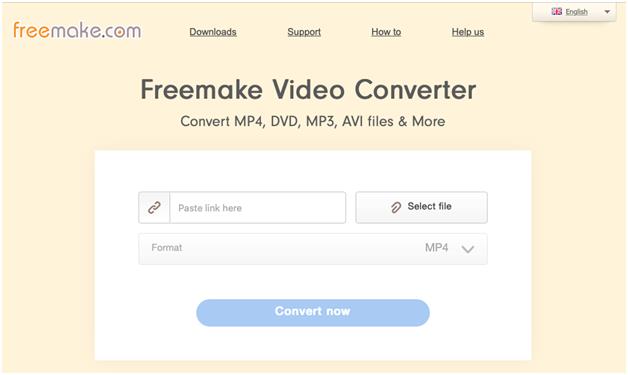 Just like YouCompress, the Freemake video converter is capable of processing MP4, DVD, MP3, AVI files, and much more. The best part is that it is free of cost! Yes, this free video compressor has no trials and limitations for anyone around the world. Moreover, it has more than 103 million loyal customers for more than 10 years. Exciting, right?
It is not limited to compression and conversion but one can cut, join and rotate clips along with this online tool.
Pros:
Free video conversion online tool for Mac.
It lets you embed videos to the online website.
Conclusion
It is understood that video compressors for Mac are an essential part of professional video editors as well as newbies. Now those who are into professional video editing are recommended with VideoProc, Movavi video editor, or Wondershare Filmora 9. However, many of us don't want to keep the software on our Mac and are happy with online video compressors. If you are the one, open the browser and open websites like YouCompress or Freemake.
If you have used any of the video compression tools or software for Mac, share your experiences with us in the comments section below.
FAQs: Video Compressors For Mac