How To Play MKV Files on Mac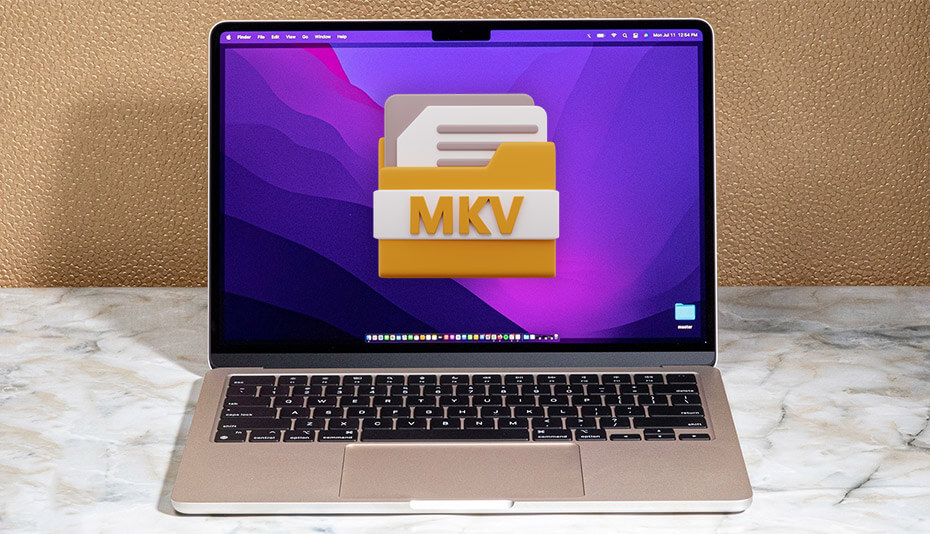 Wondering how to play MKV files on Mac? You've come to the right place! In this post, we have listed a variety of ways that you can use to play MKV on Mac.
Let's get started.
What are MKV Files?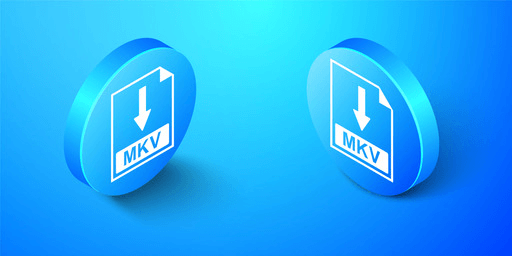 Well, MKV stands for "Matroska Video," which is a popular multimedia container format used to store video, audio, and subtitles in a single file. It is a flexible and open standard that supports a wide range of codecs, making it a popular choice for storing high-definition video content, such as movies and TV shows.
One of the major benefits of using MKV files is that they can support multiple types of audio tracks and subtitle streams. This allows users to switch between different languages or subtitle options effortlessly, without having to switch to a different file. Additionally, the Matroska container format is designed to be extensible, which means it can support additional features and functionalities in the future.
How to Play MKV Files on Mac?
Unfortunately, the default media player on a Mac, QuickTime Player, does not support playing MKV files natively. But, you can use other third-party media players that allows playing MKV files and many other video formats.
Method 1: Download and Install EaseUS Rec Experts
EaseUS RecExperts for Mac is known for its solid capabilities as a screen and audio recorder. However, it's worth noting that it also functions as a third-party video and audio player, which isn't widely known. Yes, that's right. It has the ability to play a variety of common formats, including MP4, MP3, MKV, and AAC, which makes it a reliable MKV player with high-quality playback.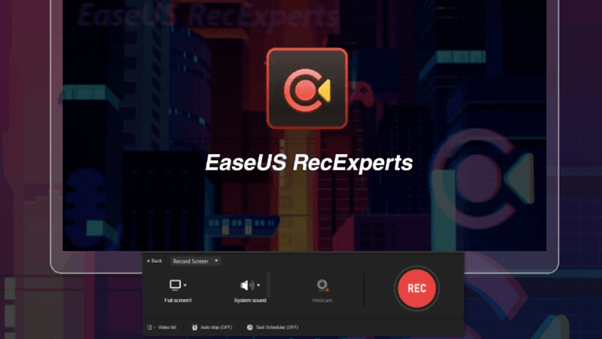 Furthermore, you can utilize this software to make basic modifications to your MKV files. This includes the ability to trim a video, adjust the speed during playback, or remove an MKV file from your list. It's important to note that all these functions are available at no cost.
Here's how you can play mkv files on Mac using the EaseUS RecExperts tool:
STEP 1 = Launch the EaseUS RecExperts software on your Mac. Tap on "Recordings".
So, in this section, you can view all your recordings of all file formats including MP4, MOV, AVI, MP3, MKV, etc.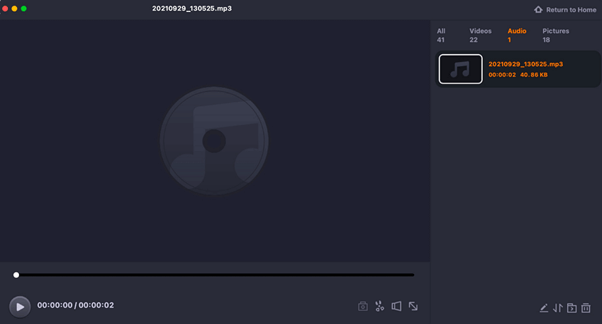 STEP 2 = Now, find and click on the file that you need to play on your Mac.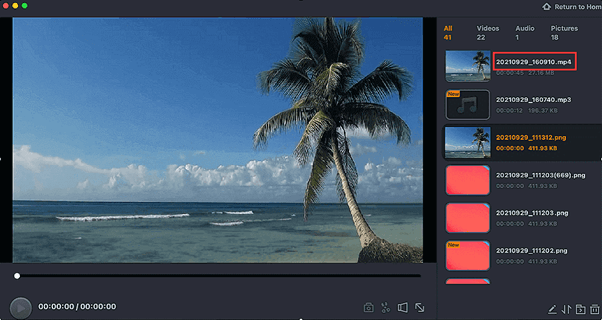 STEP 3 = You can also use the "Scissor" icon placed at the bottom to trim your file to directly make the desired customizations.
Playing mkv files on Mac was not as complex as you thought, right? If you try using this software, to open and play MKV files on Mac, do share your expeirence with us in the comments section below.
Method 2: Use a Plugin
Here comes the next method to play MKV files on Mac. Ever heard of Perian? Well, it's a free, open-source QuickTime component that allows users to play a variety of video formats that are not natively supported by QuickTime on Mac OS X. Perian supports common file formats such as DivX, XviD, FLV, and MKV & more.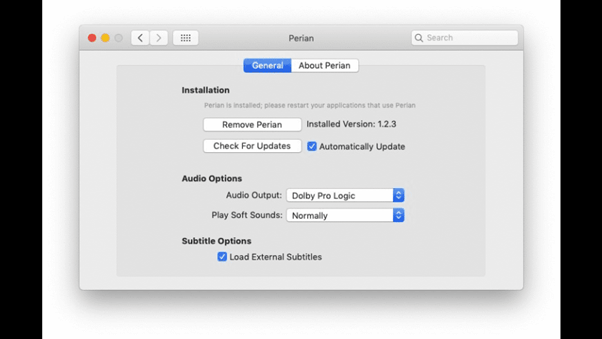 Besides the great compatibility, it's worthy to note that, Perian no longer receives any feature updates or improvements. . But you can still download and use it on your Mac to open MKV files on Mac.
Also read: 10 Best Video Player for Mac in 2023
Method 3: Play MKV Files on Mac Using Elmedia Player
Elmedia Player is a third-party media player that is capable of playing a wide variety of video formats, including MKV. It offers numerous advanced features that make it a popular choice among Mac users, such as the ability to adjust playback speed, subtitles support, and customizable playback options. Additionally, Elmedia Player supports streaming from popular video-sharing sites like YouTube, Vimeo, and Dailymotion.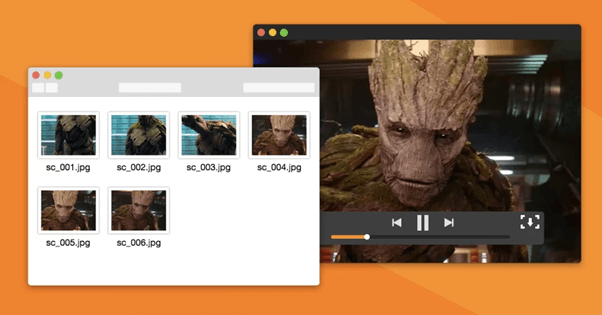 To play an MKV file using Elmedia Player, simply download and install the player on your Mac, then open the MKV file with Elmedia Player. You can also use the player to browse your media library and select the MKV file you want to play from any location or folder.
Method 4: Use the VLC Media Player
You probably have VLC already installed on your Mac, right? Well, it's one of the most reliable and versatile media player that can handle a wide range of video formats, including MKV. It is known for its ability to play any type of videos without the need for installing any additional plugins or codecs. VLC also supports various advanced features, such as the ability to adjust playback speed, add subtitles, and customize playback options.
Here are the steps to play an MKV file on Mac using a VLC media player:
1. Download and install the VLC media player on your Mac. You can download it from the official VLC website (https://www.videolan.org/vlc/download-macosx.html).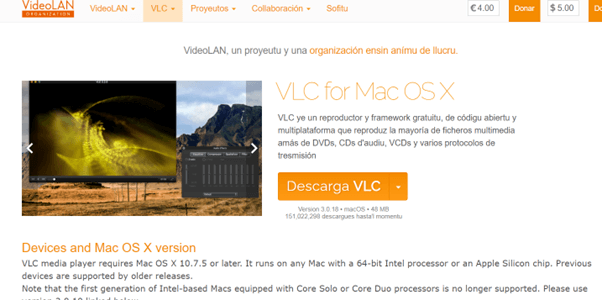 2. Once you have installed VLC, locate the MKV file that you want to play on your Mac.
3. Right-click on the MKV file and select "Open With" from the drop-down menu.
4. Select "VLC media player" from the list of available applications. If VLC is not on the list, click on "Other" and locate the VLC application from the Applications folder.
5. Once you have selected VLC as the default application, click on the "Open" button.
6. VLC media player will launch and start playing the MKV file. You can use the playback controls to pause, rewind, fast forward, and adjust the volume of the video.
Also read: Best MKV Player For Mac In 2023
Conclusion
This wraps up our guide on how to play mkv files on Mac. Opening MKV files on a Mac can be a daunting task if you do not have the right media player installed. Fortunately, there are several options available, including the popular EaseUse RecExperts, VLC media player, and Elmedia Player.
Whether you're a video enthusiast or just looking for a way to watch your favorite movies and TV shows on your Mac, playing MKV files can be an easy and hassle-free task now. If you know any other way to open and play MKV media files, feel free to share your suggestions with us in the comments section below!