Best Procreate Alternative for Mac That Will Help You Pursue Your Sketching Passion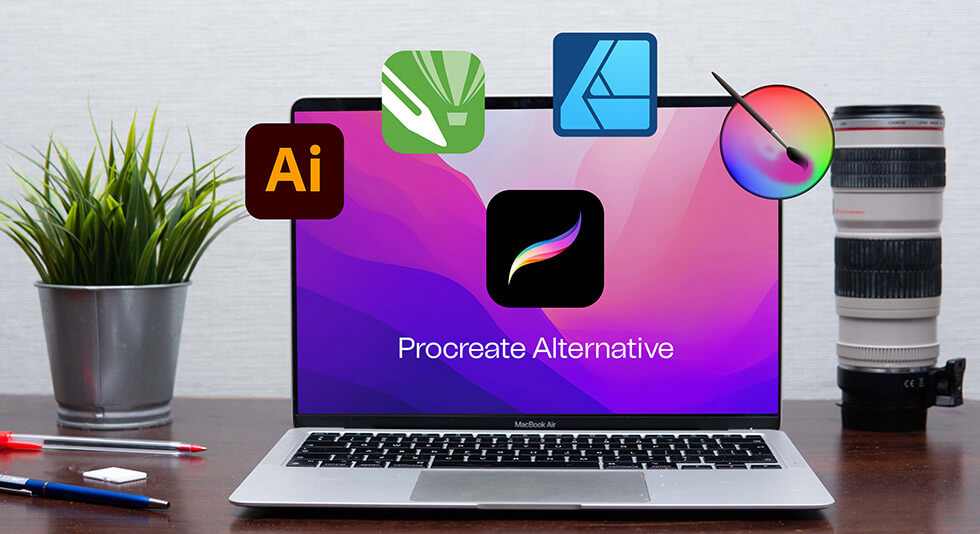 If you have a creative vein running in your body then we're sure you must've definitely heard about the Procreate app. Well, for those of you who are not aware, Procreate is a popular digital painting and illustration app for the iPad and iPhone that allows artists to create stunning digital artwork. Procreate offers a powerful and versatile set of tools that allow artists to create a variety of artwork, and its user-friendly interface and affordability make it accessible to artists of all levels.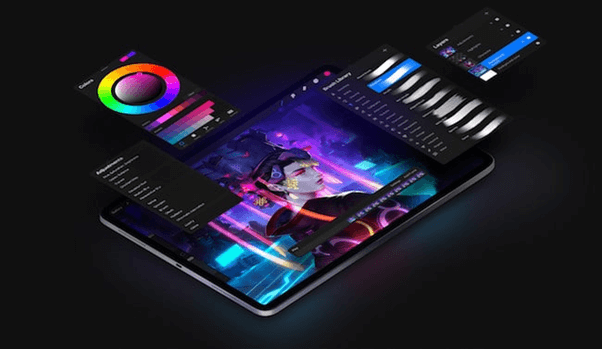 However, here comes a little catch! As this app is exclusively available for iPhone and iPad, there is no version of it that you can use on Mac. Don't be disheartened yet. A lot of graphic designing tools are available online that will help you get the job done.
If you're looking for Procreate alternatives that you can try on Mac? You've come to the right place! In this post, we have listed a handful of apps like Procreate that can take your digital-drawing experience to a whole new level.
Let's get started!
Best Procreate Alternative Tools For macOS (2023)
Check out the finest collection of drawing and sketching apps out there, just as Procreate for iOS.
1. Adobe Illustrator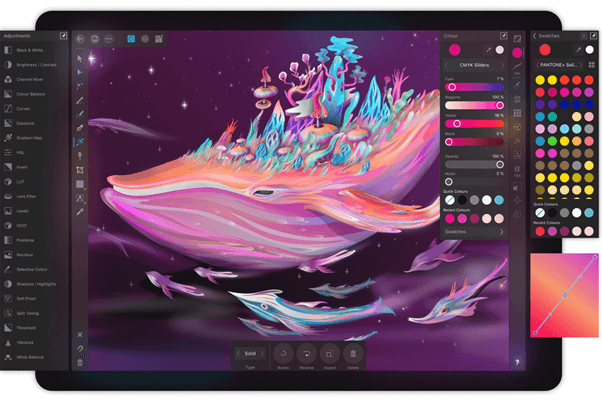 Adobe Illustrator has been around for more than 40 years in the industry. It is a powerful tool for digital designing and illustration and is widely used by amateur designers and professional artists around the world. It allows users to create precise lines and shapes, which further can be edited and modified as needed. Illustrator has a powerful layer system just like Procreate that allows users to organize and manage their artwork easily.
It is an amazing software used for creating digital illustrations, logos, graphics, typography, and other design elements that can be scaled without losing quality. Adobe Illustrator also offers a wide array of typography tools, including the ability to create and edit text, apply various fonts, and adjust kerning, tracking, and other typographic settings.
Also read: Best Photoshop Alternatives for Mac 2023
2. CorelDRAW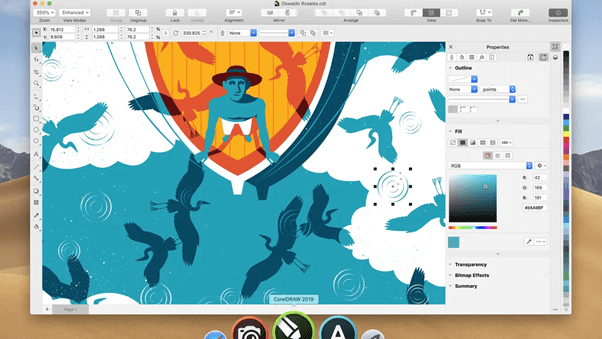 Developed by the renowned Corel Corporation, CorelDRAW is a versatile vector graphic designing tool that lets you create digital illustrations with precision. The Pen tool in CorelDRAW is similar to the tool present in Adobe Illustrator. It allows users to create illustrations with accuracy, which can further be edited and modified as needed, similarly to what you do on Procreate.
So, yes, CorelDRAW can definitely be a great Procreate alternative for Mac users as it offers you incredible color accuracy and flexibility. Additionally, CorelDRAW also has a powerful object manager that allows designers to organize and manage their artwork easily.
3. Affinity Designer 2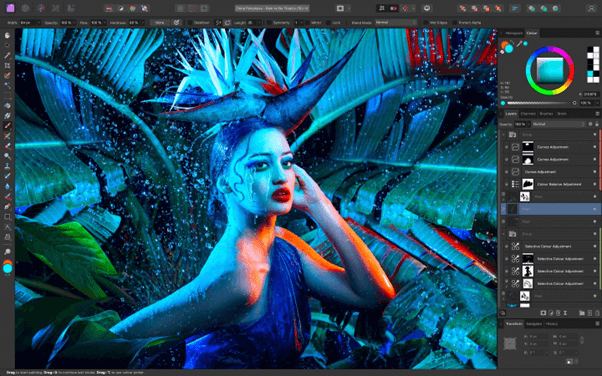 Next on our list of best Procreate alternatives comes Affinity Designer 2. It is one of the fastest and smoothest graphics designing tools for Mac featuring a well-designed interface. Affinity Designer comes with a Pen tool that is similar to the Pen tool available in Adobe Illustrator and CorelDRAW.
Affinity Designer makes it easier for artists to experiment with their creativity. It supports non-destructive editing, which means that changes can be made to an object without permanently altering its underlying structure.
Also read: 10 Best Notepad++ Alternatives for Mac
4. Krita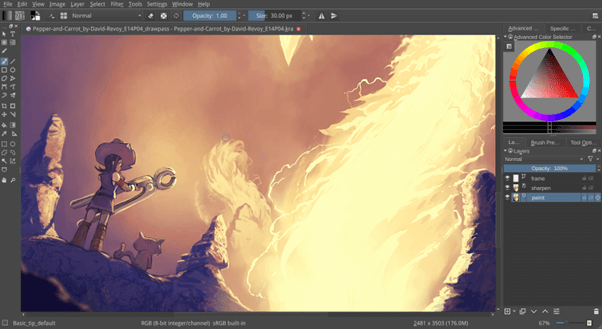 Krita is a free and open-source raster graphics editor, primarily used for digital painting and animation. So, if you are looking for a Procreate alternative for Mac that lets you create complex and layered artwork with ease, Krita is definitely worth a shot. It has a powerful brush engine that allows users to create custom brush strokes with a wide range of settings, including brush size, opacity, flow, texture, and more.
Krita has a powerful color management system that allows users to work with a range of color models as well including RGB, CMYK, and LAB. It also supports color correction, color palettes, and color space conversion.
5. Adobe Express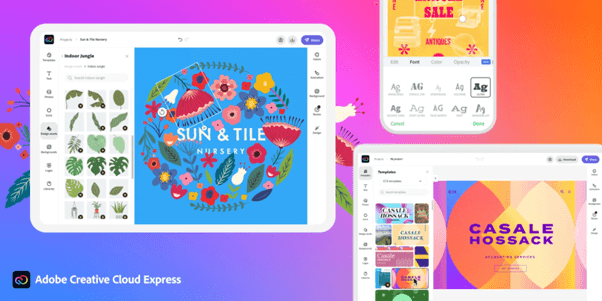 Do you quickly want to create an eye-catchy and creative content on your Mac that offers similar functionalities as Procreate? If yes, Adobe Express can be your perfect companion. It is an ideal designing tool, especially for beginners that simplifies the complexity of creating digital artwork.
From designing logos to layouts to any free-form artwork, Adobe Express offers you the most intuitive tools to create professional-looking designs in a snap. Would you give it a try? If yes, do not forget to share your experience with us in the comments section below!
Also read: Best Free Lightroom Alternatives for Mac in 2023
6. ArtStudio Pro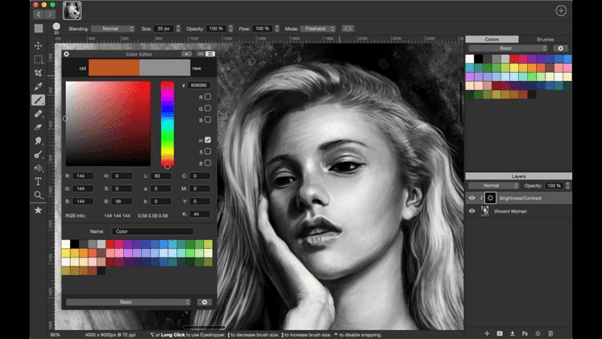 ArtStudio Pro is a popular painting and photo editing app for Mac users. It offers a wide range of features and tools for creating digital artwork, including support for layers, masks, and a variety of brushes and pencils. The app also includes advanced color management features and supports various file formats such as PSD, TIFF, JPEG & more.
You can download it from the Mac App Store. It is available for a one-time purchase price, and you can use it on multiple Macs that you own. Give this Procreate substitute a chance, and you will definitely not regret investing your time.
Also read: How To Use iMac as Monitor In 2023
Conclusion
This wraps up our list of best Procreate alternatives for Mac that you can use this 2023. Each of these apps offers its own unique features and advantages, from precise vector graphics to realistic painting and drawing tools.
We encourage you to explore each of these options and see which one works best for your style and workflow. With the right tool in hand, you'll be able to unleash your creativity and bring your digital art to life. Our personal recommendation includes Adobe Illustrator and CorelDraw. Both the applications provide a brilliant set of functionalities to create stunning digital illustrations, sketches, hand-painting and other artwork with precision.
What's your favorite Procreate alternative for Mac from our list? Feel free to share your suggestions in the comments window.