8 Best Stop Motion Software for Mac In 2023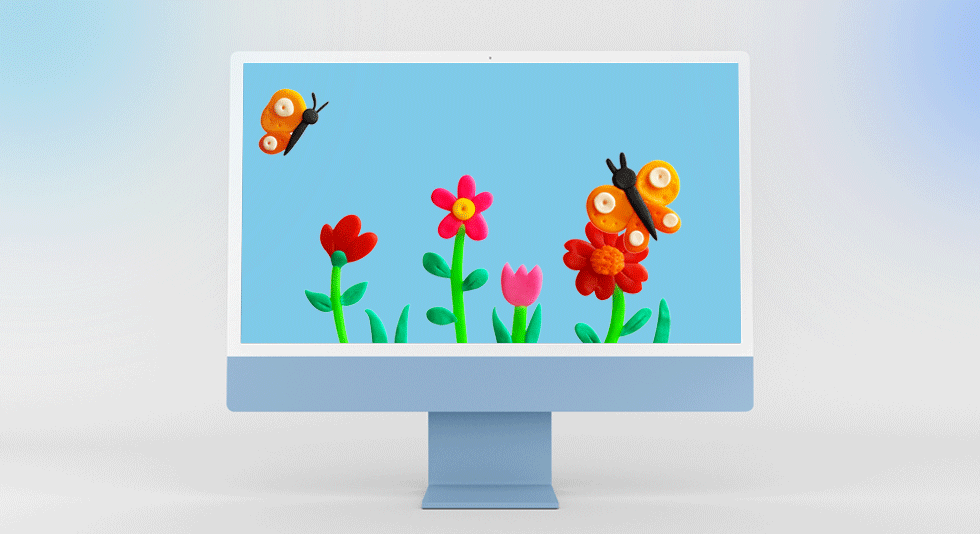 With the expansion in digital technology and tools, animation has become extremely popular over the years. Today, you can find animated content all around you, be it 3D clips, videos, TV shows, or movies. It is a highly-demand art form that allows creators to develop visually stunning content. But there's no doubt that creating stop-motion animation has been an extremely laborious task.
Fortunately, the market has dozens of stop motion programs that have made the process accessible to millions of people. Most of them are easy-to-use that even children can make the stop-motion video without any hassles.
So, without any further ado, we will be talking about stop-motion animation. Here's everything that you need to know!
What is a Stop Motion Software?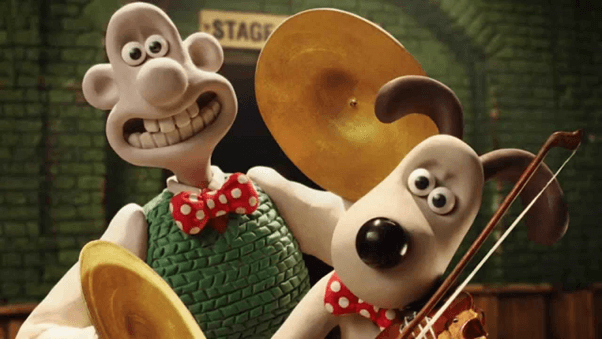 Stop motion is a unique filmmaking technique in which objects are physically manipulated and photographed frame by frame to create an illusion of movement. You can think of it as a flipbook where the resulting sequence of still images, when played rapidly, creates the illusion of motion.
Stop motion is a versatile type of animation that allows creators to bring their ideas to life. It is comparatively more cost-effective than other forms of animation and can be used as a powerful storytelling tool. Stop-motion software is used to create stop-motion animation, a technique that allows the editors to have precise control over the timing and movement of each object in the frame.
Also read: 10 Best Video Editing Software for Mac in 2023
8 Best Stop Motion Software to Use on Mac (2023)
This post highlights 8 of the best stop-motion software available for Mac that offer various features and capabilities to enhance your creativity. These programs are our top picks for taking your stop-motion animation to the next level.
1. Stop Motion Studio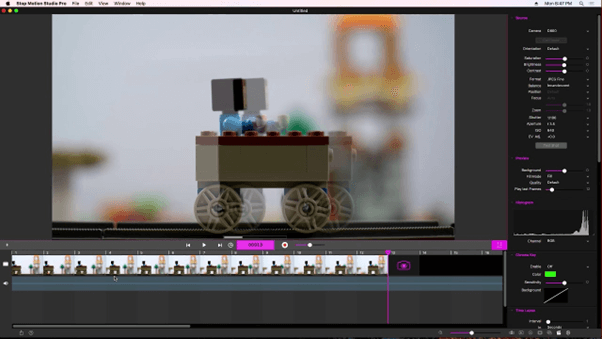 Stop Motion Studio is a fully-featured, powerful animation tool for macOS that you can use for creating movies and clips of any kind. It comes with a simple, easy-to-use interface that is ideal for both beginners and professional filmmakers. The app comes with features such as image capture, frame-by-frame editing, and the ability to add sound and music to your animations.
The Stop Motion Studio app also allows you to enhance your movies by adding soundtracks, titles, credits, text cards, and so on. If you're a newbie in the animation field, you can jump-start by watching a bunch of video tutorials and comprehensive manuals offered within the app.
2. PowerDirector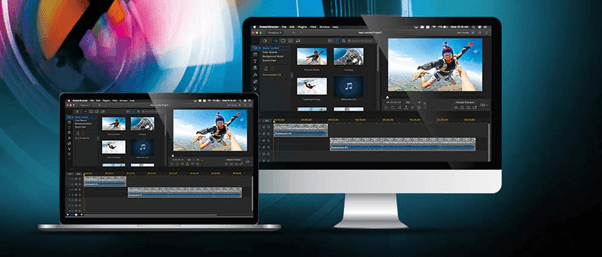 PowerDirector is an ultimate video editing tool that comes packed with a wide range of powerful features. You can use this nifty tool for creating stop-motion animation, slow-motion videos, slideshows, video collages, and movies within no time.
PowerDirector for Mac is a full-featured video editor that allows users to create and edit videos, add special effects, and produce professional-quality videos. You can even use features like a video stabilizer, speed adjuster, and voiceovers to experiment with your creativity.
Also read: How To Compress Video On Mac – Easy Ways
3. DragonFrame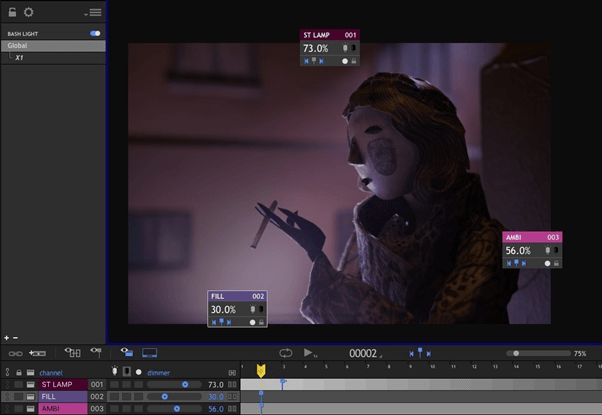 Want to create the visually-stunning film that you've always been dreaming of? Well, DragonFrame can help you through as it is the perfect tool to embark on your stop-motion animation journey. It is a professional, feature-rich tool that comes with an intuitive user interface.
DragonFrame software offers you frame-based animation that you can use to adjust the timing, reshoot sequences, and even restore deleted frames. The program supports a variety of additional hardware add-ons, that can be connected for controlling lighting and camera movement.
4. iStopMotion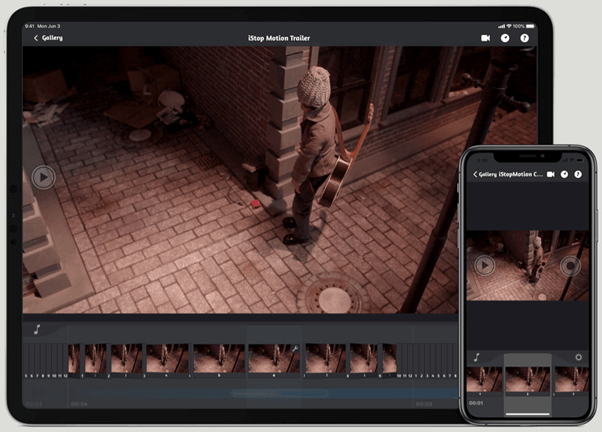 iStopMotion is a powerful yet comprehensive stop-motion animation software that provides a range of tools and features for creating animations, including image capture, frame-by-frame editing, and more. You can find this tool on the Mac App Store to master your film-making skills.
The stop motion software even offers a sophisticated range of time-lapse recording abilities to anyone with USB/Firewire camera and a Mac running popular OS versions.
5. Frames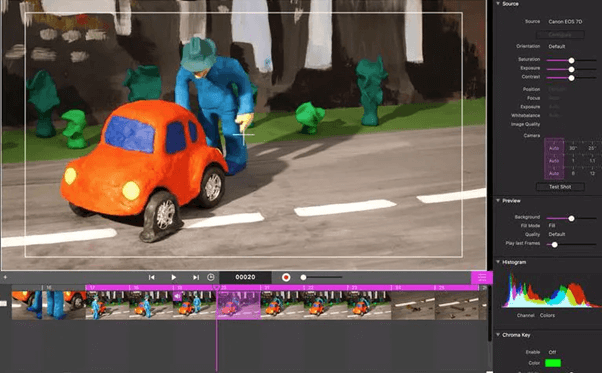 Frames is a unique stop-motion software that lets you create clay animation and cut-paper animations with ease. It also comes packed with features like onion skin, chroma key, time-lapse, and more. You can use this nifty animation tool for creating original cartoon videos within a snap. All credit goes to the integrated drawing tools, clip art, and path animation options it comes packed with.
Additionally, you can find interesting options to combine narration, sound effects, and background music. This will certainly make the final output attractive and aesthetic.
Also read: 10 Best Video Players for Mac in 2023
6. Filmora Pro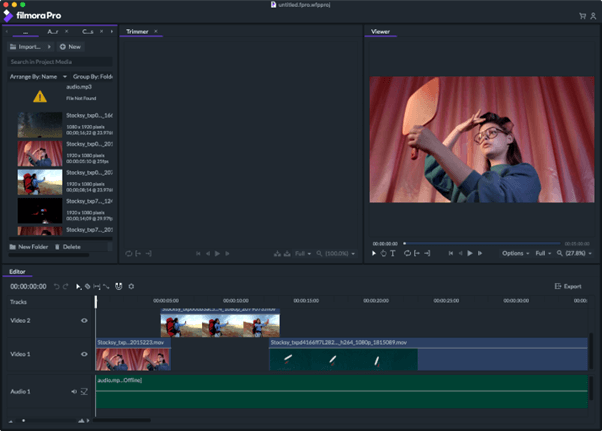 Developed by WonderShare, Filmora Pro is a powerful video animation tool for Mac that is designed to be simple and easy to use, making it a good option for users who are new to stop-motion animation and want software that is straightforward and intuitive. You can use this tool to transform any video into a beautiful piece of art using various visual effects and transitions offered by the software.
It offers you various editing features like picture-in-picture track, green screen, split screen, AI portrait, screen recorder, and so on. FilmoraPro also offers a large collection of visual effects, transitions, and royalty-free music, which can be used to enhance the look and feel of the videos.
7.  Animate It!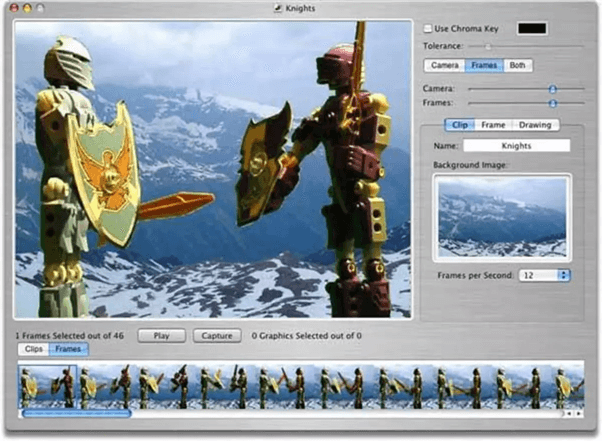 Want to quickly create stop-motion animated films on your Mac without getting into any complexities? Animate It software can help you get the job done. It lets you capture images from any webcam, remove greenscreen, import audio and videos, and create time-lapse videos like a pro.
The app allows you to view, edit, and rearrange your frames, making it easier to create the stop-motion animation you want. You can even add 2D shapes to your animation and even choose to onion skin up to five frames at a time that ensures smooth & flawless actions.
Also read: How to Remove Background Noise from Video on Mac
8. Eclipse-Stop Motion Pro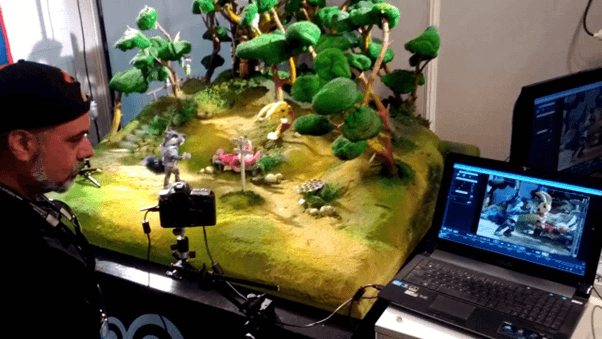 Eclipse stop-motion software for Mac can be your perfect companion to put your ideas to life. This powerful animation tool comes with an intuitive interface that lets you create high-resolution stop-motion animation clips like a pro.
It lets you capture multiple frames with one click and is compatible with dozens of cameras. Eclipse also offers you the liberty of importing images and videos from other platforms. You can also use this tool for developing keyframe animation and time-lapse videos.
Note: Eclipse has been tested on the latest Intel Macs, and it works exceptionally well in conjunction with Boot Camp running Windows.
Conclusion
Here were the 8 most comprehensive and versatile tools for creating stop-motion animations on Mac. You can pick any of the above-listed software to enhance your animation experience. Our personal recommendation is Stop Motion Video that comes with a simple, easy-to-use interface & feature rich features to soundtracks, titles, credits, text cards, perform frame-by-frame editing and so on. This makes it an ideal choice for both beginners and professional filmmakers.
So, just for fun, what is your go-to video editing tool on Mac? Feel free to drop your suggestions in the comments section!