Best Video Repair Software For Mac in 2023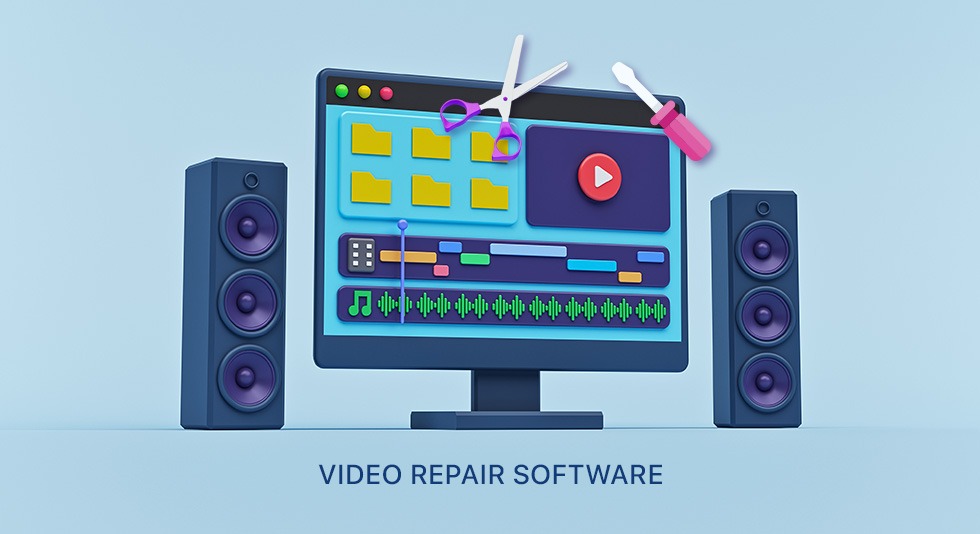 I lost an amazing video of my trekking in Himalayan villages due to it getting corrupted. I cannot tell you how depressing it was for me. Little did I know about a recovery tool, I lost the file too due to negligence. However, now I know what you can do to recover a video and I want to share it with you. Once deleted a video can't be found at its previous location, hence recovering it manually is tough. For that, you need a repair tool on your Mac.
Confused about which video repair software for Mac would work for you. Don't worry, we have listed some of the best video repairing tools for Mac. Check out the list and find out what's best for your Mac.
Before we explain to you which video repair software can be used comfortably, understand the reasons behind the corruption.
It is possible that your camera shut down suddenly while you were recording videos making the video corrupt.
Power supply interruption while playing videos
Viruses and bugs hitting the system
Computer was improperly shut down.
Incomplete media file transfer
Crashing of OS
Faulty video conversion can make the videos corrupt
A good video repair software makes sure that all the major file formats like MP4, MOV, AVI, 3GP, WMV, etc. are supported. So here are the solutions for your video repairing.
Best Video Repair Software For Mac (2023)
Comparison Table Of Video Repair Software
SL.No
Name of The App
Best Features
macOS Compatibility
Latest Version
Pricing
1.
Stellar Repair For Video
●      Fix corrupt videos on Mac and external storage mediums.

●      Supports all major file formats in macOS and iOS devices.

●      The tool can handle corrupt video situations like video lags, black screen, stuttering, or corruption situations arising because of viruses, corruption in the file header, etc.

macOS 10.7 and later
5.0.1
Free. Then, $49.99
2.
Wondershare Repairit
●      Repair broken videos, files, and photos in batches.

●      Preview repaired videos before saving them at a desired location.

●      The tool can recover corruption in all major file formats and can even handle corruption in files in external devices like GoPro, DJI drones, etc.

macOS 10.8 and later
3.5.5
Free. Then, $79.99
3.
Yodot MOV Repair
●      Automated process for repairing videos

●      Repair corrupt and truncated video files.

●      Preview repaired M4V, MOV, and MP4 files before you choose to restore them.

macOS 10.6 and later
2.5
Free. Then, $79.95
4.
Remo Repair AVI
●      Capable of handling different video corruption at once such as audio-video not syncing, broken AVI index, broken header, etc.

●      Known for high precision regardless of the damage to AVI videos.

●      Doesn't alter the original content while repairing the damaged AVI files.

macOS and later
2.0.0.15
Free. Then, $69.97
5.
Grau GmbH Video Repair
●      Repair video files broken, truncated, corrupt, or damaged.

●      Works with most digital cameras and smartphones.

●      Supports non-broken reference movies for finding missing movie parameters and meta-data.

macOS 11.3 and later
4.0
$110.42
6.
VLC Media Player
●      Free and open source.

●      Supports a wide variety of codecs and formats.

●      Easy to use.

macOS 10.75 and later
3.0.17.4
Free
7.
EaseUS Data Recovery Wizard
●      Repair multiple MOV and MP4 files.

●      Recover lost or corrupted data.

●      External devices are supported.

macOS 10.9 and later
13.5.5
Free. Then, for $89.95/ month
8.
CAT Video Repair Software
●      Works on a copy of a corrupted file, thanks to the read-only mechanism.

●      Can handle all video corruption situations such as header corruption, audio-video sync, etc.

●      Repair videos shot on any camera model, Drone, webcam, or smartphone

macOS, and later
1.0.0.2
Free. Then $69.97
9.
DivFix++
●      Repair HD AVI files

●      Preview repaired video files

macOS 10.5.6 and later
v0.34
Free
1. Stellar Repair For Video
Price: $49.99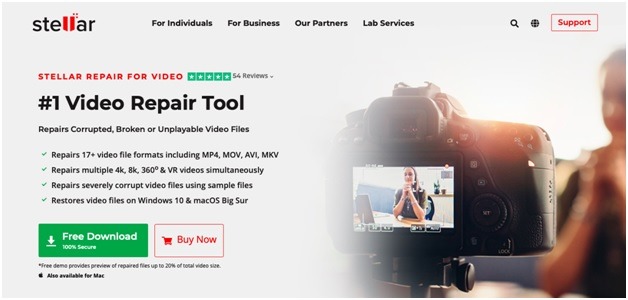 Constituting a complete video repair strategy in one single box, the Stellar video repair tool supports file formats like AVI, ASF, MKV, FLV, WEBM, MPEG, MTS, MOV, MP4, and many more. It has powerful repairing capabilities with seamless GUI, previewing options, faster speed, and methods to repair compressed video files.
This video repair tool for Mac can also act effectively on sound issues, movement of videos, fix non-playing videos, etc. Wherever your video is stored, be it SD card, USB flash drives, CF card, or HDD, it can repair anything.
Pros:
Repairing multiple videos in one go is possible
Severely corrupted files can be repaired with advanced repair technology.
Cons:
Free version doesn't allow you to repair videos.
Download: Stellar Repair For Video
2. Wondershare Repairit
Price: Starts $39.95
When you talk about videos and their repair, Wondershare fits perfectly in every sense. It supports all the popular formats like MOV, MP4, M4V, MKV, etc., and gives a proper preview of the repaired video before saving it to your Mac. Ensuring a high success rate with powerful repair technology, you can rely on Wondershare for video repairing.
It can even fix videos from popular devices like cameras, GoPro, DJI drones, and more with no limitation on the size and amount of videos you repair. Moreover, get your standard definition, HD, as well as 4k resolution videos repaired with this best video repair tool for Mac.
Pros:
Lightweight on your system and doesn't consume many resources.
Optimized user interface
Cons:
Trial version doesn't let you repair the videos
Download: Wondershare Repairit
3. Yodot MOV Repair
Price: $69.95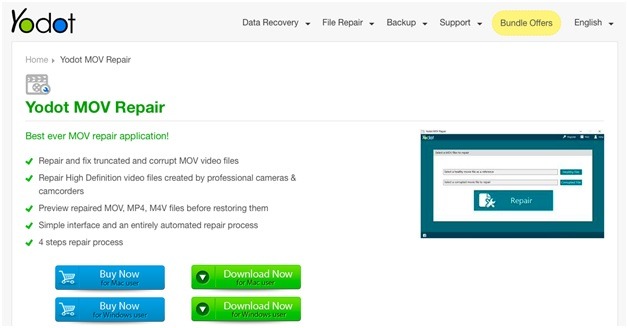 Get your fractured videos repaired and restructured while this video repair software for Mac works smoothly in your system. It possesses a simple interface where you can bring videos from professional cameras or camcorders in any format like MOV, MP4, M4V, and more. Interestingly, it can extract video and audio frames separately from a damaged file and attach them for a proper video file.
This software is capable of repairing video files created by CCTV cameras, HD cameras, GoPro, point and shoot cameras, and other storage devices.
Pros:
Can even fix audio issues
Very easy to use for beginners as well as advanced users.
Cons:
Batch repairing is not possible.
Download: Yodot MOV Repair
4. Remo Repair AVI
Price: $99.97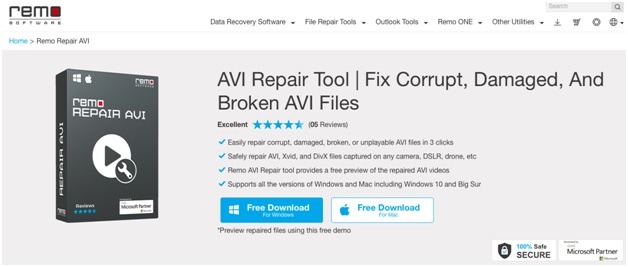 Starting from its simplicity, even if you are a beginner, Remo repair AVI can fix videos with audio lag issues. File formats, including MP4, MOV, AVI, etc. help you get through the video repairing without the need for file conversion. You can also preview the file which has been repaired before actually downloading it in your system.
Whether these errors have corruptions like damaged AVI file header, broken AVi index, audio-video sync problems, codec issues, or others, you can get them quickly repaired using this video repair software.
Pros:
A wide range of file formats are supported for recovery.
It has a user-friendly interface
Cons:
It May seem expensive than its competitors
Download: Remo Repair AVI
5. Grau GmbH Video Repair
Price: $110.42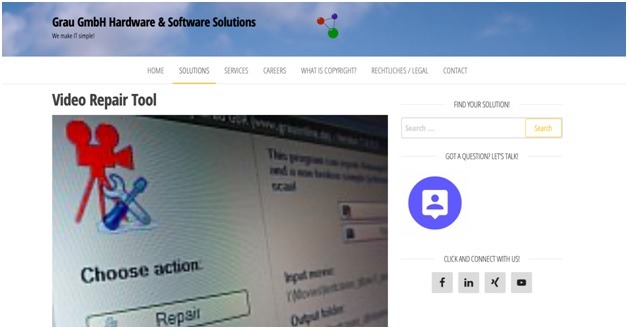 Grau GmbH is another video repair software for Mac that can repair most of the videos which your media player is not supporting due to damage. Sometimes it may also help in repairing particular portions of the file along with the audio issues but it all depends on the grade of corruption available.
Name any codec format, AVC1, HEVC, MP4V, JPG, or more, and get them repaired smoothly. Although, it supports limited camera models and may seem a little expensive, the reliability and trust it possesses are simply good to keep going.
Pros:
Easy batch video repairing
Has a supportive and easy user interface
Cons:
Have difficulty in repairing videos above 2GB
Download: Grau GmbH Video Repair
6. VLC Media Player
Price: Free
Who doesn't know the magic of the VLC media player already? This open-source media player not only runs major file formats like DVDs, Audio CDs, VCDs but also plays a major role in repairing the video files which are corrupt or broken. Moreover, VLC runs smoothly on Windows and Linux as well.
Simply, go to Tools and select Preferences from the drop-down menu. Now click on the Input/Codecs option and identify the location saying 'Damaged or incomplete AVI file' to get your work rightly done.
Pros:
Free of cost with no spyware, adware, or user trackers.
Extremely easy to use with no previous experience required.
Cons:
Supports only AVI video repairing.
Download: VLC Media Player
7. EaseUS Data Recovery Wizard
Price:
EaseUS Repair Video is a video repair tool for Mac that can help save a corrupted video. More specifically, it can fix a corrupted MOV or MP4 file without difficulties. The video repair feature in EaseUS Data Recovery Wizard for Mac has recently been introduced, and it can prove to be a life savior in a situation when an HD video is not playing just because it is corrupt.
Pros:
Repair multiple videos.
Corrupted videos from external devices such as SD cards and several camera models are supported.
Apart from repairing video files, the tool also helps recover data.
Cons:
Limited video file format can be repaired.
8. CAT Video Repair Software
Price: Free and paid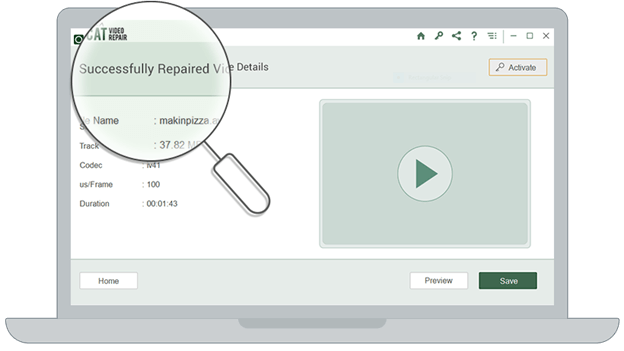 CAT Video Repair is  another option you can consider to repair videos on your Mac. It is a safe and powerful tool because it uses a read-only mechanism and works on the copy of the corrupted video file. You can choose to preview the repaired video, see its success rate, and then opt to activate the product.
Pros:
Preview video repair success rate before opting to purchase the product.
The read-only mechanism works on a copy of the corrupted file.
Repair MOV, MP4, AVI, and DIVX video file formats
9. DivFix++
Price: Free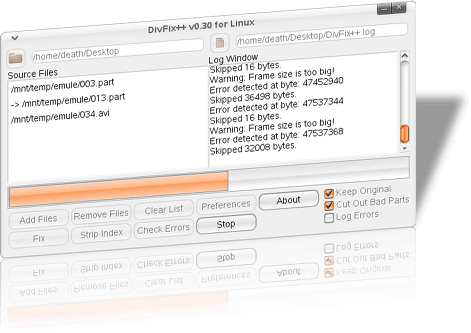 Last but not least, we have DivFix++. This video repair software for Mac can help repair corruption in high-definition videos in AVI format. It is a lightweight video repair tool for Mac that was popular back in the day and can is still capable of repairing corrupted video files on Mac. Wish to repair MKV files, you can install Meteorite.
Pros:
Can repair high-definition AVI videos.
Light on the system's resources.
Cons:
Supports AVI files at the moment for repair.
Conclusion
We hope that some of the best video repair software for Mac can help you in correcting your corrupted videos easily and get you back those amazing captured memories in no time. We respect your idea of repairing the videos which couldn't be checked at the moment but can be gained back with your sense of judgment and a little bit of hard work. So which one are you going to pick, mention it to us in the comment section below?
FAQs: Video Repair Software For Mac