How to Change and Stop Startup Program on Mac: A Comprehensive Guide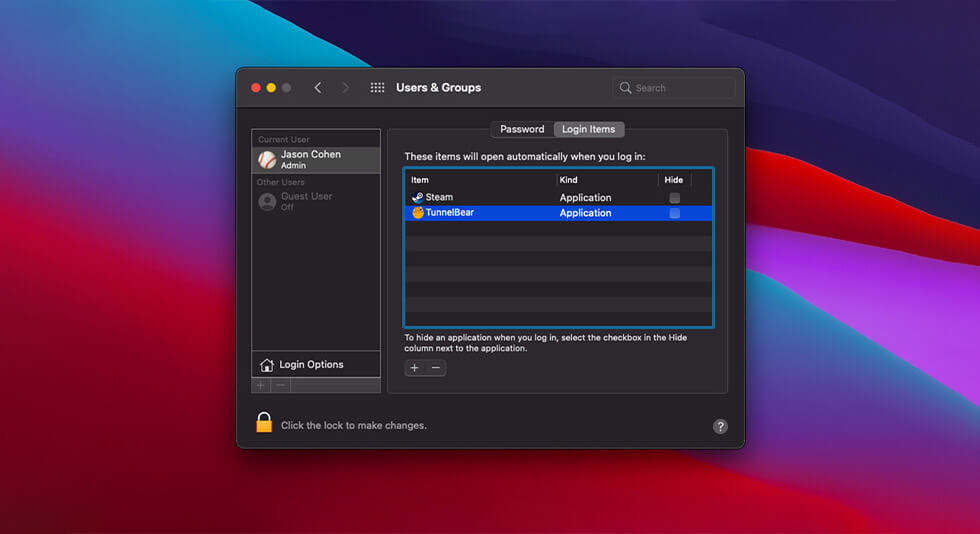 Learn How to Speed Up Your Mac by Tweaking Its Startup Programs!
Have you ever wondered why your Mac takes longer than expected to boot up or why many applications launches as soon as you log in? Well, the answer often lies in the list of startup programs that are set to initiate automatically when you start your Mac.
Whether apps are adding themselves or you want a quicker startup, knowing how to manage startup programs can greatly enhance your Mac's performance and your overall user experience. In this guide, we'll walk you through the step-by-step process to change or stop the startup program on Mac and also help you grasp the importance of selective startup, so you're always in control of what's happening the moment you power up your device.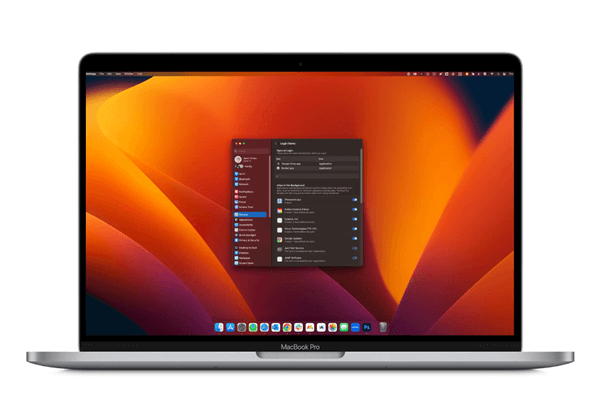 From exploring the impact of startup programs on your Mac's speed to unveiling the built-in tools that macOS provides, we've got you covered.
Also read: How to Use System Preferences Setting on Mac and Boost Your Productivity
What are Startup Programs on Mac?
Startup programs on Mac are applications or processes that are configured to launch automatically when you start up your computer. These programs are designed to provide convenience by making certain applications readily available as soon as you log in. However, they can also have an impact on your Mac's boot time and overall performance.
These programs are usually managed through the macOS system settings or via third-party utilities. While some startup programs are essential for the smooth functioning of your Mac, others might be unnecessary and can potentially slow down your computer's startup process.
Learning how to manage and control these startup programs allows you to tailor your Mac's boot experience according to your preferences. This further optimizes the speed and efficiency  of your macOS while ensuring that only the programs you need are launched at startup.
How to Stop Startup Program on Mac?
Stopping startup programs on your Mac using the "CleanUp My System" app is a breeze. Just follow these straightforward steps to Disable Startup program on Mac:
Step 1: Download and install the CleanUpMySystem app from the Mac App Store.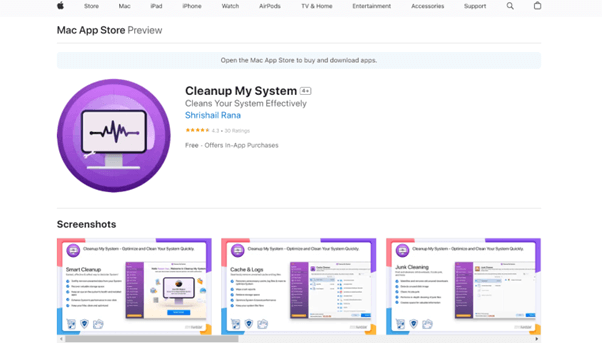 Download Cleanup My System
Step 2: Open the "CleanUpMySystem" app on your Mac. You can find it in your Applications folder or through Spotlight search.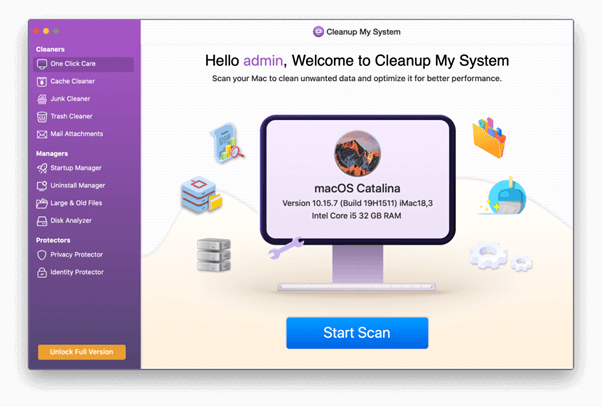 Step 3: Once the app is open, select the "Startup Manager" option from the left menu pane. This is where you'll find the list of programs that launch at startup.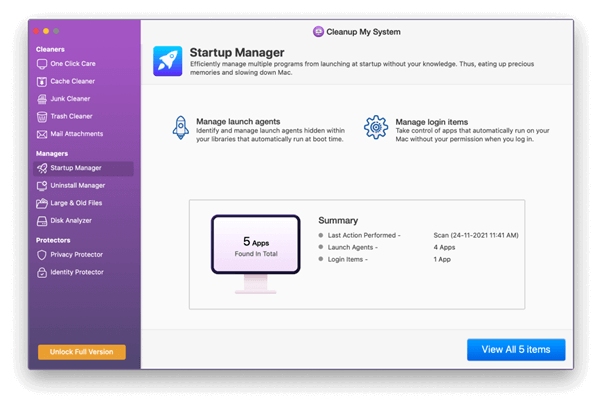 Step 4: In the "Startup Items" section, you'll see a list of programs set to launch automatically. Review the list and identify the programs you want to prevent from starting up.
Step 5: To stop a program from launching at startup, usually, there's an option to uncheck a box next to the program's name. This action disables the automatic startup for the selected program.
Step 6: After you've unchecked the boxes for the programs you want to remove from startup, there might be a "Save" or "Apply Changes" button. Click on this to confirm your selections.
In some cases, changes to startup programs might require a system restart to take effect. If prompted, go ahead and restart your Mac.
And that's it! This is how CleanUpMySystem app will help you prevent selected programs from launching at startup, streamlining your Mac's startup process and improving its overall performance. Remember to only disable programs that you're confident about you don't need at startup.
Also read: How To Reduce Ram Usage on Mac | How to Clear Memory on Mac
How to Manually Disable Startup Program on Mac?
Here's a manual way to oversee startup programs on your Mac. Follow these quick steps:
Step 1: Navigate to the Apple menu on your Mac and select "System Preferences."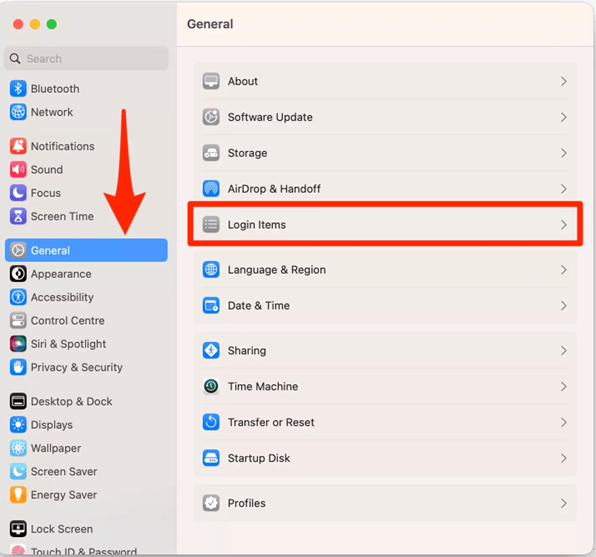 Step2: Within the sidebar, locate and click on "General," followed by selecting "Login Items" from the options presented on the right.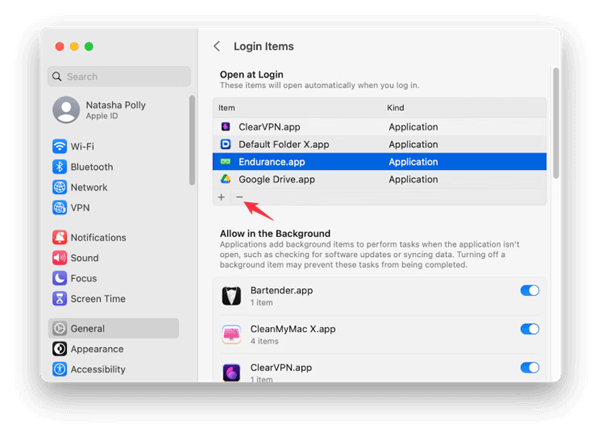 Step 3: Identify the program you wish to exclude from automatic startup, then press the "-" button located below the list to remove it from the lineup.
Also read: How to Access and Control Mac Remotely For Any Device
How to Change or Stop Startup Programs on Mac Using Dock?
Are you interested in learning how to deactivate Mac startup programs using Dock? Simply follow the instructions provided below:
Step 1: Launch the application that you intend to exclude from startup.
Step2: Perform a right-click on its icon within the Dock and subsequently select "Options."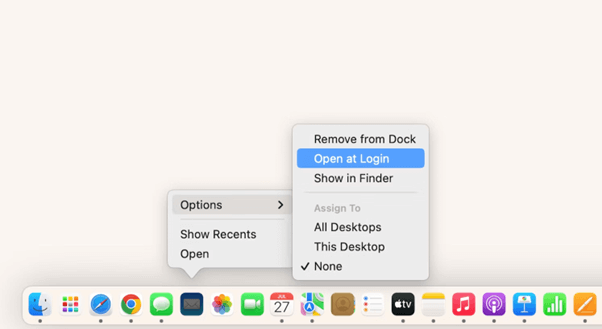 Step 3: Uncheck the "Open at login" option.
Remove Background Processes and Agents on macOS
You have the option to inspect the daemons and agents currently active on your Mac using the Finder application. However, be careful because these parts are hidden. Only make changes if you fully understand the potential outcomes.. Thus, proceed with care.
Here's the process for eliminating agents and daemons via the Finder:
Within the Finder, navigate to the "Go" menu and opt for "Go to Folder." Alternatively, you can use the key combination Shift + Command + G.
Subsequently, input /Library/LaunchDaemons and hit the Enter key.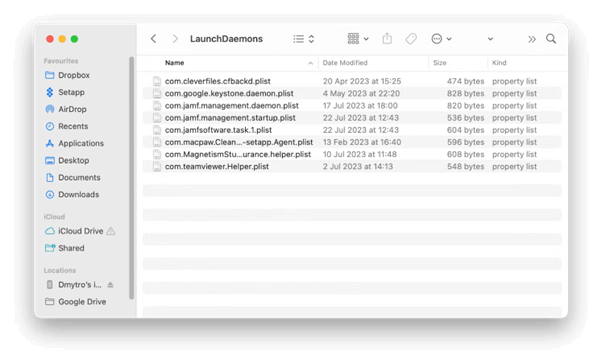 Look through the list of .plist files and watch out for names you don't know. If you find one, click on it and see if you recognize the vendor. If not, just drag the file to the Trash.
Also read: How To Fix Macbook Stuck on Loading Screen?
Customize and Improve Your Mac's Startup Programs!
This wraps up our comprehensive guide on how to Stop Startup Program on Mac. Mastering the art of Mac Startup Program Optimization empowers you with a valuable tool to enhance both performance and efficiency. By gaining control over what launches when you power up your device, can significantly reduce boot times, declutter your system, and ensure a smoother user experience.
Whether you opt for the user-friendly route through System Settings or choose to delve into the intricacies of hidden daemons and agents, this comprehensive guide helps you confidently handle startup programs. Remember that balance is key – while trimming unnecessary startup items can boost your Mac's speed, be cautious not to disable essential processes.
With these insights at your disposal, you're well on your way to unlocking the full potential of your Mac's startup process. If you know any other methods to change and stop startup items on macOS Ventura, do share your suggestions in the comments section below!