How to Delete Messages on Mac: Bid Goodbye to Clutter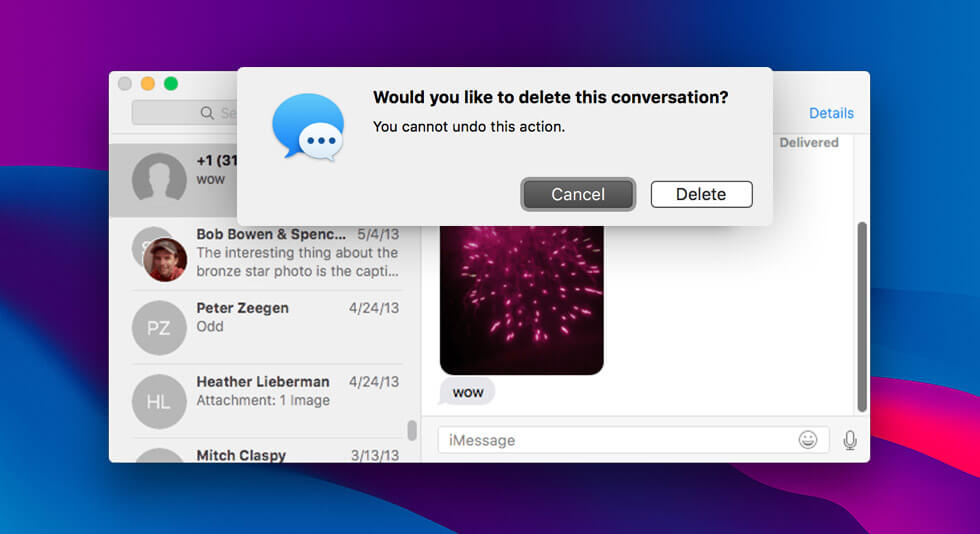 A Quick and Easy Way to Free Up Space: Remove Unwanted Messages on Mac!
Messaging platforms are our go-to tools for communication, don't you agree? Whether we need to share ideas, plan events, or connect with our family and friends, our Mac help us handle our digital conversations.
However, with countless messages flooding our inboxes and chat applications, it's crucial to maintain a clutter-free environment for better organization and privacy. That's where knowing how to delete iMessages on Mac comes in handy.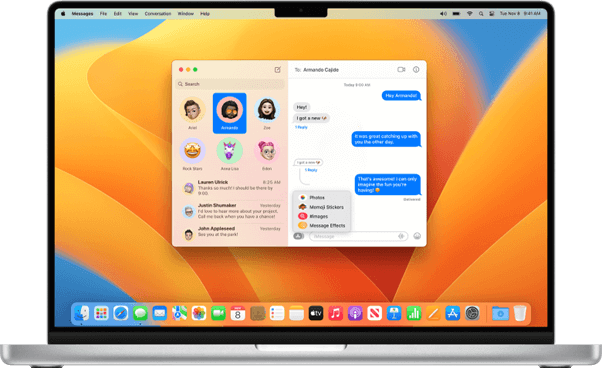 Deleting messages on your Mac not only frees up valuable storage space but also helps safeguard your personal information. This comprehensive guide will equip you with the knowledge and tools to efficiently clear your message history and regain control over your digital space.
Whether you're a Mac novice or a seasoned user, this guide will empower you to maintain a clutter-free messaging experience on your device.
Let's get started.
Also read: iMessage Not Working on Mac? Here's How To Fix It!
Before we begin…
Are you experiencing frustratingly slow and sluggish performance on your Mac? Look no further than Cleanup My System, a powerful app designed to optimize your Mac and bring back its speed and efficiency. With this professional tuneup tool, you can effortlessly locate and eliminate unnecessary junk files, unwanted mail attachments, large and outdated files, and more, all with just a single click.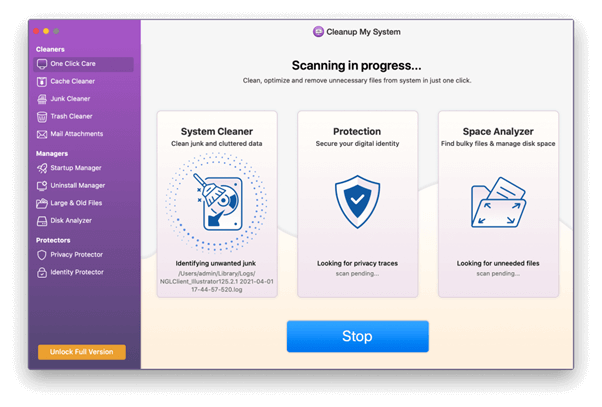 By utilizing Cleanup My System, you can unlock a range of benefits that will breathe new life into your Mac. Not only will you experience a significant boost in system speed, but you'll also enjoy enhanced productivity, freed-up storage space, and the best possible performance from your Mac. Say goodbye to clutter and hello to a smoother and more efficient digital experience.
Don't let a sluggish Mac hold you back. Take control of your system's performance and longevity with Cleanup My System, the ultimate solution to revitalize your Mac and ensure it operates at its peak potential.
How to Delete iMessages on Mac?
Here're are a couple of simple and effective ways to delete multiple messages on Mac and recover valuable storage space.
Method 1: Use the Messages App
To begin, locate and click on the Messages app icon in your Dock. Once the app is open, follow these steps:
Step 1: Highlight the texts you wish to delete by selecting them. You can do this by clicking and dragging your cursor over the desired messages. As you select the texts, they will appear highlighted in a dark blue color.
Step 2: Next, navigate to the top menu bar and click on "Edit." A drop-down menu will appear.
Step 3: From the dropdown menu, choose the option labeled "Delete." A confirmation prompt will pop up to ensure you want to delete the selected messages.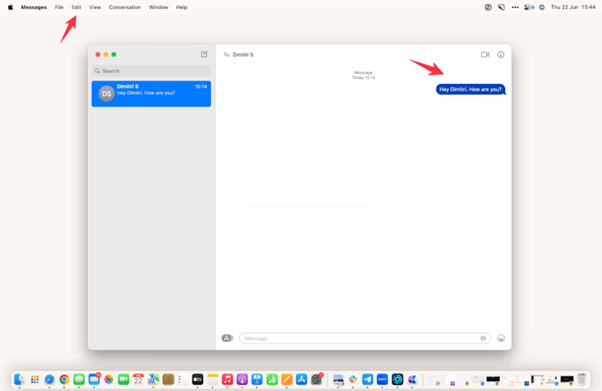 Step 4: Finally, confirm your decision to delete the messages by clicking on the appropriate button in the confirmation prompt.
Once you follow these steps, you'll be able to efficiently delete iMessages on your Mac using the Messages app. It's a straightforward process that helps you maintain a tidy and organized messaging experience.
Also read: How to Turn on Do Not Disturb on Mac
Method 2: Use the Context Menu
The second method involves accessing the context menu for deleting iMessages on Mac. In fact, this is a handy approach to how to delete iMessages on Mac.
To initiate this method, you can follow these steps:
Step 1: Right-click the mouse or perform a two-finger click in the lower right corner of the touchpad. This action will bring up the context menu related to the selected iMessage.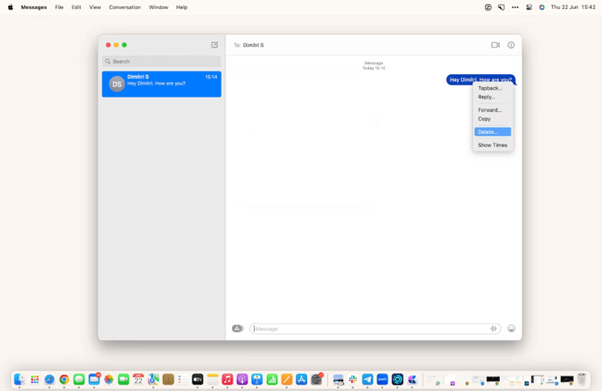 Step 2: Within the context menu, locate and click on the option labeled "Delete." This will prompt the deletion of the selected iMessage without any additional confirmation.
As you have now learned how to delete all messages on Mac, you can use any of the above-listed methods to declutter your inbox.
How to Delete Multiple Messages on Mac
To delete multiple messages on Mac:
1. Press and hold the Command button.
2. Click on each message you want to delete.
3. Right-click (or two-finger click) and choose "Delete" from the context menu, or click "Edit" in the top menu and select "Delete".
How to Delete Message Attachments on Mac
Attachments like photos, videos, and documents can accumulate over time, taking up valuable storage space. If you're sure that you no longer need them, it's recommended to delete them. However, if you want to keep them as a backup, make sure to create a copy before proceeding with the cleanup process.
To delete attachments from Messages, follow these steps:
Step 1: Open a Finder window and press Command + Shift + G on your keyboard.
Step 2: In the window that appears, type "~/Library/Messages/Attachments" and hit Enter.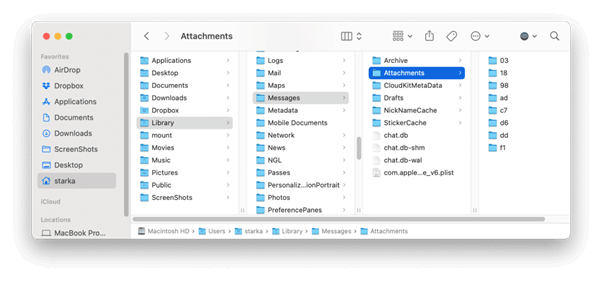 Step 3: You'll be taken to the Attachments folder containing the message attachments.
Step 4: Remove the files and folders within the Attachments folder that you want to delete.
Once you have deleted the attachments, remember to empty your Trash to permanently free up the storage space.
Also read: Best Tools To Take Scrolling Screenshots on Mac 2023
How to Automatically Delete Messages on macOS?
Do you hate deleting messages one by one? We feel you. That's why your Mac has a cool feature that can do it for you. It can zap away old messages like magic every now and then.
By following these simple steps, you can ensure your messages clear themselves from time to time:
Step 1: Open the Messages app and click on "Messages" in the top menu bar.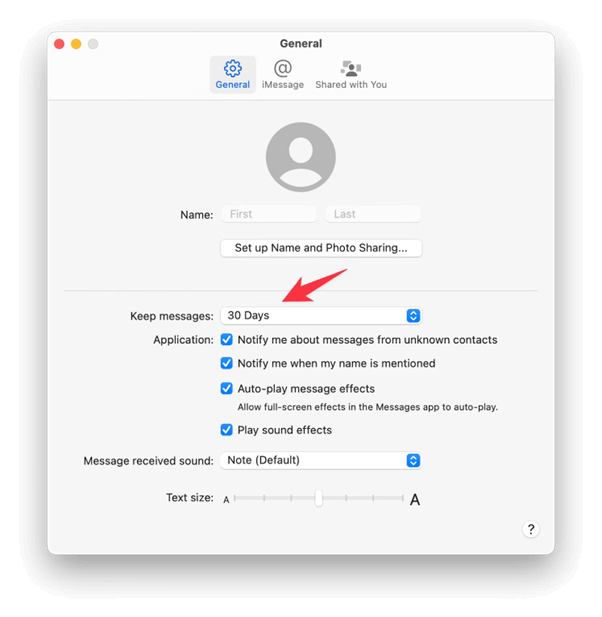 Step2: Select "Settings" and go to the "General" tab.
Step 3: Choose your preferred time frame under "Keep messages": either 30 days or 1 year.
Your messages will be automatically deleted after the specified period.
How to Delete Messages from iCloud
Let's take a look at iCloud, a handy storage option for your data. Remember, messages from your Mac are only saved to iCloud if you've given permission. To check this setting:
Step 1: Open the Messages app and click on "Messages" in the top menu bar.
Step2: Go to "Settings" and select "iMessage."
Step 3: Look for "Enable Messages in iCloud." If it's checked, your messages are synced.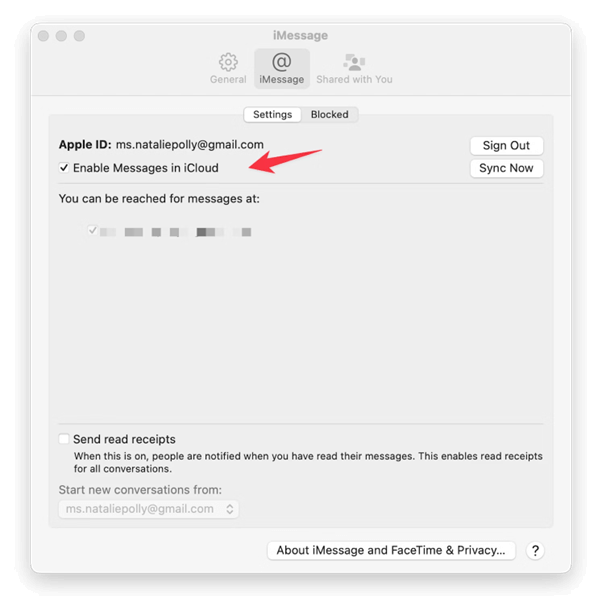 Step4: Uncheck it to download messages to your Mac and stop syncing with iCloud.
By following these steps, you can manage how your message data is stored with ease.
Also read: Mac Won't Turn On? How to Fix It and Make It Boot
How to Delete iMessages on Mac: Key Takeaways!
To wrap things up, learning how to delete iMessages on Mac is a valuable skill for keeping your conversations tidy and freeing up storage space. Whether you delete messages one by one, in bulk, or set up automatic deletion, the process is straightforward within the Messages app. By applying these methods, you can effectively manage your message history and enjoy a cleaner and more organized messaging experience on your Mac.