How To Fix 'Your Startup Disk Almost Full' On Mac OS?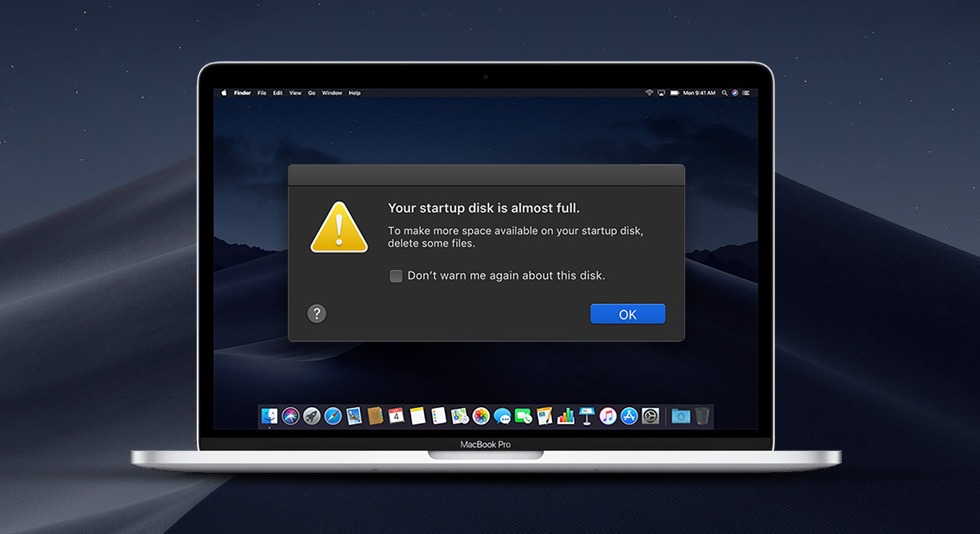 It generally happens once in a while for Mac users, when a lot of cache get accumulated on your disk, and a warning message popup saying, 'startup disk full'. This appears when there is no longer any free space on your disk. But you might wonder how could a full startup disk affect you? First, thing's first –
What is a Startup Disk?
Startup disk is the hard drive that contains your operating system and is the most important out of all the available disks.
What Does "Startup Disk Is Almost Full" Mean?
whenever the message pops up saying your disk is almost full, it warns you of the space you're soon running out of.
Running out of space basically relates to the space on your primary disk and this is indeed a bad sign if you are having lesser storage space on your Mac's drive.
If the same thing happens with you as well, do not worry as we have the best methods to fix the issue of startup disk is full'.
Also Read: How To Fix "Photoshop Scratch Disk Full Mac" On Mac?
How to Check Disk Space On Mac?
To find out a solution, it is vital to reach the root of the problem. You must find out first what is taking up space on your startup disk drive and for this, you need to follow these steps:
Click on the Apple icon.
Select About This Mac.
Click Storage or More Info to find the Storage tab (for older Macs).
This will show up the consumed and available disk space and also let you know about what's eating up the used space. If you are running out of space, it's time to delete some files or install a new hard drive.
So, to keep up the performance of your Mac sustainable, here are some tips you should follow to clean the startup disk on Mac.
Pro Tip To Clean The Startup Disk On Mac
While we have enlisted the manual ways with which you can clean the Startup Disk on your Mac, they can at times, prove to be tedious and time-consuming.
To make things easier, you can take the help of a Mac cleaning tool like Cleanup My System which is one of the best tools to analyze and free up disk space on Mac. To begin with, it has a Space Analyzer that can quickly let you find unneeded and bulky files.
Next, it is a specialist when it comes to getting rid of all kinds of junk files on your Mac. You can also use Cleanup My System to track and remove large and old files which are just consuming space for no valid reason.
To know more about how you can quickly free up your Startup Disk you can check out our inside-out review of Cleanup My System.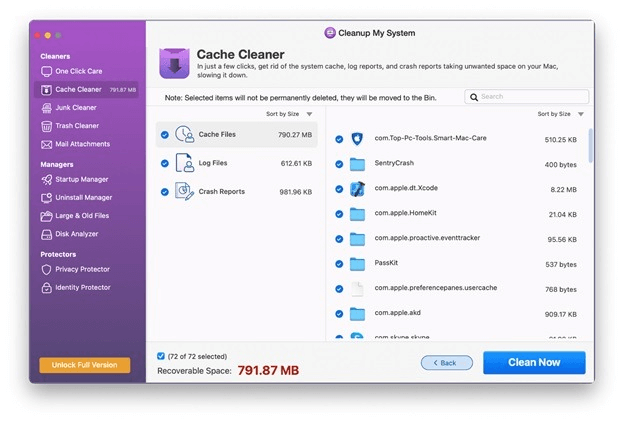 Best Methods To Clear Startup Disk On Mac:
1. Clear Cache or System Junk
 Usually we think that cache files are useless, but it is far from being true. Cache files plays a vital role and helps a system to run and load programs quickly. But once that is done, your system generates some junk that will be there in your system until you delete them. The junk is created by the apps and system processes. Such temporary junk becomes permanent problem for hard drive and it once piled up can make your startup disk full.
Follow these steps to remove cache files and clear startup disk on your Mac:
Navigate Finder > Go > Go to Folder.
Type in ~/Library/Caches.
Go to the folder taking up more space and delete the files inside.
Now, follow the same process and remove (~) and type /Library/Caches. 
2. Empty Trash
 When it comes to making your system spacious, it is the most vital thing that should be considered. But usually, most of us miss this and look for other helpful and complex ways to free up space on disk. However, the simplest thing helps achieving the biggest trick. The system trash is the place for all those files you no longer need. But the files in trash keeps taking up space on Mac's drive. So you are required to clean trash by a click on 'Empty' tab to get rid of all those piles of useless data. Not only from the Trash, you should always look for cleaning unnecessary files from your apps as well. 
3. Delete Browser Cache
A cache is created everywhere, even in your internet browser every time you load a web new page, but it can further create a bigger problem for you. So, if you are thinking of the ways to clean startup disk on Mac, try removing browser junk and for this, follow the steps below:
Open browser.
Go to the History tab and tap 'Clear Browsing Data'.
Now, select everything you wish to delete from cookies to cache images, etc.
From above, select the option to filter how far back you want to delete.
Hit clear browsing data button and you are all set.
4. Remove iTunes Backup
iTunes is quite a familiar term for a Mac user, and for your notice, iTunes loves creating backups every time it is updated. This means that your system ends up having multiple backups in spite of one and therefore takes up space on the disk leading to the message 'startup disk full'. Thus, you're required to clean iTunes backups and for this follow the steps below:
Go to Finder > Go > Go To Folder.
Type ~/Music/iTunes/Previous iTunes Libraries.
Sort the files by date and delete one or two of the most recent backups to clear space on startup disk on Mac.
5. Uninstall Unused Apps
Have you ever thought of cleaning your Mac and removing apps that are no more of your use? If not, then the issue of 'startup disk full' might be due to the same reason. Try removing all unnecessary and unused apps you have on your system. These apps are for sure wasting space and resources like RAM if running in the background. This will spare new space for more storage on your Mac and enhance speed.
Also Read: How to Fix MacBook Pro Overheating Problem ?
Wrapping Up
Hence, we have listed the most obvious and notable ways to help you get rid of, 'your disk is almost full' warning message on your Mac. Trying these hacks will surely get you some more space on your startup disk making it a bit lighter.