Best Duplicate Video Finders For Mac In 2023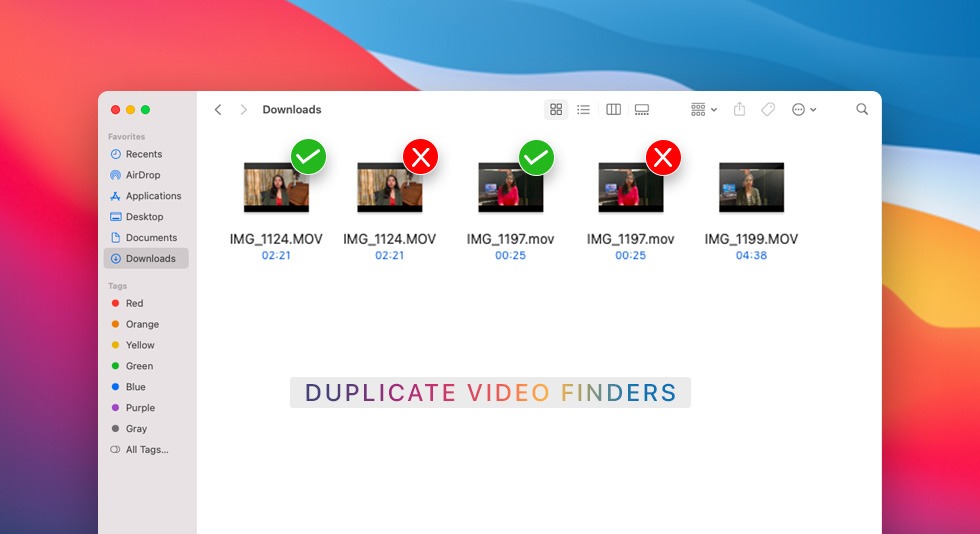 Manually deleting photos is just a hectic task. Imagine you have realized that your Mac has several duplicate videos and they are occupying space for no reason. Now would you want to find and match every duplicate one by one or would you rather use a smart duplicate video finder for your ease? We bet you will choose the latter.
Using a duplicate video remover makes sure that you can free up the storage space as videos have a tendency to grasp more space than any other file type. These video copies are created mistakenly when:
You copy one video and paste it in another location but forget to remove it from the original location.
Download it multiple times from the web or email.
The folder in which the video was placed was copied but the folder from the source was not deleted.
If the photos were edited numerous times, then they may get created under different names and extensions.
Through any of the above means, if the video is copied, then you can be sure of getting space hooked unnecessarily and it's time to remove duplicate videos for efficiency of Mac as well as workflow.
Best Duplicate Video Finder For Mac
1. Duplicate File Fixer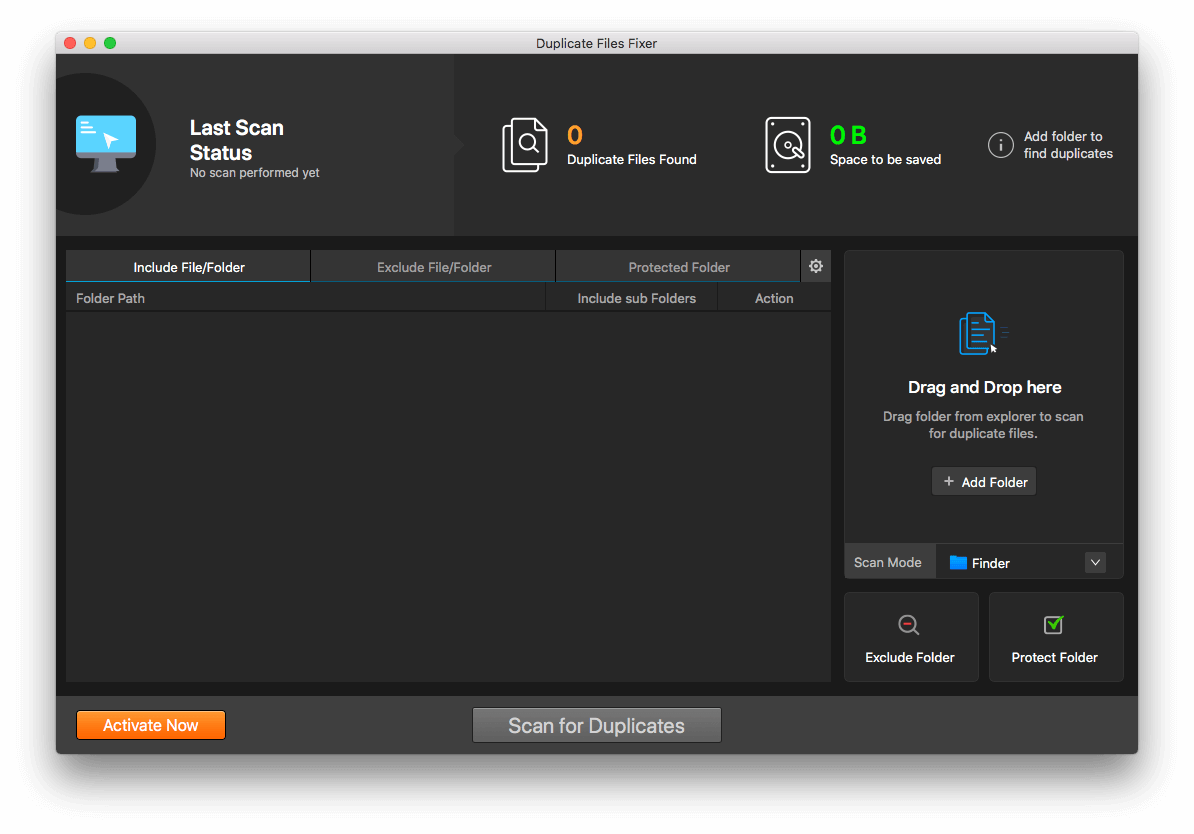 One of the top-notch duplicate video finders on its own, this software is known for recovering a huge chunk of space effortlessly. Even if your Mac is showing 'Low disk space', this tool is just going to find all the duplicate files and present them in front, only to delete them all. It is so easy to use that you just need to download the software, add files or folders for scanning and just begin the process.
Now preview the list of duplicate videos found by this duplicate video finder and let it auto mark for you. If you wish, you can remove duplicates manually here. Finally, confirm that you want to delete files and it's done.
Pros:
Identification of duplicate videos is done accurately.
60 days money back guaranteed.
Cons:
The trial version has limited functionality.
Read Here- 10 Best Duplicate File Finders For Mac
2. CCleaner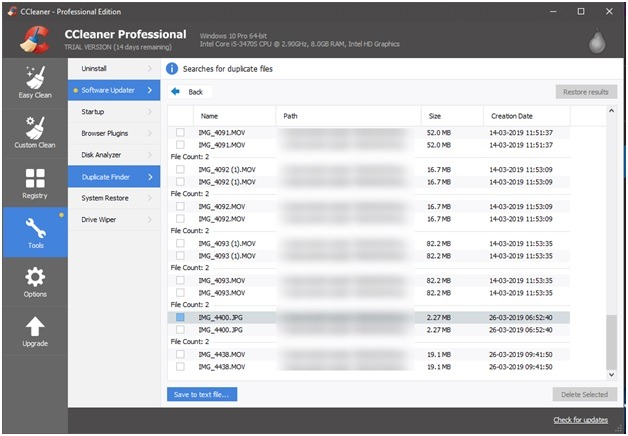 Although CCleaner is known as an optimization tool, it also works as a duplicate video finder successfully. However, it is recommended that you keep all the options checked so that you can find precise results for duplicate videos. Not just videos, you can get duplicate files, photos, and documents along with videos easily.
You can even specify the content by finding the video size, file name, and modified date and even enable you to add an exception of folders when scanning is taking place.
Download: CCleaner
Pros:
You can find duplicate videos very easily in no time.
Can give you a preview before you choose to remove duplicate videos
Cons:
Sometimes it comes with a bundle of other options to install the software. You need to choose the right one manually.
Also Read- A Complete Review of CCleaner For Mac
3. Cisdem Duplicate Finder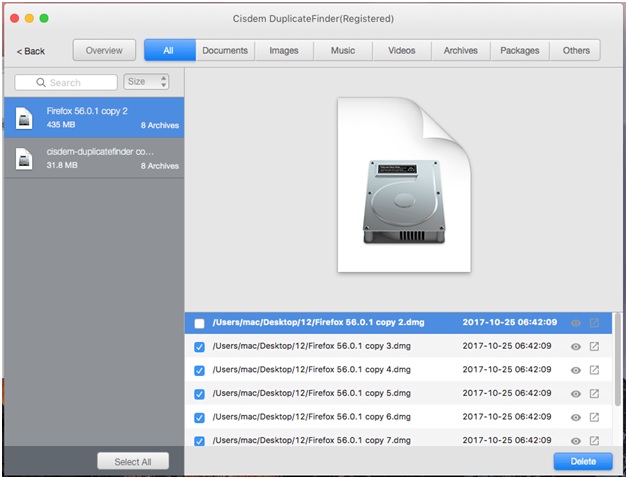 Having a duplicate video finder on Mac that accurately searches and deletes duplicates is bliss. Yes, duplicate videos can occupy a huge amount of space but following the installation and removal steps make it simpler for you. Not just this, it can even compare file sizes and names with other aspects so that deep scanning and removing could be done extensively.
Moreover, this best duplicate finder can easily find duplicate videos in mac as well as other storage devices like external hard drives, cloud storage, etc.
Download: Cisdem Duplicate Finder
Pros:
Has an advanced algorithm that can compare file sizes byte by byte.
Offers various preview modes before deleting the videos.
Cons:
It is incompatible with macOS 10.9 and later.
Read Also- Review – Cisdem Duplicate Finder For Mac
4. Gemini 2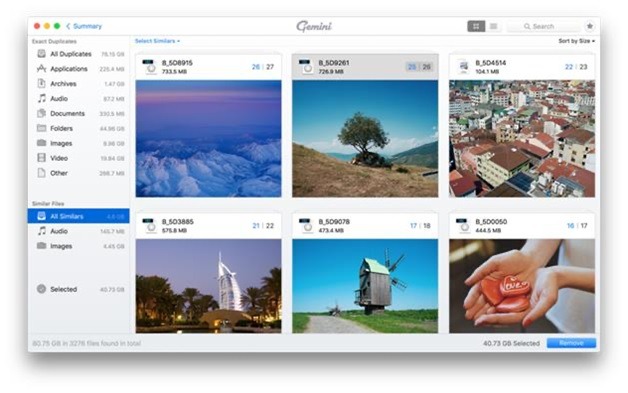 Several Mac users like to choose Gemini 2 to find and delete duplicate videos as it has laser accuracy to find all the deeply embedded videos in the system. It is known for its fastest scanning speed which allows screening to be completed in a very short period. As per their saying, 'Your photos matter, their copies don't', the same fits rightly for videos as well.
Also known for robust algorithms and smart interface, it is an excellent choice for everyone looking for quick removal of duplicate videos.
Download: Gemini 2
Pros:
Compatible interface for newbies as well as experienced users.
Supports external drive to remove duplicate videos.
Cons:
Reported consumption of more resources.
Read Also- Gemini 2 Review: Is It Worth Your Mac & Money?
5. Easy Duplicate Finder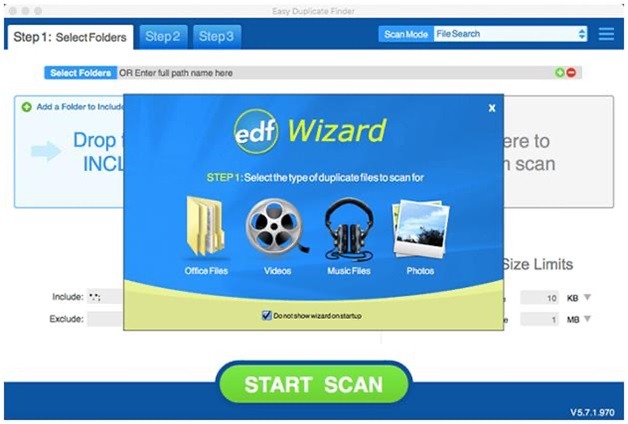 When it comes to finding duplicate videos and removing them, Easy Duplicate Finder comes with a simple and clean interface. It has a powerful technology capable of finding duplicates from not only Mac but also cloud, HDD, and SSD. Various video formats are supported although the system allows for an extensive search.
It even possesses advanced filters to keep a few files separate from search. With that, the Preview feature comes along for easy deleting of videos.
Download: Easy Duplicate Finder
Pros:
More than 10 scan modes for file management.
Cleans out all the duplicates accurately.
Cons:
A little slow when compared to others.
Read This- 9 Best Duplicate Photo Finder For Mac
6. TidyUp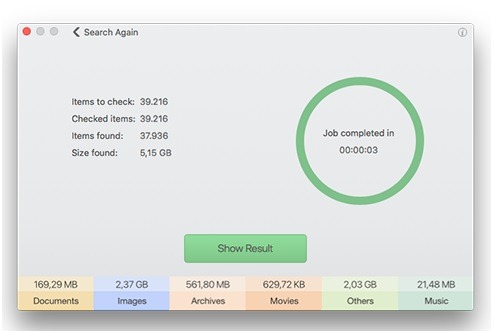 A new generation of duplicate finders, the latest version is more powerful than all its previous versions. It focuses on the tidiness of the disk and is loaded with features that a Pro user requires. Interestingly, it supports the Lightroom library to search and collect duplicates. Later you can use multiple criteria to delete duplicates.
The newly designed interface is also very simplified for a new user to understand and do the whole job smartly.
Download: TidyUp
Pros:
Has a number of syncing tools to search duplicates.
A trial version is available before finally buying the one.
Cons:
The features style may look a little complicated when compared with its competitors.
7. dupeGuru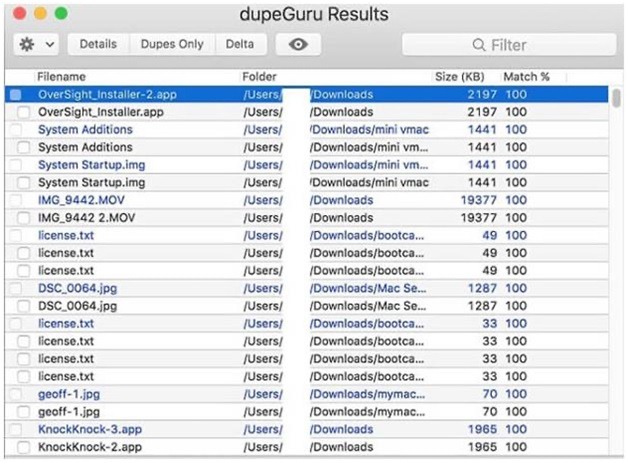 dupeGuru is one of the most customizable duplicate video finder and remover you can see. Although you won't be much satisfied with its features if you are looking for advanced actions yet there are different modes for scanning to choose from. Moreover, you can see real-time results getting displayed as the scanning takes place.
It gives the users multi-lingual support which spreads the user base to a great extent. When the results are displayed after scanning, all you have to do is a tick mark the duplicate and delete it.
Download: dupeGuru
Pros:
It is a free duplicate video finder and known as the best duplicate video remover.
Most of the video file formats are supported.
Cons:
It does not allow previewing of files before deleting them.
8. Duplicate File Finder Pro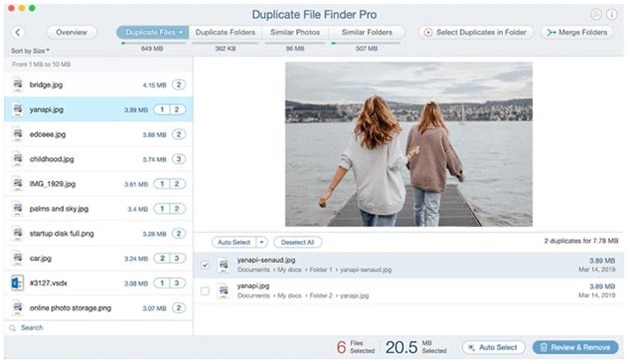 Another duplicate video finder by Nektony comes with a faster scanning algorithm which helps it to stand differently in the list. No matter how deep your videos are rooted, whether in Mac or any other external drive, you can get those duplicate videos removed and make space in the system.
Search your video by checking file type, file list and can even view them through chart reporting. Although it is a paid product, its free version allows you to check cleanup hints, visual reports and even deletes duplicate files from the trash.
Download: Duplicate File Finder Pro
Pros:
The number of simple customization options for the ease of users.
Navigable interface
Cons:
You need to pay to use all the features extensively.
Conclusion
We hope that these duplicate video finders could help you in finding duplicate videos within no time. If you ask our recommendation, Duplicate Files Fixer is a winner in most cases. Apart from this, CCleaner and Cisdem have also held a good position when we are talking about deleting duplicate videos from your Mac. What's your take on this? Share your views in the comments section with us.
FAQs: Duplicate Video Finder For Mac