10 Best Duplicate Photo Finder For Mac 2023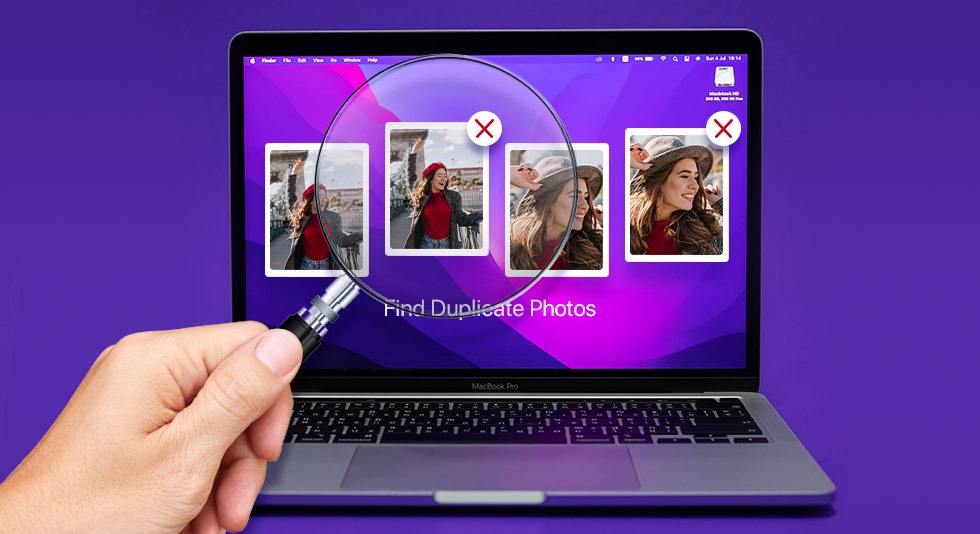 Any user can get easily annoyed with the clutter of duplicate files in their Mac because these duplicate files are not only capable of creating confusion in the gallery but also taking up a huge space on your computer. We know that you want to keep your memories intact but it is not worth the cost of duplicate images. This calls for an action where you have to search and delete duplicate images. You would probably be inclined for searching for them manually but we want you to stop there. Let us introduce you to the best duplicate photo finder and remover for mac that can make your search easy and delete duplicate images in a snap.
Top Recommended: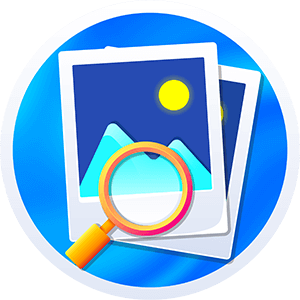 Duplicate Photos Fixer pro
The Ultimate Tool Smartly and Safely Delete Duplicate Photos In One Go
10 Best Duplicate Photo Finder For mac:
1. Duplicate Photos Fixer Pro
USP: Overall best duplicate photo finder and remover tool for mac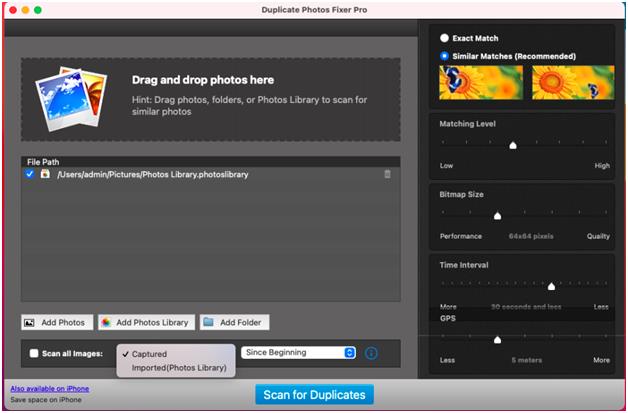 Download Duplicate Photos Fixer Pro Here
Read Complete Review About Duplicate Photo Fixer Pro
Note: Hurry up! Duplicate Photo Fixer Price has dropped from $39.99 to $9.99 for a limited time period! Now organize your photos without any hassle. Click Here to Install from Mac App store!
One of the best duplicate image finders for Mac, this product is well-trusted and easy to use. It allows you to add individual photos, photos library or even a folder. It not only provides the result for duplicates but similar files (for example, clicking in burst mode, slightly photoshopped, identical with less than 100 meters, etc.)
Once you select the folder/photos, you can customize the search results as per your requirements. You are free to slide the bar for Matching Level, Bitmap Size, Time Interval in which the pictures were clicked and GPS to change the geolocation. All this in one tool merely is ecstatic. Scan for similar and duplicate photos and get the results displayed in a very organized fashion to avoid any confusion. Get this best duplicate photo finder for Mac today!
Pros:
Finds duplicate as well as similar photos to save Mac's space.
Self-navigating interface
Results are displayed in a group-wise manner.
Cons:
Free trial is not available.
Verdict: All in all, this duplicate image finder for Mac is easy to use and lets you find duplicate photos and remove them easily.
2. Gemini 2
USP: Cleans other duplicate files along with delete duplicate photos on mac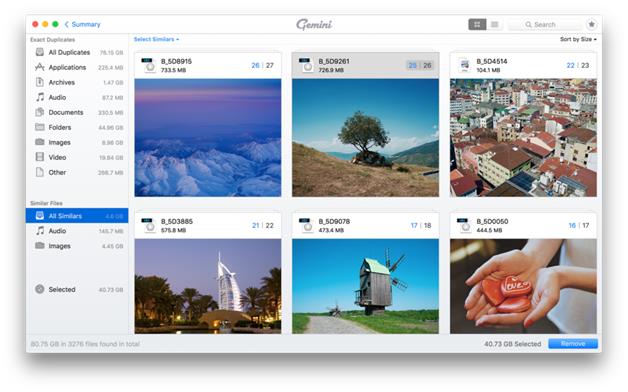 Many Mac users choose Gemini 2 as smart duplicate photos cleaner. This laser-accurate tool helps in recovering a lot of space in the system when you add a folder or tons of images for the process. While scanning is done at lightning speed, all duplicate and similar photos are displayed on the screen in a few moments.
They say "Your photos matter, their copies don't", and it stands true when Gemini 2 is installed as one of the best duplicate photo finders for Mac. Gemini 2 is simple with a smart and robust algorithm, and this is why it is an excellent choice for many users.
Pros:
Compatible interface for newbies as well as experienced users.
Image similarity detection
Cleans duplicates from an external drive
Cons:
Consumed more system resources as compared to others.
Verdict: Except for the fact that it is a little heavy on the system's resources, Gemini 2 is an excellent duplicate image finder for Mac.
Also Read- Gemini 2 Review: Is It Worth Your Mac & Money?
3. Easy Duplicate Finder
USP: Capable of removing duplicates from the cloud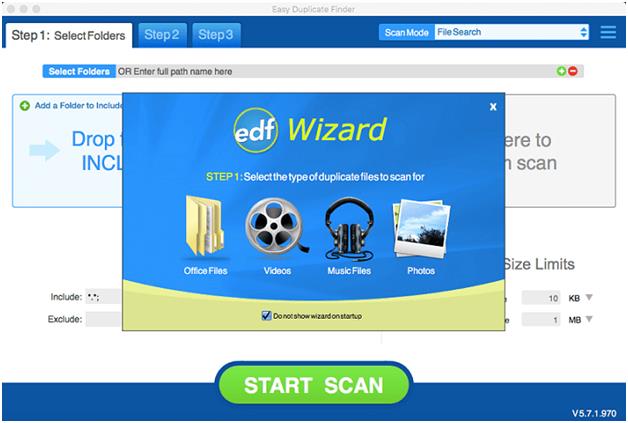 Starting with a very simple and clean interface, these duplicate pictures cleaner can be comfortably used by newbies and experts alike. The backup of powerful technology allows you to search for any kind of duplicates from in or outside the system, be it HDD, SSD or Cloud. Interestingly, it works multi-platform like Windows and Mac and applies to emails, videos, music, Dropbox, Google Drive, etc.
If you talk about image formats, JPEG, TIFF, BMP, PNG and GIF are all supported. Once scanned, you have a plethora of options to sort the files. Advanced filters could be applied to find and delete duplicate photos with this duplicate photo finder for Mac.
Pros:
Cleans duplicate pictures, videos and music.
More than 10 scan modes for file management
Can find duplicates from iPhotos and Photos
Cons:
Quite slow and expensive when compared with others.
Verdict: You may find the interface to be slightly dated and speed a little slow. That being said, from a duplicate image-finding standpoint, it is a force to reckon with.
4. Cisdem Duplicate Finder +
USP: Crystal clear representation with charts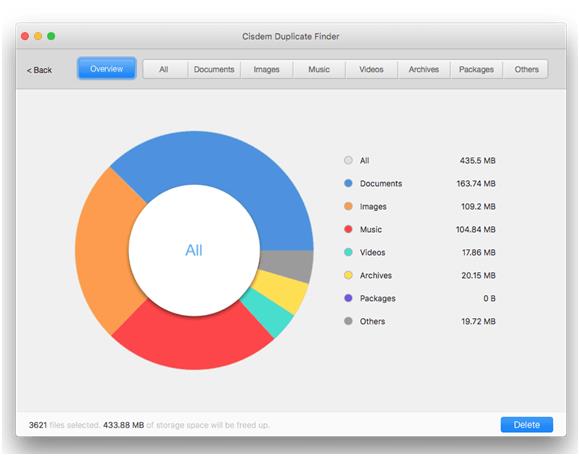 If you wonder why this tool is one of the best duplicate photo finders for Mac, that's because it helps in finding 'real' search results where not just the file names are compared but also the content within, so that accuracy is maintained. Apart from finding duplicate photos in the library, it also scans all the internal and external hard drives.
It is wonderful to know that scanning speed is faster when compared to other tools, and all the scanning results are displayed in real-time. When all the duplicates are mentioned in chart format, it becomes easier for user to understand which photos are taking so much space in the Mac.
Pros:
Very easy to use interface that entices the users
Shows results for image similarity
Fast scanning saves time
Cons:
One cannot exclude a folder from scanning.
Storage relieved after deleting duplicate photos is not clearly shown.
Verdict: Cisdem Duplicate Finder + is easy to use and find duplicate images effectively but where it lacks is its ability to clearly show how much storage is relieved.
Also Read: Cisdem Duplicate Finder Review For Mac
5. Duplicate File Finder Remover
USP: Preview, compare and merge duplicates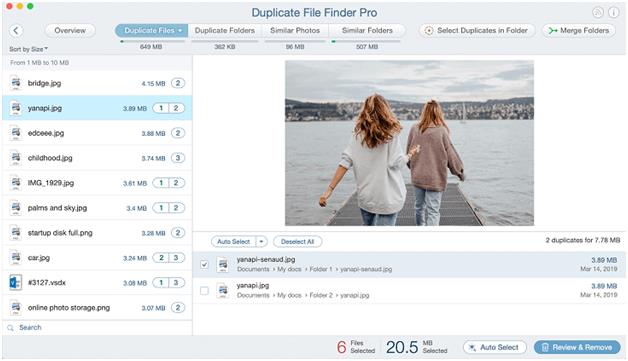 This duplicate photo finder for Mac by Nektony has a fast scanning algorithm that makes it stand out in the list. It can easily find duplicates in multiple folders and drivers simultaneously and even supports external drives. When the results are displayed after the scanning, they can be searched by file type, file list and even viewed in the form of chart reporting.
Cool programs. And playing at Cosmolot online http://cosmolotcazino.com/ gambling club, you can forget what high wagering bonus wagering and delays in payments are. The operator is always on time to pay customers earned their prizes, and also offers lucrative rewards, which is quite realistic win back, without spending a lot of money. In addition, the site has a large selection of slot machines and other games for all tastes, and support staff process applications around the clock.
Its Free Duplicate Image finder for mac and this free version has options to view all the duplicate photos in the Mac, get a visual report, check the cleanup hints, and even delete the duplicate files in the Trash. When the Pro version is being discussed, this duplicate photo remover mac software offers to remove similar photos, merge folders and even restore the removed duplicates. 
Pros:
Easy customization options to remove duplicate photos on Mac
Gives you an option to preview the files.
Lively and navigable interface
Cons:
Advanced features can be used only after payment.
Verdict –  It is a decent duplicate file finder for Mac, however, if compared to some other tools, it may sometimes take more time when pulling off duplicates from large amounts of photos.
6. PhotoSweeper X
USP: Cleans duplicate videos and photos
How would you like to have a duplicate pictures cleaner that can sort the gallery and even auto-lock the sorted pictures? Interesting, right? PhotoSweeper X is indeed a fantastic duplicate photo finder for mac that deletes duplicates and similar photos while also analyzing iPhoto.
Once the photos are scanned and displayed, you can bulk rename the files when moving to some other folder. As the personal customization options are vast, viewing of photos could be made according to 'One by One', 'Face to Face' and 'All in One'. The removal of photos is also pretty safe as they can be restored from the Trash unless you have emptied the Trash all over.
Pros:
Supports a wide range of formats, including RAW, HEIC, PDF, DNG, etc.
Flexible and multiple settings
This duplicate photo remover for Mac cleans duplicate photos on Mac and videos from an external drive
Cons:
There have been reports of constant crashes.
Verdict: If you are a newbie you might get slightly intimidated by the interface, but otherwise it justifies its mark as a decent duplicate photo cleaning app for Mac.
Also Read:- How To Delete Duplicate Photos On Mac
7. Duplicate Photo Cleaner
USP: Simple to use for Newbies as well as Professionals
One would love to have this amazing duplicate photo remover for mac tool in their Mac, which by the way also supports Windows, for its image similarity finding function. The image comparison algorithm is super smart with special scan mode, flexible settings and much more options that it offers to its users.
In fact, professional photographers and other professionals alike keep trying their hands on this duplicate cleaner tool for their help and get the whole gallery sorted.
Pros:
Smart multi-platform utility and known as best duplicate file finder
Organises the pictures in different albums
Easy to use interface
Cons:
Very less advanced features when compared.
With respect to the price point it is offered with less advanced features are offered.
Verdict:  Apart from occasional freezes when scanning the complete hard drive for photos, it's a fairly simple-to-use duplicate photo removal tool.
8. Disk Drill
USP: Add multiple locations and folders at a time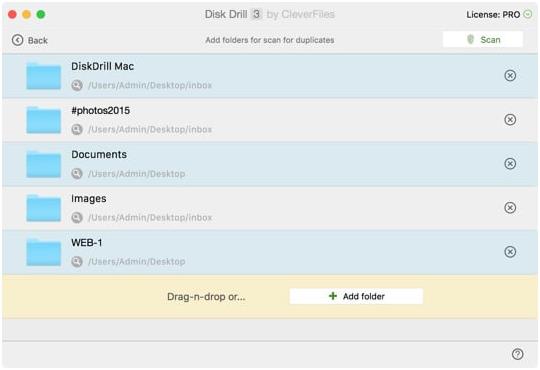 This duplicate photo finder for Mac is easy to install and understand to find duplicate photos and other files as may need to be removed. For your ease, you can quickly search the files with filters that mention 'Auto', 'Old' or 'Newest' files. If you select the 'Oldest' option here, all the oldest duplicates will be removed, and new ones will be kept intact.
Probably called the best free duplicate image finder for mac because of the free trial version that doesn't ask you to invest first handedly and saves an optimum amount of space quickly.
Pros:
This Mac duplicate photo remover is easy to use.
Finds duplicate images, files, documents, videos and songs
Gives you option for manual or automatic cleaning
Cons:
Functionality is a little complicated.
Verdict: Considering the fact that finding duplicates is not the main function, it still does a decent job of finding duplicate photos.
9. DupeGuru
USP: Highly customizable according to the needs of the user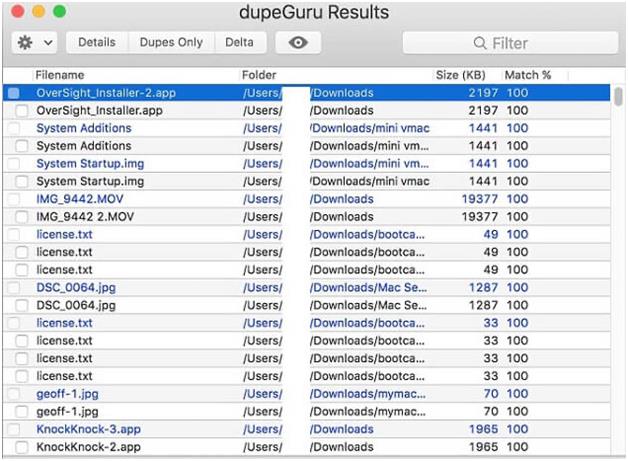 If you are not looking for many advanced features but a simple duplicate photo remover for Mac that can find and delete duplicates, this tool is meant for you. You can place filters before scanning and later select any of the modes from three categories. As the scanning takes place, the real-time result is displayed alongside this free duplicate image finder on mac.
As the results are displayed, you just need to tick mark and delete them. Bravo! All the duplicates are landed in the Trash, and space is saved once again. A very simple and pro duplicate photo finder for mac it is!
Pros:
Free to use and known as best free duplicate photo Remover
Supports a plethora of file formats
Multi-lingual support
Cons:
Doesn't allow previewing of files.
Verdict: Barring a few advanced features and a basic feature as a preview, everything is on point.
10. Easy Photos Cleaner Pro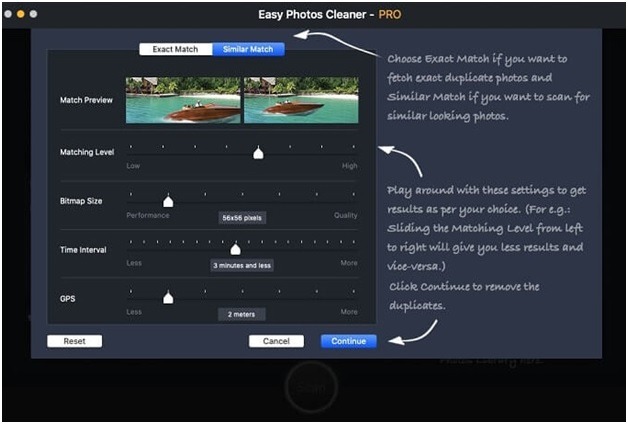 With easy drag and drop functionality, this photo cleaner is known for finding duplicates as well as similar images within a matter of time. The search is quite effortless as the duplicates are searched automatically. Once detected, you can easily preview them and decide if the pictures need to be deleted or not.
If you go for its free trial, you can delete only 15 duplicates and hence recommend trying the upgraded version. Moreover, it's absolutely lightweight in nature which doesn't consume a lot of resources of your system.
Pros:
Get additional disk space back into your system with this tool.
Compatible with all the latest versions of Mac
Highly customizable
Cons:
Deleted duplicates cannot be recovered back.
The free version restricts you from deleting fewer photos.
Verdict: The price as compared to many other counterparts is high, otherwise it does the john of finding duplicate photos well.
Conclusion
We are hopeful that you have figured out the best duplicate photo finder for Mac through this blog and check marked the list required. If you ask our suggestion, we highly recommend Duplicate Photos Fixer Pro because of its highly intuitive interface, smart scanning system, ability to detect maximum and delete duplicate photos and giving us a plethora of customization options. You can also consider Gemini 2 as an alternative and find its features here. However, we would also like to know your recommendations and suggestions and which of the above tools actually falls in place for you. Share your views with us in the comments section below.
FAQ's