How to Fix "Macbook Keyboard not Working" Issue on Mac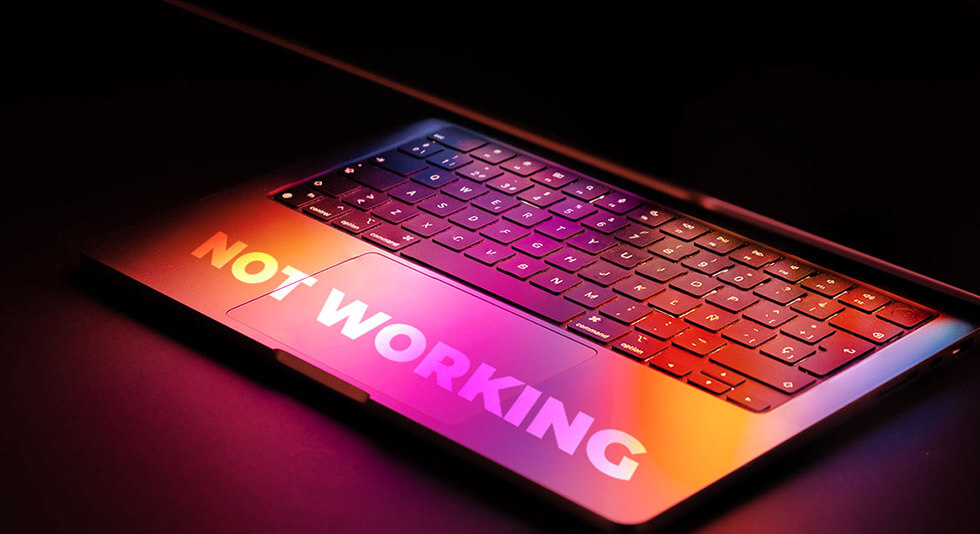 macOS is considered one of the most secure and reliable operating systems. But, just like any other OS, you can encounter a few errors on macOS as well. Some of the most common errors include hardware devices not working, network errors, disk errors, application errors, and so on.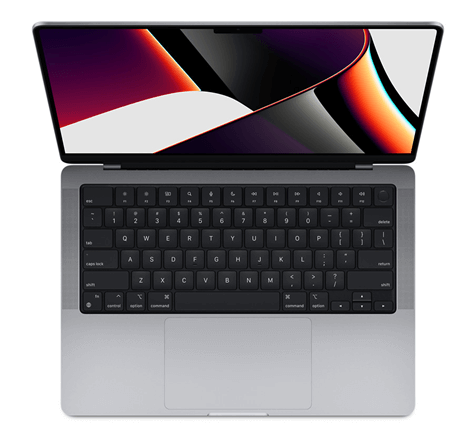 But aren't there a few unfortunate times when your MacBook's keyboard stops responding or fails to work? Is your MacBook keyboard not working? Don't worry. We've got you covered. You can easily fix this issue via simple troubleshooting. In this post, we have listed various solutions you can use to resolve this glitch in no time.
Why is the MacBook Keyboard not Working?
There could be a variety of reasons why the keyboard on a MacBook is not working properly. Some possible causes include physical damage, hardware failure, software issue, dust or debris stuck inside the keyboard, and more.
Before you begin troubleshooting and make changes to your device's settings, try rebooting your Mac and check if it helps in fixing the issue. Sometimes, simply restarting the device can resolve the problem. But if rebooting your system did not do the trick for you, you can try the below-listed hacks to get your keyboard up and running again.
Also read: 5 Best Ways to Lock Your Mac Screen
connection.
Before we begin…
Let's take a quick detour. Do you often get frustrated with your Mac's slow and sluggish performance? If the answer is affirmative, we have something useful for you. Download and install the Cleanup My System app from the Mac App Store to give away all your MacBook-related miseries.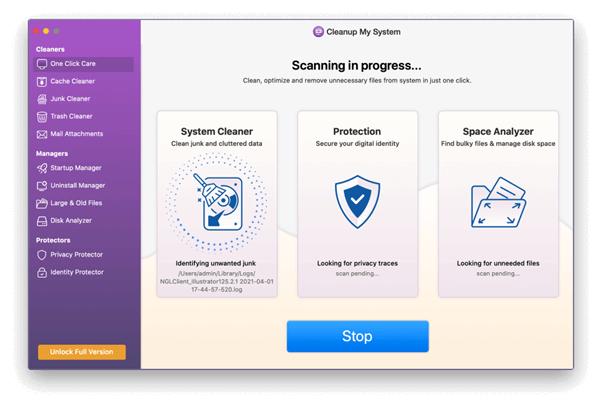 Cleanup My System offers one-click care for your Mac to restore system speed, improve productivity, and fine-tune your Mac's speed and performance. It is a powerful cleanup and optimization tool for your Mac that helps you find and remove junk files, unwanted email attachments, large unused files, and other obsolete data to improve your Mac's speed and performance. So, what are you waiting for? Give your Mac a fresh kick and download this utility tool right away!
Get Cleanup My System
How to Fix the Mac Keyboard Not Working Issue?
Solution 1: Clean the Keyboard
Dust and debris is a common cause of why your keyboard and certain keys stop responding. So, here's the right way of cleaning your Mac's keyboard thoroughly to clean all the junk and debris stuck within it.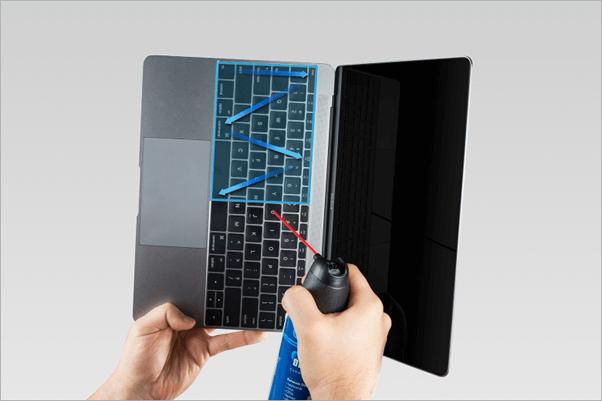 Step 1: Turn OFF your Mac and unplug all the external devices.
Step2: Now, use a soft and dry cloth and start cleaning the keys gently. Also, wipe the surface of the keyboard to make sure it is dust-free.
Step 3: Hold your MacBook's keyboard in a vertical direction, preferably at a 75-degree angle. Use a can of compressed air and start blowing on it from a left-to-right direction. Hold the can upright and aim it at the keys at a slight angle.
NOTE: Avoid using liquid cleaners or harsh chemical sprays to clean the keyboard as they can damage the keyboard or leave behind harmful residue.
Also read: How To Go Incognito In Safari On Mac
Solution 2: Update Your Mac
Software issues can also be a common cause of why you may encounter the "Mac keyboard not working" issue. In this scenario, updating the macOS can help you resolve the underlying problems.
Step 1: Tap on the Apple icon placed on the top menu bar and select "System Preferences".

Step2: Select "Software Update". Mac will now check for available updates. If an update is available for your device, upgrade the macOS version to keep your device up-to-date.
Solution 3: Delete Preferences
Step 1: Press the Command + Shift + G key combination to launch Finder. Type ~/Library/Preferences/ and click Go.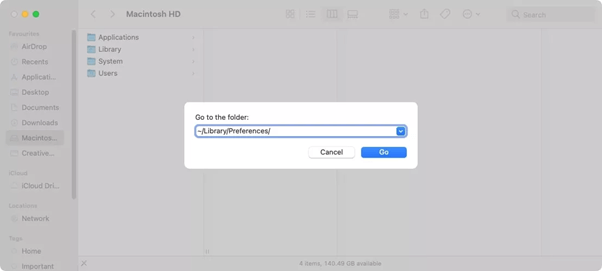 Step2: Now, look for the com.apple.keyboardtype.plist file in the list. Right-click on it and select "Delete".
Step 3: After deleting this file from the Preferences window, reboot your Mac.
Solution 4: Delete the Recently Installed Applications
Have you recently installed any new applications on your Mac? There may be some rare circumstances where a certain app might be interfering with regular functions of Mac. So, if the Apple keyboard is not working, you can try deleting a few apps.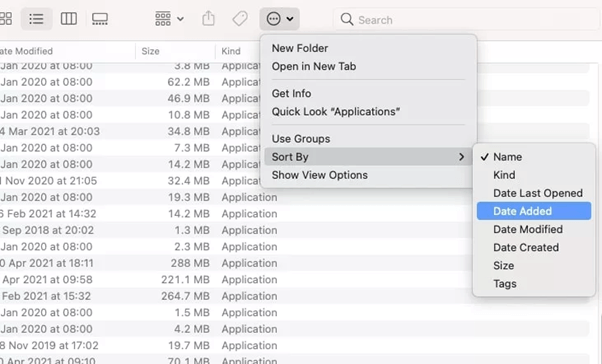 Open Finder> Applications. From the top column, select Sort by> Date added to arrange the apps based on their installation date. Now, try deleting the recently installed apps one by one to find the culprit.
Solution 5: Check the Keyboard Batteries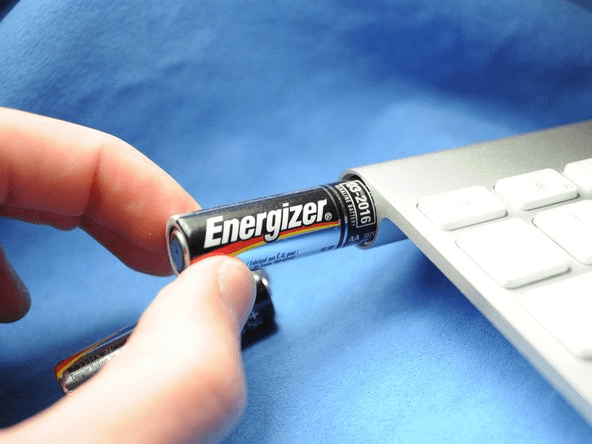 If you're using a wireless keyboard on your Mac and it fails to turn ON then try replacing it with new batteries. Also, try using an alternative USB cable or port for charging the keyboard and see if it helps in fixing the issue.
Solution 6: Configure the Bluetooth Settings
Misconfigured Bluetooth settings on your device can also mess with the keyboard's functioning, especially if you are using a wireless Bluetooth keyboard. Here's something you can try!
Step1: Open System Preferences and select "Bluetooth".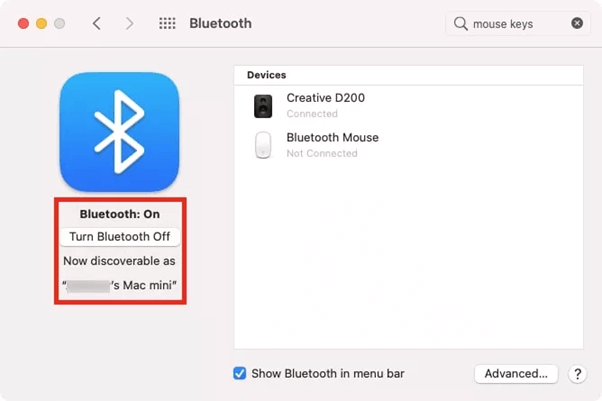 Step 2:Under the list of devices, select the keyboard then tap on the X icon to remove it. Reboot your Mac and then pair your keyboard again.
Also read: 10 Best To-Do List Apps For Mac in 2023
Conclusion
This wraps up our guide on how to fix MacBook keyboard not working issue. You can use any of the above-listed workarounds to fix keyboard-related issues on Mac. However, if you are unable to do the same then maybe it is time to buy a new keyboard.
Was this post helpful? Were you able to resolve this issue? Feel free to share your feedback in the comment section.