How to Combine PDF with the Best PDF Merger Tool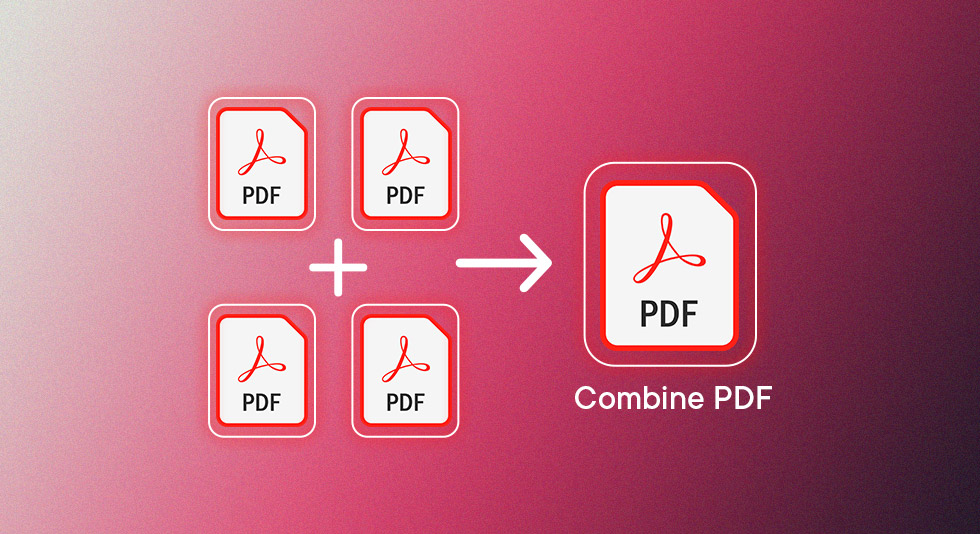 Why would I need to combine or merge PDF files on Mac? Why should I lay my hands on a PDF editor software or rather a PDF merger tool? We'll answer all such questions and not just that even more importantly, we'll give you three ways in which you will be combining PDF files like a pro!
First, a slight buildup –
When would I need to use a PDF editor software? Let's have a look at a real-life scenario first –
Think of those times when you received bits of lectures or official documents and you had to cumulatively consume their content. You were left wondering – How nice it would have been if all those documents were neatly sorted into one single document.
If you have landed on this post, quite possibly, you are dealing with one such situation, right now.
If yes, we are going to make life easy for you. At the outset, we'd like to mention that you can combine various PDF documents either with the help of some of the best PDF merger tools, or you can use the readily available resources, i.e. the web and your Mac to merge PDF documents.
Read Here- 7 Best PDF Password Remover for Mac
Ways To Combine PDF Files On Mac
Method # 3: Merge PDF In Preview
Here, we'll see how easy it is to merge or combine PDFs using Apple's PDF viewer i.e. Preview. For those of you who use it already, you probably know it also doubles up as a PDF editor and manager as well. Here are the steps to merge PDFs in preview –
1. Open the Preview app and then open PDFs you want to combine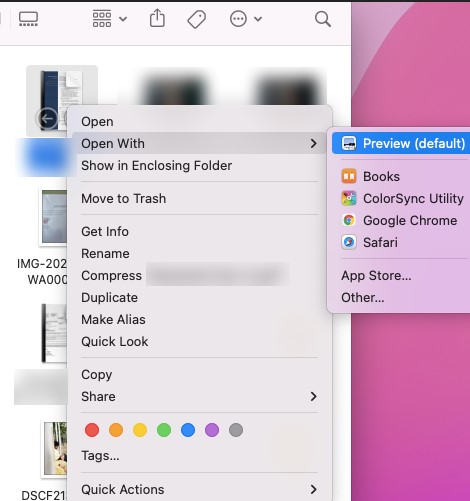 2. Click open the first or the base PDF in the Preview app (Let's just say, it's PDF 1)
3. Ensure that your PDFs' thumbnails are visible. For that head to View and then click on Thumbnails
4. Now, go to Edit > Insert > Page from File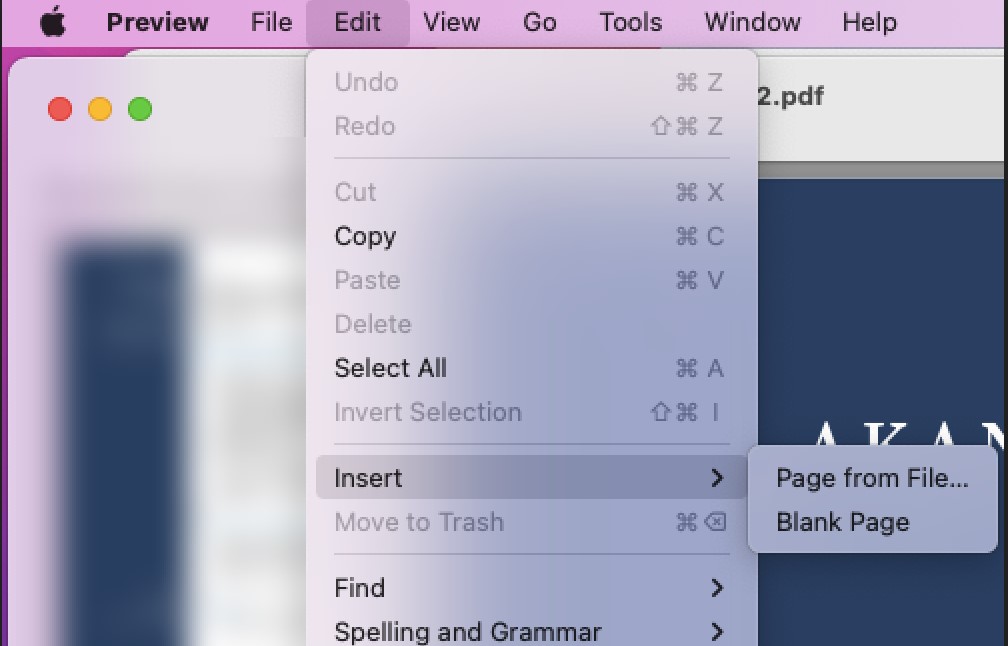 5. Now here, select the 2nd PDF document and then click on the Open button from the bottom-right
6. Save changes by clicking on File > Export as PDF
Once, PDF files are combined you can even do the following things –
Add an entire PDF file at the end or beginning of another document
Drag a thumbnail of the page to any desired location and then change the order of pages
Remove a page by clicking on the thumbnail > Edit > Delete
Click on a thumbnail of a page, head to Tools and then, rotate left/ right
Consider Using Alternatives As Well
But why? You may wonder –
Using Preview is great by itself but you may have to face difficulties sometimes. For instance, when combining large files, your computer may slow down. You may not be able to upload signatures and in case you are using forms, they may get disoriented.
Must Read- Top 10 PDF Creator For macOS
Method # 2: Combine PDFs Online
Let's say you don't want to use the Preview app on your Mac to combine PDFs and you are still in a dilemma whether or not to use a PDF editor for the same. But then, you have an urgent task at hand, you need to analyze and grasp the contents of many PDFs, right?
What would you do? In that case, to merge your PDFs quickly and correctly, you can use the world wide web, your internet. And, an online tool can be the magic wand you are looking for.
Smallpdf, for instance, is one of the best online PDF merger tools that can help you combine PDF files with the utmost ease and efficiency. Here is how you can combine PDFs with the help of Smallpdf –
1. In your browser, open SmallPDF
2. Once the website opens, you can either drag and drop your PDF documents right into the interface, or you can click on Choose File and select PDFs. One of the best things here is that you can even select PDF files directly from your Google Drive or Dropbox
3. Once you have selected your files, click on the Choose button from the bottom-right corner of screen
4. You will now be able to see the preview icons of your selected PDF files. You can also change the order of your PDF documents and once you are sure and satisfied with the order, click on Merge PDF
Smallpdf also has a paid mode called "Page Mode" where pages from all selected PDFs will be listed and then you can easily drag pages to change their order. Here you can remove the desired page by clicking on Delete as well.
Check This- 10 Best PDF Editor For Mac
Method # 1: Using The Best PDF Merger Software
If you are someone who has to frequently deal with combining individual PDF documents or even pages, you can invest in a PDF merger software.
PDFelement Express is one of the best PDF merger software. With the help of PDFelement Express for Mac, you can merge PDF files normally, by their thumbnail, or even insert other PDF documents as well. Here are the steps for the same –
1. Download, run, install and open PDFelement
2. When the software opens, click on Tool> Combine PDF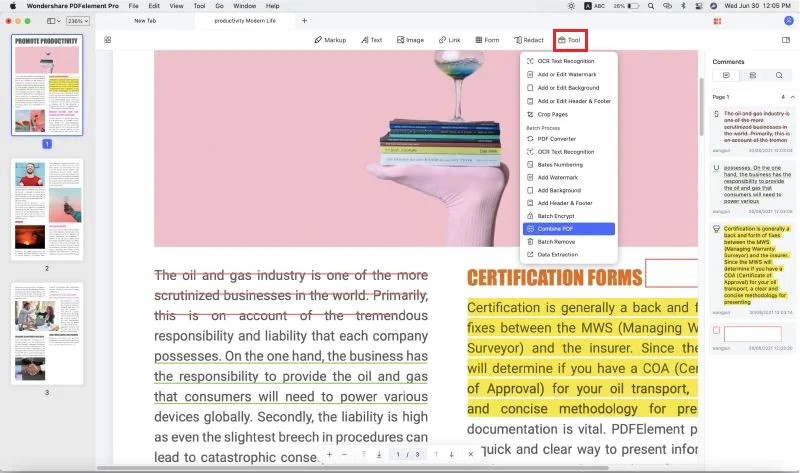 3. Click on the + Add option and then load the PDF documents that you want to combine
4. You can either Combine PDF files into a single PDF directly, or you can choose the radio button that says Insert a single PDF into multiple files and then further choose where you want to add the file, for example, before the first, last, or custom page range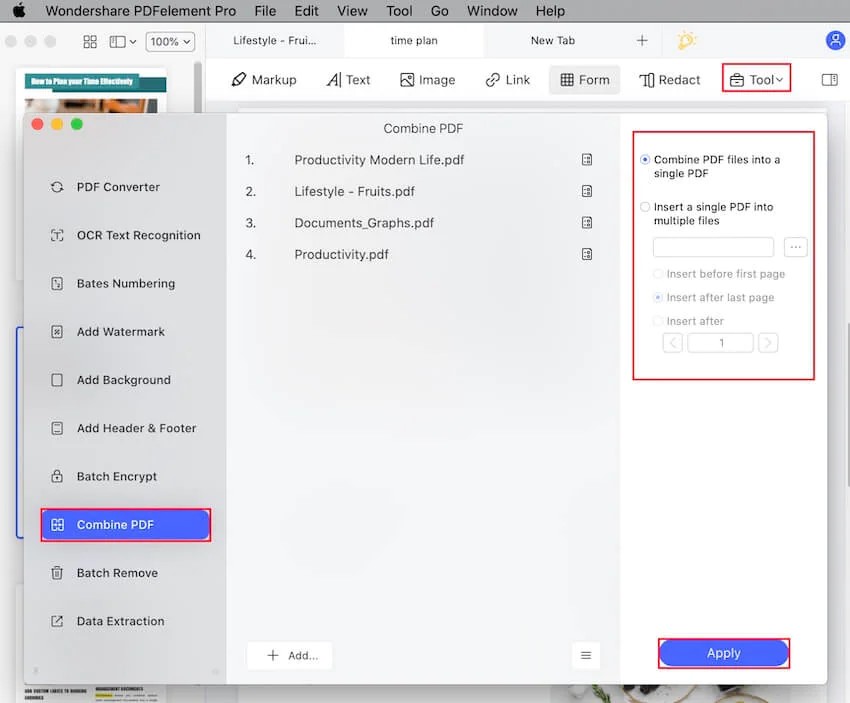 5. Click on the blue-colored Apply button and then save the PDF document to your desired output folder
Wrapping Up
A PDF editor tool can come in handy when you are in a dire need to combine tens or even hundreds of PDF documents for further processing. Do let us know in the comments section which of the above ways would you use to combine PDF documents on Mac. We'd even love it more if you could share your success journey with us in the comments section below.
Also Read- Best PDF to Word Converter For Mac
FAQs: How To Combine & Merge PDF
1. How can I combine two PDF files into one?
There are several ways in which you can combine two or more PDF files into one. You can either use the Preview app which is the native PDF editor for Mac. But, considering that you might need a more advanced tool when dealing with larger PDF files, you can opt for one of the best PDF editor software for Mac. Most of these even double up as PDF mergers as well. PDFelement from Wondershare is a great example of the same.
2. What is the best PDF Merger?
If you are looking at a decent PDF Merger, you are not just looking at a tool that can simply combine PDF documents, but, you are looking at something where you can add PDF pages before and after a PDF document, assign a custom range, gain control of individual pages and move them around and many such features. Wondershare PDFelement is one such PDF editor software.