How to Edit PDF on Mac With Online PDF Editors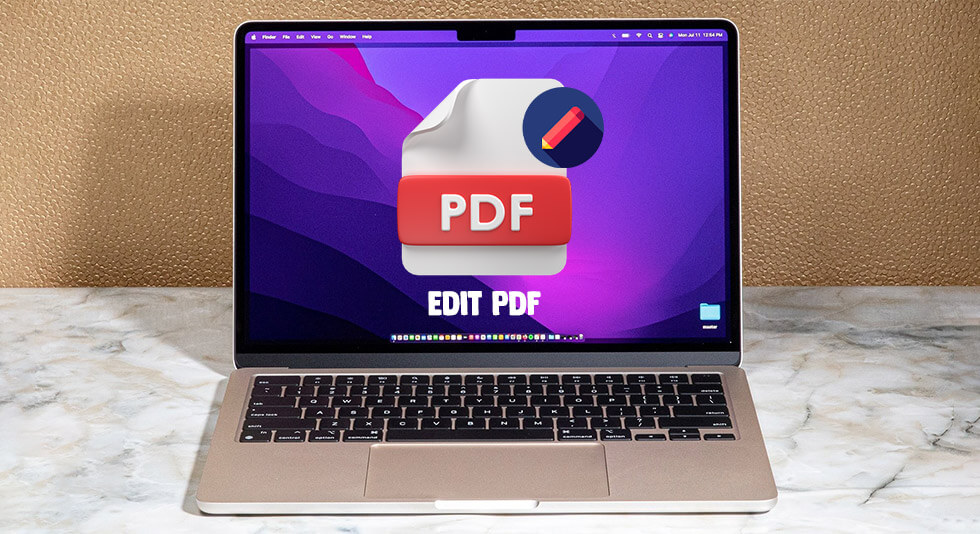 No matter to which field you belong, information flows seamlessly across screens and devices, PDF files have become the go-to format for sharing and preserving documents. Whether it's a critical business report, an academic thesis, or a legal contract, PDFs provide a reliable means of ensuring your content retains its integrity and professionalism, regardless of where it's viewed.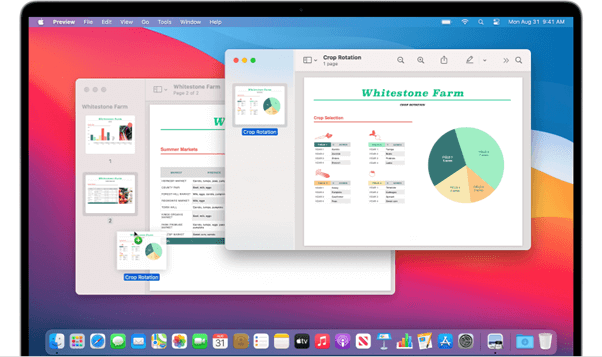 But what if you find yourself in a situation where you need to make edits to a PDF document using your Mac? Is it possible to modify this seemingly unchangeable format? The answer is a resounding "Yes."
Wondering how to edit PDF on Mac? In this comprehensive guide, we're diving deep into the world of PDF editing on Mac computers, uncovering the invaluable tools and techniques that will empower you to effortlessly modify, annotate, and manipulate your PDFs.
Also read: Best PDF to Word Converter For Mac
How to Edit PDF on Mac Effortlessly?
Method 1: Edit PDF on Mac Using Quick Look
When you need to make quick and simple edits to a PDF file on your Mac, Quick Look can be your handy ally. This built-in feature allows you to preview and perform basic edits to PDFs without the need for specialized software or third-party applications.
Here's how to use Quick Look to edit a PDF on your Mac:
Step 1: Begin by finding the PDF file you want to edit. It could be stored on your desktop, in a folder, or even within your email attachments.
Step 2: Click on the PDF file to select it. Alternatively, you can right-click on the file and choose "Quick Look" from the context menu.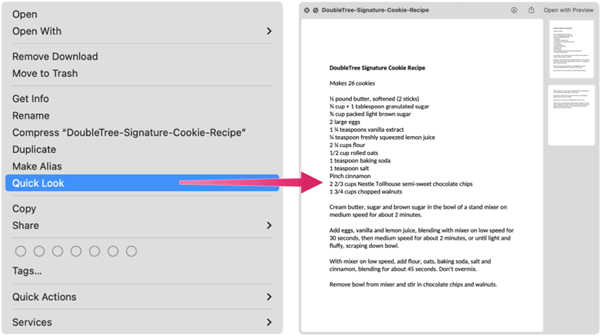 Step 3: Once the PDF is open in Quick Look, you'll notice a toolbar at the top of the preview window. Click on the "Markup" icon, which looks like a pencil inside a circle. This will open a set of basic annotation and editing tools.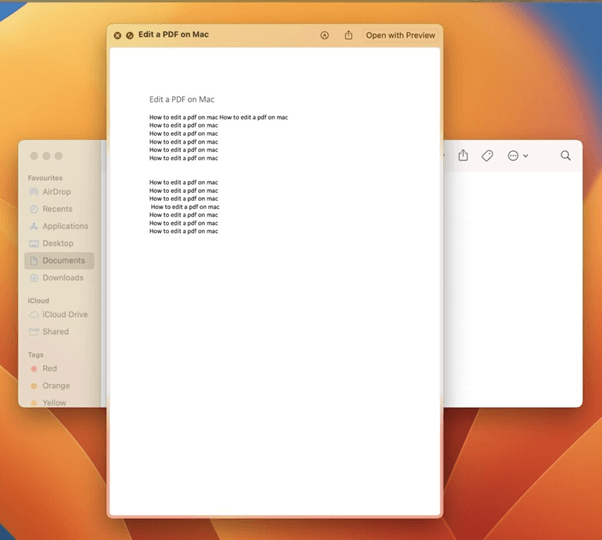 Step 4: Now that you have access to markup tools, you can annotate, highlight, underline, or draw on the PDF. Additionally, you can add text boxes, shapes, or your signature if needed. To add text, simply click the "T" icon and click on the area where you want to insert text.
Step 5: Once you've made the necessary edits, click the "Done" button in the markup toolbar. A prompt will appear asking if you want to save your changes. Click "Save Changes" to save the edited PDF with your annotations.
While Quick Look is a convenient method for making basic edits and annotations to PDFs on your Mac, it may not be suitable for more extensive editing tasks. For advanced PDF editing capabilities, consider using dedicated PDF editing software, which we'll explore in the upcoming methods.
Also read: Best PDF Editors for Mac
Method 2: Edit PDF on Mac Using Preview
When you need to perform more advanced edits on a PDF file while still relying on built-in Mac tools, Apple's Preview application is your go-to solution. Preview offers a wide range of editing capabilities, making it a versatile choice for modifying PDFs on your Mac. Here's How to edit PDF on Mac using Preview:
Step 1: Double-click on the PDF file to open it with the Preview application. If Preview isn't set as your default PDF viewer, you can right-click on the file, select "Open With," and choose "Preview."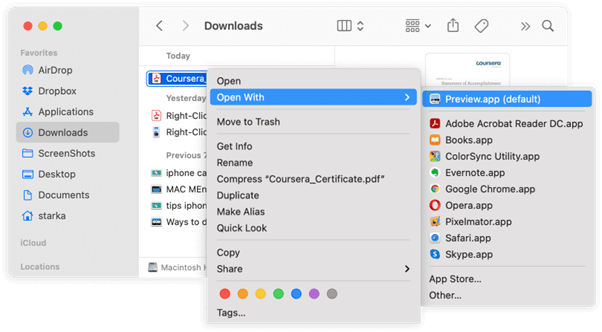 Step 2: With your PDF open in Preview, navigate to the toolbar at the top of the window. Here, you'll find various editing tools, including:
Text Tool: To add, edit, or delete text in the PDF, click the "Text" icon and then click on the area where you want to make changes.
Markup Tools: Use the markup tools to highlight text, underline, draw shapes, and add notes. Click the "Show Markup Toolbar" icon (which looks like a toolbox) to access these tools.

Annotation Tools: You can add comments, notes, and other annotations to the PDF by clicking the "Annotations" icon (which looks like a speech bubble) in the markup toolbar.
Step 3: Depending on the type of edits you need to make, use the appropriate editing tool from the toolbar. For example, to add text, select the Text tool, click where you want to insert text, and so on.
Step 4: After making the necessary edits, save your changes by clicking "File" in the menu bar, then selecting "Save" or "Export as PDF." Choose a location to save the edited PDF and confirm the changes.
Preview is a powerful tool for editing PDFs on your Mac and offers more extensive editing capabilities than Quick Look.
Also read: How to Reduce PDF File Size on Mac
Method 3: Edit PDF on Mac Using PDFelement
Are you looking for a professional, feature-rich solution to edit PDF files on your Mac? Wondershare PDFelement is here to elevate your PDF editing experience. This powerful and user-friendly software provides a wide range of tools to make editing PDFs a breeze.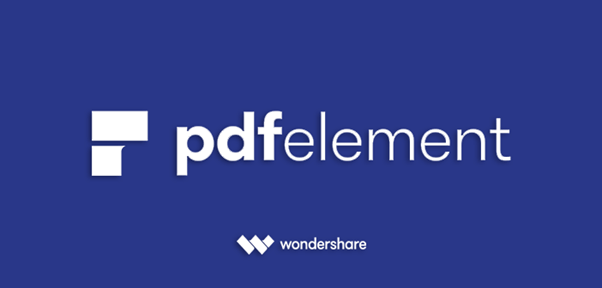 Whether you need to update text, add images, annotate, or convert PDFs, PDFelement has got you covered. Let's explore how to use this exceptional software to edit PDFs on your Mac:
Step 1: If you haven't already, start by downloading and installing Wondershare PDFelement on your Mac. You can find the software on the official website and follow the installation instructions.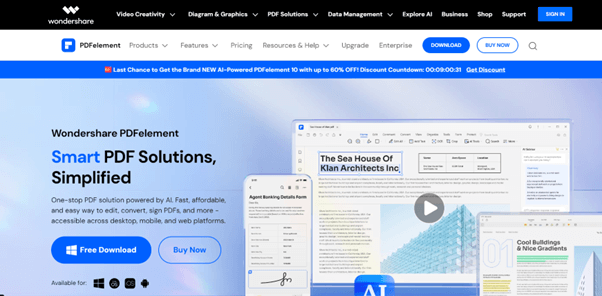 Step 2: Launch PDFelement once it's installed. To open the PDF you want to edit, simply click on "Open File" and select the PDF from your computer. Your document will open in the PDFelement interface.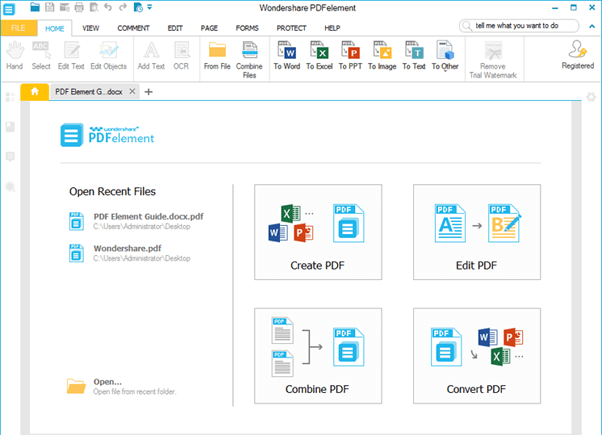 Step 3: PDFelement makes it effortless to edit text and images in your PDF. To edit text, click the "Edit" button in the toolbar. Select the text you want to modify, and a text box will appear for you to make your changes. You can also resize and reposition text boxes as needed.
Step 4: Enhance your PDF with annotations and markups. PDFelement provides a comprehensive set of annotation tools, including text boxes, shapes, highlights, and comments.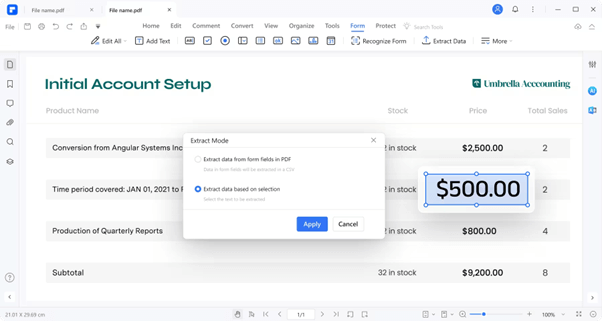 Step 5: PDFelement offers powerful conversion options. You can convert your PDF to various formats such as Word, Excel, PowerPoint, and more. To convert your PDF, click "Convert" in the toolbar and select your desired output format. Follow the prompts to complete the conversion.
Your edited PDF is now ready for use. You can access it from the location where you saved it on your Mac. It will retain all the edits, annotations, and formatting you applied using PDFelement.
Wondershare PDFelement simplifies the process of editing PDFs on your Mac, offering a wealth of features in an intuitive interface.
Also read: How To Sign A PDF on Mac Quickly (4 Methods)
Conclusion
This wraps up our guide on how to edit PDF on Mac using different methods. In conclusion, editing PDFs on your Mac doesn't have to be a daunting task. We've explored three distinct methods, each offering a different level of functionality to suit your specific needs.
Quick Look and Preview, as built-in Mac tools, provide quick and convenient ways to make basic edits and annotations. They're ideal for simple changes and are readily accessible. However, for those seeking a comprehensive PDF editing solution with advanced capabilities, Wondershare PDFelement emerges as the clear choice. It offers a user-friendly interface, powerful editing tools, and the ability to convert PDFs to various formats.
So, choose the method that best aligns with your requirements to experience a seamless PDF editing journey on macOS.